We bring you a review of EVEN hotels, show you the fastest trains around the world, what happens in one Internet minute, burn Skymiles in a Delta award sale, look at hospital food, travel to Sinai, get a mental health assessment for free, ride some Colombian donkeys, the latest industry survey on redeeming frequent flyer miles, eat some cockroaches…ok, just kidding about that last one, and lots more freeeee!
TBB Blog Mission: To Educate. Entertain. Inspire. In That Order!
Support TBB by applying for CREDIT CARDS, shopping with our AMAZON AFFILIATE LINK & clicking our REFERRAL LINKS
Delta has a flash sale RT 48k Skymiles to Europe.
I don't hold surveys in the industry in high regard. Like the latest survey telling us all that it is getting easier to redeem frequent flyer miles. How about it is getting easier to do so while using more miles huh? Very interesting comment by a Southwest Airlines executive who said that expanding to Hawaii is done in part to "ignite credit card applications". Wow, sometimes I wonder if my site will ever have a cc click ignition problem lol.
IHG Rewards has this new EVEN brand. Wellness theme and stuff like that. Here is review of the New York property in PartI and PartDos.
I keep track of many sites for you so I can bring you these TBB Buzz posts. Which includes reading the Greek press. And sometimes you find out some stuff that is relevant. I found out that Saudi Arabia has a low cost airline named Flynas. And it is expanding its flights to Athens for the summer. They are not the only ones, add WIZZ Air, Primera Air, Cyprus Airways and Georgian Airways to the list. And Marriott is back in Athens after it left in 2013 after taking over the former Metropolitan hotel and renaming it, please sit down, Athens Marriott Hotel. Oh, it pumped $15 million dollars into it to renovate it. Thank the Olympus Gods for tourism. Did you know I could see Olympus from my house growing up?
These look awesome: 7 of the world's fastest trains and where they can take you.
Another Ramen review: Japan's Ippudo Ramen. Tonkotsu (pork broth) is my favorite!
Lets get back to inspiring: The amazing donkeys of Colombia.
Nick Collison, of the NBA's Oklahoma City Thunder, had a nice career and he recently called it quits. Nice career retrospective.
If you do not like cockroaches, I suggest you do not click this link: A giant indoor farm in China is breeding 6 billion cockroaches a year. Here's why. I had no idea about all the medicinal qualities of them, wow!
Get your own mental health assessment done HERE!
Great personal finance post: Great Things Take Time
I used to think that most of my early 20s was "wasted time" because I did nothing productive outside of my career. However, looking back now I realized that I was consuming information that would eventually help with this blog. The information you consume will likely one day provide you with some benefit, you just don't know where yet. It just takes time.
The analogy I like to use is building a fire. Most of your life you gather firewood. It's not useful by itself, but it has potential. You keep gathering. You keep storing away information, memories, thoughts, opinions. You do this until one day you get a spark of inspiration and decide to start a fire. Your fire starts small. A few people see it, but most ignore it. You keep throwing more logs on the fire and it burns brighter. Maybe more see it and take notice, but it's still mostly unknown. You keep at it day by day, night by night until you have a roaring blaze. Then they can't ignore you. Build your fire.
What happens in an Internet minute. Wow, this is really something!
Not sure many tourists go to Sinai these days but this site is quite impressive: Saint Catherine's Monastery And The World's Oldest Library.
Well, this is kind of neat. And educational as well. What's on the menu in hospitals around the world – in pictures.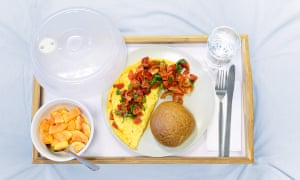 Here we go with another TBB fav song…May be moving out of the angry punk phase you guys 🙂
DJ Shadow – Building steam with a grain of salt
Milenomics has an existential type post 🙂 Swim Upstream: Identify That Which Makes You Unique & Find Your School.
Mile Nerd got shafted. Is this happening to all who apply with "no lifetime" type links?
Looks like Moneygram is on a roll to smash these weird MS guys…
Poor The Free-quent Flyer who got brutally attacked for posting about a trick that was "out there" (meaning, it was not!). We all make mistakes. But the vitriol against a blogger who never pretended to be doing it to help friends and family travel for free by pumping them left and right with credit card sales is, you know, a little misguided. I agree with the comment "Please Use Slack :)" by the way, for the record. These whiners are probably the same people who admire kiss up the Titans becoming successful in this hobby business, sigh.
And I leave you with this…The state of blogging about travel hacking…
TBB
travelbloggerbuzz@gmail.com
Follow TBB on Twitter @FlyerTalkerinA2
You can subscribe to TBB below, winners only!
Opinions expressed here are author's alone, not those of any bank, credit card issuer, hotel, airline, or other entity. This content has not been reviewed, approved or otherwise endorsed by any of the entities included within the post.