Another TBB post featuring the most eclectic links around the web such as we learn more about fiduciary financial advisors, Three Arrows Capital grifters, revenge travel in full speed underway, wondering if elite status is worth it, congrats to the Denver Nuggets NBA Champions, more on structured products, Covid fraud was gigantic, saying bye bye to Silvio and Unabomber, asking if the Ukraine Russia was is unwinnable already, a story about a strange woman in Brazil and her questionable past, we need to change the way we treat the dying, visiting the weird clown motel, the bang in the miles/points world is losing ROI faster and more, see you Friday.
TBB Blog Mission: To Educate. Entertain. Inspire. In That Order!
I use and recommend Proton VPN <—– REFERRAL LINK
You like my blog? Send a link to someone please!
No ads, no clickbait. No sponsored posts.

This blog publishes every Friday and most Tuesdays…for now.
PERSONAL FINANCE
I am a firm believer in fiduciary financial advisors. Who are independent Registered Investment Advisors (RIAs) and Certified Financial Planners (CFPs). And who are compensated by fully transparent fees only paid directly by clients! "Fee Only" is NOT the same as "fee based", be careful out there. To learn more about this, check out this page of the National Association of Personal Financial Advisors NAPFA. Most importantly, if you are looking to hire a professional from any firm (like a national bank or a wirehouse), get the advisor to put the following on company letterhead and sign it and…you won't believe what happens next!
I shall:
Always act in good faith and with candor.
Be proactive in disclosing any conflicts of interest that may impact a client.
Not accept any referral fees or compensation contingent upon the purchase or sale of a financial product.
Full Disclosure: Yes I sign this fiduciary oath and no I am not looking to add new clients. Sadly, my industry is full of wolves and charlatans that are giving it a bad name. Anyway, if you have any questions about this sensitive topic feel free to ask in the comments.
Recently I featured an article warning about Structured Products. A reader emailed me wanting to learn more, so here is another article explaining them: Understanding Structured Products in 4 Charts. I agree with the author's conclusion:
Investors working with a good financial advisor shouldn't need fancy hedges to absorb market volatility, assuming their asset-allocation profile is aligned with their capacity to take risks. It's our view that during rocky markets in particular, the price for structured products is generally too high for an investor to get any other benefit besides peace of mind.
CRYPTO/SCAMS
See what I did there with the headline? They go together you know…
This article made me very angry…I need to control myself but how in the world these two assholes are not rotting in jail and instead living the good life without a care in the world after taking so many to the cleaners? Their Crypto Company Collapsed. They Went to Bali. The implosion of Three Arrows Capital, a cryptocurrency hedge fund, devastated the industry. Its two founders spent the next year surfing, meditating and traveling the world.
One clear evening, on a rooftop in Bali, Mr. Davies took shrooms with a group of crypto colleagues. "You look at the stars, and the stars are just, like, moving," he recalled over dinner last month at a seafood restaurant in Barcelona, Spain, where he was vacationing with his wife and two young daughters. "You touch the grass, and it feels, like, not like normal grass…"You eat very fatty pork dishes, and you drink a lot of alcohol, and you go to the beach and you just meditate," Mr. Davies said as he recounted his travels. "You have these magical experiences."" [By this point in the article I was fuming…how can you not about this sob?]

And wait for it smh….
Mr. Davies has also thought about getting into the artificial intelligence industry.
SCAMS
I don't think (I hope) we will see another wave of fraud as we saw with the pandemic. Which was of an epic proportion imho! The Great Grift: How billions in COVID-19 relief aid was stolen or wasted. I still remember seeing people online bragging how much money was deposited into their accounts. For the record, I did not request and certainly did not receive any such funds!
The U.S. government has charged more than 2,230 defendants with pandemic-related fraud crimes and is conducting thousands of investigations.
RUSSIA UKRAINE WAR

Brace for more articles calling for, cough, negotiations to end the war. I say stick with Ukraine to stick it to the Russians and rout them…An Unwinnable War. Washington Needs an Endgame in Ukraine.
Putin lost his Italian buddy Silvio Berlusconi who died at 86. He dominated Italian politics for 20 years and I guess you can say he showed the way for Donald Trump. He is probably holding bunga bunga parties up there smh…
ODDZ & ENDZ
Congrats to the Denver Nuggets for winning their first NBA Championship. And they deserved it! Who would have ever thought that this fat Jokic kid picked 41st in the NBA Draft would be at this point an NBA Champion and the best player in the game? Nikola Jokic leads Nuggets to first NBA championship, ousting Heat in 5.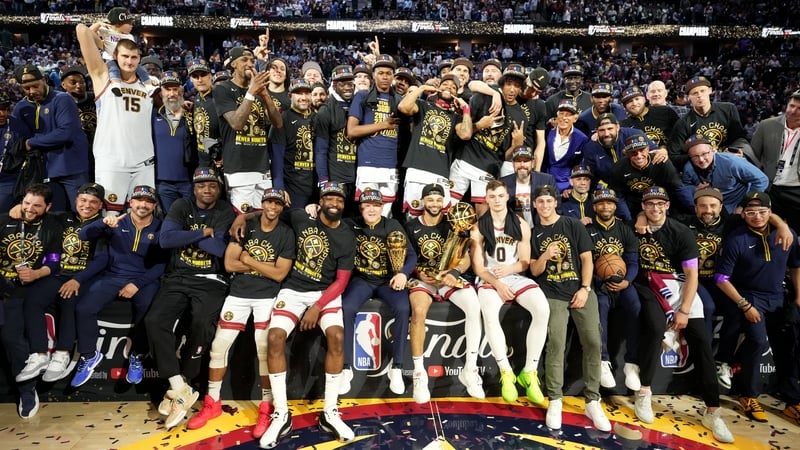 Wow, what a story! The Fugitive Heiress Next Door. How a reclusive woman's past in suburban D.C. sparked a true-crime sensation in Brazil — and a national reckoning over the status of household servants. It reminds me another sad story I featured here years ago from the daughter of a couple who brought a maid along, from the Philippines I think, titled "My Family's Slave". This one took a different turn with the woman involved developing severe mental health issues along the way. It reminds me a of a strange old guy in my neighborhood growing up in Greece who was, how shall I put this, difficult. And every time the soccer ball went into his yard the whole operation to retrieve it was full of terror! But we survived it barely! I swear if it was Florida he would have shot us to death and there would be no blog here! 🙂

We need to do better in saying goodbye and dealing with death. Reading this "A good death" may make you emotional but, you know, isn't this a so much better way to go? Thank you Jeanette and her family for doing this, Rest in Peace!
TRAVEL
I think Delta's CEO has this right, it is unbelievable what is happening! Like I have been saying, the pandemic changed everything. Delta CEO says 'revenge travel' is taking over America and even he's shocked by how much: '$300 billion—with a B'.
"People talk about revenge travel, or pent-up travel—this is beyond anything that people can classify as truly pent-up," Bastian said. "We went through several years of people not being able to get back out and travel and experience and see loved ones, see their business colleagues, adventures—all the reasons we travel. And people had a lot of time. He revealed that he asked his team to measure the gap between inherent demand for U.S. travel that couldn't be met over the past three years, based on "any kind" of historical pattern: "That gap is $300 billion—with a B.""
This is for blog reader Carl who recently visited it I think. In the American West, a Clown Motel and a Cemetery Tell a Story of Kitsch and Carnage. In Tonopah, Nevada, the victims of a 'Death Harvest' rest in the shadow of a haunted lodge. Never been, looks so uniquely creepy and funny at the same time?

BUZZING
A section where I go on and on about some stuff that happens in my life and anything else that just does not fit in another section above
When your bandmates go down but the music must go on…while medics come and take two of them out lol. Well, I don't know, maybe they should not wear these hats if temps get too high?
As I have blogged before, I follow developments in Greece. And there is a new election in two weeks and it never fails to disappoint what parties register for the fun of it. But this one really takes the cake, I have not seen an interview with the dude heading this party charade yet lol. 32 parties and independents to contest June 25 election.  We have a saying "Only in Greece" woohoo!
Polykarpos Spentzas-Wireless operator of the ship Pothyti 1978-Bermuda Triangle-UFO-USOs Extraterrestials-Einstein-Paul Santorini (Independent)
Is it me or is it that all new movies at the theaters just suck lately or what?
Wait, we did not only lose Silvio Berlusconi but also lost the Unabomber who had a local connection for us in Ann Arbor and the University of Michigan: Ted Kaczynski's homicidal thoughts may have started as a University of Michigan student. It was during his Ann Arbor days this guy started having delusions sadly…
This blog started with a focus on miles and points and travel. It has evolved since then. Everything below deals with the hobby of collecting frequent flyer miles and points. If you are not interested, you can stop here, thank you.
MILES & POINTS NEWS/PROMOS/MY ACTION
When articles like this make it to the mainstream media, you know, we old timers at this know the good old days are so over. So sad! Frequent Fliers Wonder: Is Elite Status Worth It Anymore? "Lower ROI" captures the essence of it all, I am crying with this excerpt:
Bauer says he used to regularly find deals from Delta whereby he could fly as far as Tokyo for just 100,000 miles. A recent search for flights to Norway in August suggested he would need to spend around 600,000 miles per round-trip business-class ticket if he wanted to book the flights with rewards for him and his wife. "I could burn half my bank account of miles on one trip," Bauer says. "I get that's what they're for—but holy cow, that's a lot."
Nice podcast/video here: Now Boarding: Everything you need to know about frequent flyer miles and airline status. Presenters talk about their disappearing elite status and its unique addiction aspects of it. And then we get to see Tom Stuker the dude who has flown 23 million miles with United and who apparently is writing a book about it and never loses an opportunity for marketing. And Brett Snyder of Cranky Flier who tells it like it is, as in reaching for airline status these days makes no sense and you are probably better off having one cash back credit card and load all your purchases on it and…move on.
ADVANCED:
I bet you six months from now this article will appear with a new title starting with the number 5? 4? 3? 7 Amazing Ways to Redeem 70K American AAdvantage Miles.
With the steep increase in interest rates recently, I wondered how come none of the loyalty programs came up with yet another gimmicky enhancement as in "You earn interest on your cash at the bank? Now you can start earning interest on all the miles/points you have with us" blah blah blah…The key word in the prior sentence is "gimmicky" 🙂 Waiting for Delta Skymiles next lol.
MILES & POINTS
HOT CREDIT CARD OFFERS: 75k CAPITAL ONE Venture X, 75k CAPITAL ONE Venture Rewards,  75k CHASE Ink Business Cash, 75k CHASE Ink Business Unlimited, 100k CHASE Ink Business Preferred, 60K CITI Premier, 40k CAPITAL ONE VentureOne Rewards, $1,000 Cash Back CHASE Ink Business Premier, 140K CHASE IHG Rewards Premier, 60k CHASE Sapphire, 60k US BANK Business Altitude, 60k and 30% off on three Personal CHASE Southwest cards and many more, including many AmericanExpress cards such as Delta Airlines, Marriott Bonvoy and Hilton Honors cards!  Please check out my Affiliate links. Terms apply to American Express benefits and offers. Visit americanexpress.com to learn more. If you do not see a credit card with my affiliate links, perhaps I could refer you?

This section is about my hobby addiction of collecting frequent flyer miles and hotel points since the early 1990's! SKIP if you are not into it!
As of today, I have burned 661,000 miles/points year to date in 2023 and have 4,276,729 miles/points in the bank. Some do drugs, I do miles lol!
Thanks to US banks, very lucrative travel rewards credit card offers come and go all the time. This section will act as a reference point on the best CURRENT offers. I will designate new material preceded by NEW.
BEGINNERS
The Beginner's Guide to Getting Started with Credit Cards, Points & Miles
BASICS: This travel hacking hobby is mostly about getting the fat Signup Bonus of travel rewards credit cards while of course NEVER EVER carrying a balance. Banks have a marketing budget and are willing to give us many THOUSANDS of miles/points to travel mostly for free hoping to hook us to then charge confiscatory 20%+ interest rates on our balances. The poor souls who fall for their marketing paying these ludicrous interest rates end up subsidizing us responsible consumers who enjoy taking advantage of, cough, such bank marketing budgets! Some of us have been doing this for thirty years creating amazing travel memories…Feel free to ask me questions or post them in the comments, we were all newbies once!
BASICS: Prefer credit cards from the proprietary points programs of banks, such as Chase Ultimate Rewards, American Express Membership Rewards, Citi ThankYou Network, Capital One Rewards Miles because they are a lot more flexible and are not devalued as frequently. Over pure airline and hotel travel rewards credit cards. Pure cash back credit cards may work for you best and they are getting more valuable as airline and hotel loyalty programs keep getting devalued. Sometimes, a pure no annual fee 2% cash back card works best for simplicity!
The Capital One Venture X card offers a 75,000 point Signup Bonus after a minimum spend of $4k in the first three months. If you like simplicity and looking for one (premium) card, I highly recommend this card (and yes, I have it myself!). It has an annual fee of $395 but it comes with a VERY easy $300 statement credit for travel booked on its excellent travel portal, essentially turning it into a $95 annual fee card. But wait…there is more! On each card anniversary you earn 10,000 points essentially making it FREE! Every dollar of spend earns 2 points and flights booked on the travel portal earn 5 points per dollar. You get access to Capital One and Plaza Premium airport lounges and a Priority Pass Select lounge membership and, this is important, you can add FOUR authorized users FOR FREE who can also have their own Priority Pass Select airline lounge membership. You can transfer your Capital One points to up to 18 Transfer Partners. No foreign transaction fees. Free Hertz President's Circle rental car top elite status. Cell phone protection and PRIMARY rental car coverage. Awesome seats at baseball stadiums for just 5k points each. And lots more. Available with my Credit Card Links, thank you for your support!
Get 75K Miles, Lounge Access & More with the Capital One Venture X Card
Other worthy credit card deals going on currently:
  100K Points & A Low Annual Fee: A Full Review of the Chase Ink Business Preferred Card
REFERRAL LINK: New Offers for United Credit Cards, Earn Up to 80,000 MileagePlus Miles
Remember, you are NOT allowed to ever carry a credit card balance if you ever get a credit card here!
Let me leave you with this:
Some of the links are behind a paywall. You can try to read them using Archive.is.
Thank you for reading my blog. If you enjoy it please pass it on to a family member or friend. Or Buy Me a Coffee, thank you!
TBB
travelbloggerbuzz@gmail.com
You can join 570 email subscribers to receive each blog post by entering your email address below and then clicking on Subscribe:
Opinions expressed here are author's alone, not those of any bank, credit card issuer, hotel, airline, or other entity. This content has not been reviewed, approved or otherwise endorsed by any of the entities included within the post.