Another TBB post featuring the most eclectic links around the web such as the FTX Fiasco, Elon Musk is destroying Twitter, let Crypto burn, the Russian empire must die, the 2024 World Cup begins, boring investing is beautiful, the investor's manifesto, Putin is ruining Russia, magic mushrooms, we spend more time alone, amazing Wikipedia finds, money laundering, the latest travel rewards credit card offers and lots more!
TBB Blog Mission: To Educate. Entertain. Inspire. In That Order!
Support TBB by applying for CREDIT CARDS or visiting our

LINKS

or Donate

You like my blog? Send a link to someone please!
This blog publishes every Friday.
Welcome to all new blog readers from George, your diligent curator of the BEST web content I find and share with you. No ads, no clickbait, just amazing content I discover and share with you.
BLOG EVOLVES AGAIN
Going forward, there will be a lot more emphasis towards Personal Finance. It is an evolution you have been asking for. I have shifted the Travel section and the Miles & Points and Travel Rewards credit card sections lower. So, if you are just not into them you can still enjoy the content about Personal Finance, Crypto and the latest developments blowing up such as the FTX fiasco and Elon's beating up of his latest toy Twitter and then click away.  Or stay on to read the Ukraine Russia war section which will stay until the war is over. You can continue on to the Oddz and Endz and Buzzing sections if you like, variety will always be valued here. If you are into the miles/points game, you can stay on for the final sections and help support the blog by choosing to use its credit card links.
Anyway, thanks for reading. This blog started as a joke back in 2012 to keep track of the best content in my quirky hobby of collecting frequent flyer miles and points to enrich my travel addiction. It has slowly evolved to its current version of posting every Friday with a carefully curated list of the best web content along with my snarky and sometimes witty (and seldom incendiary) commentary. And now focusing primarily on the area of personal finance which is what I do for a living actually. My goal here is to offer a different and quality blog to help readers enhance their quality of life. Also, to contribute my part to end world hunger and bring worldwide peace. Or something like that. As my daughter says, I like to laugh at my own jokes…never take yourself too seriously!
PERSONAL FINANCE
This article fits my investment style: Boring is Beautiful in Investing. Leave the excitement for your hobbies instead…and stick with a disciplined investment plan with low cost ETFs/index funds, fight that FOMO!
Successful investing should be boring. It should be long-term in nature. It requires patience and discipline and the ability to ignore the madness of the crowds. But you can't brag about boring to your friends and co-workers. No one writes glowing profiles about normal people who diligently save and invest their hard-earned money, keep fees to a minimum and stay the course. That's not sexy. Sexy is SPACs, meme stocks, IPOs and life-changing amounts of money in a short period of time.
I like this: The Investor's Manifesto.
Everyone could see this coming except this genius: Elon Musk ignored Twitter's internal warnings about his paid verification scheme. And of course this mayhem led to Elon Musk is getting out-trolled—on his own platform. I have no idea how people can work for this guy but hey, we are all different I guess. And how come any brands that were caught in this stupidity have not sued yet for damages (of all kinds)? Quick thread of twitter blue brands, and brands who might be pissed off at Elon right about now. And you know this is becoming a shitshow when you see The Daily Show do a joke by having Twitter's Head of Communications do her thing and have a hard time distinguishing between parody and reality, sad lol. Twitter can be saved only when it gets de-Musked according to this writer's ideas, which I agree with: Dear Elon, I can save Twitter for you. Here are my terms.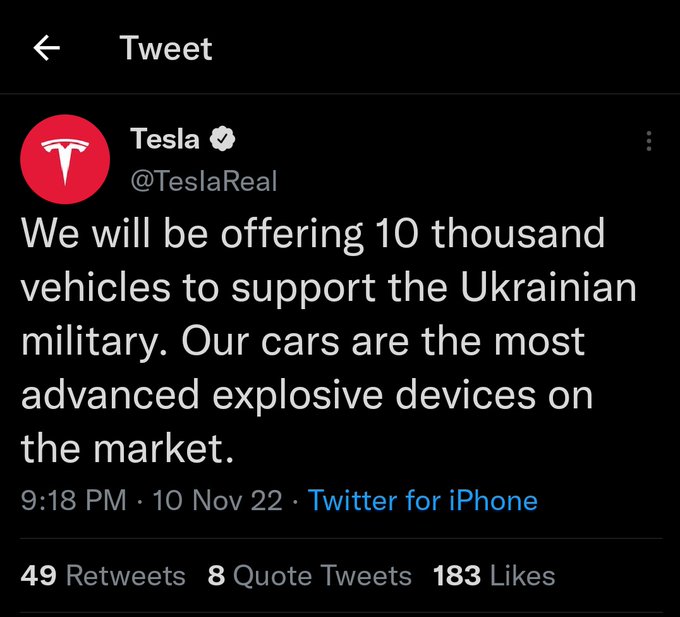 Of course, no surprises here: Hundreds of employees say no to being part of Elon Musk's 'extremely hardcore' Twitter. Actually, I am amazed Twitter has not broken yet…And this is what you get Elon! A scrolling message outside Twitter's San Francisco headquarters has called @elonmusk a "lawless oligarch, space Karen, mediocre manchild, worthless billionaire" and more.
Why are these scammers not in jail? The Ferrari Fugitives. Josh Cartu and his brothers collected race cars, hung out with celebrities and bounced between luxury villas in private jets. But behind their playboy façades was a dark secret: they had thousands of jilted investors and an army of investigators on their tail. I threw up several times reading this…
FTX
Well, I just had to add an FTX section you guys. Because, well, I do bring you the most eclectic web content after all…Where shall we begin? To me, this is the story of the year. The crypto version of Madoff, buckle up!
Best of Web: FTX's Balance Sheet Was Bad. Over my financial industry career my eyes have seen some wild shit. But I must admit looking at what these FTX guys came up with in their balance sheets truly shocked me! I am not being sarcastic at all this time, this was unbelievable. Just a few excerpts, you should probably read the whole thing if you are interested in the subject. Archived Link.
If you blithely add up the "liquid," "less liquid" and "illiquid" assets, at their "deliverable" value as of Thursday, and subtract the liabilities, you do get a positive net equity of about $700 million. (Roughly $9.6 billion of assets versus $8.9 billion of liabilities.) But then there is the "Hidden, poorly internally labeled 'fiat@' account," with a balance of negative $8 billion. I don't actually think that you're supposed to subtract that number from net equity — though I do not know how this balance sheet is supposed to work! — but it doesn't matter. If you try to calculate the equity of a balance sheet with an entry for HIDDEN POORLY INTERNALLY LABELED ACCOUNT, Microsoft Clippy will appear before you in the flesh, bloodshot and staggering, with a knife in his little paper-clip hand, saying "just what do you think you're doing Dave?" You cannot apply ordinary arithmetic to numbers in a cell labeled "HIDDEN POORLY INTERNALLY LABELED ACCOUNT." The result of adding or subtracting those numbers with ordinary numbers is not a number; it is prison.
If you are not aware of what has happened here, here is Molly White's explanation of what went down written on November 9: The Sam Bankman-Fried empire crumbled. What happened? (part one). Looks like part two is coming soon…
Another one: The Incredibly Stupid Catastrophe Caused by Sam Bankman-Fried and FTX.
If you wanted a quick video on what happened, here it is: How did FTX go bankrupt? We don't know exactly what happened but we are learning more every day which shows that SBF was all by himself in the pantheon of psychopath fraudsters!
Best of Web: Sam Bankman-Fried Has a Savior Complex—And Maybe You Should Too. This "gem" was on the website of one of the companies that invested in FTX, Sequoia Capital. Which ended up writing its investment down to zero lol. And this company is considered full of brilliant investors smh. Looking at how they portrayed SBF in this ridiculously glowing article is beyond ludicrous. Read it all if you have the time and shake your head to oblivion just like I did. Repeatedly. At one point, the writer who spent days at FTX in Bahamas interviewed SBF who NEVER looked at him in the eye and was answering his questions while playing a video game…and this guy thought SBF was a genius and the "first future trillionnaire"…What??????? Oh, Sequoia took this article off its website of course.
With over 130 "affiliated" entities in the FTX bankruptcy filing, just brace for more confessionals like the one by Ikigai Asset Management, a crypto hedge fund that was caught in it and likely going down. The founder is mad but, I don't know, maybe he could have chosen a different industry to burn his clients' money? He said:
"I'm pretty disgusted with the space as a whole and kinda humanity in general," he continued. "I'm at a loss for words at the depth & breadth of the pieces of shit that permeate crypto. So many phucking sociopaths were granted the opportunity to do so much damage. It's hard for me to imagine the space bouncing back quickly from this ordeal. Too many got burned too hard."
As we learn more, the scope of this fiasco is just staggering. The guy hired to oversee the bankruptcy is the dude who did the same for Enron. And the revelations are nothing like anyone ever anticipated: New FTX boss, who worked on Enron bankruptcy, condemns 'unprecedented failure'. Just one bonkers quote below from him, you can read more HERE and HERE if you want to shake your head to oblivion…
"Never in my career have I seen such a complete failure of corporate controls and such a complete absence of trustworthy financial information as occurred here. "From compromised systems integrity and faulty regulatory oversight abroad, to the concentration of control in the hands of a very small group of inexperienced, unsophisticated and potentially compromised individuals, this situation is unprecedented."
Anyway, can not wait for the movie. I guess the book by Michael Lewis will come out first. Jonah Hill will be great playing Sam Bankman-Fried! Who should probably change his name to Sam Bankrupt Fried. Oh, maybe Contagion #2 will come out, I mean, check this out!
I think we just started learning about what went down…brace for impact of a lot more over the next months, grab your popcorn!
For the record, I am heart broken seeing so many losing so much money here! Especially FTX employees who believed in this guy. Also, for crying out loud, why would you have your paycheck go into your FTX account? And have all your savings there too? NEVER EVER elect to hold any company stock, you have enough exposure to a single company through your paycheck and company benefits. DIVERSIFY!
For the record also, this blog has never accepted any money from FTX for sponsorships or ads. Actually, from anyone. It remains a labor of love, enjoy it while it lasts…
CRYPTO
As I said earlier, it is really hard to do but you must do your best to fight back FOMO! Proof of Work.
When you see a lot of people making a lot of money that wouldn't normally be making a lot of money, that's a sign that something's off. When you have 29 year-olds worth $26 billion naming sports stadiums, look out. When individuals are going from unemployment to retirement in a few months, proceed with caution. Ultimately, when too many people are getting too lucky too often, that's your wakeup call. That's your hint that the good times won't last forever. Why? Because the world trends towards equilibrium. The world trends towards proof of work. It's rare for fortunes to be created so effortlessly. Therefore, if you see easy money being made, it's one of the strongest signals that something's not right. Of course, some people will hit the lottery or be born into wealth. They are the lucky ones. But, most of us aren't. Most of us have to work for it. We have to show the proof…But the bigger problem underlying every get-rich-quick scheme is the belief that there's an easier way to get rich. That there's some sort of shortcut. But, there isn't. There are no secrets when it comes to building wealth. If there were, then we would all be rich already. Think about it. If it takes 32 years for the typical self-made millionaire to gain their wealth, why would you expect to do it in just one? It makes no sense.
I don't know, maybe these old cats know what they are talking about after getting repeatedly told that we don't get it! Why do people invest in crypto? 'It's partly fraud and partly delusion,' says Charlie Munger. I LOVE the quote below. Archived Link.
"The country did not need a currency that's good for kidnappers." — Charlie Munger
You have seen me here many times saying "Where are the regulators?" But maybe the best thing to do is to "Let Crypto Burn".
"The overriding goal of policymakers should be to keep crypto systemically irrelevant. The best way to do this is let it implode under the pressure of its unsafe and unsound business practices. Meanwhile, authorities should constantly point to the record that crypto is rife with failures and fraud. Rather than creating a new legal and regulatory framework that legitimises crypto, we should simply let it burn."
And of course the Onion does it again: Man Who Lost Everything In Crypto Just Wishes Several Thousand More People Had Warned Him.
UKRAINE RUSSIA WAR
Why aren't the Russian people resisting the war instead of fleeing and protesting only the treatment of the recently mobilized who are sent to slaughter in Ukraine? And how come the United Nations representatives are not condemning the Russians for simply unloading a rain of missiles towards Ukrainian civilian targets, I mean, if this is not the definition of state sponsored terrorism what is?
Best of Web: Maybe Anne Applebaum is right: The Russian Empire Must Die. Hope the world keeps supporting the heroic Ukrainians who are delivering an epic asskicking to the inept Russian army…at a great cost. Archived Link. A better future requires Putin's defeat—and the end to imperial aspirations.
I have argued before that there is no guarantee that American democracy can survive, that what happens to America tomorrow depends on the actions of Americans today. But the same is true of Russia. The country's future will be shaped not by mystical laws of history but by how its leaders and citizens absorb and interpret the tragedy of this shocking, brutal, unnecessary war. The best way that outsiders can help Russia change is to ensure that Ukraine takes back Ukrainian territory and defeats the empire. We can also keep supporting those Russians, however small their number, who understand why defeat is the only path to modernity; why military failure is necessary for the creation of a more prosperous, open society; and why, once again, the empire must die. We don't need to search for idealized "good Russians"—no savior will emerge to fix the country, not now and not ever. But Russians who believe the future can be different will keep trying to change their country, and someday they will succeed. In the meantime, no one should ever concede to Putin the right to define what it means to be Russian. He doesn't have that power.
What a stupid senseless war, what a colossal mistake by "master strategist" Putin, how could he underestimate the other side so much is beyond ludicrous! So much destruction and suffering that could have been avoided. And also, Russia's Road to Economic Ruin. The Long-Term Costs of the Ukraine War Will Be Staggering.
No matter the outcome, however, Russia will emerge from the war with its government exercising authority over the private sector to an extent that is unprecedented anywhere in the world aside from Cuba and North Korea. The Russian government will be omnipresent yet simultaneously not strong enough to protect businesses from mafia groups consisting of demobilized soldiers armed with weapons they acquired during the war. Particularly at first, they will target the most profitable enterprises, both at the national and local level. For the Russian economy to grow, it will need not only major institutional reforms but also the kind of clean slate that Russia was left with in 1991. The collapse of the Soviet state made institutions of that era irrelevant. A long and painful process of building new institutions, increasing state capacity, and reducing corruption followed—until Putin came to power and eventually dismantled market institutions and built his own system of patronage. The lesson is grim: even if Putin loses power and a successor ushers in significant reforms, it will take at least a decade for Russia to return to the levels of private-sector production and quality of life the country experienced just a year ago. Such are the consequences of a disastrous, misguided war.
ODDZ & ENDZ
I must admit I did not think much of stuff like magic mushrooms being other than, you know, recreational drugs. But after reading this article I am starting to change my mind! Jim Harris Was Paralyzed. Then He Ate Magic Mushrooms. And I think you will too. For the record, I am NOT in support of any drug use here ok? I expect this field to grow!
In the past two decades, researchers have found overwhelming evidence that psychedelics are beneficial for mental health, and now they're exploring the extent to which they can promote physical healing, too.
I recently watched the movie "The Watcher". It is very good and creepy. And then I read this article The Watcher. Which brought to mind the neighbor that made us move to our current house years ago. Very creepy and…it gets complicated with Netflix jumping in too near the end. So, do not read if you don't like creepy neighbors messing with your mind and kids…A family bought their dream house. But according to the creepy letters they started to get, they weren't the only ones interested in it.
You can spend days here, Wikipedia's Unusual Articles. The variety of the links will shock you or keep you busy for as long as you want, sure beats clicking on clickbait!
Great investigative journalism here on How a Chinese American Gangster Transformed Money Laundering for Drug Cartels. Xizhi Li pioneered a new method that enriched Latin American drug lords and China's elite. A DEA investigation found the Chinese government may have been involved.
This was shocking when I first saw it, learn how to live alone! Who Americans Spend Their Time With.
Amazing photography here: Mangroves And Ecosystems: 30 Best Pictures Of 2022 Mangrove Photography Awards.
TRAVEL
Let's travel and go Inside the Great Pyramid of Giza in Egypt, very cool.
Some friends invited us to a cruise in December and I said nope. Because the thought of this happening and stranded on a boat, well, I just don't want to go there! A Cruise Ship Covid Outbreak Returns in Australia.
I always liked looking at castles. Here are 8 real-life castles that inspired your favourite Disney films.
Will Nauru and Tuvalu be around by 2100? The Top 10 Smallest Countries, ranked.
Vatican City (0.19 square miles) 
Monaco (0.78 square miles) 
Nauru (8.1 square miles) 
Tuvalu (10 square miles) 
San Marino (24 square miles) 
Liechtenstein (62 square miles) 
Marshall Islands (70 square miles) 
Saint Kitts and Nevis (101 square miles) 
Maldives (120 square miles) 
Malta (122 square miles) 
MILES & POINTS NEWS/PROMOS/MY ACTION
This is another good End of Year Checklist for 2022. You do NOT have to achieve elite status with so many airlines and hotels, just be aware that most blogs in this space are businesses and going for these statuses is part of cost of doing business which leads to more sales contributing to a viable growing business, ok?
Good reference to bookmark: Citi ThankYou Rewards Review and Guide.
I am so embarrassed…I let one Hyatt 1-4 Category free night certificate expire mistakenly thinking it was one offered by Hyatt and I could get some points afterwards. But it was one offered via the Chase Hyatt Visa credit card so no extensions and no points are offered.  I can not believe it, boo me!
Having said that…I am at 59 Hyatt night credits and just need one more to make it official requalifying for Hyatt Globalist elite status. And I have one more free night cert expiring December 5…I better use it. Looks like all Category 1-4 Hyatt properties have vanished from New York City, how sad! Oh, I also have my final Hilton free night cert expiring December 31. First world problems. I need to transfer a big chunk of Chase Ultimate Rewards points to my United account, I think 300,000 will be enough to start playing with…
I need to get going on booking my trip to Greece. And now my mother has changed her mind once again and wants to visit us in the US. And we need to be in Singapore in November 2023 for a wedding so I am thinking maybe we can do a trip from there, maybe Vietnam, Thailand or finally make the pilgrimage to Maldives 🙂 Any amazing outstanding Hyatts in these places I can look to burn a Globalist Confirmed Suite Upgrade?
BUZZING
A section where I go on and on about some stuff that happens in my life and anything else that just does not fit in another section above.
The 2022 World Cup is starting in Qatar. It is held by FIFA, one of the most corrupt organizations out there, you should watch the new Netflix FIFA Uncovered documentary. Anyway, at least the national team jerseys and flags mean something to the millionaire players and a bunch of players from smaller teams dreaming about playing in a World Cup and breaking out to become worldwide stars. Having said that, league competitions are just not the same ever since some mega rich suspect individuals started paying obscene amounts which made the sport difficult to follow. How the Story of Soccer Became the Story of Everything. It all started with that Russian oligarch who bought Chelsea FC…
I remember when the song Rock Lobster came out I was obsessed by it and played it over and over for days…loud of course. And my mother screaming at me "Turn it down. Turn it off. Enough!". Oh, good times. Anyway, just saw this B-52's performance of it at Saturday Night Live in 1980 and it is awesome. I finally saw them live around 2015 I think and they were still great.
The B-52's "Rock Lobster" at SNL
The cold weather has now made it to Southeast Michigan and running outside can be, well, a little painful..
I used to absolutely LOVE the Twisted Sifter website. Sadly, like so much other stuff online turning to crap and hunting of clicks, the site has now become a clickbait hellscape with posts like this: "She Potty Trained Her Niece and Nephew. Is She Wrong?" I am not linking to clickbait shit, be mindful of your clicks…because if it was not for them such crap would never be posted in the first place. YOU can make a difference!
My daughter will be an intern at Microsoft next summer. Hopefully the Big Tech layoffs spare her position, ya never know these days!
MILES & POINTS
HOT CREDIT CARD OFFERS: 80k CITI Premier, 75k Southwest Cards, 60k CHASE Sapphire Preferred, 75k Capital One Venture X, 90k CHASE Ink Cash, 90k CHASE Ink Unlimited, 100k CHASE Ink Business Preferred, 60k CHASE World of Hyatt Visa, 80k CHASE Sapphire Reserve (ENDS 11/30/22), 20k CHASE Freedom Flex, up to 30k CHASE Freedom Unlimited, 140k IHG Rewards Premier AND 1 Free Night and many more, including many AmericanExpress cards, including Delta, Marriott and Hilton cards! Please check out my Affiliate links. Terms apply to American Express benefits and offers. Visit americanexpress.com to learn more. If you do not see a credit card with my affiliate links, perhaps I could refer you?

This section is about my hobby addiction of collecting frequent flyer miles and hotel points since the early 1990's! SKIP if you are not into it!
As of today, I have burned 1,097,309 miles/points year to date and have 4,821,582 miles/points in the bank. Some do drugs, I do miles lol!
Thanks to US banks, very lucrative travel rewards credit card offers come and go all the time. This section will act as a reference point on the best CURRENT offers. I will designate new material preceded by NEW.
BEGINNERS
The Beginner's Guide to Getting Started with Credit Cards, Points & Miles
The Basics of Booking First & Business Class with Miles
BASICS: This travel hacking hobby is mostly about getting the fat Signup Bonus of travel rewards credit cards while of course NEVER EVER carrying a balance. Banks have a marketing budget and are willing to give us many THOUSANDS of miles/points to travel mostly for free hoping to hook us to charge 20%+ interest rates on our balances. The poor souls who fall for their marketing paying these ludicrous interest rates end up subsidizing us responsible consumers who enjoy taking advantage of, cough, such bank marketing budgets! Some of us have been doing this for thirty years creating amazing travel memories…Feel free to ask me questions or post them in the comments.
BASICS: Prefer credit cards from the proprietary points programs of banks, such as Chase Ultimate Rewards, American Express Membership Rewards, Citi ThankYou Network, Capital One Rewards Miles because they are a lot more flexible and are not devalued as frequently. Over pure airline and hotel travel rewards credit cards. Pure cash back credit cards may work for you best and they are getting more valuable as airline and hotel loyalty programs keep getting devalued. Sometimes, a pure no annual fee 2% cash back card works best for simplicity!
TOP TRAVEL REWARDS SIGNUP BONUS CARDS
Master Guide to Credit Card Applications: All the Rules You Need to Know, Bank by Bank 
How to Sign up for Chase Ink Cards
These two NO ANNUAL FEE Chase Business cards are now offering an amazing 90,000 Chase Ultimate Rewards Points, the Chase Ink Business Cash and the Chase Business Ink Unlimited! Bottom line, I think these are the BEST business travel rewards cards out there right now! The 90k Signup Bonus can be earned after $6k of spend on the cards in the first three months. I am not going to make a fool of myself with recurring "69 reasons I love these two cards", this is not a sales maximization blog ok? You can click to find out more about them and you can apply HERE to support this blog, thank you.
Chase Ink Cash/Unlimited 90,000 Points Now Available Online
Best Ever Chase Ink Card Bonuses Are Now Publicly Available Online
Citibank increased the Signup Bonus for the Citi Premier card from 60,000 to 80,000 Thank You points. Annual fee is $95 and the minimum spend to score the Signup Bonus is $4k in the first three months. The Citi Premier card has a solid earning structure as it earns 3 points per dollar on gas/groceries/dining/travel and 1 point on everything else. Of course, you can transfer your points to mostly foreign airlines and JetBlue. Or you can cash out at one cent per point. Therefore, 80,000 points means $800 less $95 annual fee——-> BOOM! Read the newbies paragraph above and always think…taking advantage of bank marketing budgets! Available HERE, thank you!
 Get The Best Offer Ever, Enough For 5 Round-Trips To Hawaii & More Incredible Deals, With The Citi Premier Card!
NEW: Citi ThankYou Rewards Review and Guide
The Capital One Venture X card offers a 75,000 point Signup Bonus after a minimum spend of $4k in the first three months. If you like simplicity and looking for one (premium) card, I highly recommend this card (and yes, I have it myself!). It has an annual fee of $395 but it comes with a VERY easy $300 statement credit for travel booked on its excellent travel portal, essentially turning it into a $95 annual fee card. But wait…there is more! On each card anniversary you earn 10,000 points essentially making it FREE! Every dollar of spend earns 2 points and flights booked on the travel portal earn 5 points per dollar. You get access to Capital One and Plaza Premium airport lounges and a Priority Pass Select lounge membership and, this is important, you can add FOUR authorized users FOR FREE who can also have their own Priority Pass Select airline lounge membership. You can transfer your Capital One points to up to 18 Transfer Partners. No foreign transaction fees. Free Hertz President's Circle rental car top elite status. Cell phone protection and PRIMARY rental car coverage. Awesome seats at baseball stadiums for just 5k points each. And lots more. Available with my Credit Card Links, thank you for your support!
Why We Think the Capital One Venture X is Best for Traveling Families
Just like clockwork, the Chase Southwest cards are again up to 75k Signup Bonus! Three personal cards, Priority at $149 Annual Fee, Premier at $99k Annual Fee, Plus at $69 Annual Fee. The minimum spend is ONLY $3k in the first three months. 75k offers expire December 5! Each Southwest point is worth about 1.4 cents so DO THE MATH! Bags always fly free and the friendliest cancellation/change policies in the industry.  And if you can time it right…you could earn the amazing Southwest Companion Pass for 2023 and 2024. You can read the blog posts below to learn more and you can return here and apply for them HERE, thank you!
Limited Time Offers for Southwest Cards – Earn 75,000 Points Bonus
Southwest Companion Pass: A Guide to Earning It For Two Years
2 Southwest Companion Passes and a boatload of points with just 3 cards
The premium Sapphire Reserve card is now offering 80,000 point Signup Bonus. Here is what you get on top of the 80,000 points after you spend $4k in the first three months. The main benefit is that you get to easily offset the $550 Annual Fee of the card with a very easy automatic $300 statement credit for any travel purchase with the card. You earn 3x per dollar spent on Travel and Restaurants, you get a Priority Pass Select lounge membership for you and two guests, primary rental car insurance, no foreign transaction fees, $100 Global Entry credit, transfer to airline/hotel partners 1:1 ( I transfer to Hyatt, United and sometimes Southwest as needed), a whole bunch of other travel related benefits that most of us don't really ever use, etc. If you still decide to apply for the card please consider applying with my links HERE, thank you!  ENDING 11/30/22
7 Best Ways To Use the 80,000-Point Chase Sapphire Reserve Sign-up Bonus
The Best Travel Perks & Benefits of the Chase Sapphire Reserve
NEW: We have higher Chase United card offers! Chase United Airlines Cards: Increased welcome offers, up to 100K. Respect blogs that DO promote the best credit card offers for their readers while hurting their own pockets. Which means run away from blogs that only write about their own inferior affiliate offers hurting their own gullible readers who are kept in the dark. Anyway, my own REFERRAL LINK has the best offers listed, except the offer 90k United Quest card, use the link in the article instead for that one.
NEW: Chase United 30K Gateway, 70K Explorer and 100K Club Infinite (REFERRAL LINK)
There is a new offer which could land you 130,000 Hilton Honor points along with a few Hilton free night certificates if…you can afford to devote $15k of spend on the Hilton Business card. If you are interested, please support the blog by applying for the card HERE, thank you!
Hilton Honors Business Card: 130k Points + Free Night Certificate
Remember, you are NOT allowed to ever carry a credit card balance if you ever get a credit card here!
Let me leave you with this…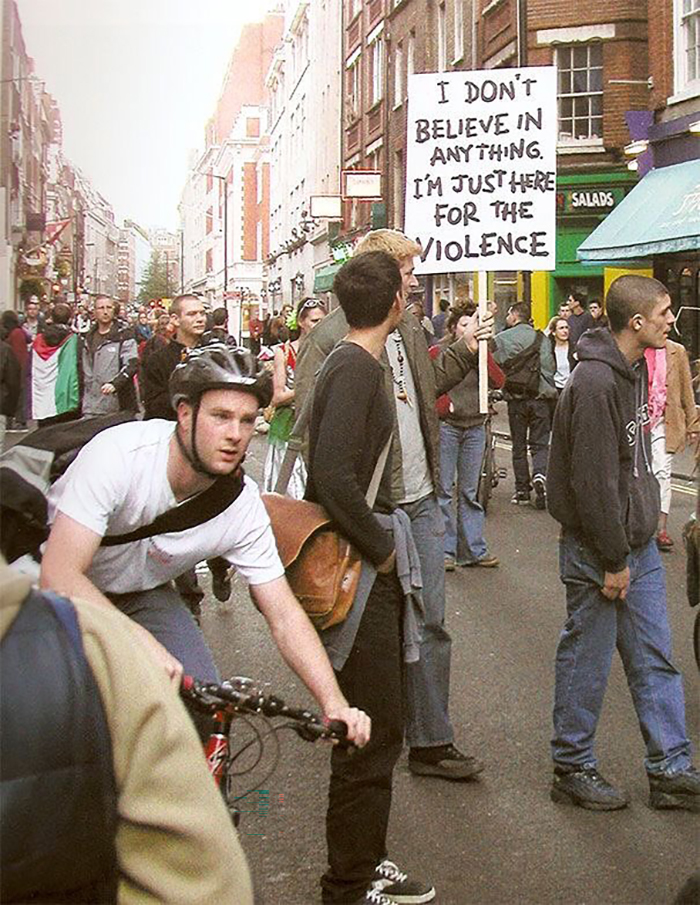 Thank you for reading my blog. If you enjoy it please pass it on to a family member or friend, thank you!
TBB
travelbloggerbuzz@gmail.com
Follow TBB on Twitter @FlyerTalkerinA2.
You can subscribe to TBB below, winners only!
Opinions expressed here are author's alone, not those of any bank, credit card issuer, hotel, airline, or other entity. This content has not been reviewed, approved or otherwise endorsed by any of the entities included within the post.