Greece, welcome to the absurd!
TBB Blog Mission: To Entertain. Educate. Inspire. In That Order!
You can support TBB by applying for CREDIT CARDS, please consider doing your shopping with our AMAZON affiliate link and clicking/forwarding any of our Referral Links. Or click on the Amazon Banner on the right side, thank YOU!
The miles/points world is boring me to piece lately. I have not seen it less exciting in a long time!
Just a few thoughts about Greece. Sorry I just don't have time to write more.
Greeks voted NO in huge numbers in the Sunday July 5 referendum. Never mind the referendum wording was about a proposal that was already withdrawn. I wanted YES to send a strong message to the Europeans that Greece REALLY wants to stay with them. Instead, in typical Greek suicidal pseudo rebel fashion, voters decided to send a strong NO. And now what? Nobody told them what this will mean for their life afterwards instead of blatant lies that it will bring a deal within 48 hours lol!
So much crap written about Greece lately, it's all over the news. It's starting to get comical. Most don't know what they are talking about.
Please read this rant about Greece I wrote on December 2013.
To sum up the vote: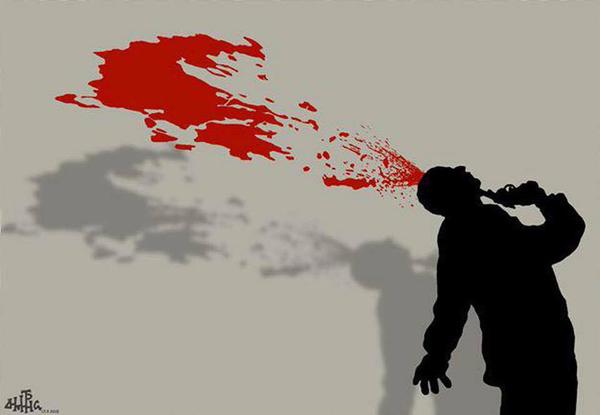 The country needs reforms to shed the state apparatus that is drowning everything. Instead, Greeks voted for a government that does not believe in so needed reforms. Their idea of reforms is hiring all they can IN the government! In other words, free money for all. Sorry dudes, the free ride is over. They are on to you now, no more pretending reforms in exchange for more loans to keep your crap going.
The money in the banks is running out. Amazing they voted NO when they are lining up in the bank ATM lines to withdraw 60 euros per day from their accounts. The game was over when the inevitable decision was made to close the banks and instill capital controls. Euros will not last for a few more days. It is now all up to Draghi of the European Central Bank…
I am a very optimistic person by nature. But I don't see how things will improve for the people of Greece. They must change but the hold of the state apparatus is so phucking strong it continues to destroy everything! The private businesses have been decimated and so many more will close and more will lose their jobs. But the government workers will keep their jobs. Heck, the few hundred that the previous Conservative government was finally pressured to fire were ALL hired back by this Syriza government. Yeah, WTF non stop with this freak show!
To give you an idea what we are dealing with, here is the President of the Parliament. An amazingly narcissistic combative megalomaniac embarrassment who made a movie (with state money) about their struggle to bring social justice to Europe and then wasted more time to investigate how previous administrations signed the "shameful" agreements for the loans. Sad thing is if they had made a deal right away it would have to bring in about 1 billion euros in measures. The agreement (withdrawn) of June 25 was for 8 billion euros. Every day since the banks closed the country loses 0.7 billion…so the next deal would have to be 16 billions in harsh measures to try to get everything back in control. And these guys promised so much crap and lied so blatantly and….idiots believed and voted for them. Like I said, this is an absurd country where delusion reigns!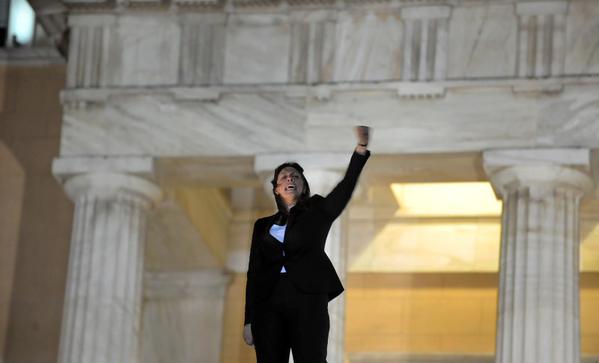 Folks, these Syriza dudes are a bunch of dangerous buffoons who could not run a kiosk, let alone a whole country so much in need of good governance. It's a selection of a bunch of extreme leftists with a few mild European minded leftists thrown in. What is even more sad, it is the other political parties have been so discredited and after the NO vote Syriza is pretty much the only game in town….God help us all!
Here is a Syriza member who represents, please sit down, the Trotskyite Fourth International. WTF non-stop, all together now!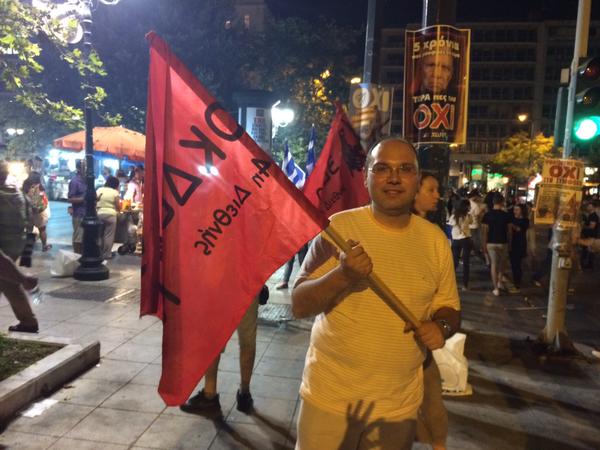 Like I said, Greece is absurd, a country of the extremes. There is a saying we have "Greece never dies" along with "This country is impossible to save".  There was one very positive development coming out of the NO vote. The Finance Minister Yanis Varufakis resigned and I am beyond ecstatic. I think this guy will go down in history as the one with the worst record ever of a Finance minister in the world, sorry the whole galaxy I mean. He basically received an economy that had stopped sinking, a small surplus and even a good growth indicator and proceeded to destroy annihilate it with a moronic negotiating strategy and continuous tragic missteps to the point of closing the banks and capital controls and running out of money after raiding any stash of money he can find. Oh, also missed a payment to the IMF which had not happened since last time…which was Zimbabwe! And also proceeded to piss of EVERYONE he negotiated with his delusional and moronic beliefs. How can you call your colleagues terrorists is beyond me! I get way too angry talking about this guy!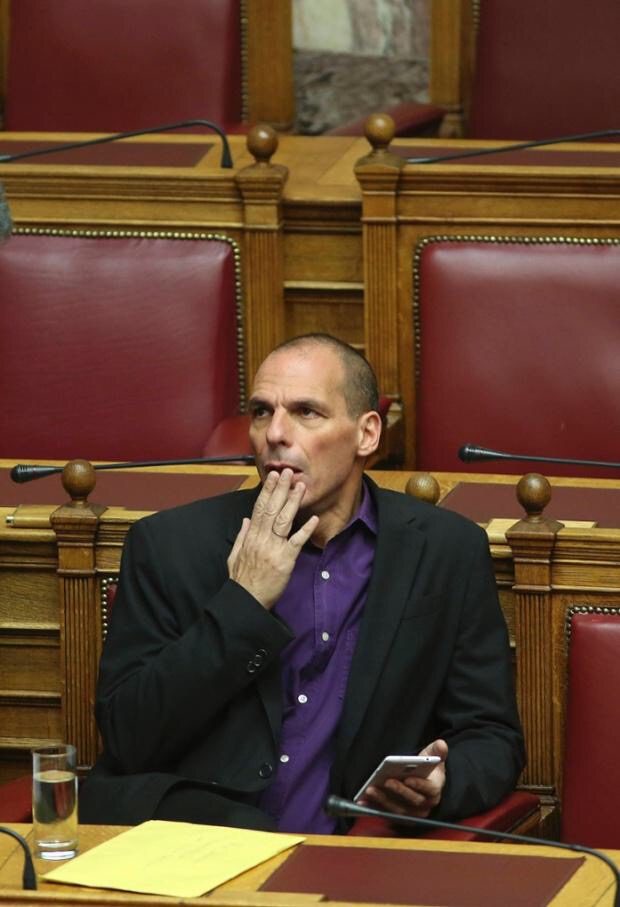 Please stop talking about the debt, the debt is NOT the issue! The issue is getting the budget deficits under control. Just when we all thought the bottom had been reached and we could only go up after 5 years of sacrifices…Syriza forced an election and it has been downhill ever since. The damage is so BIG that the game is over. Even if there is a deal (which I doubt) it will bring huge pain as the businesses have been decimated with the banks closed. And the game is called when the government can no longer pay pension and government staff salaries. I mean, it has stopped paying EVERYTHING else so it can continue to pay pensions and salaries. And money is running out….Greece is a failed state inside Europe and Greeks always blamed others instead of taking responsibility and truly get their act together and build something solid instead of…destroying. Oh, they also like to think of themselves as the ones fighting the good fight and teaching democracy and sticking it to the man…whatever. Anyway you look at it, it is tragic as many people are suffering and will suffer even more now.
Solutions after the free money stopped were bad, very bad, worse and catastrophic. We are down to the worse and catastrophic now…Tic, tac. Never underestimate the power of the average Greek voter to vote wrong and be proud for it! At the end, societies reflect the governments they elect. Hey, Greeks invented tragedy too!
Remember the Greek economy has always been a basket case and it only represents 2% of the European Union economy. In other words, Greece gets way too much play in the media than it deserves! The sad truth is the country never really belonged in Europe and continues to shoot itself in the foot to remain there…
This is what drachmas look like.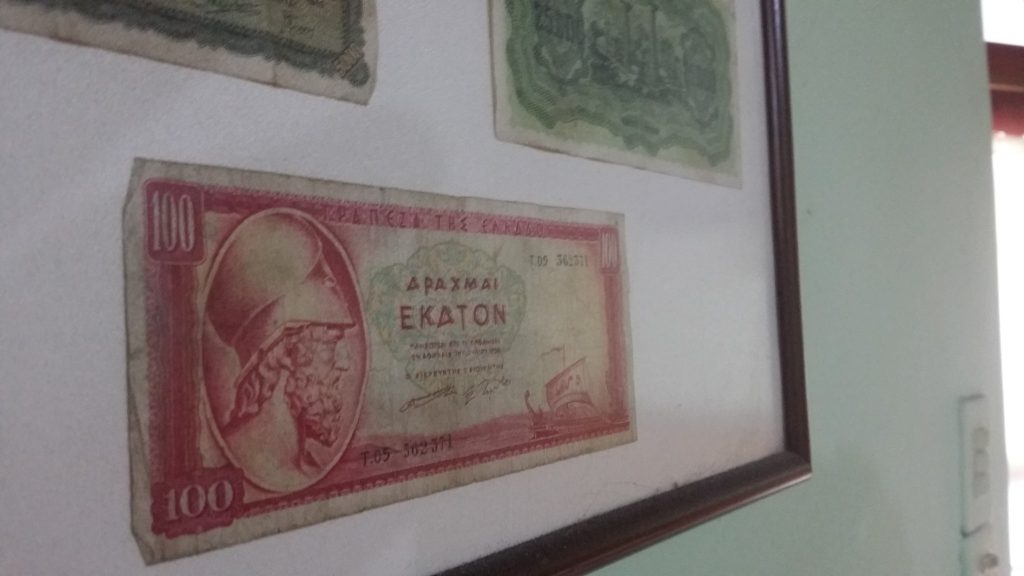 Pray for Greece. Things may turn very ugly next. And hey, "Greece never dies". Not sure about the Greeks…
TBB
travelbloggerbuzz@gmail.com
Join over 3,704 TBB followers on Twitter @ FlyerTalkerinA2 and add TBB on Google+