Another guest post by award travel expert Andy Shuman who continues to wow my readers who then tell ALL of the humans they know to make this blog the biggest it can be so it can too be bought out by The Points Guy. That was a joke you guys. The TPG part that is. Hi from Greece, super busy here, I hope you are all doing well.
You like my blog? Send a link to someone please!
By Andy Shuman
Both American Express and Citi are currently offering a 30% transfer bonus to Virgin Atlantic. To understand why this is one of the best deals you can take advantage of right now, we need to remember that as an air carrier, Virgin Atlantic Airways has nothing to do with it. Like nothing at all.
It's just like this: you don't really value British Airways Avios for flying on British Airways (I know our British cousins might disagree).
And you don't salivate over Alaska miles for flying on Alaska.
And Etihad? I really hope none of you actually uses Etihad miles to fly on Etihad. That wouldn't be the best use of that valuable currency.
If you do want, in fact, to fly Virgin Atlantic to London, then Delta (or drums, please) Hawaiian miles would be much better deals. Why? No fuel scamcharges, that's why.
Treat Virgin Atlantic miles like you treat all the above airline programs – to fly on partners – and hear me out while I'm trying to make my case of why this bonus is one of the best deals you can get for all your international Business Class needs.
Virgin Atlantic Miles on Delta
Delta can take you all over the world. Europe, Latin America, Asia, the Pacific, you name it. Delta flies to nearly 100 international destinations. Why would you want to use Virgin Atlantic miles instead of Delta's to fly on Delta? I can offer 55,000 reasons. And that's just one way!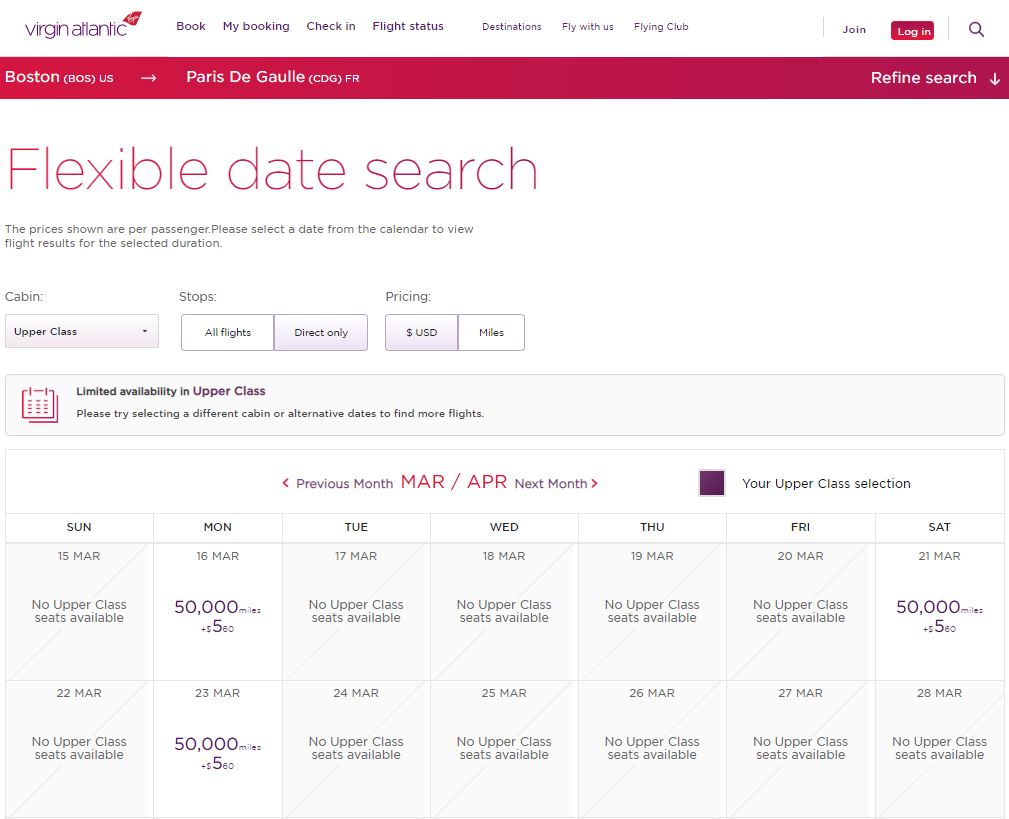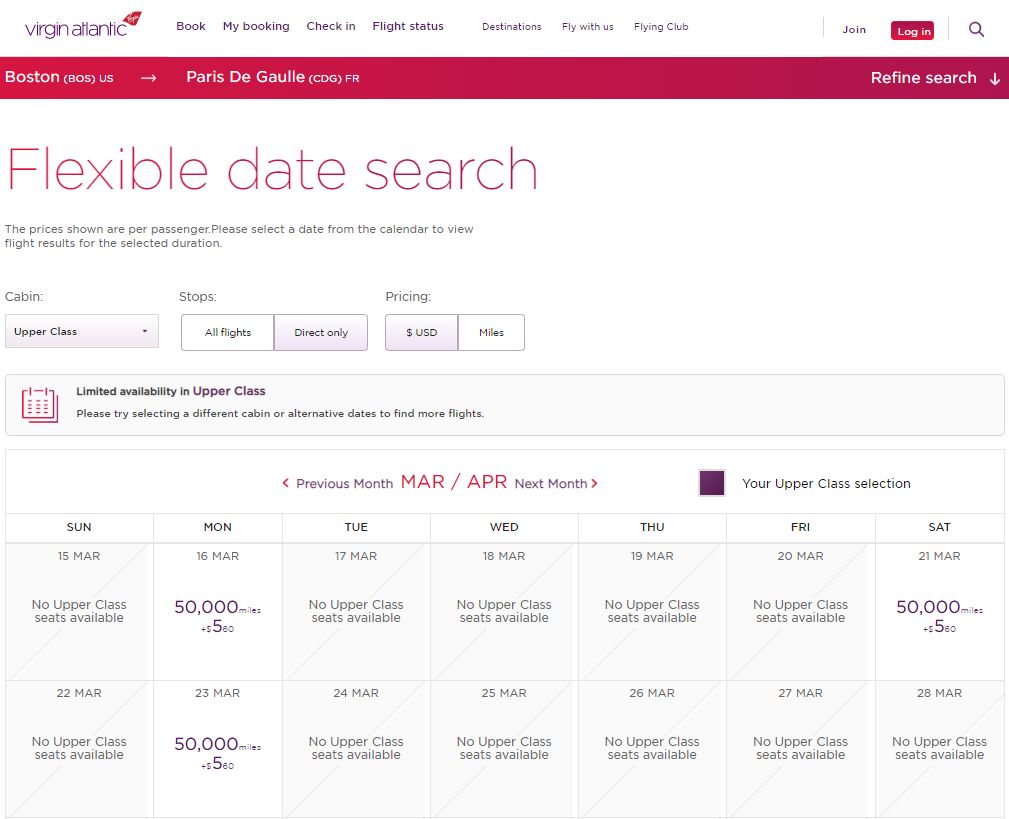 Only it's even better than this. With the 30% transfer bonus you will actually pay 39,000 MR or ThankYou points. 39,000 points vs. 105,000 SkyMiles for the same exact ticket!
As if that's not enough, Virgin Atlantic is a very special partner for Delta. It's not like your average airline partner.
Normally, you can only get an award flight on a partner airline if said partner has Saver availability. Virgin Atlantic doesn't have this limitation with Delta. So even if you can't find award space on Delta, try to check if Virgin Atlantic can fill the void.
Here is how many Virgin Atlantic miles and MR and ThankYou points you would be really paying for your Delta One ticket.
Just remember that you can fly anywhere in the world Delta flies. Since Virgin Atlantic web developers stopped updating their website some 200 years ago, they don't list all the airports in the world. That doesn't matter. Call Virgin Atlantic and tell them you A) want to find a flight to Rome (that's right, the Eternal City means so little to Virgin Atlantic, they don't even list it on their website) and B) that you are flexible. They'll find you a ticket if it exists.
Delta flies to some mouth-watering places, from Sao Paulo and Buenos Aires, to Barcelona and Paris, to Tel Aviv and Johannesburg, to Singapore and Tokyo, to Palau and Sydney. You will not find award space to all these places. Business Class award space to Tel Aviv or Sydney doesn't exist, and as to Johannesburg – I've managed to find just one, at the very end of schedule.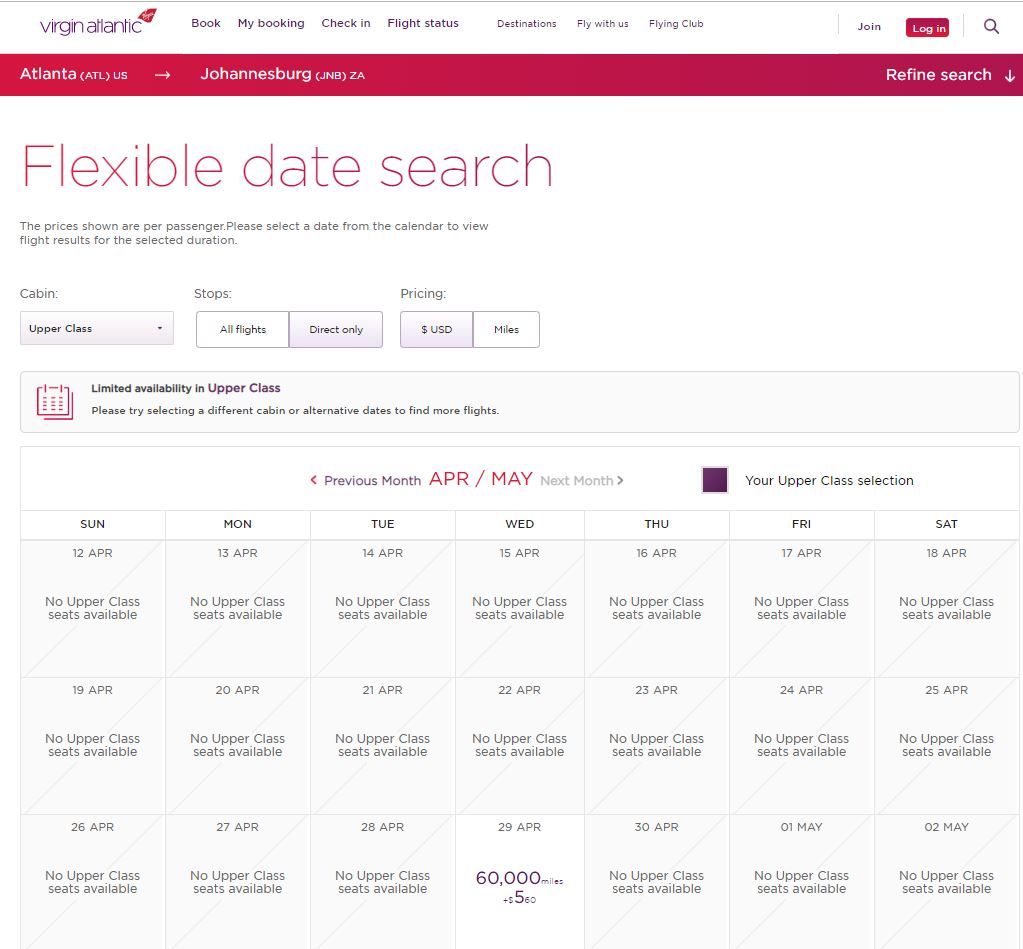 Still, it's good for what it is. Below you can see Business Class award space between Detroit and Beijing. And not simple Business Class – Delta One Suite (make sure your flight is on A350). These squares with 82,500 miles you can see below are flights via Seattle, which brings us to one major shortcoming of the Virgin Atlantic award scheme. It favors nonstop flights. Every time you have to add another segment, it will cost you more miles.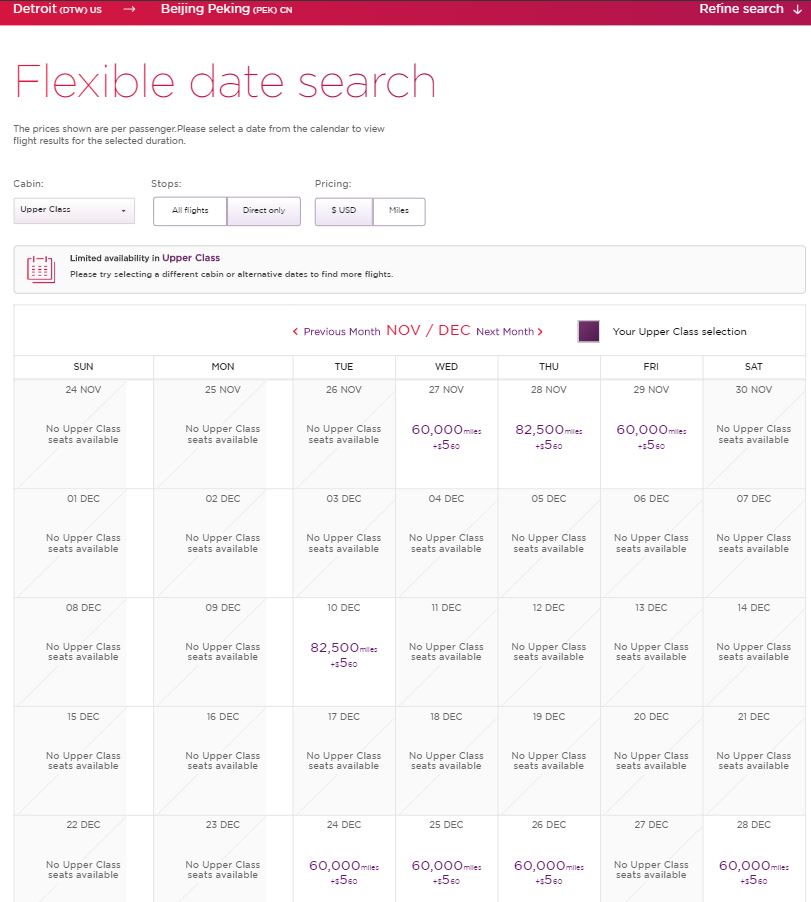 Speaking of Delta One Suites, here are the routes I'm aware of:
Detroit – Amsterdam
Atlanta – Seoul
Detroit – Tokyo (NRT)
Detroit – Seoul
Detroit – Shanghai
Detroit – Beijing
Los Angeles – Tokyo (HND)
Los Angeles – Shanghai
Atlanta – Amsterdam
Seattle – Shanghai (from July 1, 2019)
Seattle – Seoul (from August 1, 2019)
Atlanta – Tokyo (HND) (from late summer 2019)
Detroit – Tokyo (HND) (from late summer 2019)
Seattle – Tokyo (HND) (from late summer 2019)
Atlanta – Shanghai (from Nov 2019)
New York (JFK) – Mumbai (from December 2019)
Finally, check the Virgin/Amex MR/Citi TU award chart for Delta with the 30% transfer bonus. It just doesn't get better than this even if you need a positioning flight to your gateway airport.
Delta is a major draw of Virgin Atlantic miles because it can take you almost anywhere in the world. But it's not the only one, as other partners also offers unique and valuable (albeit limited) opportunities.
Virgin Atlantic Miles on ANA First
So much has been said about using Virgin Atlantic miles on ANA, but a little repetition won't hurt. You can fly to Tokyo for  85,000 MR or ThankYou points from the West Coast and for 93,000 points from the East Coast per ROUNDTRIP in First Class!
ANA flies between Tokyo (NRT) and: Chicago, Honolulu, Houston, Los Angeles, New York–JFK, San Francisco, San Jose, Seattle, Washington (IAD).
ANA flies between Tokyo (HND) and: Chicago, Honolulu, Los Angeles, New York (JFK), and Vancouver. You can almost always find a flight between some place in North America and Tokyo, as long as you give yourself some time. Search United first, then call Virgin Atlantic to make the booking (roundtrip only, phone only). While you're searching availability on United, just try to appreciate the mammoth amount of miles United wants from you for the same privilege.
Unfortunately, with a Virgin Atlantic ticket you will have to pay the fuel scamcharges, but the taxes and fees amount to about $300. That's bearable, considering the price you're paying in points.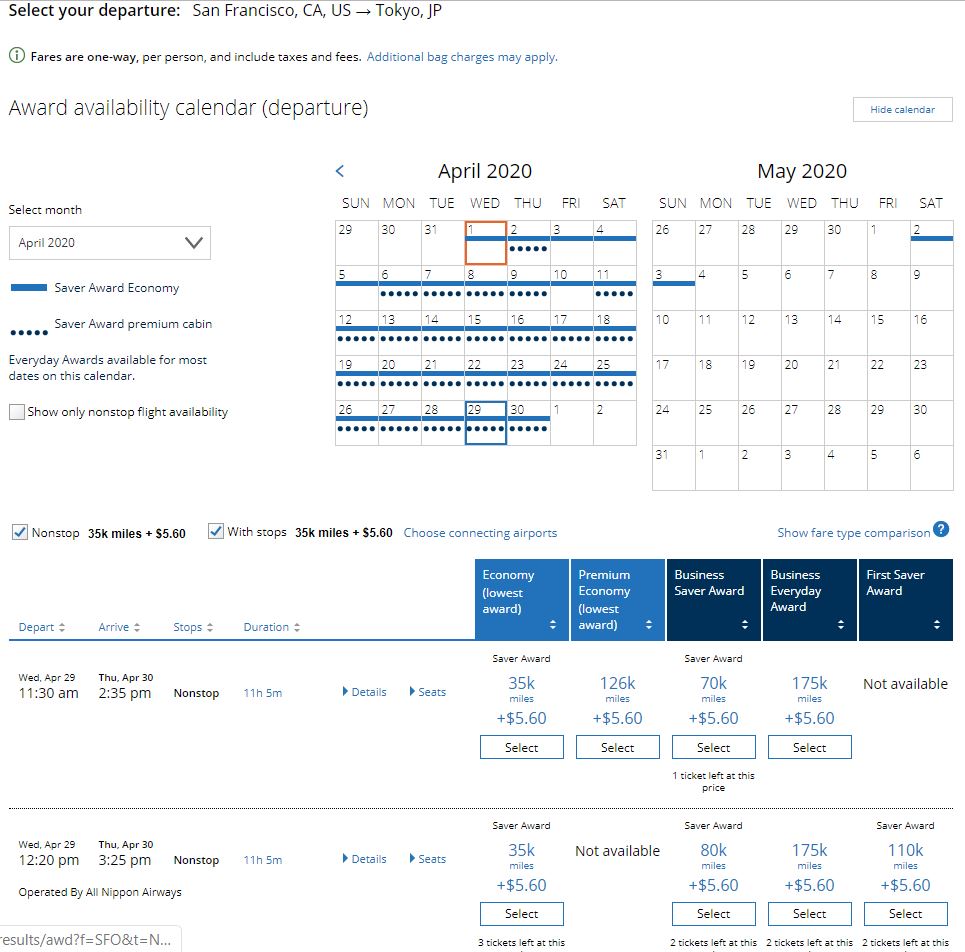 Here is the Virgin Atlantic ANA chart (including the MR and ThankYou points with the bonus):
Virgin Atlantic Miles on South African Airlines
I discovered this incredible bargain a while back, right before every other blogger in the world happened to "discover" it too – completely independently, of course. Basically, you can fly between Washington and Johannesburg via Dakar (a fifth freedom flight) in South African Airways Business Class for 100,000 Virgin Atlantic miles or 78,000 MR/ThankYou points per roundtrip, with or without self-made stopover! If you don't want to spend a few days in Senegal, it's the same plane. From what I understand you don't even need to leave your seat, although I can be mistaken about that.
Back then, there were no fuel scamcharges, just pure gold, but soon after it was advertised everywhere, Virgin Atlantic began adding about $600 per ticket in taxes and fees. Which is still a hot deal if you think how few points you are spending and how much an epic ticket like that could actually cost you. Search United, then call Virgin Atlantic to book.
Availability? Not good between Washington and Dakar, but it does exist.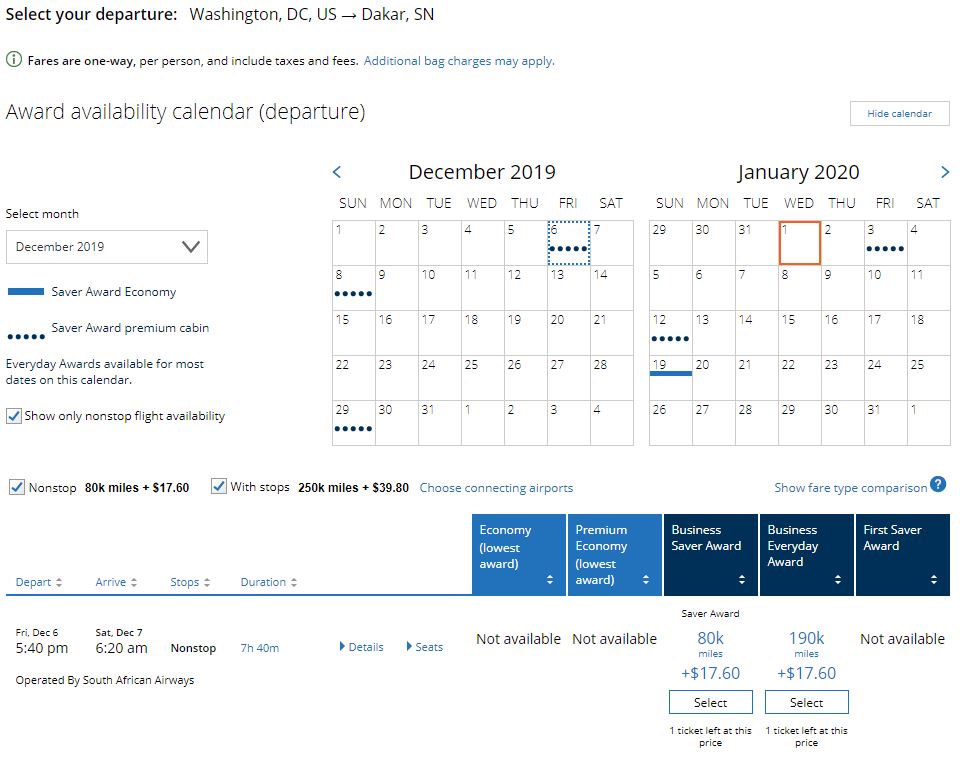 Much better between Dakar and Johannesburg.
Virgin Atlantic Miles on Air New Zealand
Air New Zealand flies between Auckland and Chicago, Honolulu, Houston, Los Angeles, San Francisco, and Vancouver. It also has a fifth freedom flight between Los Angeles and Rarotonga, which is a fantastic opportunity if you can find Business Class award space (I couldn't, although I haven't tried long).
Auckland, however, is doable IF you can think and fly fast. Air New Zealand traditionally releases its Business Class awards for the couple of upcoming months, and then it's big fat nada till the end of the schedule. Check United, then call to book for 49,000 MR/ThankYou points one way or 97,000 points per roundtrip.
Many bloggers were recently raving about improved NZ Business Class availability, however, even if it was the case – in my limited research, it's gone. If you can think and book fast, though – no problem.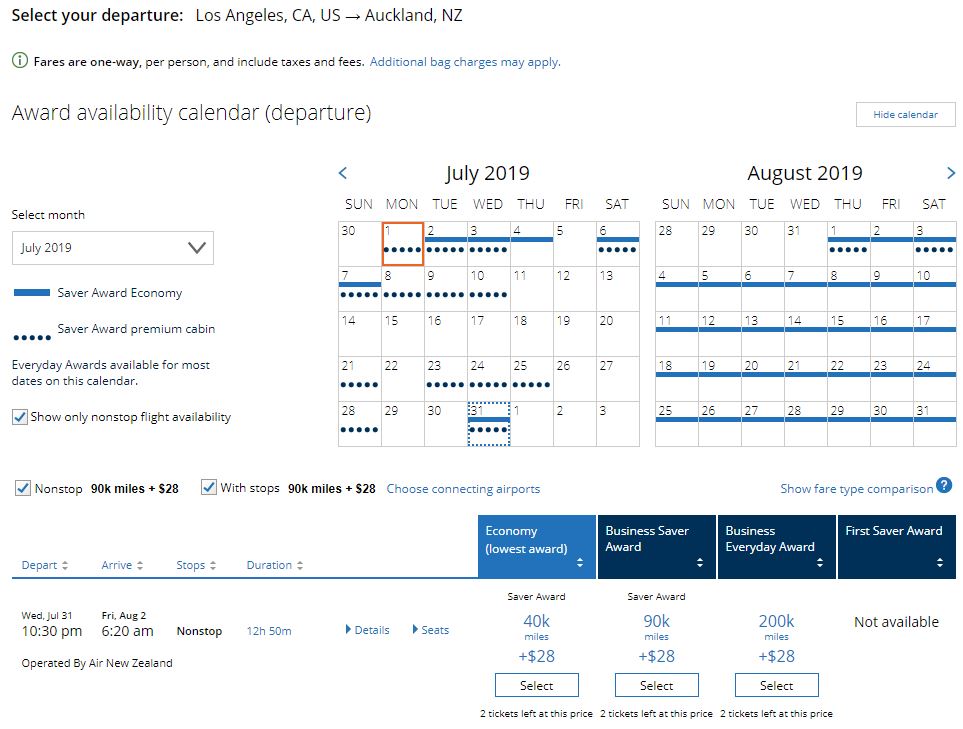 And this is NZ Business Class availability from Houston. There is some in June, July, and August, and then, like Keyser Soze – it's gone.
So, Is This 30% Transfer Bonus a Great Deal or a Fantastic Deal?
I don't know, but just like everyone else in this hobby/pastime/obsession I'm not happy about where things are going. Endless devaluations, axing of award charts, nixing Business Class awards, don't give me a lot of reasons for optimism. Against this backdrop, bonuses like this one can at least prolong the good times. Let's think in numbers for a moment. With the 30% transfer Virgin Atlantic bonus you can:
Fly Delta Business Class to Europe for 39,000 points one way (77,000 per roundtrip)
Fly Delta Business Class to South America for 35,000 points one way (70,000 per roundtrip)
Fly Delta Business Class to Asia for 47,000 points one way (93,000 per roundtrip)
Fly ANA First Class to Japan for 86,000-93,000 points per roundtrip
Fly South African Airlines Business Class to Johannesburg for 39,000 points one way (77,000 per roundtrip)
All these values are 2-3 times better than over-inflated U.S-based FFP costs. Delta nowadays wants at least 105,000 miles for a ONEWAY Business Class seat to Europe, United wants 90,000 miles for a ONEWAY Business Class seat to New Zealand or 110,000 miles for a ONEWAY First Class flight to Japan. I'd say, even if Virgin Atlantic wants you to jump through a few hoops, go for it. The final haul is worth overcoming so.
And TBB leaves you with this: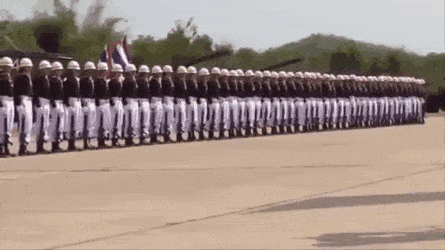 TBB
travelbloggerbuzz@gmail.com
Follow TBB on Twitter @FlyerTalkerinA2.
You can subscribe to TBB below, winners only!
Opinions expressed here are author's alone, not those of any bank, credit card issuer, hotel, airline, or other entity. This content has not been reviewed, approved or otherwise endorsed by any of the entities included within the post.