I decided to do a separate blog post about the miles/points details of my last vacation instead of adding this section to my travel trip report. I will link back to this from the actual trip report whenever I get around to it!
I get hooked on some sights that impress the hell out of me. As soon as I first saw Preikestolen (or Pulpit Rock) I knew one day I will climb it. So I did, here is my trip report from my trip to Norway in April 2013.
I have heard of the Canadian Rockies and how beautiful they are for many years. And ever since I saw this picture below it has been implanted in my brain to visit it!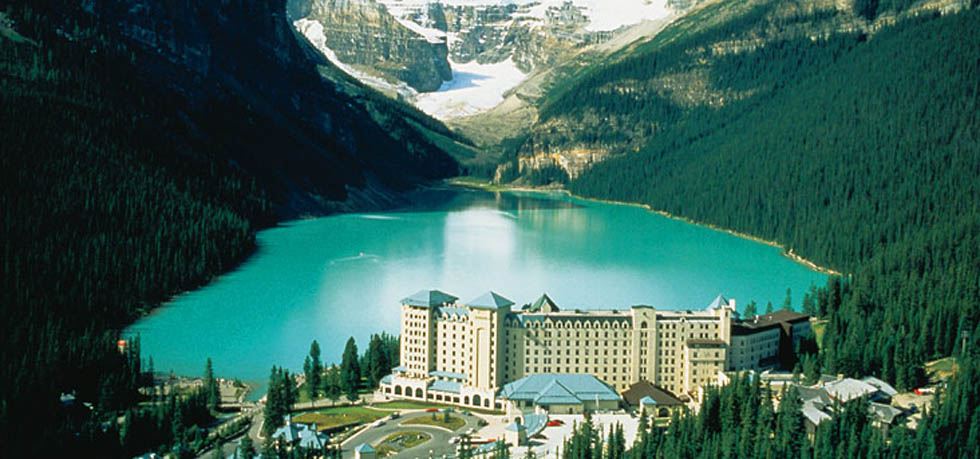 And you can say I have been plotting this trip in my mind for a very long time!
AIRFARE:
4 One Way United award tickets: Detroit-Chicago-Calgary  12,500 miles each plus $5 fee = 50,000 miles and $20 fees.
4 One Way United award tickets: Calgary-Toronto-Detroit (on Air Canada) 12,500 miles each plus $65 taxes/fees = 50,000 and $260 fees/taxes.
I did not bother looking at Delta. Times were just not that convenient with American Airlines. Thank you United, may all the other airline websites be as easy to use as yours when we want to use our cherished miles!
The 100,000 United miles were acquired by transferring 100,000 Chase Ultimate Rewards points to my United Mileage Plus account. We both have a Chase Ink Plus card and it is our go to card as Chase Ultimate Reward points are, in my own opinion, the most valuable mileage/points currency out there. Go to card means we use the crap out of it every chance we can! You can get the Chase Ink Bold or Chase Ink Plus cards and get 50,000 Chase Ultimate Rewards points as signing bonus! They are business cards. This is the non affiliate landing page to learn more about them or simply google it. Use credit cards responsibly please and ALWAYS pay them off. If not, you are the sucker allowing my family to travel for free. If you are new in this game please do NOT be a sucker and start slow, this hobby can get very addictive! If you click on some other blogger's affiliate credit card links be aware that they are getting paid very well per each successful approval. Choose bloggers who add value to your life and adhere to good blogging practices (TBB approved list coming in the near future).
11 OUT OF 11 HOTELS NIGHTS FOR FREE:
Night 1:  July 24:  Hilton Garden Inn Calgary Airport – $0 Stayed with complimentary night certificate I won in late 2012 in an online Hilton promotion! It was expiring July 30, phew! Earned 4,131 HH points as Gold HH elite.
Night 2-3:  July 25-26: Fairmont Banff Springs  Mrs. TBB's two Fairmont Visa complimentary nights.
Night 4:  July 27: Holiday Inn Canmore 25,000 IHG Rewards points    [Rebate 2,500 points —–> Final cost: 22,500 points]
Night 5-7:  July 28-30: Fairmont Chateau Lake Louise  My 2 Visa and 1 Platinum complimentary nights
Nights 8-9:  July 31 – Aug 1: Holiday Inn Hinton  10,000 Pointbreaks rate (5k each night)    [Rebate 1,000 points—–>Final cost: 9,000 points]
Nights 10-11:  Aug 2-3: Country Inn & Suites Calgary Airport  44,000 Club Carlson Gold points (2nd night free!)
This is how we acquired the hotel certs/points:
Fairmont: See next section below for detailed discussion
Holiday Inn: Mrs. TBB got 80,000 IHG Rewards points after getting the Chase IHG Rewards Visa credit card. Yes, you can stay for 16 nights if you book only 5k/nt Pointbreaks hotels! It has no annual fee the first year and you get automatic Platinum elite status as long as you hold the card. And 10% points rebate on every redemption. If you keep the card, the annual fee is only $49 per year you get one free night in ANY IHG hotel! Check the link in Post #1 in this FlyerTalk discussion. Of course it is a non affiliate link. If you see any other link for this card out there with less points it is likely an affiliate link and the blogger pushing it is not interested in you and your family traveling for free…he/she is interested in lining up their own pockets. So avoid run away from those blogs!
Country Inn & Suites: This is part of the Club Carlson family of hotels. We both got a US Bank Club Carlson Premier Rewards Visa Signature card (non-affiliate link) and each received 85,000 Club Carlson Gold Points in our accounts. Gold elite status as long as you keep the card. And, the jewel of all hotel benefits, you get a FREE award night when you make any award reservation! So our two nights at the Calgary Airport Country Inn & Suites cost us only 44,000 points which was the rate for ONE night, the second one was FREE! Honestly, I have no idea how this benefits is still intact and has not been devalued away yet! US Bank is really weird to deal with. If your app gets denied, you must be persistent and keep calling back asking "please have my application undergo a manual review, "I have no doubt it will be approved if it is seen by a real person! excellent credit record, always pay bills on time, want to make it my go to card, blah blah blah". If denied, call the next day. I was successful on the fourth try!
PLANNING FOR FAIRMONT LODGING

Fairmont hotels have two fantastic hotels in this region: Fairmont Banff Springs and Fairmont Lake Louise 
With the introduction of the Fairmont credit card by Chase Bank my mind started spinning how to make the best out of it and finally get to visit this place and stay in style. We are okay not seeing it in style but we highly prefer it when cash is not coming out of our pockets! Guess what? The credit card is STILL out there (non affiliate link) and for no annual fee in the next year you get 2 TWO complimentary nights after spending just $1,000 on the card, Premier elite status , breakfast for two for each night, LOUNGE club membership (two first visits are free annually), etc. The card has no foreign transactions fees, a complimentary night is also earned each year at anniversary of the card with $12,000 of spend during the previous card year (NOT calendar year) at the time of payment of the annual $95 fee (it is still free for the first year and yes the two free nights are yours!). The points earning rate on the card is really not that good but you can still cash out for Fairmont gift cards. No reason to put too much spend on the card other than perhaps just hitting the $12k mark to generate the free (well, not free) Visa night (which really costs you just the annual fee of $95 which is a great rate for any room at a Fairmont hotel!)
Needless to say me and Mrs. TBB got the cards so we had four nights between us. In addition, I am a Lifetime Platinum Fairmont Presidents Club member and one of the benefits I receive each year is one complimentary night. How did I become a Lifetime Platinum Presidents Club member? It was a great story indeed, USA Today even wrote a story about this legendary Living Social deal. And thank you to Fairmont for honoring it, I became a fan!
I was aiming to get two more nights (for a total of 7 instead of 5 in the two Fairmont properties) based on the $12k spend per card but my timing was off. We both got the cards in July 2012 and was hoping the complimentary nights will be credited to our accounts by late August. Well, some scheduling conflicts arose with Mrs. TBB's job so we moved up our vacation start to end of July. We did not get the two nights credited in time. Actually, we believe we got a great feel for these two properties in five nights. And we still have the two free night certs and we aim to spend them next year in the  Fairmont Maui Kea Lani.
UPGRADES & DINING CERTS BANG!
We cashed in our Fairmont points and among my Platinum certs, her Premier certs and Visa certs we ended up with about $500 in dining certs among us! Oh, I forgot to add. As Platinum, I am entitled to a free session at the Spa. Mrs. TBB sure enjoyed it! We managed to eat very well and still have $200 at least in gift cards to use next year in Maui! And I intend to get more Fairmont gift cards as we will be keeping these cards as we aim to hit a Fairmont hotel three nights every year!
We used suite upgrades of course. I arranged them with the Platinum Presidents Club line which tends to be a bit stingy. Dan of DansDeals strongly suggested to book directly with the hotel. Anyways, I am not that pushy to prearrange the Presidential suites every time I travel, we are fine with most Fairmont suites. Well, the Banff Springs suite was just awful; its location was at a corner with traffic right next to our windows, yikes. I immediately called and asked for a different suite. Second suite was much better. Could we have done better? Perhaps. Were we satisfied? Yes! Moral of the story: If you do not like the room, call the front desk pronto!
I was more concerned with the Lake Louise suite upgrade. I absolutely wanted to get a Lakeview room which I managed to pull off. There is no better view in my opinion, Lake Louise is magical!!! I will have more on the actual trip report.
RENTAL CAR
I neglected planning for the car as well as I did with the airfare and hotels, boo me! This is where a Barclays Arrival card would come in very handy. But I was too busy handling the other cards I have, tracking signing bonuses and min spend juggling, let alone keep producing a quality blog here! So, (this is going to hurt my reputation!)  I ended up paying about $784 USD for a pretty nice Jeep Compass SUV for the duration of the trip. At least I got some Hertz points out of it. Friends were there a week earlier and paid similar rates. Hey, experts make mistakes, we are all human 🙂  By the time I got serious in shopping for it , price kept going higher so I just booked it and tracked it…yep, prices never came down!
VARIOUS PICS FROM THE TRIP
Just some teaser pics. Complete pics will be published in the actual trip report (not sure when it will be published!)