We bring you more on my Hyatt Globalist success, the Trump cult, 15 stimulus tax breaks, the allure of conspiracies, the virus numbers go down but the strains and travel bans go up and hitting closer to us, we travel to Porto and drive in national parks, we learn more about ETFs, the world's biggest car companies, music of the past and artists of today and a LOT of variety in this TBB post, enjoy!
TBB Blog Mission: To Educate. Entertain. Inspire. In That Order!
Support TBB by applying for CREDIT CARDS or visiting our

LINKS

or Donate

You like my blog? Send a link to someone please!
Shop & support the blog with the TBB Amazon link!
BLOG HOUSEKEEPING:

This goes out to subscribers via email the day it is posted at 8 am. After that I may add something new in the body of the post and I indicate it like this: Update.
If you are not into the frequent flyer miles/points game please feel free to skip the MILES & POINTS and most of the BLOG BUZZ section.
Stay positive, test negative!
TOP PICKS
Top picks are not excerpted at all. I recommend you find time to read every word!
Just click it!
This is an interview of cult expert, it explains the cult of Trump. Must read!
"So Many Great, Educated, Functional People Were Brainwashed": Can Trump's Cult of Followers Be Deprogrammed?
When you get some crap from someone about Covid-19, shut them up with this!
MILES & POINTS
HOT CREDIT CARD OFFERS: 75k Chase Ink Cash, 75k Chase Ink Unlimited, 100k Chase Ink Business Preferred, 60k Chase Sapphire Preferred, 80k for all three personal Southwest cards, 60k Citi Premier, 65k AA CitiBusiness Platinum Select, 50k AA Citi Platinum Select, 20k Chase Freedom Flex & Chase Freedom Unlimited, 75k AMEX Platinum, 85k AMEX Business Platinum, 50k Chase World of Hyatt, 150k AMEX Hilton Aspire, 130k AMEX Hilton Business & Hilton Surpass, $250 AMEX Blue Cash Preferred, $300 AMEX Blue Cash Everyday, 140k Chase IHG Rewards Club Premier, and many more! Please use my Affiliate links.

If you do not see a credit card with my affiliate links, perhaps I could refer you? Contact me please, thank you!
My REFERRAL links for the 100k Chase Ink Business Preferred, 75k Chase Ink Cash and 75k Chase Ink Business Unlimited.

Newbies: Going to keep this short as I am watching NFL football playoffs 🙂 A bank is willing to give you as part of its marketing budget 50,000 to 100,000 miles/points if you get a travel rewards credit card it is selling. Sometimes with no annual fee or the annual fee is waived in the first year even. All you need to do is do the minimum spend they require to earn that huge signup bonus. And after a year you can decide to keep it or cancel it. ALL the miles and points you earned are yours to keep (assuming airline/hotel ones, bank proprietary points are a little different and require a little more effort not to lose them if you cancel that card, ask me/us!). When this clicked for me it was like, wait a minute, a bank is going to give me all these miles/points I can travel for free and all I gotta do is follow the terms and conditions? And keep paying the balance every month of course. Wow, WHAT A COUNTRY! That was in early 1990's, its' been a hell of a run since then you guys. Amazing it is still going strong. Why? Because many who get the credit cards screw up and end up carrying balances and paying confiscatory interest and fees! DO NOT BE LIKE THEM!
Register for the Radisson Rewards Double Points promotion HERE.
I am officially a Hyatt Globalist elite until February 28, 2023 after my 15 night "stay" at a local Hyatt Place Category 1 hotel posted. My goal is to take advantage of it mostly in 2022 it appears. I have some details in the BLOG BUZZ section below.
TRAVEL
The travel bans are back! Can you imagine being caught in one of them? Stay home people!
When we start traveling again, if you go to Porto and have two days, check this out: 2 Days in Porto: How to Have the Perfect Weekend in Porto.
These are great: 10 Scenic National Park Drives Everyone Should Do at Least Once.
This is VERY cool! Visualizing Countries by Share of Earth's Surface.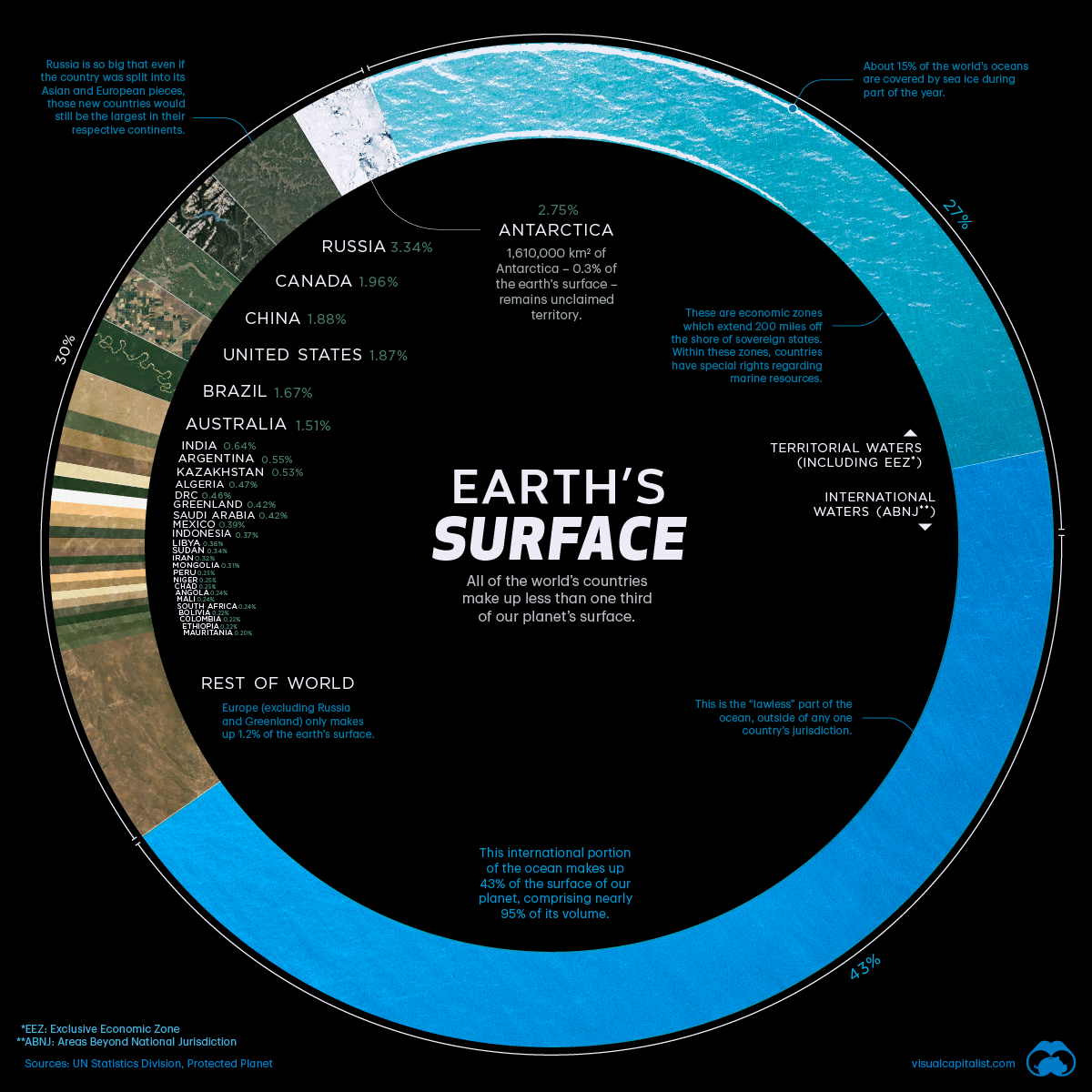 COVID-19
Are we turning the corner with lower numbers? Pandemic Numbers Are (Finally) Tiptoeing in the Right Direction. Or will the increasing new strains and relaxing measures get us back on yet another wave? Meanwhile, we reached 25 Million cases in the US, we are #1!
After reading this interview of Dr. Fauci I respect this guy even more, what a hero actually! Fauci on What Working for Trump Was Really Like.
The strains are all over Ann Arbor and most specifically the University of Michigan where the whole Athletic Department shut everything down for two weeks. I feel like it won't be long before the virus finds us…In some ways, I feel like WHAT THE HELL, let's just get it over with! I think we are all going crazy living like this…Then I see a friend on Facebook who gives updates on the condition of her brother periodically, on a ventilator since November, super healthy guy too…and then I see that and I feel grateful for living like this. Ok, I feel better. We are all in this together, hang in there!
PERSONAL FINANCE
Really good article: The enduring allure of conspiracies. Conspiracy theories seem to meet psychological needs and can be almost impossible to eradicate. One remedy: Keep them from taking root in the first place. 
Even as researchers push to develop such measures, they acknowledge that eradicating bogus conspiracy theories may not be possible. Conspiracy theories flourished as far back as the Roman Empire, and they inspired an angry mob to storm the US Capitol just last week. Specific theories may come and go, but the allure of conspiracy theories for people trying to make sense of events beyond their control seems more enduring. For better — and of late, very much for worse — they appear to be a permanent part of the human condition.
I still think all this QAnon crap is a Russian intelligence operation to mess us all up. Its peak success was the mayhem on January 6. Hopefully, that was it as most of these morons should now realize they were played: Some QAnon followers lose hope after inauguration.
Of course, there will always be assholes playing fools for money in the name of God.
MAGA tears. My God, how do you turn out like this?
The most important part of Inauguration Day imho.
ODDZ & ENDZ
If you do not mind the ridiculous photography, this is a good glimpse into Christian Pulisic: America Finally Has a Global Soccer Star.
This is cool if you are into music: How Music Taste Evolved. Every top 5 song, from 1958 – 2016, so we can stop arguing about when music was still good.
I am on a roll with cool stuff today! The Most Influential Artists of 2020.
Remember that blogger in Malta who was blown up after investigating the country's politicians? Well, THIS is the article to learn more about it: Murder in Malta. After a journalist was assassinated, her sons found clues in her unfinished work that cracked the case and brought down the government. In a way, this is how I see my blog here, changing the world and making it a better place but I sure would want to avoid any violence performed on me, peace!
Get a pet dog to relax they said. Lol!
Have you ever heard of a capercaillie? I sure haven't. A skier ran into one and you…won't believe what happened next. Ok, not much! I must admit I had never seen one before, wow! Cross Country Skier Runs Into an Animal I Never Knew Existed and It's Great.
BLOG BUZZ
We are now entering BLOG BUZZ, a section for advanced hobbyists and veterans of this fast imploding hobby and also a section where I go on and on about some stuff that happens in my life because it helps me feel better about myself.
I am only 10 years older than Tom Brady and I can feel like I can keep going to reach the Blog Hall of Fame again every year…That guy, wow!
Details on my Hyatt Globalist score: If it was not for the Double Elite Nights and 25% Point Rebates promotions (and of course the reduction from 60 to 30 Elite nights to qualify) I would not be going for it. Let's just say I wanted to at least score this once, I have been in the game for a while. When Hyatt raised it to 60 nights I thought it will never happen. So, here we are. Please note that the Double Elite Night and 25% Point Rebate promotions are not available to enroll in anymore. Category 1 hotels cost 5,000 World of Hyatt points per night. With the 25% rebate, it goes down to 3,750 points per night. 15 nights times 3,750 is 56,250 points. Less 1,000 points I earned for a survey by the business manager of the property I stayed, total cost was 55,250 points. Zero $ outlay. A free night is already in my Hyatt account after I hit 30 Elite nights and I now also have 4 Club/Lounge Access certs which are useless as Globalists automatically get this benefit. Here are the Globalist Elite benefits. My next step is to match to MLife for starters, any other ideas to take full advantage of it?
With the 5 nights every World of Hyatt Visa cardholder gets I am at 35 elite nights. You get two elite nights for every $5,000 you spend on the card. And of course you get another free night when you spend $15,000 on the card per year. But effective only this year, you have the opportunity to get a second free night for a second $15,000 of spend AFTER your card anniversary date. This date for me falls on September 13 and I intend to do the spend to get two more free nights and another 12 elite nights to get me to at least 47. Why do I keep counting them elite nights you may ask since I already achieved Globalist? Because of the Milestone Awards: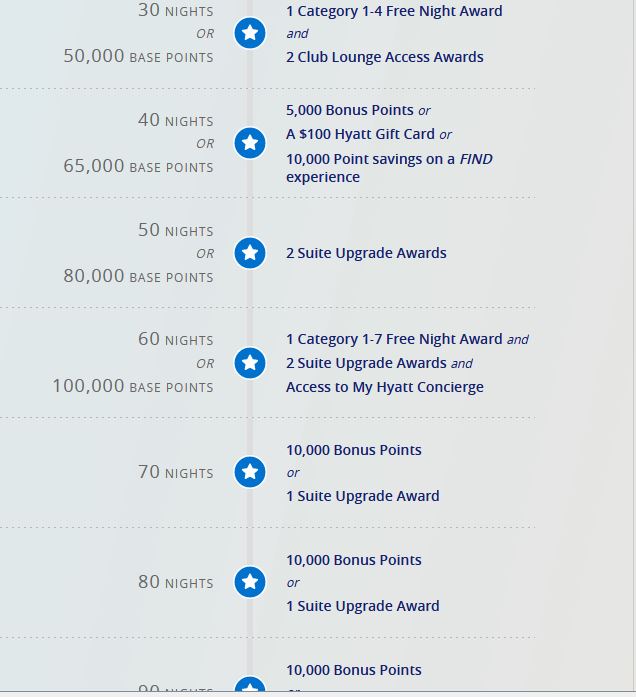 I plan to get the $100 Hyatt gift card when I cross 40 elite nights. I know I will have a stay of two nights at the Grand Hyatt in Athens Greece for the Athens Marathon in November and on my way back to the US will likely stay at least a few nights at my favorite Hyatt in Thessaloniki Greece. So I will easily hit 50 and grab me those coveted confirmed suite upgrade awards. Yes I have my eyes towards that 60 elite night Milestone award for another free night and get access to a My Hyatt Concierge, oh boy do I feel special! Of course, everything depends on the virus, hope we get to travel without fear starting in the Fall of 2021. You know, just one Chase Ink business card can earn a signup bonus of 75,000 bonus these days you guys…so burning 55k points was like…pffft! 🙂
A travel pic so we do not forget the first word of my blog…What is this dork looking at?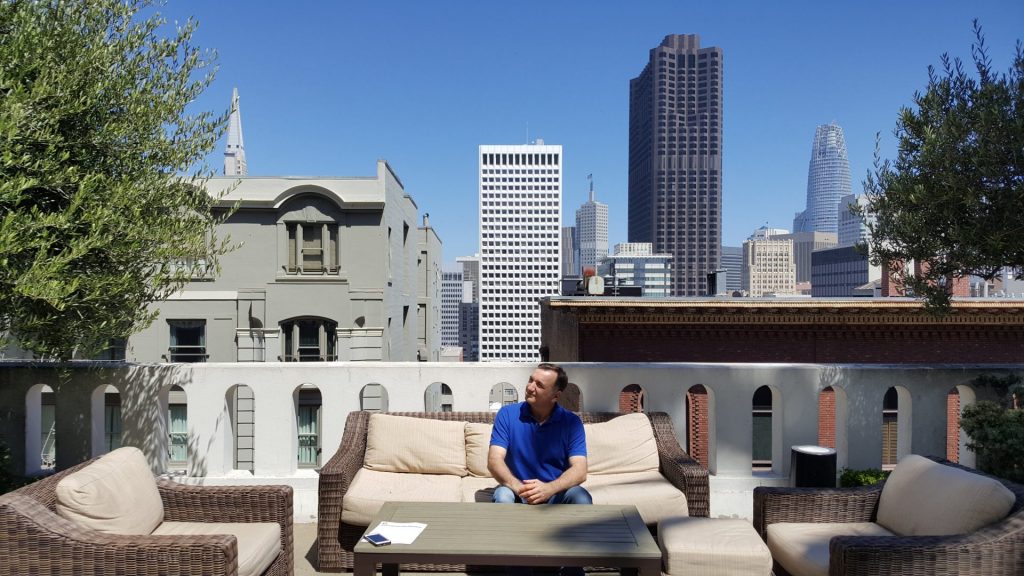 Lately I have been listening to this, a way underrated song by one of my favorite bands:
And I leave you with this…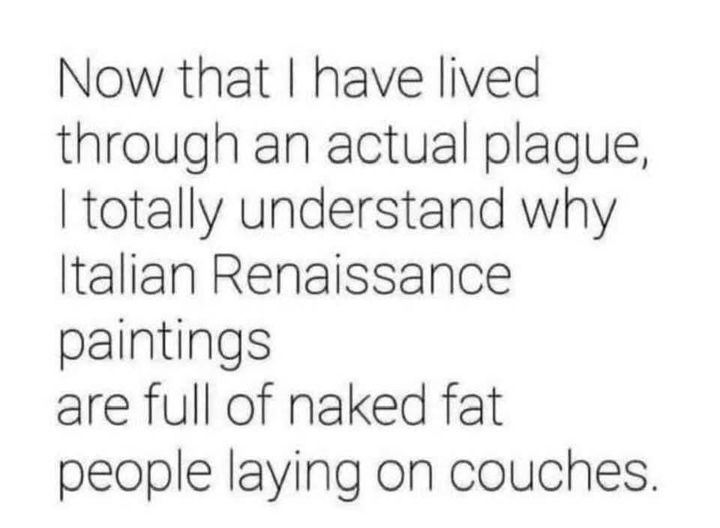 Follow TBB on Twitter @FlyerTalkerinA2.
You can subscribe to TBB below, winners only!
Opinions expressed here are author's alone, not those of any bank, credit card issuer, hotel, airline, or other entity. This content has not been reviewed, approved or otherwise endorsed by any of the entities included within the post.