We bring you details of how the Hyatt SLH Hotels partnership begins, check out Santorini hotels, visit the Google cemetery, shake our head at hotel Instagram sitters, register for a United miles promo, marvel at elephants, learn of the greatest innovations in 2018, get an update on how Mile Nerd will approach the end of the year and much much more. Always freeeee!
TBB Blog Mission: To Educate. Entertain. Inspire. In That Order!
Hyatt's partnership with SLH is nicely taking place. About 500 hotels are going to be added eventually in 2019. The first batch of 54 Europe hotels is live now. I see several additions in Greece, mostly Mykonos and Santorini! If anyone has any feedback on the ones in Athens, Thessaloniki and Kuala Lumpur please let me know. Here is how many World of Hyatt points each one will cost. ALL World of Hyatt members get free continental breakfast, a room category upgrade, early check in and late check out based on availability and free wifi. Which means elite benefits do not apply but you do get to earn elite points and of course stay credits. This will get Hyatt's footprint to about 1,200. Which is still far smaller than the other big hotel chains. Still, a really nice improvement and all these hotels look like excellent additions! The current Chase Hyatt visa offer is available now and the signup bonus is 60,000 World of Hyatt points, available HERE.
You can try to see if you were targeted for these United Mile Play promos. I am never targeted as I don't remember the last time I actually paid for a United flight lol. These are for United flights, just make sure you are registered BEFORE your flight and get some extra miles. Looking at you road warriors!
Breaking: Marriott says its Starwood database was hacked on approximately 500 million guests. Phucking Marriott. Funny how I was speaking to a Lifetime Platinum Premier yesterday and he was telling me how more frequent he gets no upgrades at all, sad lol.
Not too surprised…but it looks like the days are numbered for WOW Air, sad! But they just got a lifeline from Indigo Partners.
There are some really nice ones here. 9 best boutique hotels for honeymoons in Santorini. Did our honeymoon here…it was so long ago I don't remember much!
Unbelievable! Swiss hotels are hiring Instagram "sitters" to post photos for you. Social media hell or what?
Elephants are amazing creatures! Elephants Salute People Who Rescued Their Baby Elephant From a Ditch.
The 100 greatest innovations of 2018. Cool stuff!
This is gold. The Google Cemetery. All the dead Google products here!
Hilarious listening to some of these clips, go Lenny! The Story of Lenny, the Internet's Favorite Telemarketing Troll.
Be careful out there when you are dealing with financial product salesmen! Daylight Robbery. I have seen some scary shit but some of these are way up there, wow!
I really enjoyed learning about this beautiful hotel: Hotel Belvédère: The Iconic Swiss Hotel at The Edge of The Rhone Glacier.
I would have never guessed Alexis! Popular Unisex Names Over Time (US 1980-2017) [OC].
Did some credit card housecleaning in my household. Bye bye was said to one (old) IHG Rewards and an (old) Hyatt. More to follow, stay tuned.
Mile Nerd let us know of his plans:
I'll finish the year as usual. Meaning, writing 5 posts a week until taking a few days off for the holidays. And then January 1st, I'll come back and write those posts. Most likely over a couple of weeks…to talk about what it meant to do this for so many years, why anyone would spend those hours on a "job" with no paycheck, how this will be evolving, what I want to give you, the future outlook of this game, and all the rest of the stuff that is on my mind. Those will be longer, wide-ranging, fiery posts…the type of stuff a lot of you guys seem to like/want from me. There's a ton to be said. And I promise I'll be saying it. I'd just really like to finish out the year first.
You know how I despise useless clickbait posts that are only designed to trick you to click on them and build that SEO footprint. There are SO many…I am going to bring you the MOST hideous one I have seen since my last post:
View From The Wing – Southwest Apologizes For Gate Agent Making Fun of 5 Year Old Girl's Name. But Should the Mom Apologize Too?
If you clicked on the above post…please leave NOW!
And I leave you with this…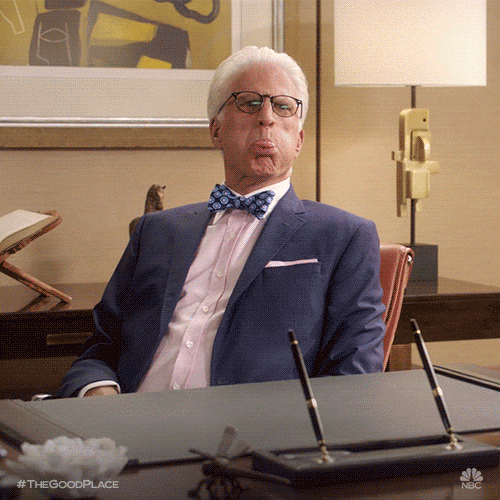 TBB
travelbloggerbuzz@gmail.com
Follow TBB on Twitter @FlyerTalkerinA2.
You can subscribe to TBB below, winners only!
Opinions expressed here are author's alone, not those of any bank, credit card issuer, hotel, airline, or other entity. This content has not been reviewed, approved or otherwise endorsed by any of the entities included within the post.