We bring you the Hyatt World of Hurt loyalty program, show you new United stopover tricks, the latest IHG Rewards Pointbreaks, an awesome personal finance post and get back with some ranting against pimping bloggers for YOU!
TBB Blog Mission: To Entertain. Educate. Inspire. In That Order!
I am typing this in the Qatar Airways Business Class Lounge in Doha. I left Shiraz, Iran earlier today after spending the past 11 nights in the country.  I hope I get to the trip report before 2019 lol. Anyways, this lounge is fantastic! I think it is better than the Turkish Airlines Istanbul lounge but hey, everyone is different.
Amazingly, I kept up with Feedly, sucky Iranian wifi and all. So, to ease back into TBB mode, here were the top five posts recently you should know about.
The IHG Rewards Pointbreaks list is out. 5k points for one night. If you can find it by now. Anyways, this list was another yawn.
Hyatt's Sweeping New Loyalty Program. Well, what is so distressing about this is how now hotels are even going full Delta revenue based mode. Loyalty means dollars. The way it should have been all along actually. The spoils go to the big spenders/road warriors while we should all be free agent this travel thing! I mean, who in their right mind will go and stay 60 nights (or just 55 nights to extend it). I mean, if it was even 60 "stays"…WTF! And these moronic names, Discoverist, Explorist, Globalist and super sucky logo, wow! After I book my free Visa night award, I am canceling my card, time to clear the herd!
New United Stopover Tricks (The Roundtrip Hack). I appreciate the out of the box thinking. But, as in the Hyatt mega devaluation killing above, I wonder if these loyalty programs monitor us closely and whenever a "loophole" type post is published, a staff person is given a little note with the URL and the instructions to KILL it 🙂 Heck, I would…if i was running these programs!
Start Now. An awesome personal finance post. Did you miss these?
Well, things did not change much while I was roaming the mosques and other things in Iran. Bloggers keep pimping shitty credit card offers while keeping their readers in the dark and not even mentioning better offers for the same credit card! Case in point the American Express Platinum card for just 40k points that pays the bloggers a fat commission while better offers exist but do not pay the bloggers. And, here is where it gets so much suckier…Other bloggers and readers do not challenge them but instead kiss their asses and link to them while conveniently bypassing this awful violation of conflict of interest like it does not even exist! Wow, just wow. Many even in my Blogs I Like do that and it is one of these things that piss me off SO much as it only contributes to the sheer pimpingdom that exists in this space!
Speaking of pimping, I will let Mile Nerd close this post out as he knows best…Oh, and don't bother to complain to me as well, WTF!
I'm getting a lot more questions about Club1Hotels. That probably means writers/whores are "helping" readers again by sharing this "opportunity." I wrote about it already, but I should add something – from all the reports you guys have sent, Club1Hotels sucks. I don't recommend it at all. But if you frequent the kinds of websites that push it on you (because they're getting paid)…please don't email me to complain about them. Not direct enough? Ok. How about this? If you support/read any bloggers who put money over integrity, stop crying to me about them. I'm not on your side.
I really like this pic of me the colors while hanging out somewhere in Iran…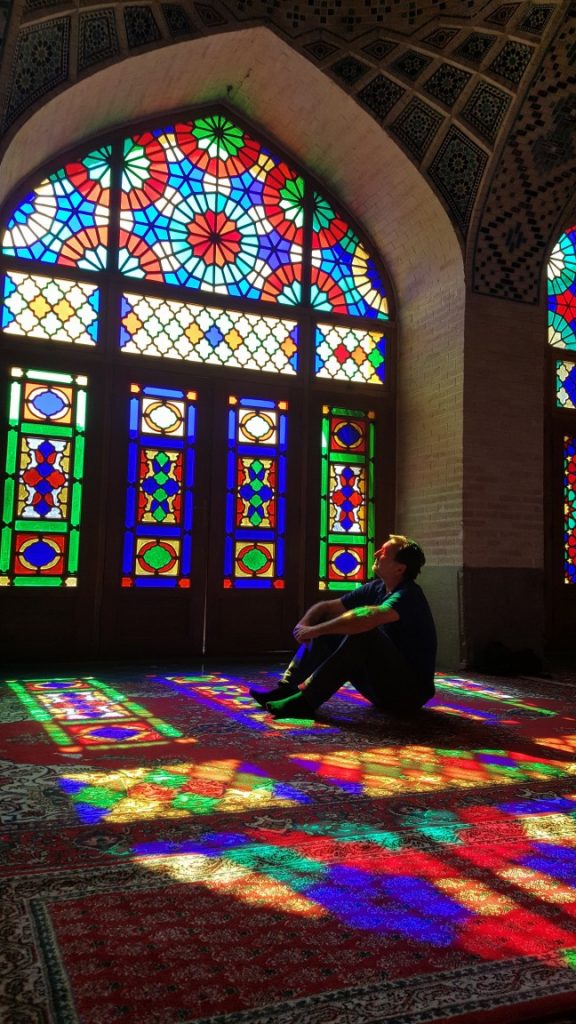 And I leave you with this…
TBB
travelbloggerbuzz@gmail.com
Follow TBB on Twitter @FlyerTalkerinA2
You can subscribe to TBB below, winners only!
Opinions expressed here are author's alone, not those of any bank, credit card issuer, hotel, airline, or other entity. This content has not been reviewed, approved or otherwise endorsed by any of the entities included within the post.