I am really looking forward to my trip to Iran with Yomadic in late 2016!
TBB Blog Mission: To Entertain. Educate. Inspire. In That Order!
This site is

ad free

! You can support us by applying for CREDIT CARDS, please consider doing your shopping with our AMAZON AFFILIATE LINK and clicking/forwarding any of our REFERRAL LINKS. Or click on the ugly Amazon Banner on the right side, thank YOU!
I am joining Nate over at Yomadic going to Iran in October 2016!
I am very excited. Why? Because of several reasons:
I wanted to do something different and go to a place off the beaten path that has no Hyatts 🙂
As I get older I am looking for more intense travel experiences. Don't get me wrong, I still enjoy maximizing my miles and points and doing epic trips like this one.
Nate runs the best travel blog in my opinion at Yomadic and is a straight shooter and all around interesting fun guy. It would be good to meet finally in person.
Yomadic is one of the very few blogs in my awesome  Blogs I Love list!
See Iran before the sanctions drop and the tourist floodgates open of course!
I get to deduct everything for my blog business since I will be doing 346 trip reports, heck I could do one per day. I learned this from other "expert" bloggers 🙂
What made me pull the trigger? It was actually a TBB reader Paul W. who said and I quote: "I just got back from the most recent Iran Untour and to say it was incredible is an understatement." Apparently, Paul W. (who discovered Nate's blog from TBB!) was not the first TBB reader who has been on the Yomadic Iran tours, wow! To be thanked in private for bringing attention to a travel blog that then led to an experience like this really makes my day, so thank you for thanking me! 🙂
You can read more at Yomadic's site below:
Yomadic Travel – Hand Made Custom Untours – Iran 2016 – Information about the Iran tours in general
For detailed itineraries of the two not sold out yet tours in 2016 please click on the two links below:
Journey Into Iran – April 2016  €1799 – 11 nights 12 days – Tehran to Shiraz – April 2016
Journey Into Iran – October 2016  €1799 – 11 nights 12 days – Tehran to Shiraz – October 2016  <————The one I am going!
I would love to have more TBB readers join us! We can talk miles and you get to pick my brain about personal finance for the duration of the trip, wow! I can give you such hot tips as "Buy low, sell high" and "diversify!' and other brilliant expert (or so they say) advice. Seriously, think about it. It could be lots of fun. I hope you are fun and not an "angry" lol. If you are the owner of any of the blogs in the TBB Blogs To Ignore list, stay the hell away from the one I am going, nothing personal, thanks!
Full disclosure: I was offered and accepted a single room while paying the double bed rate only because Nate insisted to thank me for my past support.  He also offered me a free ride if I managed to make the October 2016 tour sell out with TBB readers so he can save time by focusing on the tour details instead of marketing. I refused and asked if some break can be offered to my readers instead. Nate promised he will do something but does not know what yet and had to leave for a party, busy guy too! Okay?
Update (email opened at 5.30 am, an hour before this post went live!): So here is the deal ONLY for TBB readers (because you know, you are awesome!):
Book two tickets, get 100 euro off each, so tickets are 1699 euro each when two are booked. Must book by December 10, 2015.
I have not given any thought yet in booking the flights, with miles of course, come on! Thinking about Turkish Airlines to Istanbul using United miles as the flights to/from Iran from Istanbul appear the best option. Plenty of time to attend to those. If you have any ideas to burn miles to Tehran and from Shiraz let me know as well. Remember, I can use my Greek passport to Iran!
For what the tour price gets you I think it is…a great value!
Fire away in the comments, maybe Nate can join in at some point to respond to questions if he has the time.
Here is the latest Yomadic post I linked to recently: "Why You Should Visit Iran, Now".
May the Force be with you. Not like her.
What follows below is some FAQ's in the Yomadic links above:
In 2015, Yomadic introduced guests from all over the world to Iran, on our first "Untour" of this unknown nation steeped in mystery and misconception. Many of my guests felt the same trepidation that I felt, prior to visiting Iran for the first time, back in 2012. Eleven nights and twelve days later, the response to the first Yomadic Untour of Iran was this:
"BEST TRAVEL EXPERIENCE OF MY LIFE." – Hanif, Canada.
After three sold-out Iran Untours in 2015, there was only one thing to do – in April and October 2016, we're heading back to Iran for another journey through this incredible country. I hope you can join me, and I would like to extend a personal invitation for this unique travel opportunity.
Read on – there's a lot of info further down on this page.
Or, if you know all about the Yomadic Untour style, and you're already convinced about Iran, here are the three trips (sorry, the first 2016 trip has now sold out):
view this trip Yomadic Iran Untour April 2016 – seats available!
view this trip Yomadic Iran Untour October 2016 – seats available!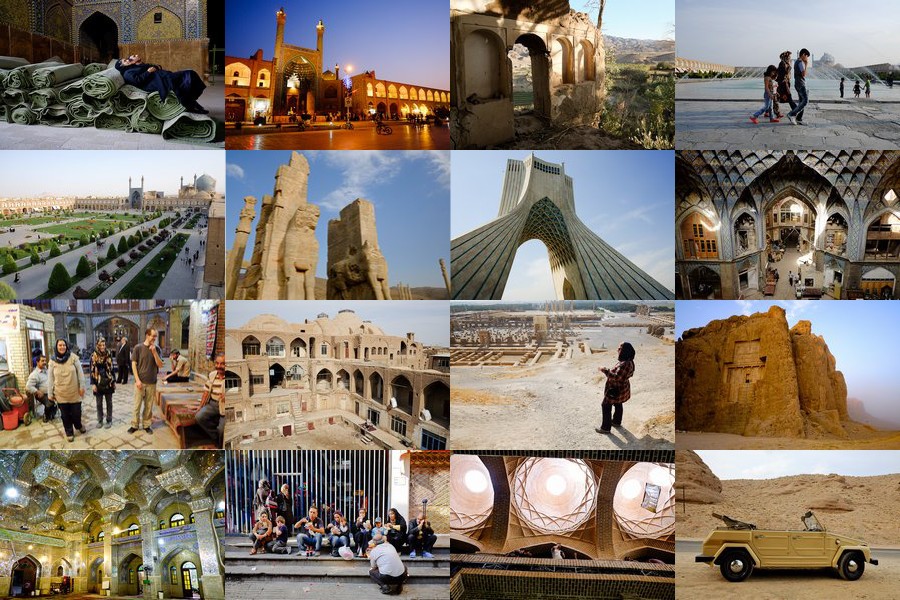 Yomadic Iran Untour  – April and October 2016 – 11 Days and 12 Nights
Modern cities, ancient citadels, spectacular architecture, mouth-watering food, all wrapped in the warmest and most welcoming culture and people on Earth – Iran is one of the most fascinating travel destinations you will ever visit, and NOW is the time to go. There is no doubt that Iran will be teeming with tourists in the years to come. Visiting Iran in 2016 will be a remarkable travel experience, that only very few people will get to enjoy.
Our contacts from Tehran to Shiraz will make sure you're doing more than just ticking off UNESCO heritage sights. Sure, many of those sights are spectacular and unmissable – however, so is hanging out and chatting with the locals, and seeing the cool spots that don't appear on other itineraries.
We'll continue the concept of the Yomadic Iran "Untour" (it's been a popular concept, with 40% of previous trippers booking in for another journey). This is for people who enjoy the spirit of independent travel, and the camaraderie of a small gang of travelling friends, but really aren't into typical  "group tours". We'll see the big-ticket sights, but our local contacts and knowledge will get you to the local secrets unknown to most tourists. We won't rush, and you'll get to experience something memorable, spectacular, and unique, in places that most people will never get to see.
And of course, you'll have enough time and freedom to explore and let Iran come to you.
I hope you can join Phillipa, myself, and the various locals who will help make your Iran journey unforgettable.
Read on to get a little more info on the first Yomadic Iran Untour for 2016…
..and bring your camera.
Yomadic Iran Untours – 2016 – Purposefully Limited Seats Available

Serbia / Montenegro / Bosnia & Herzegovina – May 2014 – SOLD OUT
Serbia / Montenegro / Bosnia & Herzegovina – June 2014 – SOLD OUT
Albania / Macedonia – September 2014 – SOLD OUT
IRAN – MAY 2015  – SOLD OUT
Albania/Macedonia – AUGUST 2015 – SOLD OUT
IRAN – OCTOBER 2015 – SOLD OUT
IRAN – NOVEMBER 2015 – SOLD OUT
SORRY, the first 2016 YOMADIC UNTOUR – IRAN – APRIL 2016 – HAS SOLD OUT.
NEW! 2016 YOMADIC UNTOUR – IRAN – APRIL 2016 – SEATS AVAILABLE!
NEW! 2016 YOMADIC UNTOUR – IRAN – OCTOBER 2016 – SEATS AVAILABLE!
IRAN – April 2016
Modern cities, ancient citadels, spectacular architecture, mouth-watering food, all wrapped in the warmest, most welcoming culture and people on Earth – Iran is the most fascinating travel destination you will ever visit.
Join us for one of the best travel opportunities for 2016.
IRAN – October 2016
Modern cities, ancient citadels, spectacular architecture, mouth-watering food, all wrapped in the warmest, most welcoming culture and people on Earth – Iran is the most fascinating travel destination you will ever visit.
Join us for one of the best travel opportunities for 2016.
Why a Yomadic Untour in Iran?
Travelling independently to Iran is great – if you have, time, patience, and a big helping of local knowledge – but, you might miss some of the best secrets. I know. I've been in that situation.  How do you find a good restaurant, what are the best things to see when your time is limited, how do you find out about those places that don't appear on the "tourist trail", and how do you get around? And would you like your transport to stop so you can take a photo, check out a small market, or just take in the scenery? They won't, we will.
Our Untour concept is simple – a very small gang (minimum size eight people, maximum twelve people) of like-minded travelers see the sights, attractions, restaurants, landscapes, cities, villages, deserts, and mountains worth seeing – and we avoid the inauthentic tourist traps. We'll journey through lesser travelled places, where local knowledge is essential. Most importantly, you will always have time, freedom, guidance, and access to all the info you need, to enjoy things your own way.
Iran is incredibly spectacular, but there's a good reason so few tourists are around (for now). Despite the appeal, Iran seems just "too hard" for most independent travellers. Unknown. Mysterious. Visa issues. Somewhat inaccessible. Is it dangerous (spoiler: no)?  For many people Iran remains, forever, a dream. We have the solution.
As I've said before – I'm really not a fan of "group tours" or "package tours".
So, we do something a little different. Taking the best aspects of independent travel, and wrapping it up with a curated, but flexible, Iranian itinerary. This is the "Untour". There's nothing else quite like it.
What's Included on a Yomadic Untour to Iran?
We include more than any other comparable Untour. Of which, there are none. But the point is this – we've done the research of our "competition" and we'll gladly help you compare our value to any other trip through Iran – because we know, we give you more. You really won't need much "spending money" –  almost all of your expenses are covered in the ticket price, making it much easier for you to budget.
Transportation
We have our own private transport. It's a modern, spacious, comfortable, air-conditioned vehicle – provided by a well-reputed company, and with our own local driver. Our driver(s) are hand-picked, they're always safe, experienced, qualified, and friendly. You'll love them as much as I do. Which reminds me, I need to send some photo's to our Iranian driver.
Public transport in Iran can be an amazing experience – maybe we'll take the subway in Tehran, or a bus in Shiraz – and you need to have at least one Iranian taxi experience. But, to efficiently get around Iran, there's only one way to do it – with our own private transportation.
Accommodation
We'll always strive to be located right in the middle of town, with free wifi access, and a decent breakfast included. We lean towards variety – from cozy, local, family owned traditional accommodation, to fancy hotels in the big city, you'll even have your own apartment at one point (to really feel like a local), and you'll get to stay in a remarkable ancient silk-road caravan-serai. We personally hand-pick every hotel we stay in.
Our hotel choices vary from place to place – we go borderline-five-star on occasion – but it's not all luxury. We're mostly after an "experience", so we never use franchised hotels, and never hostels. We avoid the typical tourist hotels like the plague.
Meals
OK, I love Iranian food. And drinks. I love eating at great restaurants. So, all Yomadic Untours include breakfast every single day, plus at least one other full meal each day. At that restaurant, order whatever you like, we'll pick up the tab. Seriously. The meals will always be great – hearty, local, fresh, with plenty of variety, at cool places. Note: we include tea, coffee, deserts, juices, bottled water, and whatever is available, but alcohol is not served on the Iran Untours. Them's the rules.
Our shared meals depend on the timing – mostly it will be the Yomadic lunch gang taking over a great restaurant. When it makes sense, we'll do a group dinner instead. At other times, I'll leave you to make your own food decisions – go hit that local street-food stand, dine at the finest the city has to offer, or join the rest of the crew at the local hole-in-the-wall. It's up to you.
Either way, our local knowledge will point you in the right direction, and you certainly won't go hungry.
Visa Assistance
We have a 100% track record with helping previous guests obtain their Iran tourist visa – for citizens from the USA, Canada, England, Australia, the EU, New Zealand, and more. We do not charge any additional fee for this valuable visa assistance.
And more inclusions…
Free airport transfers – arriving, and departing, don't worry we have you covered. Always. Entrance fees to worthy attractions. Coffee and cake. Snacks and drinks on the van. Photography tips. Introductions to our local friends. We'll help you out with customs, cultures, and changing money. Whatever else we can think of to help you experience a life-changing moment. All this, plus much more. Oh, and of course, myself (Nate), Phillipa, and our friendly and laid-back Iranian guides, are always available. As well as our local friends who come-and-go along our journey. The Yomadic goal is to make the Untour incomparably great value.
Solo Traveler? Great!
We'll take care of you – Yomadic journey's are ideal for solo travelers.
Unless you prefer your own room, we'll never charge you a "single supplement". Shared twin-rooms have a maximum of two guests in total. You'll have people around when you need them, and your own time to explore when you want to get out and experience things for yourself.
Male or female, solo, couple, or friends, you'll be surrounded by a gang of like-minded souls. It takes a certain type of person to travel to Iran – you'll have more in common with the rest of the gang than you would believe.
Why trust Yomadic?
Sounds amazing. But you're still unsure about putting your trust with Yomadic?
This should help answer your questions:
* We can provide you with the contact details of a whole bunch of extremely happy people who came on the previous Yomadic Iran Untours and other trips. They're real people, from Canada, the USA, Australia, Hong Kong, Sweden, and more. I'm sure they won't mind being bothered. At any time, day or night. 😉
* We're proven, competent, tour operators. Not only do we know how to travel, we know how to organise a journey. Look at our list of past successful Untours. We're serious about this. And, we only employee qualified and professional guides and assistants in Iran. We know – your experience, is our reputation.
* You can talk to me. From a California based number, I can take the calls from anywhere. Which is handy, because this week I could be in Tajikistan. Or Bulgaria. Contact me and ask for the number – feel free to speak to me, or Phillipa (if you're lucky).
* Yomadic trip payments are possible only via major credit cards – so all the usual protections you get from your bank or credit card provider apply to all Yomadic travel purchases. This is the safest, most secure way to book your seat.
* Yomadic.com has been live since January, 2012. During that time, the Washington Post, USA Today, the Sunday Times in Australia and England, the Huffington Post and even Lonely Planet have featured the long history of travel knowledge found right here on these pages. These are some of the world's most well regarded publishers and travel companies, and I'm happy to have worked with them. I've even done a few live video crosses. Yes, I shaved, and wore a clean shirt.
* We have genuine on-the-ground knowledge, experience and local contacts, throughout Iran. We've spent many months on-the-ground in Iran – running Untours and furthering our relationships with our contacts and partners, so that we can continue to provide the uttmost in reliability, security, value, and of course – fun.
* All Yomadic Iran Untours only utilise the services of well-established and reliable local partners. We've got backup plans – spare transportation, a team of drivers and guides, and of course, many local friends and contacts. In all cases, we never take shortcuts – we have an eye to safety, security, reliability, and value, at all times. Yomadic is small and independent, but we act with the utmost professionalism when it's needed most. Profit is secondary – our goal right now is to make these Untours the best.
Sounds good, right?
Our Iran Untours sell-out fast, and one reason for that is repeat-trippers. Once you've been on Yomadic trip, you'll know why. These opportunities don't come along often, and I wish the list below could be longer – but then it wouldn't be quite so special. I hope to see you in 2016.
Tehran to Shiraz – October 2016 – 11 nights 12 days
Yes, Iran. I know, O.M.G.
Lately, Iran has been hailed as one of the most incredible destinations you could ever visit. Everyone from Anthony Bourdain, to a gaggle of glowing reviews in travel magazines around the world, is hyping up travelling through Iran. This is one travel experience that is impossible to exaggerate. Unknown, mysterious, and misunderstood, Iran is truly *the* travel destination of 2016. We will travel from the enormous, modern, city of Tehran, through to ancient sites that have existed since the dawn of civilisation, experiencing the great cuisine, deep culture, spectacular architecture, and the warmth of a people with boundless friendship. Iran really is *not* like any other destination.
And, you may be surprised to know something else about Iran.
Iran is safe, open for tourists, and without a doubt the most special and unique travel destination on Earth.
Unfortunately, if you're from the US, Canada, or the UK, well, you've had a Visa problem.
Until now.
We have partnered with an official Iranian travel agent. This means, yes, you can join us in Iran. We'll take care of your visa (we have a 100% success rate in obtaining tourist visas to Iran). You'll be shown Iran in a way that really wasn't possible until now. This is not a government tour company, or a corporate Iranian tour. It's a custom designed Yomadic original trip, including the best of Iran. Partnering with a local travel agency just means you can now visit Iran – even if you're from the US, Canada, or the UK.
Once you're in Iran, you'll be taken you around the country in style – and enjoy the freedom to do your own thing, just like any other independent traveller. Yes, you'll have plenty of time to get to know the locals.
Genuinely, this is an opportunity that I consider to be the absolute best in travel for 2016.
* Iran is what inspired all of these Yomadic trips. When I first visited Iran in late 2012, I started taking notes. Collecting business cards. Making contacts. Checking out hotels, restaurants, cafes. I knew, in my heart, that I needed to bring people here and experience the best travel surprise in the world. I've been in constant contact with people and organisations in Iran, and have spent more than four months on-the-ground in Iran – completing three successful Iran Untours, and furthering my knowledge. And I can't wait to return in 2016.
What's Included
Private, roomy, comfortable transportation through Iran.
Hotel accommodation (11 nights) – centrally located, and hand-picked.
Most meals are included – every breakfast, and either a restaurant lunch or dinner, included every day.
Small gang – Yomadic Untours have an average size of just eight guests, with a maximum size of twelve.
Visa assistance at no additional charge – we have 100% success with Iranian tourist visas.
FREE airport transfers on arrival and we'll organise a low cost option for when you depart.
And much more is included – we pride ourselves on being the best value trip through Iran.
Your Journey in More Detail
October 17th – 19th Tehran, Iran
Bustling, stylish, ancient, and modern Tehran. Our two-week journey commences here – we'll pick you up from the airport. Get lost in the enormous Grand Bazaar, Admire Azadi Tower, and dine in the stylish suburbs of North Tehran. There's plenty to see here, and you'll get to know the place. Keep an eye out for the outlandish propaganda artworks, and of course, the exceptionally stylish locals.
On October 19th we will leave Tehran and travel overland to the city of Kashan

October 19th – 20th Kashan, Iran
Kashan holds an array of historical sights, and this is where you'll start to get a feel for the real Iran. It's smallish, but busy, and we'll check out some of the highlights. On the way out, we'll wander through nearby Abyaneh, one of the oldest villages in Iran – famous for colourful head scarves and segregated door knockers. Uh huh.
On October the 20th we will continue our journey south to the city of Isfahan.

October 20th – 22nd Isfahan, Iran
Isfahan is known as "half the world", and will be your home for two nights. Third largest city in Iran, home of Gaz (Persian nougat oh yes), and the unbelievably magnificent Naghsh-i Jahan Square. There's plenty to do here. Hang time with the friendly locals, browsing the local bazaar for Persian rugs, visiting the architecturally perfect Shah Mosque, or just listening to the men sing underneath Si-o-se Pol bridge. Your time here is sure to fly by in this beautiful city.
October the 22nd sees us leave Isfahan behind and make our way to the desert city of Yazd.

October 22nd – 24th Yazd, Iran
Getting further towards the South of Iran, we'll arrive in the city of Yazd. With two nights here, we have time for a day trip to an ancient abandoned town, we can check out performances of indescribable martial arts (all set to funky drum beats), eat the finest pashmak (persian cotton candy), or maybe a Camel burger, and learn all about the historical qanats and wind-catchers that keep one of the hottest and driest cities in Iran, cool and watered.
On October the 24th we will make the short journey from Yazd to a nearby caravanserai.

October 24rd – 25th Caravanserai, Iran
Our one night at this ancient caravanserai will be a truly amazing experience, straight out of the long-gone days of the old silk road. Stargazers and romantic's, you're going to love the night skies here.
On October the 25th we will make the last leg of our journey to the city of Shiraz

October 25th – 28th Shiraz, Iran
Shiraz. Cultural centre of Iran, and our base for three nights. Day trips to the ancient city of Persepolis, Pasargadae, Naqsh-e Rustam and the tomb of Cyrus the great, checking out downtown Shiraz, sampling the best ice-cream I've ever had, and on our last night together we"ll head out on to enjoy a final meal, reminiscing about the good times and planning new ones to come. Tears, optional… (sniff).
October 28th Departure
October the 28th is all yours. Whether you decide to stick around and sightsee some more or need help organizing your transport to the airport, we will be there to help you. Anticipating lots of hugs, high fives.
Even More Details…
Is Iran Safe?
You've heard the saying "don't believe the hype" and nothing could be more truer than when you discover Iran. To say Iranians are friendly and hospitable is an understatement. You will be invited to their homes, chatted to on the streets and welcomed with open arms by the Iranian people. Tourists are treated with respect, both by the people, and the authorities.
There's a few small differences with Iran – such as public customs when it comes to interactions with the opposite sex, photography rules, and of course alcohol consumption – but importantly, it is well known that Iran has now opened it's doors to foreigners, and you'll be assisted with all customs. There's nothing to worry about.
Will I get a Visa? I heard it was impossible for my nationality?
You will be assisted with your visa application. It's straightforward, and relatively inexpensive. Even for citizens of the United States, Canada, and the UK – partnering with a respected Iranian travel agent makes getting a visa simple and painless. Please note, the cost of the visa is not included in the trip price – as the visa costs vary by nationality.
Where will we sleep?
From hand picked traditional guesthouses, to memorable hotels, all centrally located and within walking distance of the heart of each city we visit. Most accommodation will include Wi-Fi, air-conditioning, and you will always be served breakfast. Variety is what is key here, as well as a great nights rest.
What if I'm travelling solo, will I need to pay extra?
No. You pay the same price whether you're solo or not. There is no single supplement fee or charge. Unless…
What if I'm travelling solo and I would like my own room?
Don't want to play bunk buddy? Prefer your own privacy? Travelling solo? No problems, for a single supplement of €299, you will have your own room. Just let me know when you make your booking.
What if I get sick of hanging out with you guys? Can I go off on my own? Will there be alone time?
YES. You can leave us any time you'd like and there will be designated "alone time", aka free time. Yomadic trips are designed so that you have plenty of time to do your own exploring – day and night. Just make sure you are back by the time the van leaves or else I will kill you.

So, really, what's included?
All accommodation in Iran for the duration of the tour.
Most meals are included – every breakfast, and either lunch or dinner every day.
Entrance fees to sites, museums, parks, and more.
Private comfortable transport to take us around Iran.
Taxis, trains, or any other forms of transport necessary to complete our itinerary.
Personal assistance and travel guidance.
It's Iran, so sorry no alcohol, but we will include water, juice, non alcoholic beer or cider, tea, coffee etc.
Assistance for obtaining your Iranian tourist visa.
And of course, it wouldn't be a Yomadic journey without a few extra secrets…
And what's not included?
Airfares to and from Tehran are not included – we will assist you with booking your flight if you require assistance – you will need to arrive on the starting date.
Travel insurance is not included, and is mandatory. If you need help arranging your travel insurance, we use and recommend World Nomads.
Some meals and some drinks – when you're out doing your own thang, you pay for it.
Any fees or charges that you incur as a result of you cancelling this trip once you have made a booking with us, we are not responsible for – including any charges your airline or transport provider charges you.
The tour ends up in Shiraz. WTF will I do now?
Fear not – the main reason we start and end in different locations is so you get the most out of your time in Iran. Shiraz is a well connected city with many transport options, including flights to Dubai and Istanbul. You may want to return to Tehran – buses, trains and planes will easily get you there. Finding an option from Shiraz, that works for you, won't be difficult. We can help you with arrangements, and we may even join you on the return journey.
What if I can't make it exactly on the starting date or I have to leave early?
We will do our best to accommodate late arrivals, we really will – please contact us to explain your situation as we offer no guarantees for late arrivals on this trip. As for leaving early – you would make us sad, but we'll make sure you get safely on your way.
Anything else?
You will need to sign a waiver releasing us from any self-imposed craziness that you get up to.
You are responsible for obtaining any travel visas you may need – but of course, we are assisting you.
Did we mention, you need to have travel insurance, it's a requirement.
For those who wish to stay longer in Iran, we are happy to assist in this regard.
Travel can be unpredictable. Things may change. We like to freestyle it a bit. So, some things may be subject to change. In the unlikely event that any major changes are required, we will discuss and keep you in the loop at all times. Our goal is to make any changes for the best.
What if I have paid, and then I change my mind. Can I get a refund?
Sometimes the best-made plans need to be put on hold, or cancelled. Unfortunately, we will incur costs from the moment your seat is reserved. However, we don't want to act all big and corporate, so this our promise to you:
If you cancel, 100 Euro's of any ticket price is non-refundable.
If you cancel within 45 days of the tour start date, you will lose 100% of your ticket price (this is due to the difficulties in finding a replacement for you, and organising a visa, at such short notice).
If you cancel between 45 and 60 days before the tour start date you will lose 50% of your ticket price.
In the unlikely event that the tour is cancelled by us, you will receive a full 100% refund.
BUT – we will always do the right thing, so, if we fill your seat after you cancel, we will refund a minimum of 90% of your full ticket price.
What if I still have some unanswered questions?
Get in touch! Contact me via email by clicking here. Alternatively you can call the Yomadic USA based phone number. (first make contact via email, and ask for the number).
OK. I'm convinced, eager, and can't wait to come along…. how do I pay?
All major credit cards and PayPal are accepted – ensuring your purchase is safe and secure.
Thank you for making TBB a part of your life, I am honored! Help bloggers you appreciate & make a positive difference in your life by spreading the word about their blogs, emailing and commenting and using their few $ links.