We have another guest post by award travel expert wizard Andy Shuman who will show you how to fly to two of the most stunning waterfalls on planet earth (Iguassu Falls and Victoria Falls) burning frequent flyer miles you have earned because you are addicted to this hobby/game/craft. Keeping it real here, no constant credit card pumping, no clickbait crap, no shocking videos. And it looks like not enough new readers to help the site even support itself. Evolution ahead you guys! In the meantime, enjoy my blog as long as it is alive!
TBB Blog Mission: To Educate. Entertain. Inspire. In That Order!
Support TBB by applying for CREDIT CARDS and using all of our

LINKS

!
You like my blog? Send a link to someone please!
by Andy Shuman
We, "the hobbyists," often take miracles of miles-and-points travel for granted, and that's OK — we're a strange bunch of people after all. We call flying in a metal tube "experience;" we call our trips "aspirational;" we bitch about fuel surcharges (at least I do) when they get added to virtually free tickets. Some of our character traits must look really weird to the general population. I should know – I remember some eye-rolling behind my back caught in a mirror when I was running my mouth about the virtues of miles and points to my family and friends with a typical naivete of neophyte. Which is why I stopped doing that years ago.
Of course, the real virtues of miles-and-points travel are not about sipping champagne in First Class or getting pampered at a world-class hotel. It's about making the world smaller. When your flights are taken care of, everything is close: Galapagos and Great Barrier Reef, Angkor Wat and Easter Island, Machu Picchu and Great Wall of China. As well as the most magnificent waterfalls in the world: Iguassu and Victoria.
Getting to Iguassu Falls Is Almost Embarrassingly Easy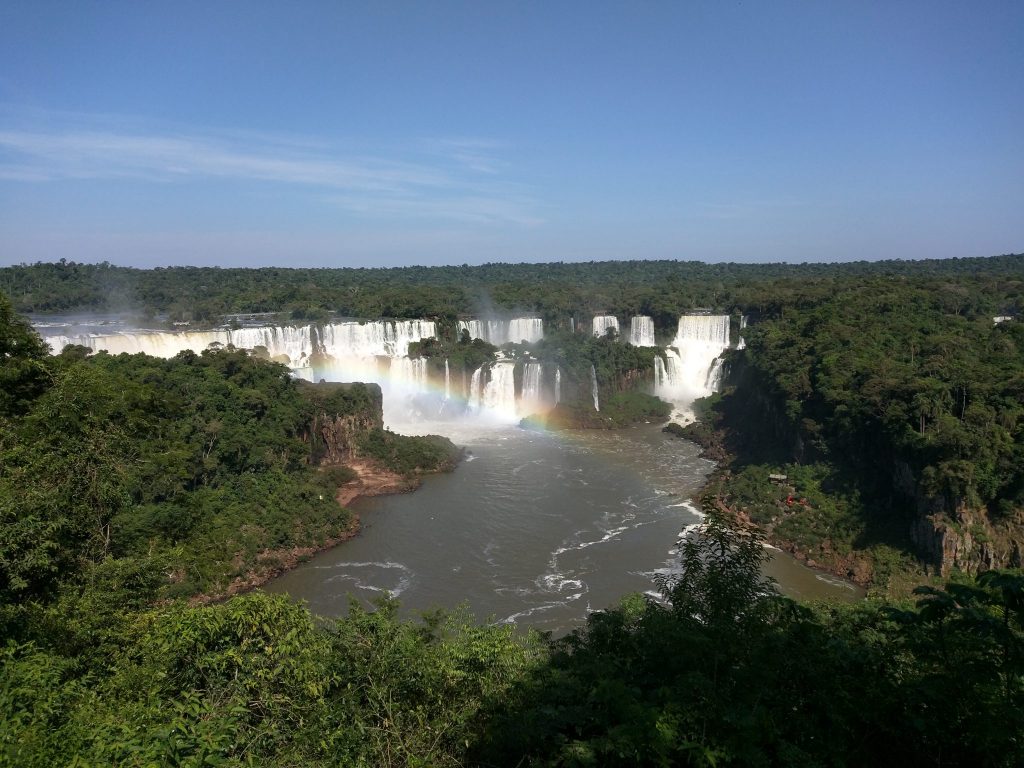 Iguassu Falls is located on the border between Brazil, Argentina, and Paraguay and served by 2 airports.
Foz do Iguaçu International Airport (IGU) – Brazil
Cataratas del Iguazú International Airport (IGR) – Argentina
Both, Argentina and Brazil used to require a visa from U.S. citizens. You used to be charged $150 just to cross the border between the countries for a few hours. Fortunately, it's now a thing of past. U.S. tourists don't need a visa for either country anymore.
For that reason, it really doesn't matter which airport you fly in, but in terms of award travel, IGU is much easier. IGR is only served by Aerolíneas Argentinas and Latam Argentina – both via Buenos Aires.
Aerolíneas Argentinas flies to Buenos Aires from New York and Miami. It's a SkyTeam member and can be booked with Delta miles. The problem with Delta miles is that I haven't been able to find a ticket from the U.S. to IGR, and booked separately it would cost 32,500 miles to Buenos Aires and 25,000 miles to IGR one way. For Business Class to Buenos Aires I've been unable to find anything cheaper than 110,000 miles one way.
LATAM Argentina booked via American Airlines AAdvantage miles is certainly a cheaper option – "only" 30,000 AA miles in Economy and 57,500 miles in Business. Unfortunately, it involves travel between 2 Buenos Aires airports, EZE and AEP. And it only flies from Miami.
As you've probably figured by now, I'm not a big fan of IGR. Let's talk about another option – flying to IGU.
How to fly to Foz do Iguaçu International Airport (IGU) in Brazil

IGU is a small airport, too, but what a difference!
Fly to Foz using miles from all three alliances. Few things are as heartwarming as having options.
American miles to Iguassu
The cost: 30,000 miles in Economy and 57,500 miles in Business. You can fly to IGU on LATAM Brazil via Rio or  São Paulo, and LATAM Peru via Lima.
Or fly to Brasilia, Rio or São Paulo on American, with a following segment on LATAM Brazil to IGU.
Remember that American enforces marriage segments, especially in Business Class, like there is no tomorrow. Wherever you live in the U.S. you stand a better chance to get a connecting flight than a nonstop, usually with a super-long layover.
Here is the scope.
Fly LATAM via Sao Paulo
Fly American to Brasilia, Sao Paulo, and Rio (seasonal) — then LATAM.
Fly via Lima either on LATAM or American, then LATAM.
Going via Lima is a very interesting alternative that not many people know about. There is a nonstop 4-hour LATAM flight from Lima to IGU, and it's not that hard to find a Business Class award to Lima, although LIM-IGU doesn't offer a Business Class cabin. Still, since Lima is in a Northern South America, you'll only pay 30,000 miles for a Business Class seat. Flying LATAM Peru or LATAM Ecuador (via GYE) is a better deal since they have lie-flat beds (unlike American).
United Miles to Iguassu
Redeeming Star Alliance miles is the best way to Iguassu, and probably your best shot on getting a Business Class seat. You can fly United, Air Canada, Copa, Avianca or Azul followed by a segment on Azul, although United, just like American, will normally push you into flying long hours to get the Saver rates.
Having said that, it's not impossible to find better flights, as long as you're flexible. First, search for a nonstop flight to Sao Paulo (GRU) from one of United hubs on United (use Advanced search for that). United flies to GRU from Chicago, Houston, New York (EWR), and Washington (IAD). Then add 2 segments: from your hometown and an Azul flight from Sao Paulo to IGU.
The next chance to get a good-night sleep in a Business Class seat is Air Canada, although you'll obviously have to fly to Toronto first (or Montreal after 12.12.19 seasonally).
Unfortunately, in many, but not all cases, you will have to transfer from GRU to Viracopos (VCP), which isn't a cheap or quick transfer.
If you're based close to Fort Lauderdale, you might have a chance to fly excellent Azul Business Class. Since it arrives and departs from VCP, you won't have this issue. Availability is amazing!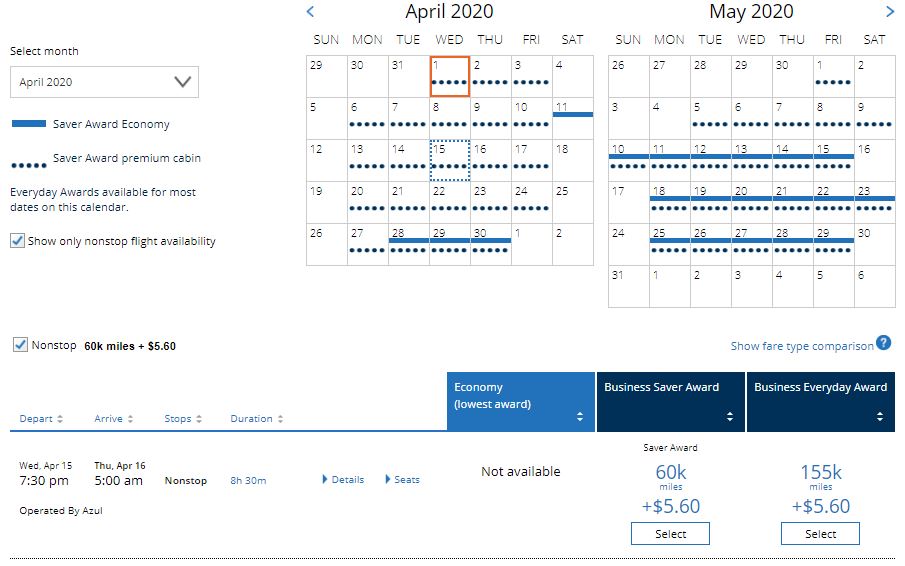 Avianca is the next best thing for Business Class travel, followed by Copa, which features reclining seats. I probably wouldn't blow 60,000 miles on a Copa seat, especially since it's always going to be a 2-stop flight.
Unfortunately, Azul is not a Star Alliance member, so for our goals and purposes, you can only incorporate flying on Azul with United miles. For example, LifeMiles won't give you this option.
Delta Miles to Iguassu
You can fly Delta to GRU and Rio from Atlanta and New York (JFK) (to Rio seasonally from New York) followed by a flight on GOL. The cheapest rates I've found are 50,000 miles in Economy and 115,000 miles in business one way, so I'm not dwelling on SkyPesos too much.
Feeling Hackish?
You can save a bundle if you think outside the box. You shouldn't be worried about domestic Brazil flights. Getting to and from Brazil is what really matters.
Why? Because you can always redeem British Avios or American miles on LATAM. You can fly between Iguassu and Sao Paulo for 4,500 Avios and Rio for 7,500. But when it gets to 7,500 it doesn't matter anymore because American charges 7,500 AAdvantage miles anywhere within Brazil, even for connecting flights.
And on some rare occasions when LATAM won't work for you – there are Azul and Gol that can be booked for 12,500 United and Delta miles respectively.
If you keep that in mind, remember the second best Business Class deal in the world for South America: 88,000 ANA miles per round trip. Even when you add some American miles or British Avios, it'll still be less than paying American or United miles for the whole trip.
If you're OK with booking more than one award, consider Virgin Atlantic miles, and that will bring us to the absolute best Business Class deal for South America in the world. Many of us were able to transfer Amex points to Virgin Atlantic with a 30% bonus. Business Class awards to South America on Delta are already cheap – just 45,000 miles, but they can get even cheaper. If you did transfer your points to Virgin Atlantic with the bonus, you can snatch a ticket to Rio or Sao Paulo for just 35,000 miles. At this price point I wouldn't care about adding an additional segment for 4,500 or 7,500 points. It's totally worth it.
Just keep in mind that the Virgin Atlantic website doesn't list Rio or Sao Paulo. You'll have to call to make the booking.
Getting to Victoria Falls Is Not Just Easy – It Can Be Fabulous
First a disclosure: I've never been to Victoria Falls and never researched it before, so this section will be shorter. But Stefan from Travel Rapid Chai who's been everywhere once told me that while both Iguassu and Victoria Falls are incredible, each of them is incredible in its own unique way. That's about all the recommendations I need.
How to Fly to Victoria Falls (VFA) in Zimbabwe
Victoria Falls is located on the border between Zambia and Zimbabwe. Thanks to $50 Kaza Univisa, you can cross the border as many times as you want, and it also includes Botswana for visiting the Chobe National Park (from what I understand – a must!).
You're flying to Victoria Falls airport, which doesn't seem large, but it gives you all the options you need.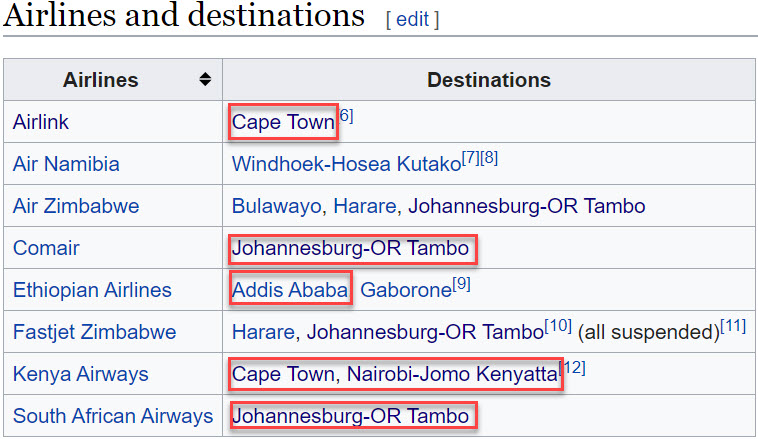 United Miles to Victoria Falls
There are 2 ways to get to VFA on United miles: on Ethiopian via Addis Ababa or South African Airways via Johannesburg. Getting Ethiopian is very easy, even in Business, while South African is tougher, but not impossible. You should try and get South African for better comfort and scheduling.  Economy: 40,000 miles, Business Class: 80,000 miles.
Delta Miles to Victoria Falls
You can use Delta miles to fly on Kenya Airways via Nairobi, but not online – the Delta search engine doesn't recognize VFA. I probably wouldn't go down this route anyway because the cheapest Business Class ticket to Nairobi I managed to find is 95,000 points.
American Miles to Victoria Falls
There are a variety of ways to use American miles to fly to Africa, including the one American always shoves down our throat first – a dreaded, high-YQ, long-haul British Airways flight. You will pay 40,000 for Economy, 75,000 for Business, and 120,000 miles for First Class.
Look for flights in Etihad First Apartment to/from Abu Dhabi or/and Qatar Q-suites to/from Doha. Here is why.
Etihad and Qatar have the best First and Business Class cabins in the world respectively imho
Redemption levels are decent: it costs to fly to Africa just 5,000 more than to the Middle East
Because you can
Here is what I would suggest. Try to book the following outbound itinerary: Your town – Doha – JNB – VFA. The suggested inbound itinerary: VFA – JNB (stop*), then JNB – AUH – JFK – your town.
Here are  Qatar's US Qsuites routes (still verify that the plane is equipped with Qsuites)
Boston
Chicago
Dallas
Houston
Los Angeles
New York (JFK)
Philadelphia
Washington (IAD)
Explanation
Etihad First Apartment is only available on the JFK – AUH route, and it's easier to find award space on a flight originated in Abu Dhabi rather than New York. Find Saver (GuestFirst) award space on the Etihad website, then call the AA office in Australia: +61-2-91011948.
The toughest flights to find are definitely US – DOH and AUH – JFK.
*You will probably want to spend some time in South Africa anyway.
How to fly between JNB or CPT and VFA
Comaire is a British Airways franchisee. For some reason that I won't even try to understand, American charges higher mileage and fuel surcharge than British, so use British Avios.
How? Virgin Atlantic. Yes, again!
Virgin Atlantic lets you fly South African Airways to Johannesburg for 75,000 miles, or – if you did take advantage of that 30% Amex transfer – for 58,000 Amex points. That's a fantastic deal already,  but that's not all.
You can also fly South African to JNB via Dakar. In which case, you will only be paying 50,000 miles or 39,000 Amex points for one way travel. Unfortunately, sometime last year, Virgin Atlantic began adding fuel surcharges to the ticket – about $600 per round trip.
Still a great deal (but downgraded from smashing!)
So, who said the hobby is dead? Two mesmerizing waterfalls in two different corners of the world united by one universal attribute – ease of getting there on miles. Here is for remaining an optimist (although, I know George might disagree)!
Another photo of Iguassu Falls for you: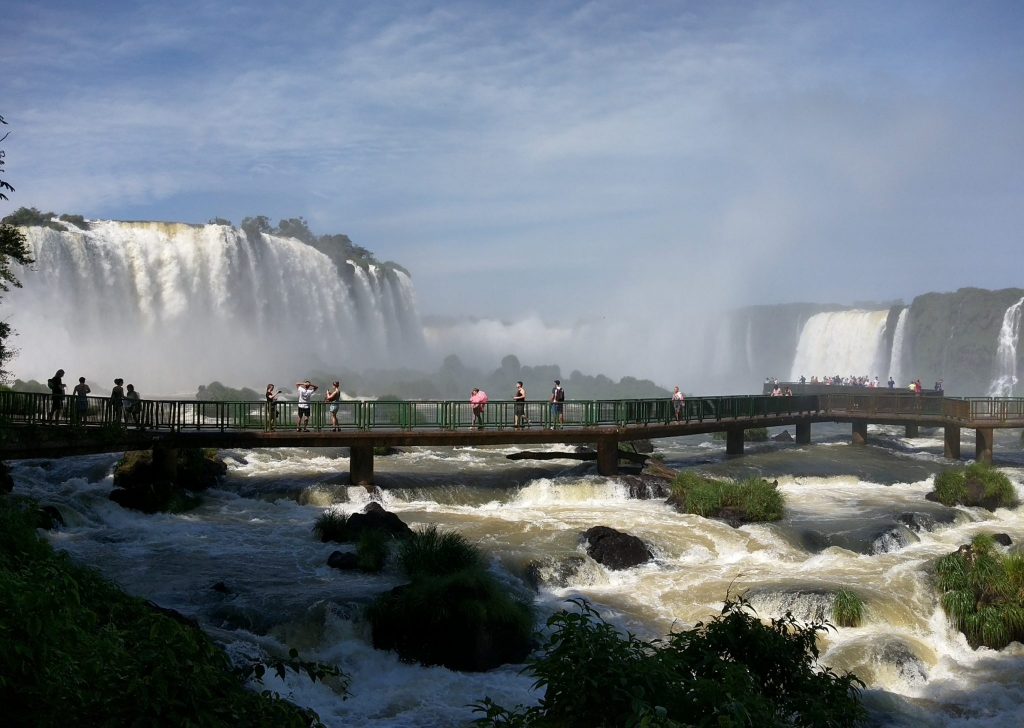 And I leave you with this….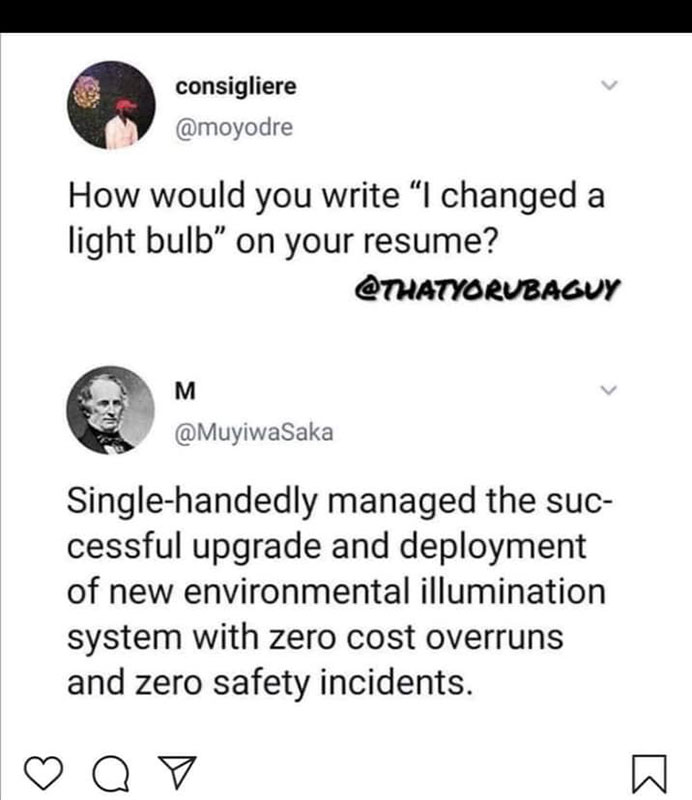 TBB
travelbloggerbuzz@gmail.com
Follow TBB on Twitter @FlyerTalkerinA2.
You can subscribe to TBB below, winners only!
Opinions expressed here are author's alone, not those of any bank, credit card issuer, hotel, airline, or other entity. This content has not been reviewed, approved or otherwise endorsed by any of the entities included within the post.