Another TBB post featuring the most eclectic links around the web such as how indexing wins in investing, stolen FTX money, the tragedy of meth addiction, hilarious dating red flags, new rules for success, the latest monthly roundup of ponzi schemes, how Twitter was special until this Elon dude got involved, a wonderful story about a dog and a lot more than that, explore Norway's Svalbard, metal credit cards and more!
TBB Blog Mission: To Educate. Entertain. Inspire. In That Order!
Support TBB by applying for CREDIT CARDS or visiting our

LINKS

or Donate

You like my blog? Send a link to someone please!
This blog publishes every Friday and some Tuesdays.
Welcome to all new blog readers from George, your diligent curator of the BEST web content I find and share with you. No ads, no clickbait.
BLOG EVOLVES AGAIN
NEW: Posting on a Tuesday after a very long time. This today will be a shorter post than the Friday posts. Maybe Tuesday is like a mini Friday or something. Less stuff in each section and even took a few sections out and cut most of the standard stuff in Miles & Points only leaving the top credit cards offers available from the banks for now. Expect a usual long Friday post as you have been accustomed to, thank you.

PERSONAL FINANCE
It was almost 20 years ago I embraced passive investment management and went all in on indexing with my own and client's portfolios. Using Exchange Traded Funds (ETFs). I still remember attending a financial advisor conference and a colleague asking me "how do you trust these things?" when I told him what I was doing. Well, it is kind of weird to see the growth in this space. And we are likely never going back! Three reasons why indexing works and continues to grow.
The growth of indexing has been driven by the inability of active managers, in aggregate, to outperform passive benchmarks. This is not a new development — it was first reported 90 years ago. The rise of passive management is the consequence of active performance shortfalls.
These shortfalls can be attributed to three factors:
— the professionalisation of investment management;
— cost; and
— the skewness of stock returns.
Since each of these factors is likely to persist, the advantage of indexing over active management is likely to persist as well.
Every month we get an update on all the ponzi schemes in the Ponzi Scheme blog, here is the November 2022 update. It is amazing to me how so many still fall for these shenanigans. Comes back to human emotions, greed primarily. Many caught, their lives ruined and so are the victims. I always shake my head when I go through these monthly updates, stuff like this kills me:
…he was running a cryptocurrency investment scheme that raised at least $10 million from investors. The indictment states that Giri held himself out as an expert cryptocurrency trader with a specialty in bitcoin derivatives and promised investors profits with no risk to principal. [You want no risk to principal? Banks with FDIC, that's what they are there for!]
…The scheme defrauded over 100 investors and involved the use of Bible quotes and religion to prey on investors. [ I guess 'you shall not steal" was not one of the quotes, Jesus!]
and many more, now involving crypto related schemes…
Some good thoughts here on the recent sea change with the rapid rise of interest rates after a generation of falling: New Rules for Success.
1. Carrying debt is less foolish—in some cases
2. Buying bonds beats paying down older mortgages.
3. Asset location matters once again.
4. Extending bond maturities is more appealing.
5. Bonds again offer the chance to beat inflation.
6. Selling a home has become costlier.
7. Future profits are less valuable.
FTX/CRYPTO
Maybe Coinbase makes it after this mother of all crypto winters with the FTX blowup? I don't know but I do agree with this: Coinbase CEO Rejects FTX 'Accounting Error,' Says Funds Were Obviously 'Stolen'.
I don't care how messy your accounting is (or how rich you are) – you're definitely going to notice if you find an extra $8B to spend. Even the most gullible person should not believe Sam's claim that this was an accounting error. It's stolen customer money used in his hedge fund, plain and simple.

SBF continues to do interviews. And media treating him favorably which should induce raging feelings on all of us. Some thoughts by Cullen Roche about this issue:
Sam Bankman Fried isn't just being treated as if he's innocent until proven guilty. He's being treated as if he did nothing wrong. And like so much of the crypto space, it's getting undeserved attention because it's the current bright shiny object that gets attention, eyeballs and clicks. But in this particular case it looks like many media outlets are covering their butts because they helped build SBF up as this altruistic do-gooder when we now know he's a fraudster at worst and a horrible risk manager at best… He should not be given the benefit of the doubt and the media should be treating him much more harshly than they are. So the whole situation comes down to a problem of trust. We can't trust the most trustworthy operators in the crypto space. And we can't trust the media to objectively cover the space. And people wonder why the "fake news" narrative was so powerful under the Trump administration….
A map of FTX customers' location: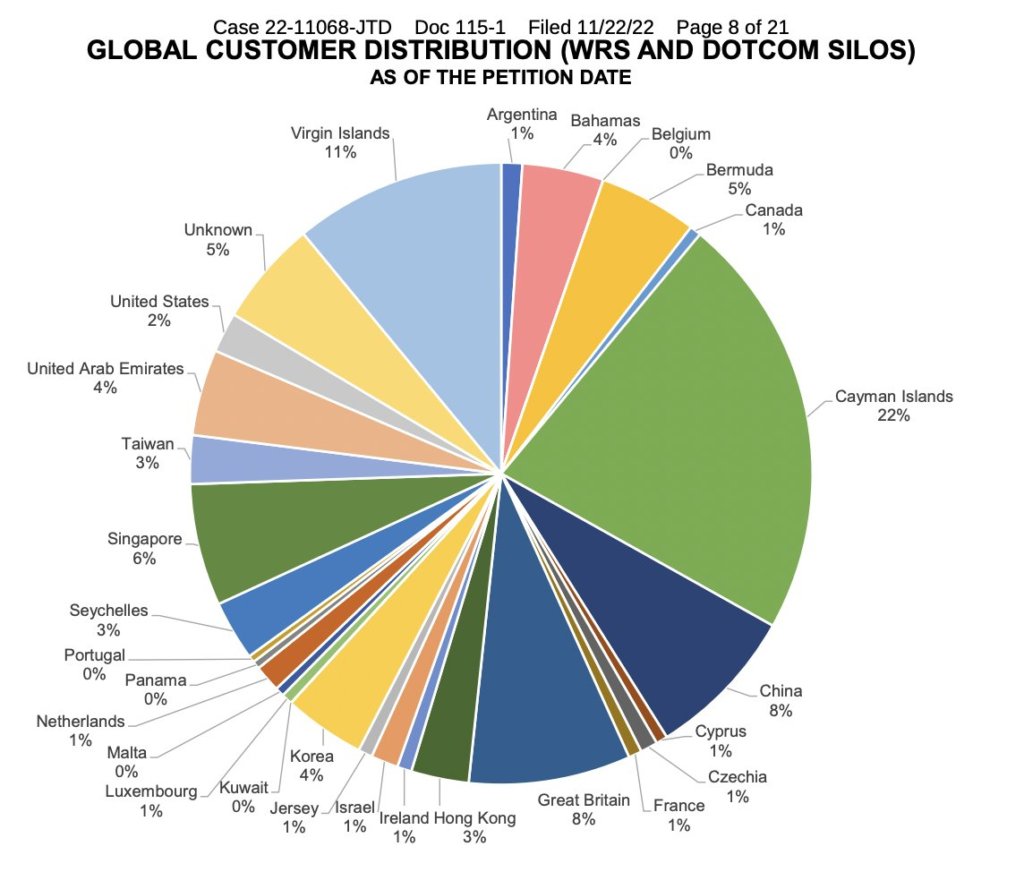 UKRAINE RUSSIA WAR
As I am typing this, another barrage of missiles are on their way to Ukraine from Russia. How can the world allow this? Oh wait, maybe it is the nukes? And still no protests in Russia…unbelievable in almost 2023!
ODDZ & ENDZ
I love Twitter. Ever since Elon Musk bought it, I love it less and thinking about quitting it. I have resigned myself to use it less going forward while looking at other options which they probably do not have staying power but hope dies last as they say. This is how we avid Twitter users are feeling lately: Twitter was special. But it's time to leave. The article does a great job explaining why many of us absolutely loved Twitter with all its faults…
A collection of haphazard groups, not just of experts, but of people. Glorious, glorious people with all the edges and whistles, and career changes, and marriages, and kids, and vacations, and dad jokes. It is the office watercooler during the day; the conference "hallway-track" during events; the Sunday barbeque social on the weekend. This is the thing that the new ownership of Twitter never seemed to fully grasp: Twitter's value was never about engagement or technology or checkmarks. Its value is not found in its code or the servers on which it resides, or in the 24-by-24 pixel seal of approval granted opaquely by whomever at Twitter thought an account happened to be noteworthy in real life. The engine that drove Twitter was the people. Nothing more. Nothing less.
Since his purchase of the bird site, Musk has shown no interest in preserving any aspect of the site that made it previously healthy or tolerable. In the three weeks he has been at the helm he has run the site pretty much as Trump ran his administration: entirely from the hip, without listening to competent advisors, and with policies issued on a whim by tweet. He has became the master of his site; no longer just an influential account, but the permanent main character of the whole platform; using his control to showcase his abject disregard for the site's users or the health of the platform at large.
Devastating account chronicling drug addiction: A Military Wife's Descent Into Meth Addiction—And Her Agonizing Journey Back. Read this before you even think about experimenting with this shit! Good to see this lady winning the battle, hope it stays that way! Archived Link.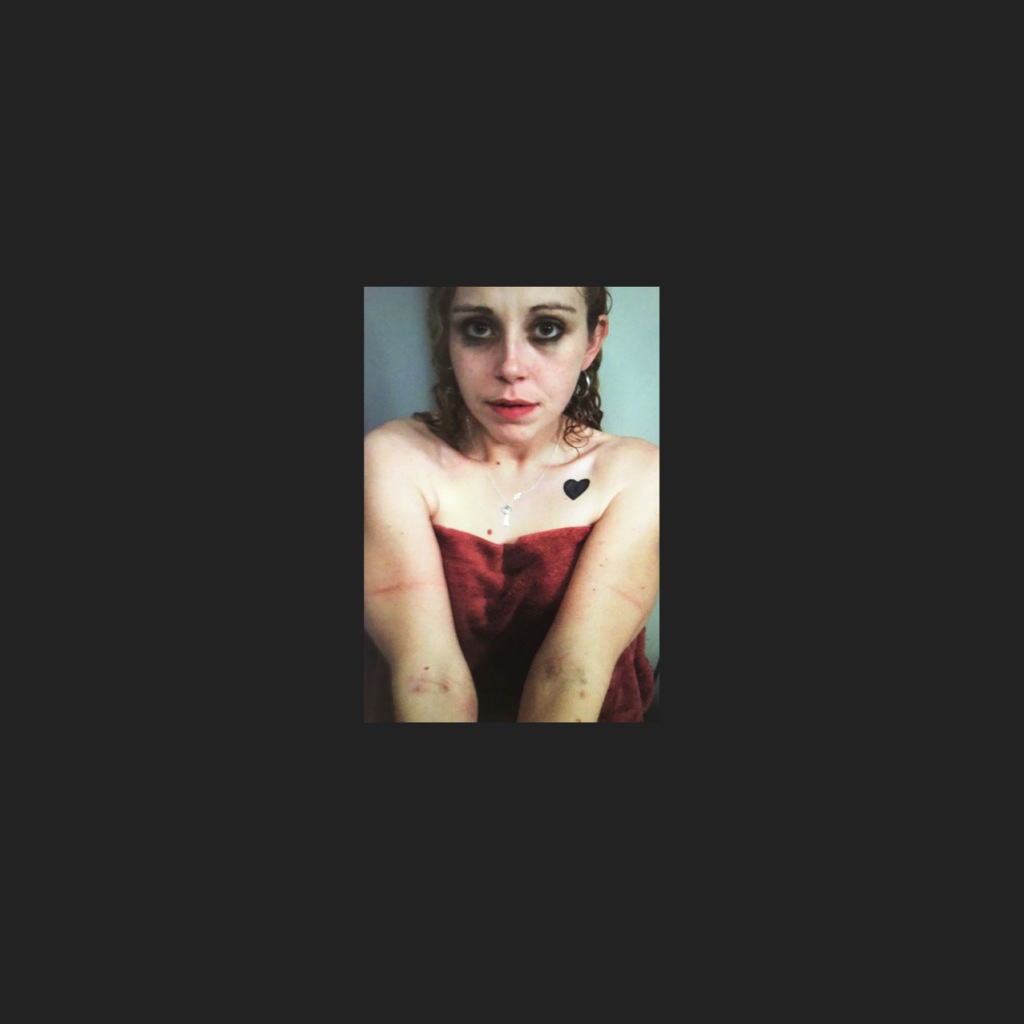 What a wonderful story about Lucky's Last Run. An interesting guy addicted to running, an RV, a down on his luck former chef and of course Lucky, the sweet dog rescued from Brazil, enjoy.
This is absolutely hilarious! Arrives late, pours your wine and eats onions – 56 dating red flags that should send you running. A few excerpts I had a hard time to choose from:

Tells you they're 'trying to be healthy'
Then eats three-quarters of your chips. A sociopath.
'I'm not the jealous type'
Say you need the bathroom and leave by the fire exit.
Asks if they can 'inbox' you, 'ping' you a message or 'circle back on that'
Hear that? It's the terrifying crack of 1,000 LinkedIn accounts high-fiving one another. Imagine overhearing them talking to work colleagues on Zoom about "firing over" a "presentation deck" – your sex organs would apply for a transfer.
TRAVEL
Really cool place (pun intended): Exploring the northernmost capital in the world: Norway's Svalbard archipelago.
MILES & POINTS NEWS/PROMOS/MY ACTION
Remember how hot the Chase Sapphire Reserve card was when it first came out…and it was all metal? Oh well, metal is not what it used to be I guess: Please Look at My Metal Credit Card. Or it's maybe the sellers of credit cards are trying to find whatever marketing angle they can grasp to continue pumping them out…Archived Link. Or now the stupid "limited edition" gimmick…
But it seems like metal cards aren't so much falling out of favor as becoming the new normal, and credit cards, as physical objects, are likely to become more like luxury accessories, not less. Most recently, the credit industry has embraced a tactic beloved by the fashion industry: the drop, in which a small amount of limited-edition (and therefore special, if not always inherently so) items are made available to the lucky few who are able to snap them up. Earlier this year, American Express cut up one of Delta's decommissioned Boeing 747s and used the metal to fabricate a series of cards available only to clients with the company's highest-tier Delta rewards card, which costs $550 a year. The cards, which bore the image of the retired plane, were supposed to be available for sign-up for about seven weeks. They were gone much faster.
I enjoyed my stay at the Chicago Athletic Association, an Unbound Collection Hyatt property. I used an expiring free night certificate, really enjoyed the breakfast and the unique property. My suite was cute, the gym was nice and the fourth floor basketball court is fantastic. Also, a Shake Shack on the main floor too. Sometime today or tomorrow this stay will requalify my Hyatt Globalist elite status with more goodies earned #winning.
I am checking out today and on to the Chicago Fairmont a few blocks away using my annual lifetime Platinum complimentary night which comes with $100 food certs…
Wow, Mark at Miles to Memories is out…
Love Chicago but the cold winter wind here is just brutal!
MILES & POINTS
HOT CREDIT CARD OFFERS: 90k CHASE Ink Cash, 90k CHASE Ink Unlimited, 80k CITI Premier, 75k Capital One Venture X,  100k CHASE Ink Business Preferred,  60k CHASE Sapphire Preferred, 60k CHASE World of Hyatt Visa, 20k CHASE Freedom Flex, up to 30k CHASE Freedom Unlimited, 140k IHG Rewards Premier AND 1 Free Night and many more, including many AmericanExpress cards, including Delta, Marriott and Hilton cards! Please check out my Affiliate links. Terms apply to American Express benefits and offers. Visit americanexpress.com to learn more. If you do not see a credit card with my affiliate links, perhaps I could refer you?

This section is about my hobby addiction of collecting frequent flyer miles and hotel points since the early 1990's! SKIP if you are not into it!
As of today, I have burned 1,137,335 miles/points year to date and have 4,799,525 miles/points in the bank. Some do drugs, I do miles lol!
Thanks to US banks, very lucrative travel rewards credit card offers come and go all the time. This section will act as a reference point on the best CURRENT offers.
These two NO ANNUAL FEE Chase Business cards are now offering an amazing 90,000 Chase Ultimate Rewards Points, the Chase Ink Business Cash and the Chase Business Ink Unlimited! Bottom line, I think these are the BEST business travel rewards cards out there right now! The 90k Signup Bonus can be earned after $6k of spend on the cards in the first three months. I am not going to make a fool of myself with recurring "69 reasons I love these two cards", this is not a sales maximization blog ok? You can click to find out more about them and you can apply HERE to support this blog, thank you.
Chase Ink Cash/Unlimited 90,000 Points Now Available Online
Best Ever Chase Ink Card Bonuses Are Now Publicly Available Online
Citibank increased the Signup Bonus for the Citi Premier card from 60,000 to 80,000 Thank You points. Annual fee is $95 and the minimum spend to score the Signup Bonus is $4k in the first three months. The Citi Premier card has a solid earning structure as it earns 3 points per dollar on gas/groceries/dining/travel and 1 point on everything else. Of course, you can transfer your points to mostly foreign airlines and JetBlue. Or you can cash out at one cent per point. Therefore, 80,000 points means $800 less $95 annual fee——-> BOOM! Read the newbies paragraph above and always think…taking advantage of bank marketing budgets! Available HERE, thank you!
 Get The Best Offer Ever, Enough For 5 Round-Trips To Hawaii & More Incredible Deals, With The Citi Premier Card!
 Citi ThankYou Rewards Review and Guide
The Capital One Venture X card offers a 75,000 point Signup Bonus after a minimum spend of $4k in the first three months. If you like simplicity and looking for one (premium) card, I highly recommend this card (and yes, I have it myself!). It has an annual fee of $395 but it comes with a VERY easy $300 statement credit for travel booked on its excellent travel portal, essentially turning it into a $95 annual fee card. But wait…there is more! On each card anniversary you earn 10,000 points essentially making it FREE! Every dollar of spend earns 2 points and flights booked on the travel portal earn 5 points per dollar. You get access to Capital One and Plaza Premium airport lounges and a Priority Pass Select lounge membership and, this is important, you can add FOUR authorized users FOR FREE who can also have their own Priority Pass Select airline lounge membership. You can transfer your Capital One points to up to 18 Transfer Partners. No foreign transaction fees. Free Hertz President's Circle rental car top elite status. Cell phone protection and PRIMARY rental car coverage. Awesome seats at baseball stadiums for just 5k points each. And lots more. Available with my Credit Card Links, thank you for your support!
Why We Think the Capital One Venture X is Best for Traveling Families
Some of the links are behind a paywall. You can try to read them using Archive.is.
TBB
travelbloggerbuzz@gmail.com
Follow TBB on Twitter @FlyerTalkerinA2.
You can subscribe to TBB below, winners only!
Opinions expressed here are author's alone, not those of any bank, credit card issuer, hotel, airline, or other entity. This content has not been reviewed, approved or otherwise endorsed by any of the entities included within the post.