Another TBB post featuring the most eclectic links around the web such as the Inflation Reduction Act, Crypto banks, Azovstal siege, Global Entry on arrival, 8 mind blowing personal finance and investing stats, more on Celsius and Voyager crypto implosions, a crazy project in Saudi Arabia, Spirit decides to take the money from JetBlue, Russia's economy, latest on Covid and monkeypox, drug addicts in Afghanistan, history of web browsers, amazing NASA photography and a lot more!
TBB Blog Mission: To Educate. Entertain. Inspire. In That Order!
Support TBB by applying for CREDIT CARDS or visiting our

LINKS

or Donate

You like my blog? Send a link to someone please!
This blog will publish every Friday in the month of August 2022.
Best of Web articles are truly exceptional and MUST reads in their entirety, imho.
PERSONAL FINANCE
These stats are excellent: 8 Mind Blowing Stats Around Personal Finance and Investing That Will Change How You Handle Your Own Finances. Most of them I was aware but I must admit I was even surprised by some. And these are the most important ones imho:
"Between 1980 and 2018, there were 36 corrections. 2 happened in 2018!" [Relax, this is normal]
"If you do not start saving until you are 45, you will have to save 3x as much per year than if you started at 25" [Start EARLY!]
"Had someone invested $10,000 in the S&P 500 on Jan. 1, 2002, they would have a balance of $61,685 if they stayed the course through Dec. 31, 2021. If instead, they missed the market's 10 best days during that time, they would have $28,260." [And this is why there is no Market Timer Hall of Fame and there will never be one!]
What happens when you are "lucky" to receive a windfall? This article can help you avoid the usual fate of former recipients who lost it all: Staying Rich. Try to stay anonymous if you can; some state lotteries force you to reveal your identity which I think is awful. Because your third cousin locked up in a penitentiary down state for drunken assault (for example, roll with me here for a minute, ok?) will hunt you down for a chat over a few beers lol.  And please, avoid illiquidity, meaning mostly "be especially wary of real estate deals, angel investments and private funds—anything that will make it difficult for you to withdraw your funds if you decide to reverse course". I also think segmenting money/think in terms of buckets is great advice. You do NOT need more complex investments because you now have a lot more money! The same boring index ETFs/mutual funds still work great and keeping things simple is a huge peace of mind enabler. Yes, you do need to get professional help from an estate planning attorney and accountant of course. And take your time to find a wealth manager…you can pretty much ignore everyone who contacts you first! Anyway, I really like Warren Buffett's approach to leaving money to children: "enough to do anything, but not so much that they can do nothing." And for crying out loud, avoid ostentatious displays, you do not need that Ferrari, come on!
These charts will sure make you think: Put These Charts on Your Wall … 2022 Edition. Remember, ANYTHING can happen in the short term! Once you accept that, you expect surprises, ignore them and stick to your plan while focusing on what you do best…
I always chuckle how politicians name legislation. And the latest surprise is a doozie, The Inflation Reduction Act: Some initial thoughts. Inflation.Reduction.Act! Anyway, we'll see if it passes and when. Buried in it, finally, we may have killed the awful carried interest deduction. Seriously, I did not think I would be alive to see this. Again, let's see if it becomes law…
I have been in the wealth management business for a long time and it still gets me that investors are so sure of themselves where the stock market is going to go tomorrow/next week/next month/ next year short term. You don't, you are just guessing. And you are likely to be wrong. Again and again. Maybe, I don't know, stop checking your portfolio value so often for crying out loud before your emotions take over and hurt yourself!
CRYPTO
Reading this article really made me sad. And angry. They Thought 'Crypto Banks' Were Safe, and Then Came the Crash. Never EVER forget this:"Reaching for yield usually comes with big risk." And this excerpt below is just bonkers! Archived Link.
Jack Wang got burned on crypto before, losing almost half his life savings when prices tumbled in 2018. He swore he would never touch it again. But then the pandemic hit and he found himself stuck at home. His father and brother had recently died, and Mr. Wang got laid off from his finance job. He soon turned to investing forums on Reddit and found a reignited base of crypto followers. "It was the only normal human interaction I had at that time," he said. By the end of 2020, crypto prices were soaring and Mr. Wang decided to jump in again, but using only stablecoins. "The second time, I felt like the technology and infrastructure was much more mature," he said. "Before, the use cases for crypto were more for people in the fringe communities." Mr. Wang, now 32 years old, eventually transferred $250,000 into a stablecoin called TerraUSD. He stored it on a platform called Anchor Protocol, which was backed by venture firms and offered annual yields of nearly 20% on the coin. He also invested in an insurance fund related to the coin. In May, TerraUSD slipped off its peg and plunged to nearly zero. Mr. Wang was out almost $500,000. Mr. Wang turned again to Reddit, where fellow investors were posting hotline numbers for suicide prevention. He responded to one of the threads by sharing how much money he had lost, hoping he could show others that they weren't alone. Mr. Wang said he was coming to grips with what happened. Over the Fourth of July holiday, he took a solo trip to Wilmington, N.C., and the surrounding Carolina beaches.

You want to read even more sad stuff? Excerpts from letters to the judge in the Celsius Network bankruptcy case. Some of them almost made me cry…
You know, it would have saved a lot of people if the regulators ordered Voyager to do this BEFORE they hauled billions from consumers who thought they were parking money in a real bank! U.S. regulators order Voyager Digital to stop 'false and misleading' deposit insurance claims.
TRAVEL
Well, finally Spirit Airlines shareholders decided to take a lot more money from JetBlue than what Frontier was offering. This was a bizarre bidding war that ensued after Frontier announced it was buying Spirit. I can't believe JetBlue overpaid so much and I hope it works out. I guess. Time will be the judge. And I think we probably will have to say goodbye to the JetBlue and American Airlines recent partnership. Merging these two vastly different airlines and cultures will be painful…for everyone imho.
This is crazy, one trillion dollars! Saudi Crown Prince wants to build a 75-mile-long skyscraper. The two buildings, if completed, will reach 1,600 feet into the sky—likely near 150 stories—and will run parallel for 75 miles. It will house roughly 5 million people and will include a high-speed train under the buildings to let people move about in it. Other amenities include a sports stadium, which will stretch 1,000 feet in the sky; a yacht marina; and vertical farming to ensure residents have enough food. Residents will pay a subscription to be served breakfast, lunch, and dinner.  There are rumors out there that each resident will get a miniature golden bone saw!
A sharp reader sent me this link, the website of Aero. The buzzwords are sure buzzing of whatever is going on in their "semi-private" jets! For example, what comes to mind when you read the following?
Intimate Journey you'll remember/well-crafted at each touchpoint/Glow Up/State of the Art mood lighting/High Fidelity Sound System
Anyone fly them yet? I am volunteering to review them for a first hand account! 😉
I discovered this blog in the Greek press of my hometown Larisa: (Just Like) Starting Over. It is a family writing a travel diary, these days they are in Chile. It is in reverse chronological order and it is is written in Greek. But you can still enjoy the photos! A few selected ones:
COVID-19
As far as I know I have not had Covid…yet. I saw somewhere recently that 82% of Americans have had Covid at least once. And a portion of them think they had never had it, they were totally asymptomatic. Am I one of them?
COVID State of Affairs, as of July 25.
We are in the middle of a wave, and the world is feeling it. There are signs that BA.5 cases peaked in the U.S., but we need to ensure this trend solidifies. The story of severe COVID-19 continues to change for the better. If you don't want to get sick or want to protect the vulnerable around you even if they are vaccinated, like grandparents, you need to continue to ride this wave responsibly.
This is very helpful: Addressing myths about monkeypox: A look at symptoms, treatment and other common questions. Are we doing an awful job about pandemics or what? We need to invest in our public health system and just stop reacting so slow to these threats!
ODDZ & ENDZ
Best of Web: No Typo: Gary Smith Teaches Mindfulness to Elementary School Kids These Days. He is the writer who did amazing work writing about Mike Tyson and Andre Aggasi. And he could have gotten a lot more money but wrote a contract to write just four stories a year. And then walked away…Rare breed, be like Gary Smith!
This is cool: The Rise and Fall of Popular Web Browsers Since 1994. From Netscape to Chrome…
OMG, these are extremely disturbing! AP PHOTOS: Despair and poverty fuel drug use in Afghanistan. You have been warned!
This is very interesting: Timeline: The Domestication of Animals.
These are amazing! NASA Reveals Its 2022 Photographers of the Year.
MILES & POINTS
HOT CREDIT CARD OFFERS: 80k CITI Premier, 60k CHASE Sapphire Preferred, 75k Capital One Venture X, 75k CHASE Ink Cash, 75k CHASE Ink Unlimited, 100k CHASE Ink Business Preferred, 60k CHASE World of Hyatt Visa, 60k CHASE Sapphire Reserve, 20k CHASE Freedom Flex, up to 30k CHASE Freedom Unlimited, 70k CHASE United Explorer, 140k IHG Rewards Premier AND 1 Free Night, 20k CITI Custom Cash, and many more, including many AmericanExpress cards, including Delta, Marriott and Hilton cards! Please check out my Affiliate links. Terms apply to American Express benefits and offers. Visit americanexpress.com to learn more. If you do not see a credit card with my affiliate links, perhaps I could refer you?

This section is about my hobby addiction of collecting frequent flyer miles and hotel points since the early 1990's!
As of today, I have burned 701,647 miles/points year to date and have 4,760,434 miles/points in the bank. Some do drugs, I do miles lol!
BEGINNERS
BASICS: This travel hacking hobby is mostly about getting the fat Signup Bonus of travel rewards credit cards while of course NEVER EVER carrying a balance. Banks have a marketing budget and are willing to give us many THOUSANDS of miles/points to travel mostly for free hoping to hook us to charge 20%+ interest rates on our balances. The poor souls who fall for their marketing paying these ludicrous interest rates for years end up subsidizing us responsible consumers who enjoy taking advantage of, cough, such bank marketing budgets! Some of us have been doing this for thirty years creating amazing travel memories…Feel free to ask me questions or post them in the comments.
Southwest is a very passenger friendly airline. Your bags fly free and no cancellation and change fees. And it just got even friendlier: Your Southwest flight credits won't expire: Airline's new policy applies to all tickets. Wait for its Chase credit card 80k signup bonuses to go way up again!
TOP TRAVEL REWARDS SIGNUP BONUS CARDS
Citibank increased the Signup Bonus for the Citi Premier card from 60,000 to 80,000 Thank You points. Annual fee is $95 and the minimum spend to score the Signup Bonus is $4k in the first three months. The Citi Premier card has a solid earning structure as it earns 3 points per dollar on gas/groceries/dining/travel and 1 point on everything else. Of course, you can transfer your points to mostly foreign airlines and JetBlue. Or you can cash out at one cent per point. Therefore, 80,000 points means $800 less $95 annual fee——-> BOOM, here is $705 in your pocket, you need this $$$ to pay for gas! Read the newbies paragraph above and think…taking advantage of bank marketing budgets! Available HERE, thank you!
Get The Highest Ever Offer, Enough For 5 Round-Trips To Hawaii & More Incredible Deals, With The Citi Premier Card!
The Capital One Venture X card offers a 75,000 point Signup Bonus after a minimum spend of $4k in the first three months. If you like simplicity and are looking for one (premium) card, I highly recommend this card (and yes, I have it myself!). It has an annual fee of $395 but it comes with a VERY easy $300 statement credit for travel booked on its excellent travel portal, essentially turning it into a $95 annual fee card. But wait…at each card anniversary you earn 10,000 points essentially making it FREE! Every dollar of spend earns 2 points and flights booked on the travel portal earn 5 points per dollar. You get access to Capital One and Plaza Premium airport lounges and a Priority Pass Select lounge membership and, this is important, you can add FOUR authorized users FOR FREE who can also have their own Priority Pass Select airline lounge membership. No foreign transaction fees. Free Hertz President's Circle rental car elite status. Cell phone protection and PRIMARY rental car coverage. Awesome seats at baseball stadiums for just 5k points. And lots more. Available with my Credit Card Links, thank you for your support!
Get 75K Miles, Lounge Access & More with the Capital One Venture X Card
The Chase IHG Premier Card Signup Bonus is now 140,000 IHG points AND a free night (that costs up to 40,000 points) after you spend $3k in the first three months. The annual fee is $99. The card can earn up to 26x per dollar for spending in IHG hotels, 5x per dollar on travel, gas stations and restaurants and 3x everywhere else. You do receive a free night (up to 40,000 points) at each card anniversary which softens the blow from the annual fee somewhat along with a $50 deposit into your United Airlines Travel Bank account. You also get automatic Platinum elite status. Word on the street is that Chase will approve you much easier for this card than any other of its cards. If you plan to spend some time at a Holiday Inn brand hotel this card could get you several free nights. Available HERE under Card Category/Hotel, thank you!
Remember, you are NOT allowed to ever carry a credit card balance if you ever get a credit card here!
NEWS/PROMOS/MY ACTION
More online shopping promos! Shopping Portal Bonuses From Alaska, American, Southwest, United.
So, finally, my wife and daughter applied for Global Entry. Of course using credit cards that refund the $100 fee. By the way, the Capital One Venture X $100 credit came through after just one business day, wow! Anyway, scheduling an appointment has been almost impossible after checking every day. So, we are resigned to have my wife do it on her return back to the US in late August after flying back from Malaysia to see her mother and family. How to Finish Global Entry Enrollment on Arrival.
SHOCKING NEWS! I managed to finally burn some of my Radisson Rewards Americas points! I signed up for a half marathon in Rockford, Illinois and there is a nice Radisson there and there was some type of sale going on and cost only 30,000 points the night before the race. I then will drive to Chicago and finally spend one night at the Hyatt Chicago Athletic Association property and use one of my (earliest) expiring Free Night certs. Saved about $600 of my cash for the two nights #winning.
My Berlin trip for the marathon saga continues. Another week, another flight change. This time American Airlines changed the direct flight from Dallas to Detroit and booked us the next morning departing at 5.15 am lol. So, another call to AA and managed to bypass Dallas for Charlotte from London Heathrow. I really wanted to stop in Dallas to check out the Capital One lounge but it was not meant to be. And gave up the British Airways flight for an American Airlines flight from London. Which saved us about $200 in confiscatory taxes and fees. Who knows, this will likely change again next week!
ADVANCED TRAVEL HACKERS
Interesting if you are into these miles: From Europe to Brazil, These Are the Best Ways to Use LifeMiles. Must read the cons of these miles at the bottom of the article and…good luck!
Devaluations never stop…Aeroplan increases redemption rates for many awards.
RIP Rakuten Visa, thoughts and prayers to all affected!
Question: How do you go about booking walking tours? Any recommendations for Berlin?
BUZZING
A section where I go on and on about some stuff that happens in my life and anything else that just does not fit in another section above.
I really like this app and going to give it a spin when I am in NYC in a few weeks: Save money on takeout (and maybe do good) with Too Good to Go.
With the heatwaves in Michigan absent over the past week, I have managed to run very well and am catching up to my pre burnedtoes injury state. Less than two months away from Marathon Numero Quatro in Berlin! Last time I was there was in 1987 when I did both West and East Berlin…
Very excited for the new soccer season of my Greek hometown Larisa AEL football club, now playing in the Greek Second division and aiming to return back to the First division, God willing. After seven years of absolute insanity and misery being owned by the most hated man in Greece who managed to run off all of the fans, we now have a new beginning returning the team back to its roots and here are the fans in the first practice of the year! This is just a practice, you have no idea what happens in an actual game, this is where I spent my Sundays growing up back in Larisa, the team is in my blood. And in my DNA doing things my own way valuing independence and freedom and never giving up!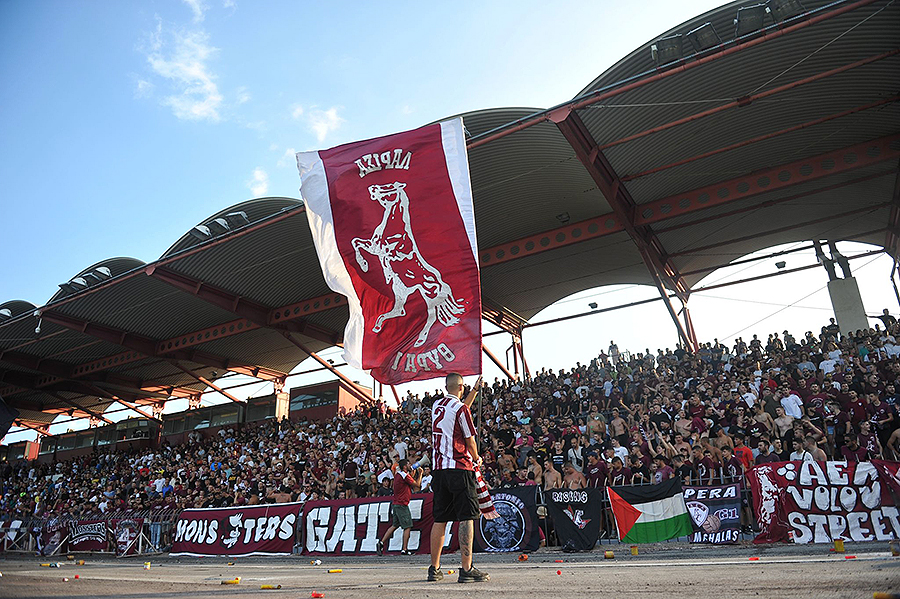 Thank you always to the few blog donors and the three readers who supported this blog by getting a travel rewards credit card with my links this month. To the moron who called me a credit card whore I suggested to him to read these two blogs instead smh!
Let me leave you with this…

Thank you for reading my blog. If you enjoy it please pass it on to a family member or friend, thank you!
Some of the links are behind a paywall. You can try to read them using Archive.is. Or use 12ft Ladder. Or the Firefox browser.
TBB
travelbloggerbuzz@gmail.com
Follow TBB on Twitter @FlyerTalkerinA2.
You can subscribe to TBB below, winners only!
Opinions expressed here are author's alone, not those of any bank, credit card issuer, hotel, airline, or other entity. This content has not been reviewed, approved or otherwise endorsed by any of the entities included within the post.