Another TBB post featuring the most eclectic links around the web such as the ultimate guide to investing in international stocks, US banks with the highest FDIC uninsured deposits, the pandemic fraud was surreal, the best AI practical guide, Twitter continues its descent, must listen podcast about money, life and happiness and stuff like that, latest on supply chain issues, the Frank founder scammer has been arrested, we compare the Cuban missile crisis with current Russia dysfunction, lonely people dying alone, amazing pencil art, I show you where to go skinny dipping, more amazing photography, the latest American Airlines devaluation of its miles, the latest travel rewards credit card offers and more, Happy Easter!
TBB Blog Mission: To Educate. Entertain. Inspire. In That Order!
Support TBB by applying for CREDIT CARDS or visiting our

LINKS



You like my blog? Send a link to someone please!
This blog publishes every Friday and Tuesday…for now.
Welcome to all new blog readers from George, your diligent curator of the BEST web content I find and share with you. No ads, no clickbait.
PERSONAL FINANCE
Morgan Housel now has five podcast episodes and I think this is the best one to date. It is only 13 minutes long too. Highly recommended: Everything You Can't Have.
A deep dive on the subject: The Ultimate Guide to Investing in International Stocks: Risks, Rewards and Strategies. There will always be questions on what is the appropriate allocation, we are all different. Key is, like in investing for the long term, to pick a target allocation and stick to it. Easier said than done…
Very interesting: The US Banks With the Most Uninsured Deposits
I have been saying the pandemic changed everything and we have been on a slow path returning to normal. Looks like the supply chains woes have fully normalized now: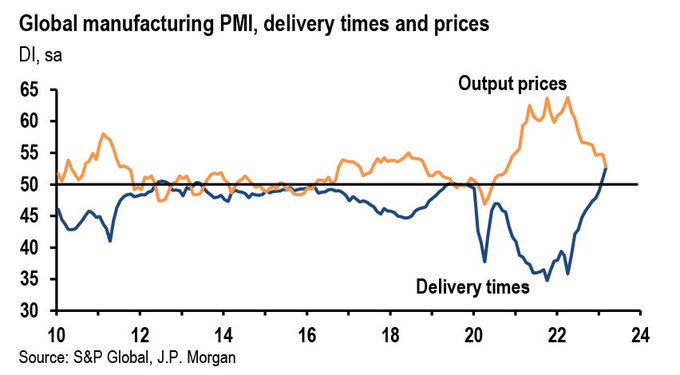 CRYPTO/SCAMS/TWITTER
The Twitter clusterphuck continues: Among all of his mistakes, don't forget Elon Musk is singlehandedly crushing a big chunk of Internet research for no good reason. As a certified Elon Musk hater, I loved this! 🙂
How would you create a taxonomy for all of Elon Musk's screwups running Twitter? Are there enough phyla, kingdoms, or classes to contain such a rapidly growing population?
Maybe you could categorize them all by their financial impact — from low (asking all Twitter engineers to print out their code for his personal inspection) to medium (launching a "verification" system that immediately exploded into market-moving chaos) to high (unbanning enough Nazis to drive away most of your biggest advertisers).
Maybe you'd group them by their degree of self-humiliation, from high ("Based on current trends, probably close to zero new cases in US too by end of April") to extreme (yelling "I'm rich, bitch!" while being booed off a San Francisco stage) to otherworldly (accusing an employee with muscular dystrophy of faking his disability).
Or maybe you'd order them by the extent of disrespect they show Twitter's users. Changing Twitter's logo to the doge Shiba Inu isn't offensive per se, but it is a persistent reminder that Musk considers the site his personal playground, not anything larger or more important to the world.
Remember that young genius who sold her company to JP Morgan for $175 million? Who made up fake email lists and there are texts and emails to prove it. Well, here we go! The founder of Frank, a student loan company, was criminally charged for defrauding JPMorgan. The wheels of just are slow but they turn eventually…
"Javice engaged in a brazen scheme to defraud JPMorgan Chase. She lied directly to [the bank] and fabricated data to support those lies—all in order to make over $45 million from the sale of her company." –US attorney Damian Williams in Manhattan, in a statement.
Talking about the wheels of justice turning slowly, remember three years ago when the government started handing money away and I was screaming here there is so much rampant fraud and if you are laughing now you won't be laughing for long…Well, finally! Tackling the biggest fraud in US history – pandemic relief.
Nearly as extraordinary as the scale of the fraud Mr. Jaklitsch attempted is the degree to which he succeeded. Of the at least $1,280,680 he sought in loans from the Small Business Administration, he was approved for all but $140. And California apparently failed to notice that the same man had filed at least 78 different claims, authorizing Bank of America to mail out dozens of debit cards loaded with unemployment benefits to addresses under his control.
The scale is unbelievable and be very afraid if you did this. For the record, no money was ever requested by me or my two businesses during these pandemic relief programs. Simply because I did not need them and others needed them more. And it just felt like the wrong thing to do!
With estimates indicating that as much as $560 billion, or nearly 20%, was stolen out of more than $3 trillion distributed through the three main pandemic aid programs…
UKRAINE RUSSIA WAR/GEOPOLITICS
Fascinating account of the Cuban Missile Crisis and how Russia has not changed much since then. Blundering on the Brink. The Secret History and Unlearned Lessons of the Cuban Missile Crisis.
But the declassified Soviet documents make some important corrections to the conventional view, highlighting the Achilles' heel of the Kremlin's decision-making process, which persists to this day: a broken feedback mechanism.
But plenty of people in Russia, especially around Putin and among his propagandists, defiantly say that there would be "no world without Russia," meaning that Moscow should prefer a nuclear Armageddon to defeat. If such voices had prevailed in 1962, we'd all be dead now.
The Russians not only could not take Kyiv in three days…they can't even take Bakhmut in over seventeen months!
ODDZ & ENDZ
Probably the best and most useful article on AI: How to use AI to do practical stuff: A new guide. Maybe I add an AI section, I have been doing a lot of reading on the subject. I have seen lots of tech stuff that was supposed to take over in my time on this planet so I am cautious and watching this thing take off and pray our human tendencies don't veer to the worst. Remember when social media was going to get us all connected?
This is not an easy one. If you want to celebrate Easter in a festive mood, do NOT read this, you have been warned: My Best Friend Died From Loneliness. White, working-class, middle-aged Americans are one of the only demographics in the world that has seen its life expectancy fall. But Mike wasn't just a statistic. Again, you have been warned.
We try to anchor ourselves to each other, if not our God, and burrow through whatever happens. But I know that part of burrowing is shutting out what we don't want to see. I know there is but a microscopic film separating Mike and me. If I ever forget it, this voice—or really, this amalgam of voices, smirking, drunken, vengeful, furious—reminds me not to fly too close to the sun for fear of tumbling all the way down.
These are amazing: 27 Stunning Pencil Sculptures By Jennifer Maestre.
TRAVEL
Let others bring you clickbait and boring stuff, how about The Top Skinny Dipping Spots in the World. Which one is your favorite? 🙂
Most spoken languages in the world
These are amazing! Macro Photography Captures the Delicate Dance of Mantises in Malaysia.
BUZZING
A section where I go on and on about some stuff that happens in my life and anything else that just does not fit in another section above.
All client tax returns are done and now I can work on my own return finally!
I watched Air and I really liked it. How Nike signed Michael Jordan. As a basketball fan I would have loved this movie anyway. I never liked Matt Damon's acting. Ben Affleck directed it and did all right I think…and he also played Nike CEO Phil Knight which was interesting to say the least. Also, big thumbs to Jordan's mom for that shoe deal!
NBA Playoffs are about to start. When you think the Detroit Pistons are finally on the way back…they surprise you on the downside once again. This year will come with the worst record in Detroit Pistons history. But it will turn around next year…if we can get the top pick to choose that French kid phenomenon 🙂 Also, a bunch of new teams leading the West conference with the Dallas Mavericks about to officially not make the playoffs, wtf were they thinking to trade for Kyrie Irving! I think over in the East I expect to see the Bucks and the Celtics battle in the Conference Finals. Here is the NBA Playoff Picture right now.
One final long 21 mile long run this Sunday and I think we are on tapering mode after this preparing for my fifth full marathon in the metropolis of Toledo, Ohio, the 2023 Glass City Marathon.
This blog started with a focus on miles and points and travel. It has evolved since then. Everything below deals with the hobby of collecting frequent flyer miles and points. If you are not interested, you can stop here, thank you.
MILES & POINTS NEWS/PROMOS/MY ACTION
In case you missed it, American Airlines finally executed its intention to go fully dynamic in its award pricing. Partner awards are not touched…yet. The difference between blogs that exist to sell travel rewards credit cards and ones that do not are so telling. The first kind enthusiastically sells American Airlines credit cards, they report and then downplay the devaluation and, you guessed it, still continue to enthusiastically sell American Airlines credit cards! Here is a blog that does not sell travel rewards credit cards, notice the difference? American Airlines Significantly Increases Miles Required For Awards On Its Flights.
You shouldn't be using AAdvantage miles for American Airlines awards when it comes to international long-haul travel. You shouldn't be swiping airline-related credit card cards for purchases beyond meeting the initial bonus, and people should evaluate their "addiction" to miles and points and "free" travel in general. [bold font for emphasis is all mine #hint]

This is a good hotel promo if your travels take you to one of this chain's hotels: Radisson 5K for Every Stay.
See what United gives you in its ongoing United Mile Play promotion. We all were eligible but only if we were to take one to three United flights with ticket cost over $100. Which is not gonna happen lol. Oh wait, my wife has a $500 United voucher and I think she is going to book a flight with it so I guess we'll take the promo 5,000 miles with it.
Citi has decided to increase some signup bonuses with its cards…finally! Increased Citi Offers, 75K Bonuses for Premier and AAdvantage Cards.
To expand on these offers, you can read more here:
Increased Bonus (75K!) on Citi AAdvantage Card Means Now is the Time
Citi Premier: Welcome Offer Increased to 75K ThankYou Points
As of press time, the two credit cards above are not available with my own Credit Card Links, please check back and thanks for supporting this blog!
Ok, straight talk on these two new offers. The AA card Signup Bonus is very attractive at 75k when it has been stuck at 50k for a very long time. You get the 75k AA miles after you spend $3,500 in the first four months. Annual fee is $99 but wait…the bank will waive it in the first year. So, when you think about it, you can get 75k AA miles plus the miles you earn for the minimum spend and Citi picks up the tab thanks to many who will go on carrying credit card balances to eternity. It is a marketing expense for Citi, THINK. These are not the cards to use on a regular basis as the earning structure is relatively weak with only 2x spend on dining, gas station and AA purchases. and just 1x on everything else. You also get a free checked bag for you and up to 4 companions on your AA flights. After yet another devaluation of AA miles (see note above) maybe you should pass for something more attractive…as in cards earning bank proprietary points which are inherently more flexible. Then again, you know, more than 80k AA miles for free is..cough.
The Citi Premier card offer is better if you strictly compare it to the Citi AA card above. Even though they offer the same 75k Signup Bonus. Simply because having 75k Thank You points is just more flexible because you can transfer out to several airlines instead of just being stuck with only AA. The Signup Bonus recently went down from 80k points which was fantastic! Even at 75k points is very attractive indeed, especially if you wanted to start swimming in the Citi proprietary points ecosphere. You earn the Signup Bonus after a minimum spend of $4k in the first three months. Annual fee is $95 and it is NOT waived in the first year. What makes this card attractive is its very strong earning structure at 3x Dining, Grocery, Gas Station and Travel! And you need this card to be able to transfer your Thank You points out to transfer partners. So, if you are going to swim in the Citi world this card is a must. Just like in the Chase world, the Chase Sapphire Preferred card is a must. So, think…you could get over 80,000 Thank You points for $95…This is where the bang is!
If you are allergic to even paying annual credit card fees, here is an advanced trick to use with one company involving downgrades.
MILES & POINTS
HOT CREDIT CARD OFFERS: 75k Capital One Venture X, 75k Capital One Venture Rewards, 75k Chase Ink Business Cash, 75k Chase Ink Business Unlimited, 100k CHASE Ink Business Preferred, 70k Bank of America Alaska Airlines Visa, 60k CHASE Sapphire Preferred, 75k Citi Premier, 45k Wyndham Rewards Earner Plus, and many more, including many AmericanExpress cards, including Delta, Marriott and Hilton cards!  Please check out my Affiliate links. Terms apply to American Express benefits and offers. Visit americanexpress.com to learn more. If you do not see a credit card with my affiliate links, perhaps I could refer you?

This section is about my hobby addiction of collecting frequent flyer miles and hotel points since the early 1990's! SKIP if you are not into it!
As of today, I have burned 501,000 miles/points year to date in 2023 and have 4,348,575 miles/points in the bank. Some do drugs, I do miles lol!
Thanks to US banks, very lucrative travel rewards credit card offers come and go all the time. This section will act as a reference point on the best CURRENT offers. I will designate new material preceded by NEW.
BEGINNERS
The Beginner's Guide to Getting Started with Credit Cards, Points & Miles
BASICS: This travel hacking hobby is mostly about getting the fat Signup Bonus of travel rewards credit cards while of course NEVER EVER carrying a balance. Banks have a marketing budget and are willing to give us many THOUSANDS of miles/points to travel mostly for free hoping to hook us to charge 20%+ interest rates on our balances. The poor souls who fall for their marketing paying these ludicrous interest rates end up subsidizing us responsible consumers who enjoy taking advantage of, cough, such bank marketing budgets! Some of us have been doing this for thirty years creating amazing travel memories…Feel free to ask me questions or post them in the comments.
BASICS: Prefer credit cards from the proprietary points programs of banks, such as Chase Ultimate Rewards, American Express Membership Rewards, Citi ThankYou Network, Capital One Rewards Miles because they are a lot more flexible and are not devalued as frequently. Over pure airline and hotel travel rewards credit cards. Pure cash back credit cards may work for you best and they are getting more valuable as airline and hotel loyalty programs keep getting devalued. Sometimes, a pure no annual fee 2% cash back card works best for simplicity!
The Capital One Venture X card offers a 75,000 point Signup Bonus after a minimum spend of $4k in the first three months. If you like simplicity and looking for one (premium) card, I highly recommend this card (and yes, I have it myself!). It has an annual fee of $395 but it comes with a VERY easy $300 statement credit for travel booked on its excellent travel portal, essentially turning it into a $95 annual fee card. But wait…there is more! On each card anniversary you earn 10,000 points essentially making it FREE! Every dollar of spend earns 2 points and flights booked on the travel portal earn 5 points per dollar. You get access to Capital One and Plaza Premium airport lounges and a Priority Pass Select lounge membership and, this is important, you can add FOUR authorized users FOR FREE who can also have their own Priority Pass Select airline lounge membership. You can transfer your Capital One points to up to 18 Transfer Partners. No foreign transaction fees. Free Hertz President's Circle rental car top elite status. Cell phone protection and PRIMARY rental car coverage. Awesome seats at baseball stadiums for just 5k points each. And lots more. Available with my Credit Card Links, thank you for your support!
Get 75K Miles, Lounge Access & More with the Capital One Venture X Card
The Best Ways to Use Capital One Venture Miles
7 Underrated Benefits of the Capital One Venture X Card
Sticking with Capital One Bank…it is offering 75,000 points for its Capital One Venture Rewards Credit Card. Annual fee is $95, minimum spend required to earn the Signup Bonus is $4,000 over the first three months and the card basically earns 2 points for every dollar. And you can transfer the points out to airline and hotel partners just like the Capital One Venture X card above.
Some of the links are behind a paywall. You can try to read them using Archive.is.
TBB
travelbloggerbuzz@gmail.com
You can join 557 email subscribers to receive each blog post by entering your email address below and then clicking on Subscribe:
Opinions expressed here are author's alone, not those of any bank, credit card issuer, hotel, airline, or other entity. This content has not been reviewed, approved or otherwise endorsed by any of the entities included within the post.