Primary mission of TBB was, is and always will be to entertain. As soon as I saw this I knew I had to share it with my readers and actually be FIRST on something lol.
TBB Blog Mission: To Entertain. Educate. Inspire. In That Order!
You can support TBB by shopping with our AMAZON AFFILIATE LINK or click on the Amazon Banner on the right side, thank YOU!
Tommy Chong's solution for pot's banking problem
Yep, you knew that was coming. The Tommy Chong Green card for all you stoners or "patients" buying "medicine" lol. Actually, I am pro legalization for purely practical reasons. Mainly because people who want it will find a way to buy it anyway. Might as well make it all legal and raise some tax revenue, save money from enforcing these laws so cops can stop busting people smoking dope and eating Doritos and save money on locking them up. Hey, go into a club, sorry, medical dispensary, and buy your medicine and flash a loyalty card, this is our thing, BOOM!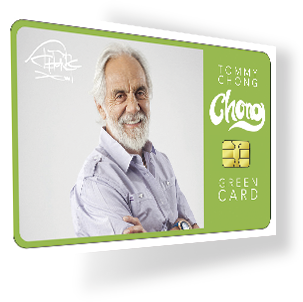 Actually, Tommy Chong was in Ann Arbor last weekend during the annual Hash Bash speaking. I used to go to it when I was in college, good times. I haven't been back to it in many years because I do not want to ruin my stellar reputation LOL. At the same event, a local politician introduced his bill to the State legislature for full legalization. I think it is happening and it is a matter of time. As it is with gay marriage. Anyways, socially I am very liberal. Fiscally, I am not lol.
Sadly it costs $19.95 to become a member of this Cannabis Frequent Flyer club, boo! Can you imagine if this had an affiliate link, woohoo!
On more related news, I may need to drive to Columbus to see a client and may knock out a cheap Club Carslon stay to score all these points they are again giving away to soften the hurt from the latest devaluation massacre #addict
TBB resident troll Rick I., founder of Frugal Travel Guy, keeps contributing to the TBB blog mission by trolling the TBB comments non stop. Something amazing happened which shows the vast reach of TBB to MAKE blogging practices change. He actually responded to reader comments. OMG!!!! For real!!!! Can't believe it, reader sent me screen shot! He also told me the same credit cards were sold as usual in the post lol. Next goal: To get him to tweet back 🙂
If you have not filed your taxes yet, you are a sitting duck for tax identity theft case. You have been warned, it is just wild out there!
Thanks for all the support. TBB is a mental escape, primarily my own lol.
Be excellent to yourself and to each other.
TBB
travelbloggerbuzz@gmail.com
Join over 3,534 TBB followers on Twitter @ FlyerTalkerinA2 and add TBB on Google+