Another TBB post featuring the most eclectic links around the web such as investor mistakes, more crypto tales, the coolest hotels, yet another school shooting, how not to panic, HSAs rock, fantastic crypto related podcast, pondering what is the point of cyrpto, gigantic roadside attractions, the heroes of Azovstal steep plant in Mariupol, bird migrations and a lot more! Enjoy the holiday weekend everyone, thank you for reading my blog.
TBB Blog Mission: To Educate. Entertain. Inspire. In That Order!
Support TBB by applying for CREDIT CARDS or visiting our

LINKS

or Donate

You like my blog? Send a link to someone please!
This blog will publish every Friday in the month of June 2022.
Best of Web articles are truly exceptional and must reads, imho.
I use and recommend Proton VPN <——REFERRAL LINK
PERSONAL FINANCE
This is short and straight to the point: The Biggest Mistake an Investor Can Make.
Since 1990, the S&P 500 has returned an impressive 10% per year. And it's done so despite two 50+% bear markets and being in a drawdown 90% of the time. Which means that risk is clearly a feature in markets, not a bug, and the main reason why you earn a premium from holding equities over the long run.
The only reason to hold on is the lesson we've learned countless times throughout market history. And that lesson is this: the biggest mistake an investor can make is turning temporary volatility into a permanent loss. That loss is not just the realized one from selling during a drawdown. But also, more importantly, the loss of opportunity to generate real wealth in the future.
"The first rule of compounding is to never interrupt it unnecessarily." – Charlie Munger
We continue in the same theme: How to Not Panic.
…the U.S. stock market typically declines by at least:
10% every other year
30% every 4-5 years
50%+ once a generation
This is how to not panic. You know history. You understand the risks. And, most importantly, you know yourself. Then you let the chips fall where they may. You don't obsess over the headlines. You don't try to predict the future. You enjoy your life. You go out with friends and family. You make cherished memories. You laugh. You cry. You remember that things like this happen. And you remember that they will happen again.
And here is another article about the only account that is triple tax free! Here's the best way to use a health savings account, which offers a triple-tax advantage.
The ideal way for savers to use HSAs is by contributing the annual maximum, investing the money and paying for present-day health costs out of pocket via other savings, according to financial advisors. [Yes, according to another financial advisor, moi!]

This allows time for HSA money to grow tax-free. HSA investments are like those in any other retirement account, with diversified stock and bond mutual funds, for example. Most people don't invest their HSA savings, however. They instead use HSAs like a bank account and withdraw cash as needed to pay for current medical costs.
CRYPTO
I am temporarily adding a separate section with all things crypto, bitcoin, Web3, NFT, "stable" coins and things of that sort when I have more than three relevant links.
Best of Web: I have written before about the Canadian dude who died in India and apparently losing passwords to $215 million of his company's client deposits. Well, there was no client money there and after digging this guy was a fraudster since he was 15 years old. Some think he faked his own death. This is a fantastic podcast series who I managed to listen to during one of my long runs recently…and I just had to finish so…I kept running! Exit Scam. Where the hell were the Canadian regulators when this guy went from ponzi to another ponzi for so long? And then returning some clients' money in envelopes stuffed with cash? I mean, what could go wrong here smh.
Best of Web: I follow the website Web3 Is Going Just Great which I highly recommend. This is an interview with its creator which I really enjoyed and you will too…I think: Cautionary Tales from Cryptoland. Read it all, you are welcome.
To pile it on, here is: What is the point of crypto? I must admit this is fairly mild stuff compared to the previous two links! This article is very well written and easy to follow even if you have no clue about this stuff. I like the ending:
Maybe this whole space will evolve more so that the point becomes clearer, so that the problems it's solving are actually ones that it can uniquely solve. In its current iteration, there's a lot of contorting going on, a lot of using the word "utility" without actually defining what that is, and a lot of innovating to be done — maybe. People in the crypto space argue that it's still early. We're about 13 years in. At a time when technology changes rapidly, how early is that, really?
And of course…bordering on the absurd…you are about to do a TV show based on a Bored Ape…only to have it stolen…and can't do anything about it…shaking our heads to oblivion: Someone Stole Seth Green's Bored Ape, Which Was Supposed To Star In His New Show.
The actor has been pleading on Twitter with "DarkWing84," who bought his ape from a scammer, to return it. [Is this real life or are we living in a simulation or something? Can't wait for grandkids to ask us years later "Hey grandpa, did you also participate in that frenzy spending millions of dollars for some stupid digital pics of apes?"]

TRAVEL
Interesting link, I clicked because I was curious: The Coolest Hotel in Every State (and DC). I was pretty sure that the one in Michigan would be the Grand Hotel in Mackinac Island.
These are fun! The Weird World of Gigantic Roadside Attractions.
Great article about the UFO Building in Bulgaria: On a Remote Mountain, the 'Sistine Chapel of Socialism' Awaits Its Fate. An enormous monument to the Communist Party in Bulgaria is now a decrepit ruin. The country is wrestling with how to deal with a symbol of an unwanted and, in many ways, deeply ugly past. Archived Link.
Meanwhile, at the airport Lol!
UKRAINE WAR
The Russian Army had to destroy Mariupol to "liberate it" and then took 80 days to defeat the last defenders in that steel plant smh! A Ukrainian soldier uploaded all his photos of Azovstal before he was captured. Wow…
Fantastic Foreign Policy article: Putin Against History. It concludes this way:
Putin has turned everything upside down. He has destroyed all the achievements of recent decades, including his own. He has accomplished the exact opposite of his stated goals: instead of demilitarizing Ukraine, he has caused the country to arm as never before; instead of keeping NATO away, he has brought it right up to Russia's borders; instead of making Russia great again, he has managed to transform it, and his people, into a pariah nation. Trying to impose his version of the nation's history, he deprived it of its history. And by depriving it of history, he amputated the future. Russia is now at a dead end, a historical dead end.
COVID-19
This is just so heartbreaking: 1 Million Deaths, 13 Last Messages.  And here is an Archived Link.
Two more clients got the virus…It is only a matter of time before we all get it, be ready, get boosted!
Regarding the monkeypox virus, after reading and learning more about it, I was not that concerned. As the cases appeared connected and it definitely does not spread easily. But then, as we learn more about it, it is evident that some cases are NOT connected and, here we go, "community spread"…What does this mean exactly? The virus just pops out on its own and starts attaching itself to humans? WTF else is going to happen! My mother in Greece appears convinced Jesus is coming again…
ODDZ & ENDZ
Yet another school massacre. Watching the images of the parents running towards the school is imprinted in my brain causing extreme depressing disgust. I have gone on many anti gun rants here but, you know, after Sandy Hook I have no hope anything will get done. America's Hands Are Full of Blood. Take your thoughts and prayers and shove them up where the sun doesn't shine! Archived Link. And the body count continues smh: List of school shootings in the United States.
Every other democracy makes some considerable effort to keep guns away from dangerous people, and dangerous people away from guns. For many years—and especially since the massacre at Connecticut's Sandy Hook Elementary School almost a decade ago—the United States has put more and more guns into more and more hands: 120 guns per 100 people in this country. The years of the pandemic have been the years of the greatest gun sales in U.S. history: almost 20 million guns sold in 2020; another 18.5 million sold in 2021. No surprise, those two years also witnessed a surge in gun violence: the spectacular human butchery of our recurring mass slaughters; the surge of one-on-one lethal criminality; the unceasing tragic toll of carelessness as American gun owners hurt and kill their loved ones and themselves. Most of us are appalled. But not enough of us are sufficiently appalled to cast our votes to halt it. And those to whom Americans entrust political power, at the state and federal levels, seem determined to make things worse and bloodier. In the next few weeks, the U.S. Supreme Court will deliver its opinion in the case of New York State Rifle & Pistol Association Inc. v. Bruen, a decision that could strike down concealed-carry bans even in the few states that still have them. More guns, more places, fewer checks, fewer protections: Since Sandy Hook, this country has plunged backward and downward toward barbarism…The lobbying groups and politicians who enable these killers will dominate the federal courts and state governments, as they do today, until the mighty forces of decency and kindness in American life say to the enablers: "That's enough! This must stop—and we will stop you."
Another amazing podcast titled "Donald Trump Didn't Hijack the G.O.P. He Understood it". I learned a lot about the populist history of the American right and the conservative movement. I support learning from diverse sources and, you know, getting out of our own inner bubbles regularly…Archived Link.
This is amazing, I entered my county and I could not believe what happened next! Migration Dashboard. If you are into birds this is THE website to explore nightly migration data in your region.
These are amazing too: 30 Winning Images Of One Eyeland Photography Awards 2021.
MILES & POINTS
HOT CREDIT CARD OFFERS: 80k CHASE Sapphire Preferred (ENDS May 31!), 75k CHASE Business Hyatt, 75k Capital One Venture X, 75k CHASE Ink Cash, 75k CHASE Ink Unlimited, 100k CHASE Ink Business Preferred, three 75k CHASE Southwest cards, 60k CHASE World of Hyatt Visa, 50k CHASE Sapphire Reserve, 60k CITI Premier, 20k CHASE Freedom Flex, up to 30k CHASE Freedom Unlimited, 70k CHASE United Explorer, 140k IHG Rewards Premier, 3 FREE Nights with Chase Bonvoy Boundless, 20k CITI Custom Cash, and many more, including many AmericanExpress cards, including Delta, Marriott and Hilton cards! Please check out my Affiliate links. Terms apply to American Express benefits and offers. Visit americanexpress.com to learn more.

If you do not see a credit card with my affiliate links, perhaps I could refer you? Contact me!
This section is about my hobby addiction of collecting frequent flyer miles and hotel points since the early 1990's! Feel free to skip this section and parts of the next one if this is not for you.
Newbies: The BEST anchor type credit card from the bank that offers the best travel rewards (Chase) is offering 80,000 points as a signup bonus and the offer is ending MAY 31st. Chase Sapphire Preferred 80,000 Points Signup Bonus with $4,000 Spend. Please consider supporting this blog by applying with my Credit Card Links, thank you!
Let's touch on some more Chase travel rewards credit cards that don't get as much play but are even more lucrative: The three separate Ink Business Cards are offering the following signup bonuses:
Ink Business Preferred 100,000
Ink Business Cash 75,000
Ink Business Unlimited 75,000
The two 75k cards are no annual fee cards! You can read more about them here: Choosing a Chase Ink Business Card. And please consider supporting this blog by applying with my Credit Card Links, thank you!
And here we go again, the 75,000 signup bonus for the Southwest credit cards is back: Chase Southwest Personal Cards: 75,000 Points with $5,000 Spend (Plus, Premier, Priority). You can find them at the same place as mentioned above, thanks!
Always take the time to…try to get the banks give you retention offers! Here are the latest data points: Current Retention Offer: Amex, Chase & Citi Retention Offer Data Points. So, what is it?
What Is a Credit Card Retention Call?
For those unaware, let's start with the basics. "What is a credit card retention call?" It's when you call the number on the back of your card saying you want to cancel the account / close the card. This is best done when the annual fee has just hit your account. It goes something like this:
"Hi, I'm calling to close my account. I see the annual fee just posted, and I don't think the fee is worth it to keep the card. I want to close the card so I don't have to pay the fee."
The focus is the annual fee. The bank / credit card issuer wants you to pay that fee to keep the card. They want you to keep the card, because that makes them money. This is where the "retention" comes in. Banks will often offer you something to entice you to keep the card. This usually comes in the form of waiving the annual fee, reducing the fee, or offering a spending bonus ("spend x dollars and earn x bonus points").
BLOG BUZZ
We are now entering BLOG BUZZ, a section for advanced hobbyists and veterans of this fast imploding hobby and also a section where I go on and on about some stuff that happens in my life because it helps me feel better about myself.
As I await another 80,000 AA miles from the Barclay Aviator AA card…I must admit I have enough miles in the bank and I am just not into it as I was in earlier years. All I am doing right now is just a few targeted spend promos. And gardening some reservations. And trying to help my daughter arrive safely back in the US from Mykonos through London Heathrow today. And finalizing a family trip to New York City in August. In other words, things are quiet…
Interrupting my nonsense to go surf the largest wave ever surfed by a human, wow!
Looking forward to watch the European Champions League final between Liverpool and Real Madrid. I am no fan of either team but since Liverpool has one of my few favorite Greek players I will have to side with the Reds.
You know what is the most clicked on item online? The trial of Johnny Depp and Amber Heard. What is wrong with people, come on! I wish people valued their clicks and made an effort not to reward clickbait and focused on truly important stuff…Yeah, good luck with that smh.
This blog will continue posting only on Fridays in the month of June. The reason is…I must continue to align the time spent here with "revenue" that for the last two months has fallen to such a level that this "venture" is losing money. Not that it ever made any real money lol. Thank you to the five Paypal donors, this blog is surviving thanks to you. Thanks to the two readers who got a credit card in April and in May. When this blog does not sell a single credit card in a whole month it will cease to exist. When it sells five…we go to posting twice weekly. It is what it is and I am not going to turn it into an orgy of affiliate link pumping and clickbait to "succeed", sticking with what you have come to expect and sticking with the blog mission…for almost ten years, wow!
I am really proud when I click "Publish" on each post. Enjoy another blog post and stay healthy my friends.
Let me leave you with this…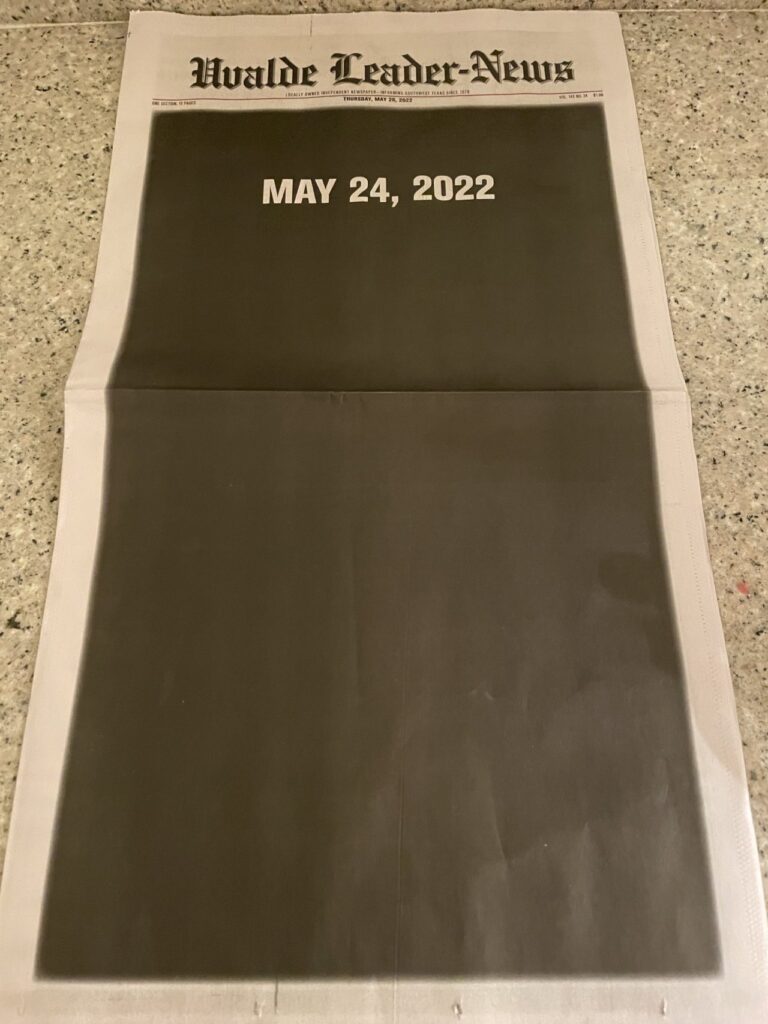 Thank you for reading my blog. If you enjoy it please pass it on to a family member or friend, thank you!
Some of the links are behind a paywall. You can try to read them using Archive.is. Or use 12ft Ladder. Or the Firefox browser.
TBB
travelbloggerbuzz@gmail.com
Follow TBB on Twitter @FlyerTalkerinA2.
You can subscribe to TBB below, winners only!
Opinions expressed here are author's alone, not those of any bank, credit card issuer, hotel, airline, or other entity. This content has not been reviewed, approved or otherwise endorsed by any of the entities included within the post.