We are taking a deep surgical look into the Alaska Airlines Mileage Plan program and show you how to use its best sweet spots, find the best award space and take advantage of stopovers. Hurry…. before it too gets "enhanced". Thanks to Andy for yet another must read post.
TBB Blog Mission: To Educate. Entertain. Inspire. In That Order!
You like my blog? Send a link to someone please!
by Andy Shuman
Alaska Mileage Plan is the most beloved domestic frequent flyer program in this hobby, and if it's not – it should be.
Seriously, in this new Delta-envy world where every major FF program in America is feverishly and proudly racing to the bottom, Mileage Plan looks fabulously (in the best sense of the word!) frozen in time. It still has the award charts; when it devalues the program, it's done with an almost surgical precision; and it seems to take great care in avoiding pissing off its members, which is something other programs stopped caring about years ago.
You may counter with the drastic no-notice Emirates devaluation of 2016, but Alaska owned it and promised that it would never happen again. And so far it hasn't. Just the fact that we (or at least I) can't remember another Alaska Mileage Pass trespass against its members speaks volumes, IMHO …
Here Is Why Alaska Is Best!
A huge number of partners – fly almost anywhere in the world.
Uniquely designed program with reasonable charts for most partners.
Cheap Business and First Class to Middle East, Africa, Asia, Australia, and the Pacific.
2 free stopovers per round trip or one per one-way.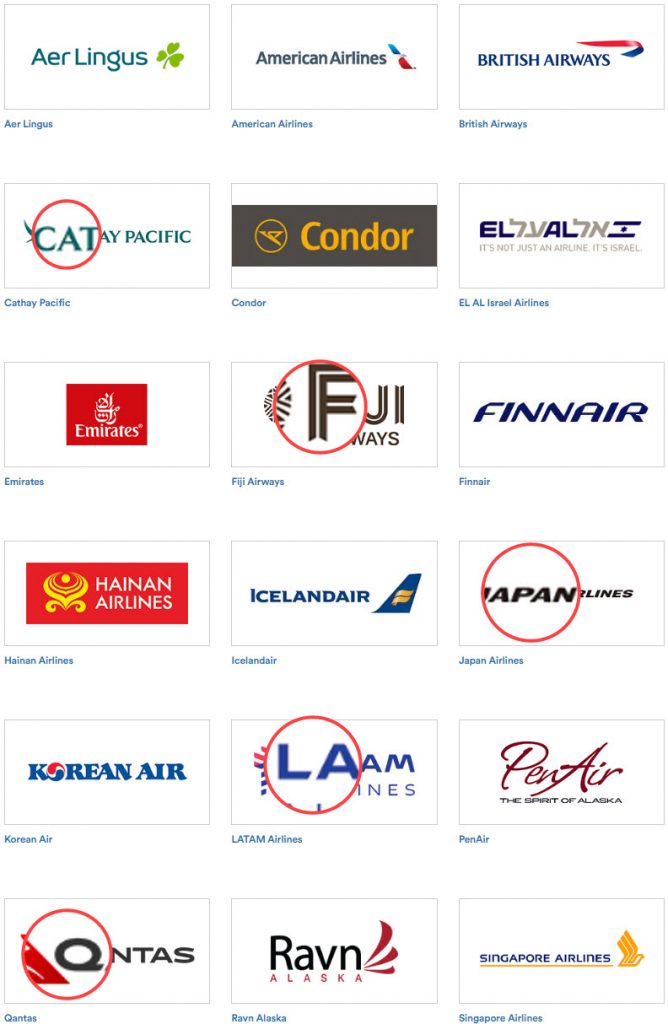 *Don't use British Airways – Alaska adds insane surcharges to their long hauls.
Not all Alaska redemptions are good. Emirates Business Class to Europe will cost you 105,000. Unless you're hell-bent on having a stopover in Dubai … and even then, thanks but no thanks. In fact, Europe is the only region in the world I wouldn't consider flying on Alaska miles. There are better options.
Best Alaska Partners to South America
That would be LATAM. Keep in mind, though, you can only redeem Alaska miles on the LAN portion of the routes. In other words, using Alaska for flights to Brazil from the U.S. is out. LATAM flights cost 45,000 miles one way in Business Class, which is a great value to Buenos Aires (from Miami) or Santiago from LA, Miami, and New York.
What's not so great is terrible LATAM award space. You generally need to book 330 days in advance, and Alaska has had issues with awards on LATAM recently. However, they have removed the LATAM warning from their website, so let's hope the issue has been resolved.
You'll have to call Alaska to book a LATAM flight. In fact, there are only 2 airlines that you can't find on the Alaska web site, LATAM and Cathay Pacific.
Another option is American Airlines:
30,000 to South America Zone 1 in Business
57,500 to South America Zone 2 in Business
85,000 to South America Zone 2 in First
As you probably know, finding AA awards in premium classes has been more miss than hit lately. Here are American regions definitions:
South America Region 1: Bolivia, Colombia, Ecuador, Guyana, Manaus (Brazil), Peru
South America Region 2: Argentina, Brazil (excluding Manaus), Chile, Paraguay, Uruguay
Best Alaska Partners to the Middle East
Cathay Pacific flies via Hong Kong from the following North American cities: Boston, Chicago, Los Angeles, New York (JFK and EWR), San Francisco, Seattle, Washington (IAD), Toronto, and Vancouver.
Cathay Pacific will take you to the Middle East for 62,500 miles in Business Class or 70,000 miles in First (wink-wink). Note that you'll only fly in First (if you're flying in First) between North America and Hong Kong. Cathay Pacific doesn't fly First Class cabins to the Middle East. Cathay's Middle East destinations are: Bahrain, Dubai, and Tel Aviv.
Korean flies via Seoul from: Chicago, Dallas, Las Vegas, Los Angeles, New York, San Francisco, Seattle, Washington (IAD), and Vancouver. A Business Class seat will run you 140,000 miles for round trip or one-way travel. In the Middle East, Korean flies to Dubai and Tel Aviv.
Please note that there have been issues with redeeming Alaska miles on Korean, both online and via the Alaska call center.

Emirates flies to/via Dubai from: Boston, Chicago, Dallas, Fort Lauderdale, Houston, Los Angeles, New York (JFK and EWR), Orlando, San Francisco, Seattle, Washington (IAD), Toronto, and Vancouver. At 82,500 miles one way in Business, it isn't cheap, but since it flies everywhere in the Middle East, it's a viable option if you want to save travel time. However, please, please, please don't flush down 150,000 super-valuable Alaska miles for the fleeting glitz of a claustrophobic Emirates First Class suite.
Other options:
Finnair – 70,000 miles in Business (hard-to-find award space).
Condor – 65,000 miles in Business (friends don't let friends waste precious Alaska miles on angle-flat seats).
Best Alaska Partners to Asia
Cathay Pacific and its subsidiary Cathay Dragon fly all over Asia from Hong Kong. Cathay Pacific has recently announced that it would remove First Class cabin from intra-Asia routes, except Beijing and Tokyo (HND). A Business Class ticket would cost you 50,000 miles, and a First Class one 70,000. So grab First if you can.
Japan Airlines flies to Tokyo from the following North American cities: Boston, Chicago, Dallas, Los Angeles, New York, San Diego, Seattle, and Vancouver. From its Tokyo hubs Japan Airlines flies to Bangkok, Beijing, Ho Chi Minh, Hong Kong, Manila, Seoul (GMP), Shanghai (SHA and PVG), Singapore, and Taipei; and from Osaka to Bangkok, Shanghai, and Taipei. Here is how many miles you'll pay for travel on Japan Airlines:
To Asia (Japan, South Korea) it's 60,000 in Business and 70,000 in First.
To Southeast Asia: China (including Hong Kong), Indonesia, Malaysia, Philippines, Singapore, Thailand, and Vietnam it's 65,000 in Business and 75,000 in First.
Korean Air flies from Seoul all over Asia. A little tip: if you can't find your destination or award space from Incheon (ICN), try the old Gimpo airport. Korean flies to 10 Asian destinations from Gimpo GMP.
Business Class Redemptions to:
Korea, China, Mongolia, Taiwan, Japan – 105,000 miles per round trip or one-way travel.
South East Asia – 120,000 miles.
Hainan Airlines flies to/via Beijing from Boston, Chicago, Las Vegas, San Jose, Seattle, Toronto, and, interestingly, Tijuana, which makes it accessible for San Diego travelers. In addition to Hainan's extensive domestic network, it also flies to Bangkok, Phuket, Chiang Mai, Taipei, and Tokyo (HND).
Hainan almost didn't make this list due to the fuel surcharges, but then I just decided to check award space. First I entered one passenger, then 2, then 3, then 4. The table didn't change!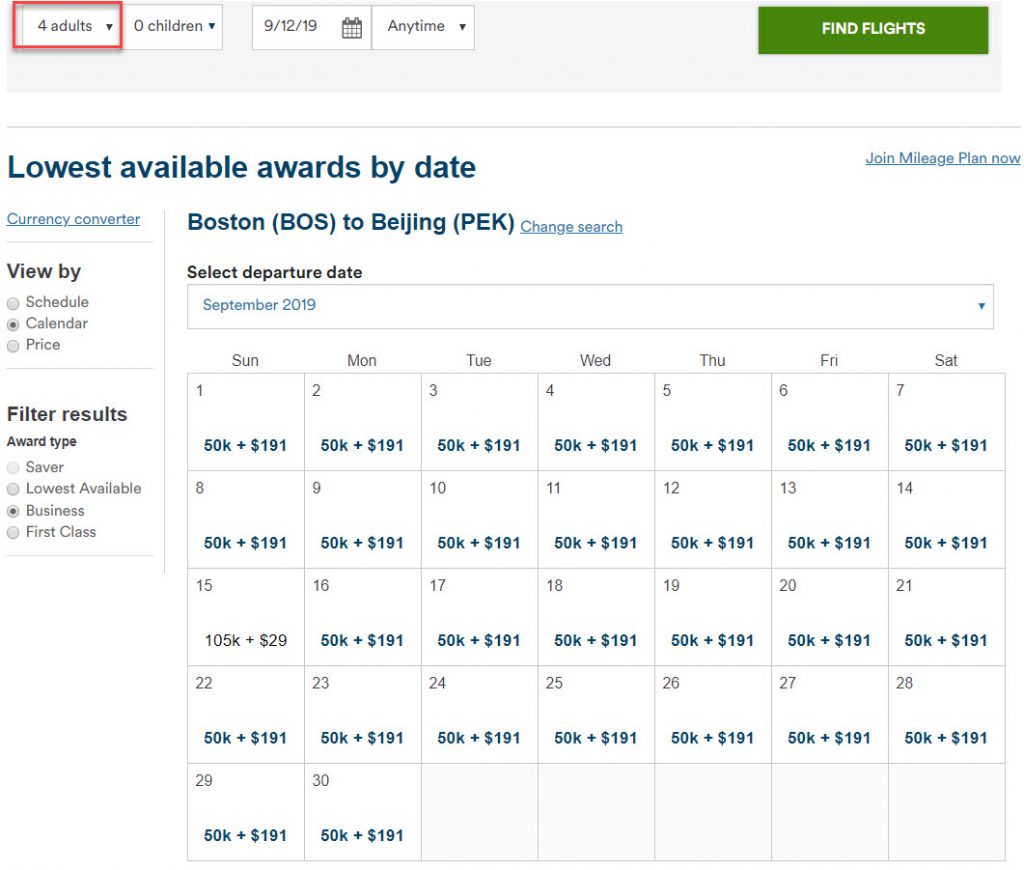 Of course, you'll pay for the privilege. The round-trip ticket between the U.S. and China will cost you $406, $300 of which is Hainan surcharges. Since no one enjoys paying more than we have to, I would try other options first. However, when push comes to shove, this surcharge is not excessive, especially if China is your final destination.
Other options
American – decent redemption rates, but they are the same on American miles, and besides, award space is hard to come by.
Emirates: 105,000 in Business and 180,000 in First? One way? I think not!
Finnair: 125,000 in Business. It takes guts to beat Emirates.
Best Alaska Partners to Africa
That would be … Cathay Pacific. Not many options here. You'd be flying via Hong Kong for 62,500 miles in Business or 70,000 in First. Unfortunately, Cathay only flies to Johannesburg and Cape Town (seasonally). If you're looking for other destinations in Africa you can use Avios from Johannesburg on Comair, a British Airways franchisee.
Other options:
Condor – 65,000 miles one way.
Emirates – 120,000 in Business, 200,000 in First.
Best Alaska Partners to Australia, New Zealand, and the Pacific
Qantas can fly you to Australia or New Zealand (via Australia) from Dallas, Los Angeles, and San Francisco (and presumably, from April 2020 on, Chicago) for 55,000 in Business Class or 70,000 in First. This is probably the best bargain you can find ever, or at least it would be – because good luck finding the space! Actually, to be fair, you can find Business Class awards, even for 2 people, but First Class is really tough. In the screenshot below, look for $41 in taxes; that's Qantas business class.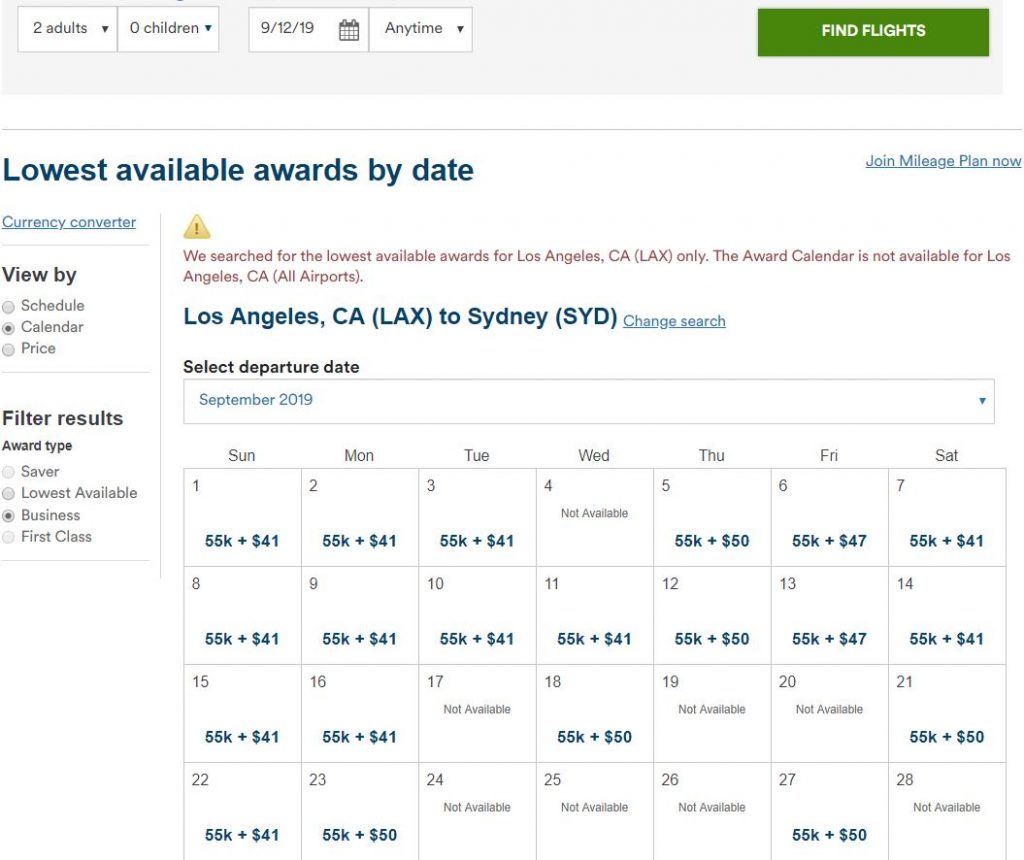 Cathay Pacific flies to:
Australia – Adelaide, Brisbane, Cairns (ends 10.26.19), Melbourne, Perth, Sydney,
New Zealand – Auckland, Christchurch (seasonally).
You will pay 60,000 for Business Class and 80,000 for First. Keep in mind that Cathay doesn't operate First Class cabins between Hong Kong and Australia/New Zealand.
Korean Air flies to Sydney and Brisbane in Australia and Auckland in New Zealand. Your cost is 125,000 miles for round trip or one-way travel. Korean also flies to Nadi (Fiji), but that flight will be discontinued on 09.30.19.
Fiji Airways flies between Nadi and Los Angeles and San Francisco. A Business Class award flight will set you back 55,000 miles wherever you're going: Fiji, New Zealand, or Australia. The only thing is – Fiji Airways has angle-flat seats. And it's a very long flight. For the comparable amount of miles you can have a much more comfortable seat on Qantas, Korean, or Cathay Pacific. So why can Fiji get away with an angled seat and Condor can't?
Because of this!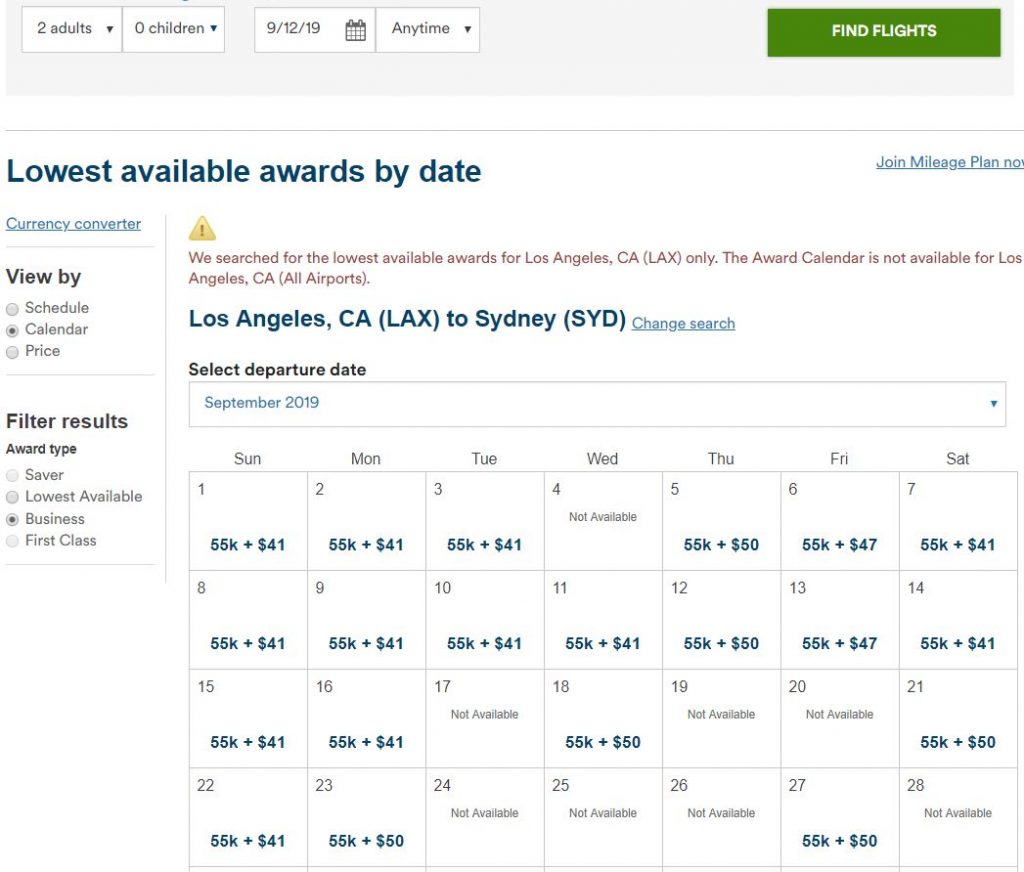 Fiji has amazing availability. If you need to go to Nadi, you might be content with a less-than-perfect seat considering great availability and a non-stop flight. And if your goal is to explore the region, Fiji Airways combined with the generous Alaska stopover policy can offer a tremendous opportunity in that regard.
Other options:
American – 80,000 miles in Business, 110,000 in First.
Emirates – 120,000 miles in Business, 225,000 in First.
Get More Travel From Amazing Alaska Stopover Rules
Alaska Mileage Plan is among the best in the world when it comes to free stopovers.
You can make one free stopover in each direction, even on domestic flights.
International stopovers are allowed only in respective airlines' hubs. On Cathay Pacific that's HKG; on Korean – ICN;, on Hainan – PEK; etc. However, if you fly Cathay to Hong Kong via Vancouver, you can stop in Vancouver, so maybe there are other exceptions or loopholes, too.
You can't combine partners (other than Alaska for positioning) on a one-way flight.
Here is what I meant about exploring regions on Fiji Airways. You could fly from the U.S. to, say, New Zealand with a stopover in Fiji. On the way back, book a Qantas flight from Auckland to L.A. or San Francisco with a stopover in Sydney. See what you've just done? You've done Fiji, New Zealand, and Australia for the same price in miles in what essentially is a round-trip flight.
If you have some serious time on your hands, just use cheap Avios or Qantas miles for local flights in Australia and New Zealand – they won't add much! Of course, some stars would have to align your way for all that to happen, but if you're flexible enough, it's perfectly doable.
And me TBB, I leave you with this…
TBB
travelbloggerbuzz@gmail.com
Follow TBB on Twitter @FlyerTalkerinA2.
You can subscribe to TBB below, winners only!
Opinions expressed here are author's alone, not those of any bank, credit card issuer, hotel, airline, or other entity. This content has not been reviewed, approved or otherwise endorsed by any of the entities included within the post.