Another TBB post featuring the most eclectic links around the web such as making market predictions, Roth IRAs contributions guide, Crypto regulation, the new Marriott Bonvoy cards, my Berlin trip is underway, navigating bear markets, explaining all about the Federal Reserve, Minecraft games, anti crypto conference, more foliage places to travel to, top coffee shops, new American Airlines seats up front, the latest on the Ukraine Russia war and Covid, you can get taller, the Steve Jobs archive, amazing photography and lots more!
TBB Blog Mission: To Educate. Entertain. Inspire. In That Order!
Support TBB by applying for CREDIT CARDS or visiting our

LINKS

or Donate

You like my blog? Send a link to someone please!
This blog publishes every Friday these days…
Best of Web articles are truly exceptional and MUST reads in their entirety, imho.
Welcome to all new blog readers from George, your diligent curator of the BEST web content I find and share with you. No ads, no clickbait, just amazing content I discover along with my sometimes witty and seldom incendiary commentary.
PERSONAL FINANCE
Hello from Berlin where on Sunday I am going to run the world famous Berlin marathon…and hopefully cross the line injury free! Every time I travel the market tumbles it appears. No worries, I am coming back to rescue it. Ok, this year has been rough. Without bad years in the markets…there would not be any bull markets! So, stop looking at your portfolio, it messes with your brain. There is absolutely nothing healthy looking at the media frenzy and watching your portfolio temporarily go down! Unless you have guts and buy at these lower levels. Because buying now sure is better than when prices were much higher! And when you do it expect to look like a moron…in the short term. And that's okay because your portfolio will last you at least a few decades or more. If not…maybe you should have a lot less invested in stocks! Not that bonds have performed much better in 2022. My theme is…we are all trying to get back to normal after the pandemic threw everyone and everything in a giant loop. We are getting there dazed and confused. Slowly. Oh, and avoid predictions for crying out loud! Why market predictions are best ignored.
The secret is to step back from the specifics and take a much, much broader view. Extend the timeframe and look at the market as a whole, and there's grounds for investors to be very optimistic…So forget about clever stock-picking or close reading of the inverted yield curve in the hope that you will be able to jump out, and back into, the market at just the right moments. That's a fool's game. Forget the daily market commentary. Mamdouh Medhat of Dimensional Fund Advisors put it well in the Financial Times recently: "You can easily get caught up in the short-term movements. It's like a ping-pong match and commentating on every hit of the ball. All you need to do is buy into a well-diversified index fund, and hold. And the longer you hold, the better you're likely to do. If you know you won't be cashing in your investment for at least, say, a decade, then no amount of market chaos today needs to trouble you. The hardest part of investing is simply holding your nerve through the bad times.
This is a good reference post to bookmark, Roth IRA Contribution Rules: A Comprehensive Guide.
All bear markets are painful! Navigating the Pain of Your First Bear Market.
Every bear market causes feelings of panic and despair. They make you question your previously held investing beliefs. They force you to consider whether or not you have the intestinal fortitude to stick with your long-term investing plan.
And so is the opportunity…IF you have a long term horizon that is:
But if you're a young investor, today's situation is much better than where we were 9-18 months ago.
The S&P 500 is now down a little more than 20%. The Russell 2000 is down almost 30%. The Nasdaq 100 is down more than 30%.
Stocks are on sale. They could get marked down even further but I don't think too many young people are going to regret buying stocks right now when they look back in 15-20 years.
Can you believe where you could have bought stocks in 2022? someone is bound to say in the 2030s when millennials are in their peak earnings years and gobbling up stocks.
Great visual so you have a reference…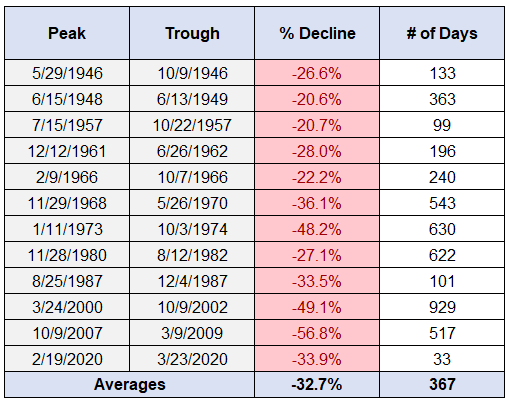 The Federal Reserve Bank takes a lot of crap. Constantly and from every side. And this is a really good explanation of what it does and I mostly agree with everything: Everything Investors Need to Know About the Federal Reserve.
CRYPTO
Looks like the Feds may actually do something: Biden White House just put out a framework on regulating crypto — here's what's in it. As long as the crypto bros can write big checks to politicians…be very afraid what they can squeeze through #developing. Or maybe they realized there are too many never ending scams in this space defrauding people, you think?
How come I was not invited? Inside the World's First No-Coiner Conference. The Crypto Policy Symposium in London was a historic gathering of crypto skeptics—and nobody tried to sell me anything. Article has some funny lines which made me lol.

All those kids in the Philippines playing games online to earn money…what could go wrong? They built a Minecraft crypto empire. Then it all came crashing down. Kids in the Philippines were earning hundreds of dollars from a play-to-earn Minecraft game, until new rules sent the community into a tailspin. So many players were in for a LOT of money only to…you know what happened next. If only these people had read my blog…What a waste all around!

TRAVEL
Don't get that excited yet. Not all planes will have the new seats and they won't be here before 2024. American Airlines reveals new business class and premium economy seats.
More links about fall foliage places: America's Best Places to See Fall Colors (That Aren't in New England).
Just one in Michigan, come on!  Yelp's top coffee shops in the US and Canada.
I am sticking this one in the Travel section because…it is my blog and I can do whatever I want ok? 🙂 An Arctic Ptarmigan Takes Flight in the 2022 Bird Photographer of the Year Competition's Winning Capture.
UKRAINE RUSSIA WAR
So much going on! First, of course Putin escalates with his latest speech. Can you imagine if Biden had scheduled a speech for 8 pm only to give it the next morning going AWOL in the meantime? Anyway, I think this is right on! The Kremlin Must Be in Crisis. Putin's erratic actions are not those of a secure leader. Archived Link. Is Putin a dead man walking? I think so…Let's see what happens.
As soon as his speech was over, there were traffic jams in the border crossings with Russians getting the hell out because they would rather not be sent to Ukraine…and then this: Flights out of Russia sell out after Putin orders partial call-up. All you need to know about Putin the strategic "genius" and his goons…
And an analysis of the mobilization plan Putin announced…keep digging Vladimir! And another one.
COVID-19
The latest: State of Affairs (Sept 19): COVID19, MPX, Polio, and… Flu. The bottom line:
The dynamics of all these viruses continue to change. Stay healthy by getting up-to-date on your vaccines, which now includes a COVID-19 bivalent and flu shot. If you're eligible, get your polio and monkeypox shot, too. Our immune systems could use all the help we can get going into the winter season.
The pandemic is over indeed when you look around and see almost no masks. I guess we have accepted less than 400 people dying daily which I find sad! The 'End' of COVID Is Still Far Worse Than We Imagined. The coronavirus is still killing three times as many people as the flu. Archived Link.
At the same time, hundreds of Americans are still dying of COVID every day and will likely continue to die of COVID every day. A cumulative annual toll of 100,000 deaths a year would still make COVID a top-10 cause of death, ahead of any other infectious disease. When the first 100,000 Americans died of COVID, in spring 2020, newspapers memorialized the grim milestone. The New York Times devoted its entire front page to chronicling the lives lost to COVID. It might have been hard to imagine, back in 2020, that the U.S. would come to accept 100,000 people dying of COVID every year. Whether or not that means the pandemic is over, the second part of the president's statement is harder to argue with: COVID is and will remain a problem.
This article has nothing to do with any viruses but with a rare genetic condition. And also deals with travel so, again, I am sticking it in this section because this section was a bit light so there! Canadian family taking world tour before children lose their vision. Very inspiring!
ODDZ & ENDZ
Best of Web: Things you and I learn reading my blog…I had no idea that you can get taller for real! The process sounds so brutal and the potential complications so severe that there is no way anyone should ever consider this. Then again I am 5.10 and a half inches tall and comfortable with my current height so there. Prepare to be shocked: I Wish I Was a Little Bit Taller. A growing number of men are undergoing a radical and expensive surgery to grow anywhere from three to six inches. The catch: It requires having both your femurs broken. GQ goes inside the booming world of leg lengthening. At the end of the article there is an encounter. Many who do this do not tell others of course and…can you imagine how weird it would be when you meet someone like that…wondering if you have lost it or maybe you feel like yourself got shorter lol!
With a procedure like this, there are, of course, some caveats. All the height gain obviously comes from your legs, so your proportions can look a little weird, especially when you're naked. Also, the recovery can be long and taxing. When we meet, the bones in John's legs are not yet fully healed, and a small section of his right femur is still a little soft, like al dente spaghetti; the smallest stumble could snap a bone in two. And it's especially dangerous since he's a big guy, over 200 pounds. Then there's the pain, which is relentless, ambient. The extension of the nails in his legs stretched the nerves and tissue around the bones—especially the thick, meaty muscles like the hamstrings—to an almost excruciating degree. He couldn't walk for months. "They fill you with enough painkillers that it's bearable," John explains, but his biggest fear was becoming addicted to the drugs, so he weaned himself off the regimen earlier than he should have.
I had no idea about this syndrome! Locked-In Syndrome: How One Man Literally Lived Through Limbo. Never give up you guys!
This is great: The Steve Jobs Archive.
To all youngsters, run for office for real change. Because this is just not right! Percentage of Congress over The Age of 70. Shocking!
Drones are sure changing how wars are conducted and…photography too! The Drone Photo Awards Have Announced Their Winners Of 2022, And Here Are The 30 Best Photos.
All the countries and the year they declared independence from the British Empire, found here.
MILES & POINTS
HOT CREDIT CARD OFFERS: 80k CITI Premier, 60k CHASE Sapphire Preferred, 75k Capital One Venture X, 75k CHASE Ink Cash, 75k CHASE Ink Unlimited, 100k CHASE Ink Business Preferred, 60k CHASE World of Hyatt Visa, 60k CHASE Sapphire Reserve, 70k Bank of America Alaska Airlines Business Visa, 50k Bank of America Alaska Airlines Personal Visa, 20k CHASE Freedom Flex, up to 30k CHASE Freedom Unlimited, 140k IHG Rewards Premier AND 1 Free Night, 20k CITI Custom Cash, and many more, including many AmericanExpress cards, including Delta, Marriott and Hilton cards! Please check out my Affiliate links. Terms apply to American Express benefits and offers. Visit americanexpress.com to learn more. If you do not see a credit card with my affiliate links, perhaps I could refer you?

This section is about my hobby addiction of collecting frequent flyer miles and hotel points since the early 1990's! SKIP if you are not into it!
As of today, I have burned 828,851 miles/points year to date and have 4,822,059 miles/points in the bank. Some do drugs, I do miles lol!
BEGINNERS
NEW: The Beginner's Guide to Getting Started with Credit Cards, Points & Miles
BASICS: This travel hacking hobby is mostly about getting the fat Signup Bonus of travel rewards credit cards while of course NEVER EVER carrying a balance. Banks have a marketing budget and are willing to give us many THOUSANDS of miles/points to travel mostly for free hoping to hook us to charge 20%+ interest rates on our balances. The poor souls who fall for their marketing paying these ludicrous interest rates end up subsidizing us responsible consumers who enjoy taking advantage of, cough, such bank marketing budgets! Some of us have been doing this for thirty years creating amazing travel memories…Feel free to ask me questions or post them in the comments.
BASICS: Prefer credit cards from the proprietary points programs of banks, such as Chase Ultimate Rewards, American Express Membership Rewards, Citi ThankYou Network, Capital One Rewards Miles because they are a lot more flexible and are not devalued as frequently. Over pure airline and hotel travel rewards credit cards. Pure cash back credit cards may work for you best and they are getting more valuable as airline and hotel loyalty programs keep getting devalued. Sometimes, a pure no annual fee 2% cash back card works best for simplicity!
If you wanted nothing to do with these miles and points activities and just wanted a no annual fee 2% cash back card, you can not go wrong with the Citi Double Cash Mastercard. And right now it has the highest Signup Bonus ever. Ok, it is only $200 but still it is the highest ever lol. It comes in the form of 20,000 ThankYou Points which you can cash out for $200 if you decide not to transfer them to any of the ThankYou airline and hotel transfer partners. Available here under CardIssuer/Citi.
Citi Double Cash now featuring $200 welcome bonus
TOP TRAVEL REWARDS SIGNUP BONUS CARDS
Master Guide to Credit Card Applications: All the Rules You Need to Know, Bank by Bank 
Citibank increased the Signup Bonus for the Citi Premier card from 60,000 to 80,000 Thank You points. Annual fee is $95 and the minimum spend to score the Signup Bonus is $4k in the first three months. The Citi Premier card has a solid earning structure as it earns 3 points per dollar on gas/groceries/dining/travel and 1 point on everything else. Of course, you can transfer your points to mostly foreign airlines and JetBlue. Or you can cash out at one cent per point. Therefore, 80,000 points means $800 less $95 annual fee——-> BOOM! Read the newbies paragraph above and always think…taking advantage of bank marketing budgets! Available HERE, thank you!
 Citi Premier's Incredible Sign-Up Bonus Is Worth 80,000 Miles Or $800 In Cash
The Capital One Venture X card offers a 75,000 point Signup Bonus after a minimum spend of $4k in the first three months. If you like simplicity and are looking for one (premium) card, I highly recommend this card (and yes, I have it myself!). It has an annual fee of $395 but it comes with a VERY easy $300 statement credit for travel booked on its excellent travel portal, essentially turning it into a $95 annual fee card. But wait…there is more! On each card anniversary you earn 10,000 points essentially making it FREE! Every dollar of spend earns 2 points and flights booked on the travel portal earn 5 points per dollar. You get access to Capital One and Plaza Premium airport lounges and a Priority Pass Select lounge membership and, this is important, you can add FOUR authorized users FOR FREE who can also have their own Priority Pass Select airline lounge membership. You can transfer your Capital One points to up to 18 Transfer Partners. No foreign transaction fees. Free Hertz President's Circle rental car top elite status. Cell phone protection and PRIMARY rental car coverage. Awesome seats at baseball stadiums for just 5k points each. And lots more. Available with my Credit Card Links, thank you for your support!
NEW: Why the Capital One Venture X Annual Fee Shouldn't Scare You Off
Alaska Airlines miles can be very valuable. Right now, the Signup Bonus offer for the Bank of America Alaska Airlines Visa Business card is 70,000 Alaska Airlines miles. The minimum annual spend to earn the 70k miles is $4k in the first three months. The annual fee comes to $75 and it is not waived. The card comes with a Companion Fare starting at $121 which could be extremely valuable in selected itineraries. No foreign transaction fees. The card earns 3x per dollar on Alaska Airlines purchases and 1x on everything else. Free bags for up to six people in the same reservation. Available HERE, thank you!
There is also a personal Bank of America Alaska Airlines Visa card with a signup bonus of 50,000 Alaska Airlines miles after you spend $2k in the first three months. Obviously, the business card is a much better deal if you can swing it. Same Companion Fare deal as the Business card, see above. Annual fee is $75. The card earns 3 points on Alaska Airlines purchases and only 1 point on everything else which is horrible. I mean, you do not get this card for your regular spending! Don't let other bloggers try to talk up every credit card they can sell to you. Go for it if you are a regular Alaska Airlines flyer, you need more of their pretty valuable miles that you know you can burn in a grand way. Available HERE.
If you are looking to stay in Hilton hotels for free…you can not go wrong with these two Limited-Time Welcome Offers Available for Select Hilton Honors Cards. The Hilton Honors No Annual Fee card gives you 100,000 Hilton Honors points AND a statement credit for $100 after spending only $1,000 in the first three months. THINK about it, stay in Hilton hotels for free, be a taker lol. And the Hilton Honors Surpass card gives you 130,000 Hilton points after spending $2,000 in the first three months. The annual fee is $95 but it is WAIVED in the first year. I wish I could get these cards again…Available HERE.
NEW: Big changes in the Marriott Bonvoy credit card front below!
We have two new $250 annual fee credit cards, the Bevy card and the Bountiful card. Both are as underwhelming as a while back when the first rumors surfaced. I am not going to make a fool of myself trying to sell them with ridiculous "X reasons I love the Bevy/Bountiful card" type posts, this is not THAT kind of commercial blog! I also have a feeling that the two banks may raise the Signup Bonus because at these levels they may not have as many takers for them? Just a gut feeling, I can always be wrong of course.
And then there were changes in the premium Brilliant card with the main changes being you get Platinum status and that $300 Marriott travel credit has now become a $25 per month dining credit. Oh, the annual fee goes up to $650 from $450! Oh, wait, the banks also increased the Signup Bonus offers for the two $95 annual fee cards too.
Here is a post going into more detail: Marriott releases its new card lineup: Is it a Bevy of Bountiful Brilliance? Most of these cards can be found HERE, also check Card Category/Hotel.
Remember, you are NOT allowed to ever carry a credit card balance if you ever get a credit card here!
NEWS/PROMOS/MY ACTION
If you fly Southwest you should register: Southwest: double tier qualifying credit through November (registration required).
Register HERE for the latest Radisson Americas promotion to earn 3,000 bonus points for every day you stay in one of its hotels through December 15, 2022.
I think I warned about this a long time ago…this company's IT was asking for it! IHG Was Hacked Using Password "Qwerty1234".
BUZZING
A section where I go on and on about some stuff that happens in my life and anything else that just does not fit in another section above.
We are enjoying Berlin. We got here by burning 33,000 United miles each to fly Lufthansa economy from Detroit to Frankfurt to Berlin. Flights were both a little late and pretty much flawless as usual. Every time I am in the Frankfurt airport I think who the hell designed this joint!
I burned two Hilton Free Night certs for the Waldorf Astoria Berlin and I must admit I made a mistake by not using them at the Berlin Hilton instead. No lounge, no suite upgrade and way below par breakfast spread. And not great location. Glad to move to the Grand Hyatt where I am posting this now. Lovely hotel, lovely suite, the lounge was moved downstairs after Covid and the snacks spread was wonderful last night and really looking forward to the breakfast this morning. Six nights here at 15,000 World of Hyatt points per night and using a Globalist elite confirmed suite upgrade. Much better location and the starting line for the Marathon is nearby, perfect!
The return will be very challenging as I burned 30,000 AA miles each to fly British Airways to London Heathrow and then fly American Airlines to Charlotte and then to Detroit. The original itinerary had us going through Dallas to experience the Capital One lounge but that first British Airways flight was canceled…a few times already. We'll see how the flight back goes…in the meantime I am looking forward to relaxing my legs after the marathon in the Grand Hyatt lounge you guys…
I am not sure about next Friday's blog post, finding the time to work on this while traveling is extremely difficult #warning.
Let me leave you with this…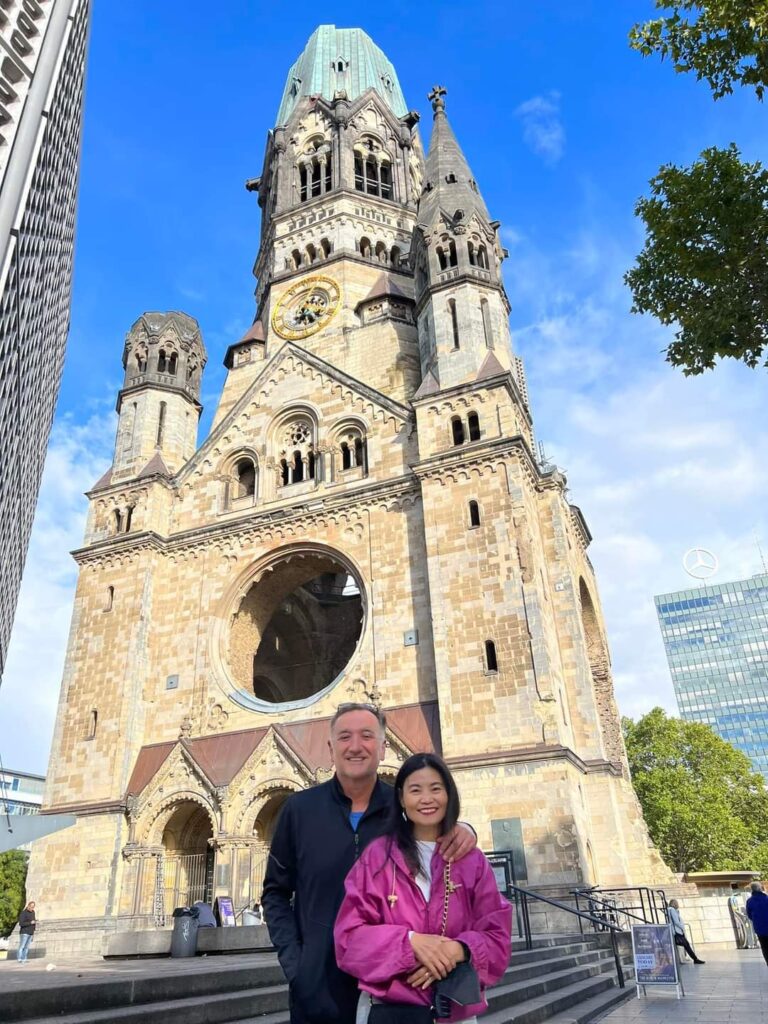 Thank you for reading my blog. If you enjoy it please pass it on to a family member or friend, thank you!
Some of the links are behind a paywall. You can try to read them using Archive.is. Or use 12ft Ladder.
TBB
travelbloggerbuzz@gmail.com
Follow TBB on Twitter @FlyerTalkerinA2.
You can subscribe to TBB below, winners only!
Opinions expressed here are author's alone, not those of any bank, credit card issuer, hotel, airline, or other entity. This content has not been reviewed, approved or otherwise endorsed by any of the entities included within the post.