I bring you the most eclectic content I find around the web such as flying on middle seats, the top investing rule, Elon Musk sucks, another Southwest devaluation, travel to Micronesia and go back to Berlin, how gambling is taking over investing it appears, more on the latest on the Covid pandemic, some fantastic revelations about the one and only John Madden, watch Earthrise again and lots more!
TBB Blog Mission: To Educate. Entertain. Inspire. In That Order!
Support TBB by applying for CREDIT CARDS or visiting our

LINKS

or Donate

You like my blog? Send a link to someone please!
TRAVEL
Amazing art show in the Brussels airport: Ruben's Cupid.
Pacific Voyages visits Nan Madol in Pohnpei island in the Federated States of Micronesia. This is not the Maldives you guys! And then goes off on yet another tangent to mention Erich von Däniken, whose books I used to love as a kid and now am ashamed to admit. And then from that…goes on to question what is truth and reality… And then goes on about some other mad scientists and then to the world record of holding your breath underwater only to finish with a photo of the world's biggest mouse trap. I mean, I like variety here but this blog puts me to shame lol.
Have you ever wondered how Berlin was in the 1920s? Well, now you can see it! A Day in Roaring 20's Berlin. It was enhanced by, please sit down, AI…Does this belong in the TRAVEL section? Yes, it is time travel and it is my blog and I can blog what I want. I don't blog clickbait shit here to increase page views and advertising revenue because…I have NO ads! Thank you for supporting independent blogs…
Don't get carried away flying now ok? The CDC says empty middle seats reduce COVID-19 exposure on flights. Will airlines bring social distancing back?  Travel bloggers blogging about screaming airfare deals, mileage runs (!!!), posting pictures showing off, etc….maybe they are trying to get you killed?
The research, done in conjunction with Kansas State University, found a 23% to 57% reduction in exposure to "viable" virus particles when middle seats are vacant.
PERSONAL FINANCE
I had a really hard time to pick the top three to feature here for this blog edition…
I loved this one, it just brings all together what the hell is happening: There's Nothing to Do Except Gamble. Welcome to the non-fungible, memeified, cryptodenominated, degenerate future of finance. Archived Link.

For all the ways that this particular moment in the history of markets feels strangely futuristic — computer dollars buying cyberart on the digital marketplace! — the basic dynamic at work here is a recognizable one. There are a lot of suckers who want to get rich fast without much work. The economy has always been weird; it's an aggregation of human behavior, and humans are weird. But roiling under this familiar surface is the reverberation of a much larger, fundamental shift: Something is changing in how we think about money. Maybe the question we should have been texting our financially literate friends wasn't "What is an NFT?" but "What is money now?"
Great Twitter thread summarizing lessons learned after reading all 23 Amazon annual shareholder letters by Jeff Bezos.
This is more of a personal finance post than the other two: The Most Important Rule in Investing. Know what you own, and why you own it. I agree!
The lesson: the so-called "risk premium" from stocks is far from constant, and there can be long periods of time where it is negative (stocks lose money with higher volatility than bonds). Understanding that – and I mean really understanding that – is critical in setting realistic expectations. If an investor is not equipped to handle a large drawdown (mentally, emotionally, or financially), they cannot put all of their money in stocks.
COVID-19
We are approaching almost 30% of the adult population to be fully vaccinated in Michigan which is remarkable. But…my state is leading this awful trend: Covid cases are rising in more than half of U.S. states, despite ramp-up in vaccinations. As of yesterday, we are averaging over 7,000 confirmed cases over the past 7 days, It comes out to 79 cases per 100,000 residents, by far #1 in the nation! Rhode Island is way back as #2 at 43 cases per 100,000 residents. And it appears the State governing officials will  not go back to any lockdown measures, we are done here, you are on your own folks, be careful out there! Sometimes I wonder if something else is really happening here…and pretty much everywhere. Like new non yet discovered strains…this %*&$#! virus may not be done with us yet!
Are you confused as me about so many Covid related things? I think part of this is due to the virus being so new and we learn as we go. Part of it is also due to the not so remarkable job we have done communicating about it. Well, at least now, we do not have the President of the United States lying about it and making fun of people wearing masks and other inane things so we will win in the end. Ok, I lost my train of thought: How Long Do Covid-19 Vaccines Provide Immunity? Like I said, we are learning as we go but the vaccines are really looking good on this front, at least six months protection (and counting…). Archived Link.
Another helpful post because we will all likely need it at some point: Confused About What to Do After a COVID Exposure? Start Here.
ODDZ & ENDZ
I absolutely LOVED this article because it is a completely vicious beat down of Elon Musk! Surely We Can Do Better Than Elon Musk. Getting past the cult of Genius and the bleakness of capitalist futurism. Can you tell I am not a fan and definitely not a Tesla bro? This is the opening paragraph and it just goes off from there!
There are two facts that I have sometimes found it difficult to reconcile. The first is that Tesla, Inc. makes innovative and genuinely impressive electric vehicles that can hold their own against the fastest performance cars in the world. The second is that the CEO of Tesla, Inc., celebrated entrepreneurial genius Elon Musk, is a liar, huckster, and moron, who regularly says things so ignorant that I cannot understand how they can come from a human adult, let alone one treated by his fans as a super-genius. Is one of these facts untrue? Are Tesla's cars actually bad, their deficiencies carefully covered up and their quality over-hyped? Is Elon Musk actually not a liar, huckster, or moron? If you look more closely, are things that look like fraud and stupidity to me actually signs of brilliance? Or is there a way for both facts to be true?
I share with you things that I find that I think are educational, entertaining or inspiring. Since 2012. I could be doing other things with my time and I never made more than minimum wage blogging. For the record…oh wait, I lost my train of thought again. I really enjoyed all the anecdotes from John Madden's life in this piece: Coach, broadcaster, esports icon: Inside the legacy of John Madden.
This is an extended version of the 4k UHD Earthrise video I shared with you a few months ago. Sometimes I play this in my second monitor…like I did putting together this post!
MILES & POINTS
HOT CREDIT CARD OFFERS: 80k CHASE Sapphire Preferred (& $50 Grocery store credit), 100k CHASE United Quest, 100k CAPITAL ONE Venture Rewards, 75k CHASE Ink Cash, 75k CHASE Ink Unlimited, 100k CHASE Ink Business Preferred, 60k CHASE Sapphire Reserve, 60k CITI Premier, 20k CHASE Freedom Flex & CHASE Freedom Unlimited, 70k AMEX Business Gold, 75k AMEX Platinum, 100k AMEX Business Platinum, 130k AMEX Hilton Business & Hilton Surpass, 150k AMEX Hilton Aspire, $300 AMEX Blue Cash Preferred, 125k CHASE IHG Rewards Club Premier (& a free night), and many more! Please use my Affiliate links.

If you do not see a credit card with my affiliate links, perhaps I could refer you? Contact me!
This section is about my hobby addiction of collecting frequent flyer miles and hotel points since the early 1990's! Feel free to skip this section and parts of the next one if this is not for you.
Newbies: Most of the big commercial blogs are nothing other than credit card sales enterprises. Because there is BIG money in selling plastic trying to trick readers it is all about "free" travel. Ever since these multi million dollar businesses entered this (what used to be an obscure under the radar hobby only played by some of us who, let's face it, we are not very normal people lol) arena, there is one constant: The bang you used to get for these hobby activities is being diminished every year. Translated: Devaluations. But they are not just content on selling plastic. They also sell their readers on the value of buying miles and points with, of course, their affiliate links so they can make even more money! Buying miles and points (except EXTREMELY RARE cases) means…the airlines and hotels selling them have even MORE of these on the books and, guess what, devaluations are accelerated! So, go out of your way to help blogs that have YOUR best interest in mind and not looking to earn more money from you. THINK!

There is a new 100k Chase United Quest credit card in the market. Every blog that sells it is out there trying to talk it up like they always do because if there is no sale they do not get paid. Here is a different view on it: United Quest Credit Card: A Contrarian View. Of course you may ask: Wait TBB, don't you sell this card? Why are you telling me not to get it, are you insane? My response: Yes. But since I am pretty sure you are more educated  than other readers, and if you decide that the card may be for you, please get it with my links. If you don't, I will start posting shit like "69 Reasons I love this ____ card!". Be afraid, be very afraid! 🙂
Speaking of devaluations, I have warned of this. What is so depressing is that they are coming on already when we are not out of the woods of the virus yet! Southwest Devalues Points – Now Worth A Base Rate Of 1.2¢ (Down From 1.28¢). No worries, the big commercial blogs will mention it and fake their displeasure and in a few days they will go back to blogging "Hey, it is not so bad" and then…back to hawking credit cards and also try to sell you more Southwest points to get to the next devaluation faster…
I have not taken a ride in an Uber or Lyft in more than a year! But if you use Uber and have a Marriott Bonvoy account, I guess, go ahead: Marriott-Uber Partnership: Earn Marriott Points on Uber Rides & UberEats Orders + Bonus 2,000 Signup Points Offer.
I used to go for these but not anymore because I spend time tracking them and it can frustrating for just a few miles: United/American Airlines Shopping Portals: Spend $65/$125 & Earn 500 Bonus Miles.
BLOG BUZZ
We are now entering BLOG BUZZ, a section for advanced hobbyists and veterans of this fast imploding hobby and also a section where I go on and on about some stuff that happens in my life because it helps me feel better about myself.
The answer should be no! Mulling over easy Star Alliance Gold status: Is it worth it? At least the blogger admits he may just do it for the blog. There are a LOT of activities in this space bloggers do for their blogs, they need to earn their paychecks!
Maybe this time is different. You know, WalMart has been trying to become a financial services force for a while. It has not worked well…to date. But this time they are paying some big bucks to attract talent and maybe, just maybe, they will get somewhere this time #developing. Walmart names its robo-advisor 'Hazel' and stocks up on talent with star hire from Citi, but its financial services venture still remains an enigma. Walmart recently discontinued its partnership with McDonalds for stores within and I am wondering if this was to make room for "Hazel" stores…
Been a while since I posted a pic from past travels…No flat beds drinking Krug…road trips are back!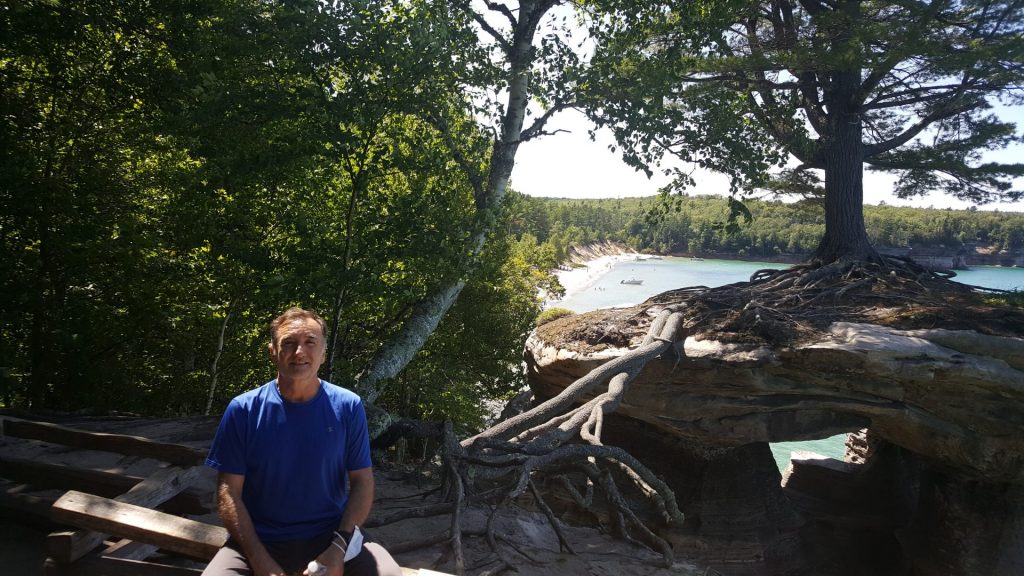 Imagine…
We are continuing the journey with some 80's Detroit music that influenced so many genres, from techno to EDM to house and on and on. I love the opening beat that just flows on and of course the sweet vocals. If you are looking for Top 40 recommendations this is not the blog for that!
TBBon!
And I leave you with this…If you somehow had to party with nuns, please Lord, make it to be these nuns!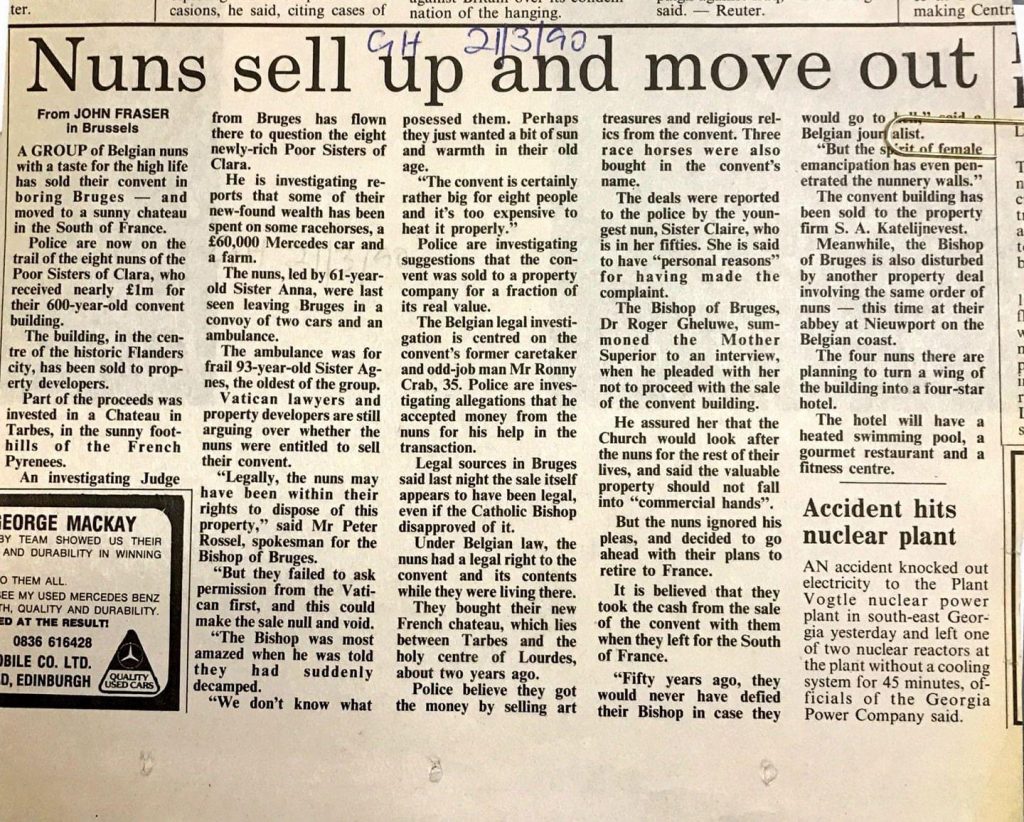 Thank you for reading my blog. If you enjoy it please pass it on to a family member or friend, thank you!
TBB
travelbloggerbuzz@gmail.com
Follow TBB on Twitter @FlyerTalkerinA2.
You can subscribe to TBB below, winners only!
Opinions expressed here are author's alone, not those of any bank, credit card issuer, hotel, airline, or other entity. This content has not been reviewed, approved or otherwise endorsed by any of the entities included within the post.