Another TBB post featuring the most eclectic links around the web such as the Great Money Reset, it was a really bad day for Elon Musk, Silicon Valley faking it may be coming to an end, awesome Globe Genie, 17 epic hikes around the world, lessons from Silicon Valley Bank, top jobs for college grads, a prince scammer over in Europe, the Russian propaganda operations are massive, learn about trans rights and corporate spying, amazing photography, a dude took 7 years to walk around the world, running pace charts, my next marathon coming up, laughing on 420 day, secret travel elite statuses and more!
TBB Blog Mission: To Educate. Entertain. Inspire. In That Order!
You like my blog? Send a link to someone please!
No ads, no clickbait. No sponsored posts.

This blog publishes every Friday and Tuesday…for now.
PERSONAL FINANCE
I always enjoy reading the memos Howard Marks writes. Mostly for the way he writes, not because I agree with everything. Lessons From Silicon Valley Bank.
Fantastic Morningstar podcast with Jill Schlesinger: The Great Money Reset". It is amazing how much better advice can be from someone who is actually a Certified Financial Planner instead of so many wannabees out there on TikTok and Youtube and now Netflix smh. I sent the link to my kids which I don't do often.
To younger readers, this graph about jobs may interest you: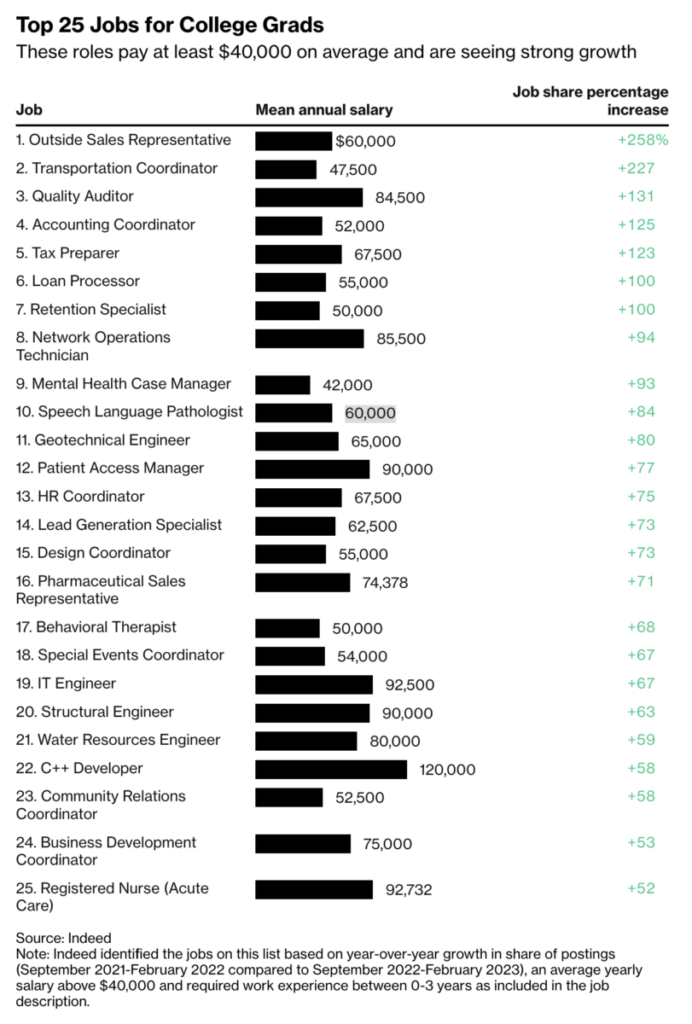 CRYPTO/ELONMUSK/TWITTER
Elon promised again that Tesla cars will be self-driving by the end of the year. This is like repeat mode, over and over. Meanwhile, Tesla cars keep killing people and, personally, I would not buy anything from this man child spectacular asshole. And it looks like my tweets are getting a lot less visibility, I have no doubt the algorithms were adjusted to punish anyone with views against him. He found time to give an interview with Tucker Carlson and, I guess, more BS coming from both of them. Meanwhile, he keeps making Twitter the worst and maybe I should thank him for causing me to spend less time there! Twitter quietly edited its hateful conduct policy to drop transgender protections.
Also, no more blue check mark for me and many others. Free at last lol. How will I know if I'm me without a blue check? I remember when my son was in high school and he found out that his dad was verified on Twitter he showed off how big a deal his dad was, oh those were the good old days of Twitter!
Also this tweet, lol:  SpaceX is calling it "a rapid unscheduled disassembly". In my day, we called it an explosion.
Meanwhile, the genius is on fire: Tesla stock tumbles over 9% to near 3-month lows on profit concern. Profit margins dipping below 20% has Wall Street bears howling.
SCAMS
Wow, what a scammer this guy is! Pretending to be a prince from Montenegro living the high life. The brazenness is stunning…he even did this smh! The Prince.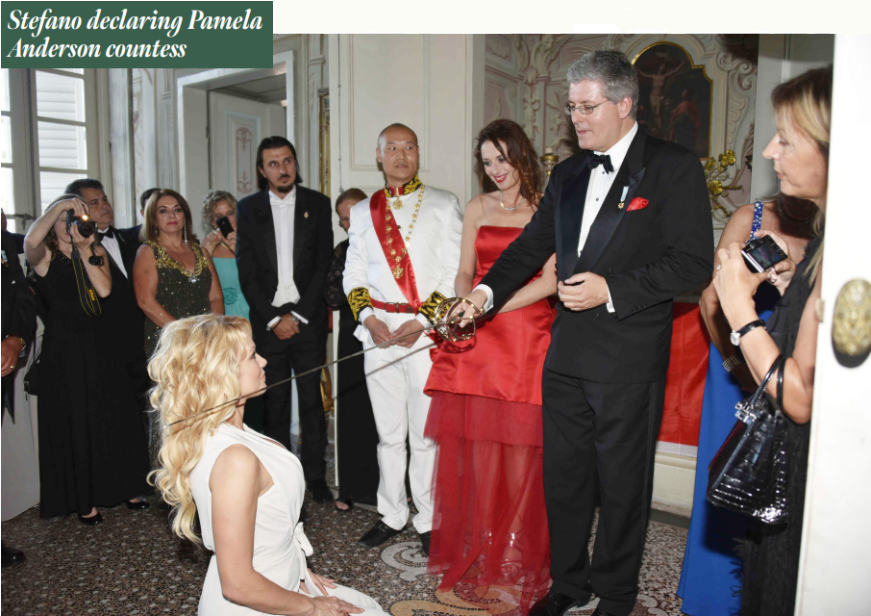 Lock them up! The End of Faking it in Silicon Valley. Recent charges, convictions and sentences all indicate that the start-up world's habit of playing fast and loose with the truth actually has consequences.
Take what happened in the past two weeks: Charlie Javice, the founder of the financial aid start-up Frank, was arrested, accused of falsifying customer data. A jury found Rishi Shah, a co-founder of the advertising software start-up Outcome Health, guilty of defrauding customers and investors. And a judge ordered Elizabeth Holmes, the founder who defrauded investors at her blood testing start-up Theranos, to begin an 11-year prison sentence on April 27. Those developments follow the February arrests of Carlos Watson, the founder of Ozy Media, and Christopher Kirchner, the founder of software company Slync, both accused of defrauding investors. Still to come is the fraud trial of Manish Lachwani, a co-founder of the software start-up HeadSpin, set to begin in May, and that of Sam Bankman-Fried, the founder of the cryptocurrency exchange FTX, who faces 13 fraud charges later this year.
ODDZ & ENDZ
I am really pissed off with the latest anti woke, anti trans, anti gay, anti libraries, anti Bud Light, anti Disney, anti you name it. But what really pisses me off the most is this anti trans crap that seems to be expanding. Especially against kids! Look, gender is not black and white, just be kind to people and respect differences for crying out loud. Anyway, excellent interview with Masha Gessen: What We Talk About When We Talk About Trans Rights. Masha Gessen on the public discourse over trans identity, the real reasons for the culture war over gender, and how well-meaning people can do better.
If you are good lying in general, I guess this job can be lucrative to you: My High-Flying Life as a Corporate Spy Who Lied His Way to the Top. Very well written, I had no idea this was a thing smh.
I was just looking to make rent when I stumbled into a part-time gig stealing secrets from Wall Street elite. I made millions once I realized how desperate we humans are for someone who will actually listen.
These are amazing: 30 Mesmerizing Moments Caught In Pictures That Were Crowned The Best Of 2023 By The Sony World Photography Awards.
TRAVEL
Sometimes don't we all wish we can teleport ourselves somewhere else? I heard you, so just hit Teleport in this link: Globe Genie.
I did not know about several of them, 17 Epic Hikes Around The World. Which one is your favorite?
I really enjoyed this: The man who walked around the world: Tom Turcich on his seven-year search for the meaning of life. When Turcich was 17, a close friend of his died, and he had an existential crisis. He decided it was time to seize the day – and to cross the globe on foot. I have been searching for the meaning of life since I started blogging back in 2012 and, well, I am still searching lol.
RUNNING
Marathon #5 is this Sunday in Toledo, Ohio. The nerves are nerve wracking (see what I did there?) and my mind is playing tricks on me trying to believe I can hit my goal. Which was definitely in the books before my latest sciatica flare up keeping me out of running for a whole week. Been getting back to it over the last few days and, well, I am going to line up and give it a try.
Very helpful link to figure out what pace you need to hit your goal running 5k, 10k, 10 mile, half and full marathons. Pace Charts.
BUZZING
A section where I go on and on about some stuff that happens in my life and anything else that just does not fit in another section above.
Yesterday it was 420 Day. Will another blogger post a link like this? Seth Rogen Laugh Compilation. I don't think so…I am laughing without any substances.
I had no idea Netflix was still shipping DVDs!
I am following the NBA playoffs watching highlights on Youtube, no time to watch any games yet! With Kawhi and PG going down with injuries again I am starting to think the LA Clippers are cursed.
I am really trying hard to make my posts shorter and spend less time here! I am going to figure it out one day. In the meantime, I hope you enjoy each post and words and clicks of support go a long way to justify in my mind to keep blogging.
This blog started with a focus on miles and points and travel. It has evolved since then. Everything below deals with the hobby of collecting frequent flyer miles and points. If you are not interested, you can stop here, thank you.
MILES & POINTS NEWS/PROMOS/MY ACTION
If any of these companies want to award me one of these because I am such an influencer in the travel industry…I won't stop you, please do 🙂 8 Secret, Invite-only Travel Elite Status Tiers That You've Never Heard Of.
These won't last long, I should probably look into burning some of my AA miles stash myself! Hurry! 6 American AAdvantage Miles Sweet Spots to Book Now.
Register for the latest Hilton Honors promotion: Resort To More Points. Much simpler than the Hyatt promotions lately, 2,000 bonus points after each stay, double that after each resort stay.
You can now earn 80,000 Chase Ultimate Rewards points if you get the Chase Sapphire Preferred Card…here is my REFERRAL LINK you guys, thank you! We all four have this card in our household, read more about this card HERE. Also, you can earn 90,000 points if you apply inside a Chase branch. Breaking: It is NOW finally available with my Credit Card Links!
Talking about Best Offers skipping my links, here we go again: Wells Fargo Launches Two Choice Credit Cards. Actually, the one with the annual fee is a good offer if you are into doing Choice things…
I finally received my 10,000 points for keeping my Capital One Venture X card! And I have already used up my $300 travel credit again.
I also used up one Hyatt Free Night cert at the "luxury" Hyatt Place Cleveland/Westlake/Crocker Park property. One day before it expired. If such cert expires say on May 6 you can NOT use it for the night of May 6! It must be used for the night of May 5 instead. Just another tiny ridiculous World of Hyatt rule. Also, don't you hate it when there are no "standard" rooms available to use your Free Night certs but the hotels will gladly sell you a room instead? Frustrating little rules like this for even Globalist elites sure does NOT incentivize members to reach Globalist elite again, sad!
MILES & POINTS
HOT CREDIT CARD OFFERS: 75k Capital One Venture X, 75k Capital One Venture Rewards,  75k Chase Ink Business Cash, 75k Chase Ink Business Unlimited, 100k CHASE Ink Business Preferred, 60k CHASE Sapphire Preferred, 40k Capital One VentureOne Rewards, 45k Wyndham Rewards Earner Plus, $1,000 Cash Back CHASE Ink Business Premier and many more, including many AmericanExpress cards such as Delta Airlines, Marriott Bonvoy and Hilton Honors cards!  Please check out my Affiliate links. Terms apply to American Express benefits and offers. Visit americanexpress.com to learn more. If you do not see a credit card with my affiliate links, perhaps I could refer you?

This section is about my hobby addiction of collecting frequent flyer miles and hotel points since the early 1990's! SKIP if you are not into it!
As of today, I have burned 501,000 miles/points year to date in 2023 and have 4,358,889 miles/points in the bank. Some do drugs, I do miles lol!
Thanks to US banks, very lucrative travel rewards credit card offers come and go all the time. This section will act as a reference point on the best CURRENT offers. I will designate new material preceded by NEW.
BEGINNERS
The Beginner's Guide to Getting Started with Credit Cards, Points & Miles
BASICS: This travel hacking hobby is mostly about getting the fat Signup Bonus of travel rewards credit cards while of course NEVER EVER carrying a balance. Banks have a marketing budget and are willing to give us many THOUSANDS of miles/points to travel mostly for free hoping to hook us to charge 20%+ interest rates on our balances. The poor souls who fall for their marketing paying these ludicrous interest rates end up subsidizing us responsible consumers who enjoy taking advantage of, cough, such bank marketing budgets! Some of us have been doing this for thirty years creating amazing travel memories…Feel free to ask me questions or post them in the comments.
BASICS: Prefer credit cards from the proprietary points programs of banks, such as Chase Ultimate Rewards, American Express Membership Rewards, Citi ThankYou Network, Capital One Rewards Miles because they are a lot more flexible and are not devalued as frequently. Over pure airline and hotel travel rewards credit cards. Pure cash back credit cards may work for you best and they are getting more valuable as airline and hotel loyalty programs keep getting devalued. Sometimes, a pure no annual fee 2% cash back card works best for simplicity!
In my household, we prefer swimming in the Chase Ultimate Rewards points sphere. In order to be able to transfer out to partners such as Hyatt and United we all have the Sapphire Preferred Card. So I guess I can say I recommend it. And it now comes with 80,000 Ultimate Rewards points as Signup Bonus, hooray! Available HERE, thank you!
NEW: Chase Sapphire Preferred Complete Guide
The Capital One Venture X card offers a 75,000 point Signup Bonus after a minimum spend of $4k in the first three months. If you like simplicity and looking for one (premium) card, I highly recommend this card (and yes, I have it myself!). It has an annual fee of $395 but it comes with a VERY easy $300 statement credit for travel booked on its excellent travel portal, essentially turning it into a $95 annual fee card. But wait…there is more! On each card anniversary you earn 10,000 points essentially making it FREE! Every dollar of spend earns 2 points and flights booked on the travel portal earn 5 points per dollar. You get access to Capital One and Plaza Premium airport lounges and a Priority Pass Select lounge membership and, this is important, you can add FOUR authorized users FOR FREE who can also have their own Priority Pass Select airline lounge membership. You can transfer your Capital One points to up to 18 Transfer Partners. No foreign transaction fees. Free Hertz President's Circle rental car top elite status. Cell phone protection and PRIMARY rental car coverage. Awesome seats at baseball stadiums for just 5k points each. And lots more. Available with my Credit Card Links, thank you for your support!
Get 75K Miles, Lounge Access & More with the Capital One Venture X Card
The Best Ways to Use Capital One Venture Miles
Sticking with Capital One Bank…it is offering 75,000 points for its Capital One Venture Rewards Credit Card. Annual fee is $95, minimum spend required to earn the Signup Bonus is $4,000 over the first three months and the card basically earns 2 points for every dollar. And you can transfer the points out to airline and hotel partners just like the Capital One Venture X card above.
NEW: Capital One has a no annual fee card, the weirdly named Capital One VentureOne card that offers a 40,000 point Signup Bonus after just $1,000 minimum spend in the first three months. It earns 1.25 points per dollar and has no foreign transaction fees. If you want more Capital One points and/or you just hate annual fees. It appears the Capital One Bank credit card offers have the best offer with my Credit Card Links.
Remember, you are NOT allowed to ever carry a credit card balance if you ever get a credit card here!
Let me leave you with this…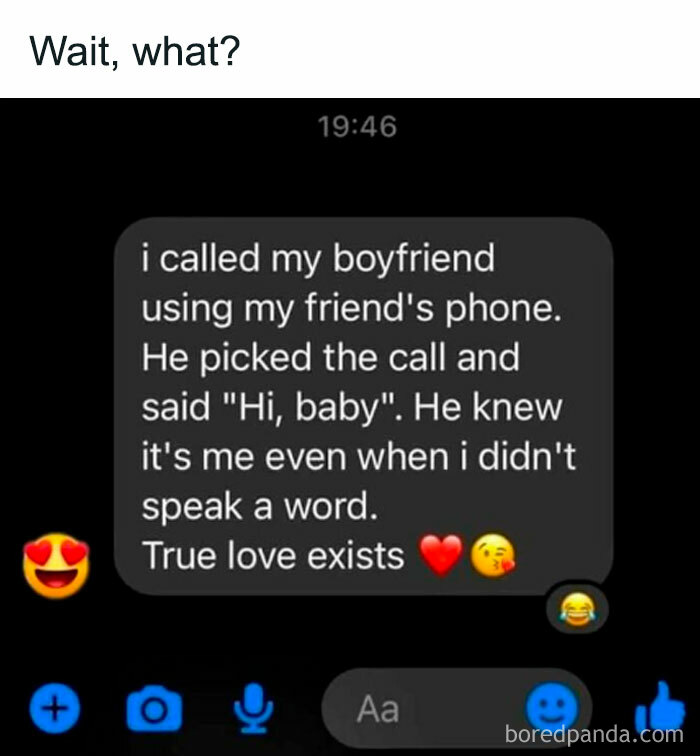 Some of the links are behind a paywall. You can try to read them using Archive.is.
Thank you for reading my blog. If you enjoy it please pass it on to a family member or friend. Or Buy Me a Coffee, thank you!
TBB
travelbloggerbuzz@gmail.com
You can join 557 email subscribers to receive each blog post by entering your email address below and then clicking on Subscribe:
Opinions expressed here are author's alone, not those of any bank, credit card issuer, hotel, airline, or other entity. This content has not been reviewed, approved or otherwise endorsed by any of the entities included within the post.