Another TBB post featuring the most eclectic links around the web such as the most beautiful castles, good news on flexible spending accounts, new 100k Southwest cards, I made some Hyatt bookings, the US decides to open up, I love the Prague Castle, how China avoided Soviet style collapse, history's seductive beliefs, an interview of Larry Brilliant on the Covid-19 pandemic, the mRNA vaccines may be only the beginning, a masseur women love and I am just going to stop there, the fastest trains and Amtrak is of course missing, the 500 best songs of all time, photos of disasters that may give you nightmares, some marathon and hobby musings and I am thinking to move this baby to Substack because I will never make minimum wage, sad lol at me.
TBB Blog Mission: To Educate. Entertain. Inspire. In That Order!
Support TBB by applying for CREDIT CARDS or visiting our

LINKS

or Donate

You like my blog? Send a link to someone please!
Some of the links are behind a paywall. You can try to read them using Archive.is.
TRAVEL
It appears the US is opening up: It's Official: Here is When People Can Enter the US and With Which Vaccines. But that darn Covid test is still there and the thought of a false positive before you board on your flight back to the US is very appealing #notreally.
I visited Prague in 1987 and I found it magical. Yes, before 1989 and it was so dirt cheap too! And this castle was the highlight: 7 Things You Probably Didn't Know About Prague Castle.
The Prague Castle complex is enormous, with an area totaling of 753,474 square feet. That makes it the largest ancient castle in the world, according to the Guinness Book of World Records.
Since we are into castles, here are 35 photos of the most beautiful castles around the world.
I bet you did not know that. Well, because you read my blog for free, now you do 🙂 US Great Lakes Coastline vs Atlantic Coastline.
PERSONAL FINANCE
It is benefits Open Enrollment season once again if you are an employee. And there always changes: Have a Flexible Spending Account F.S.A.? You May Be Able to Carry Over More Money in 2022.  Here is an archived link too.
Employers may allow a "full" carry-over of remaining balances for next year — up to the total balance in the worker's F.S.A. So if you had $1,000 in your account at the end of this year, you could carry it all over into 2022. (The usual carry-over limit is $550.) [The key words are "may allow, so check with your employer]
Another must ready by Morgan Housel: History's Seductive Beliefs. Some that stick out:
1. An illusion that other people's bad circumstances couldn't also happen to you.
2. Imagining an unrealistic world where progress and success don't demand a fee, and a belief that hassle, nonsense, disagreement and uncertainty are bugs rather than a cost of admission to getting ahead.
3. An assumption that your view of the world is the view of the world, and a belief that what you've seen and experienced are the sights and experiences that explain how the world works.
4. An assumption that history is a guide to the future and that things will continue working as they did in the past.
The most important economic events of the last century are probably the Great Depression, World War II, the 40-year collapse in interest rates, and globalization. And while each had analogous ancestors, anyone predicting what those events eventually did to the world could be brushed aside by those who pointed out that, say, negative interest rates had never happened before. A nationwide housing bubble and bust had never happened before. A weapon like the nuclear bomb that could deter future wars had never happened before.
Then all those things happened. And they totally changed the world.
Is China managing a soft landing of its formerly hot growing economy? It looks like it…so far, we'll see what happens. How China Avoided Soviet-Style Collapse. I like to challenge your thinking as this is a fascinating look back on the differences between the Chinese and the mega cluster you know what of the collapsed Soviet Union. Maybe this is not pure personal finance but, you know, geopolitics IS important for our finances!
Understanding the shifting balance of social forces, interest groups and political factions is essential to see how China escaped the shock therapy that brought down the Soviet Union.
COVID-19
Another great Andy Slavitt podcast, must listen imho: What's About to Happen with COVID-19 (with Larry Brilliant).

We know that mRNA vaccines were being worked on for decades and then boom! 'Maybe the Coronavirus Was Lower-Hanging Fruit'. What if one day we get cancer and we go to the hospital to get that cocktail mRNA shot and we come out ready to party? Unrealistic? Maybe not…
Emerging mRNA technology proved excellent for COVID vaccines. BioNTech's founders preview what that could mean for cancer and other mysteries.
ODDZ & ENDZ
This post would never make it into The Points Guy because the bank sponsors will not allow it: The Secret Life of a Happy-Ending Masseur and the Women Who Swear By Him. Let other blogs pump credit cards and trick readers with "shocking" moronic clickbait crap, I bring you entertainment lol.
Everyone from bawdy bachelorettes to married lesbians pay Ray the masseur to get them off. And he gloats that when it comes to female pleasure, he's the G.O.A.T.
I am not sure about the ratings here but still a whole lot of awesome songs! 500 Best Songs of All Time.
Visualizing The Fastest Trains In The World. Sadly, Amtrak is missing woohoo! Infrastructure, anyone?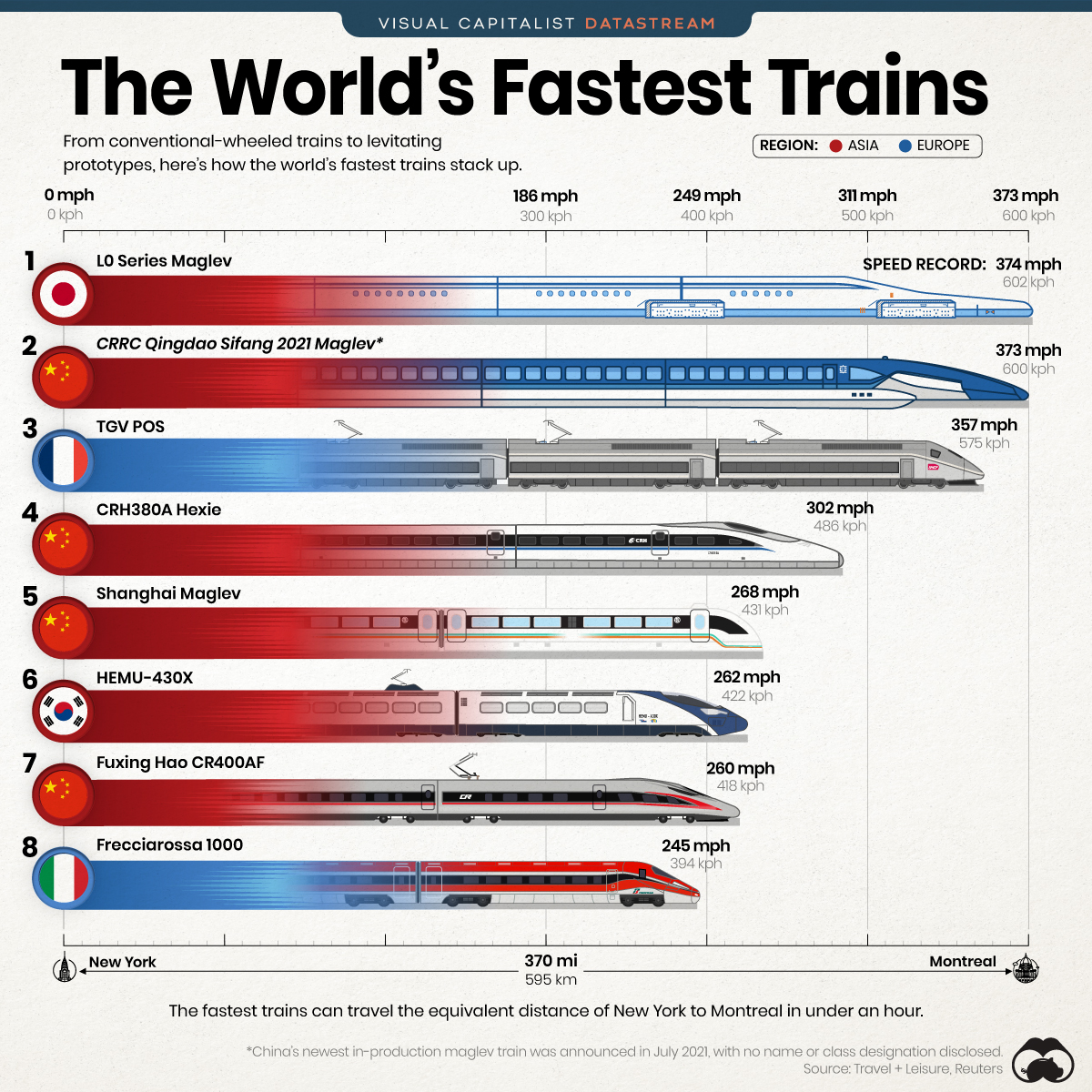 I still remember seeing this pic on TV and I was terrified of flying for a few…days: People Are Remembering The Biggest Catastrophic Failures Of Various Human-Made Devices And Here're 30 Of The Most Devastating Pics.
MILES & POINTS
HOT CREDIT CARD OFFERS: 75k CHASE Ink Cash, 75k CHASE Ink Unlimited, 100k CHASE Ink Business Preferred, three personal 100k CHASE Southwest cards, 50k CHASE Sapphire Reserve, 80k CITI Premier, 20k CHASE Freedom Flex & CHASE Freedom Unlimited, 80k CHASE United Quest, 60k BANK OF AMERICA Alaska Business, 150K CHASE IHG Rewards Club Premier (look Under "Mastercard" for this one and not Chase!) and many more, including many AmericanExpress cards, including Delta, Marriott and Hilton cards! Please check out my Affiliate links. Terms apply to American Express benefits and offers. Visit americanexpress.com to learn more.

If you do not see a credit card with my affiliate links, perhaps I could refer you? Contact me!
This section is about my hobby addiction of collecting frequent flyer miles and hotel points since the early 1990's! Feel free to skip this section and parts of the next one if this is not for you.
Newbies: Most newbies are better served by just focusing on flexible bank points cards and then whenever they need a flight or hotel they just transfer them out at that time and then book! No reason to get beat up because this hobby can consume you. As in consume your focus and attention that is. And of course, do not do this if you do not think it is fun. We elaborate about this in a link in the BLOG BUZZ section below.
Chase must have received some pressure from Southwest to refresh the Southwest Rapid Rewards cards with some extra benefits and now all three personal cards can offer up to 100,000 points: Chase Southwest Personal Cards Increased 100,000 Signup Bonus (Near Companion Pass With One Card). You want the bonus to post in 2022 to count towards the coveted Southwest Companion Pass which allows you to travel with your spouse, significant other, boyfriend/girlfriend, good friend, mistress or…can you imagine if the Companion Pass was good for your dog, lol. Available with my links, thanks for your support…you can be #3 this month!
In case you missed registering for that weird Hyatt promo to earn 1,000 American Airlines AAdvantage® bonus miles for every qualifying stay at over 190 participating U.S. Hyatt hotels, including Chicago, Dallas, Denver, Los Angeles, Nashville, New York City, Phoenix, San Francisco, Seattle, and Washington, D.C.
In addition, the Hyatt peak/off-peak award pricing changes will start on October, 26. Here is what this is all about: Details on When Hyatt's New Off-Peak and Peak Award Chart Will Happen.
Another post in this series: Best Overall Hyatt Point Values for Rooms at Cat. 1-4 International Hotels: Part 5 — Summary Plus Upcoming Devaluation!
And a weekly roundup: Best in Miles, Points, Credit Cards, Travel and More: Around the Web Oct 10 — Oct 16 2021.
BLOG BUZZ
We are now entering BLOG BUZZ, a section for advanced hobbyists and veterans of this fast imploding hobby and also a section where I go on and on about some stuff that happens in my life because it helps me feel better about myself.
This will come as a relief to many: IRS Reporting Threshold for Bank Accounts to Go Up to $10K (From Initial Proposal of $600).
I was attending an investment conference online yesterday and let me tell you, attending conferences virtually are so easy that of course I had other screens open while fooling around on Twitter. And then I saw a colleague announce an in-person conference in September 2022 and gave a code to register for free for the first 300 advisors. And boom, just like that I registered and then realized that one of the four conference hotels is the Hyatt Regency Huntington Beach & Resort so boom again, I am booked there for four nights and 80,000 World of Hyatt points later.
I also  looked around for another marathon in 2022 that I could combine with some tourism with my wife. So I threw my hat into the ring lottery for the 2022 Berlin Marathon. I searched for a hotel nearby that will allow me to walk to and crawl back from the start/finish area and there it was, the Berlin Grand Hyatt. And boom, 60,000 World of Hyatt points later I booked that too. Both may be canceled but for now I am good. I then sent an email to my Hyatt Concierge asking about what I can do with one Free Night I have that expires December 15, 2021, a question about suite upgrades and why it is taking so long for the 5 elite night credits and Free Night cert to post for keeping the Chase World of Hyatt credit card another year. I will worry about flights later for these trips if they become reality…And I wanted to book some Hyatts before the peak/off peak pricing finally comes through next week. The worst that can happen is I get some points back automatically if the award prices of the two properties I booked shockingly go down.
Apparently, plenty of hotels in Berlin near the Start/Finish area of the marathon, any other hotels I should be looking at? How is the Berlin Hilton, anyone been there?
Some of us in this hobby can get way into it. There are some good thoughts here in this post: Can You Win Playing By The Rules?
A perfectly reasonable way to go through life is to sign up for a Chase Sapphire Preferred card, put all your purchases on it, and each month transfer your entire balance of Ultimate Rewards points to World of Hyatt. Then whenever you need a hotel stay, see if there's Hyatt award availability. If there is, book the Hyatt. If not, pay cash. The same logic applies to an American Express Gold card with transfers to Delta.
But if that's your strategy then you need to log off, not read any blogs at all, not follow any travel hackers on Twitter, and not listen to any travel hacking podcasts. Not because they're a waste of time, but because they're a waste of focus and attention.
The rewards of getting involved in the travel hacking community can be enormous, but they're not free. Learning how to search for partner award availability across multiple airline alliances is a huge undertaking. Tracking signup bonuses and transfer partners isn't particularly time-consuming, but it does consume focus and attention that you're otherwise free to expend elsewhere.
Fortunately, travel hacking has the same safety valve built into it that all hobbies do: if you don't find it fun, you don't have to do it! Whenever my friends or family approach me to ask how to get started I tell them the same thing: do one thing, anything, and see if you enjoy it. See if it captures your imagination. See if you want to do more, faster, more aggressively. And the simple fact is, no one has ever taken me up on it, because the overwhelming majority of people find it mind-bendingly boring.
This week is the biggest test to see if I have a shot to stay alive in the Athens Marathon. My running assignment is to run 10 miles on Saturday (0.90 run & 0.10 walk) and then 16 miles on Sunday (0.8 run & 0.20 walk). If I can do this I think I will be fine. And yeah, I am not running non stop yet, building up slowly. Or, as Biden says, build back better lol. Anyway, I have not heard anything from the Athens Marathon people for months now and I am starting to worry, I hope I am still in!
As I am hitting the Publish button in Ann Arbor, we have had major rain storms pounding us all night long it appears and it continues, wow!
TBB
travelbloggerbuzz@gmail.com
Follow TBB on Twitter @FlyerTalkerinA2.
You can subscribe to TBB below, winners only!
Opinions expressed here are author's alone, not those of any bank, credit card issuer, hotel, airline, or other entity. This content has not been reviewed, approved or otherwise endorsed by any of the entities included within the post.