This is going to be a short post about the Marriott Rewards big announcement on Monday April 16 in NYC.  I did not want to wait until tomorrow's post because by then it could have been really stale news. I will share with you some of the best blog posts that I came across in my blog roundups and some of my thoughts, enjoy!
TBB Blog Mission: To Educate. Entertain. Inspire. In That Order!
Support TBB by applying for CREDIT CARDS, shopping with our AMAZON AFFILIATE LINK & clicking our REFERRAL LINKS
First, I want you to know that I was not invited to the party by Marriott as many other bloggers did. I heard they were wined and dined and even had a private concert by some dude named Keith Urban. You know what this brings to mind? George Stephanopoulos asking Comey if he thinks Trump has been compromised. Ummm, yeah. I also find it amazing that some bloggers posted about the changes even before the meeting was over! Which means they had all the details but were asked to hold off. TBB is not compromised so I 'll give you my two cents…
First, some of the posts I found to be the best quality on this topic.
DansDeals – Marriott Got Almost Everything Perfect, But The Starwood AMEX Cuts Are Just Too Painful
Doctor of Credit – Marriott & SPG Merger Details – What You Need To Know
DansDeals – 3 Starwood AMEX Cards In The New Marriott Program: A Comparison Chart Of The Good, The Bad, And The Horrific
Rapid Travel Chai – Marriott-SPG: The Types of Travelers that Lose Out Look Familiar
Here is the official announcement by Marriott, if you are into corporate speak that is.
You can stop wasting your time reading other blog posts, these are all you need to know. I may add to them as the day goes by…
A few of my thoughts:
I am NOT a Marriott fan. I never was. The conservatism of the whole company always turned me off. The fact they win every single award in these Frequent Flyer awards always turned me off. They always had ridiculously high elite requirements. And they remind me of Delta. You know, not to be trusted. Buying SPG was like losing your buddy from childhood. Or something like that.
You know how the rumors started coming out in the past few weeks? I have no doubt they were deliberate (hey, bloggers serve a purpose!) so the Marriott management can get a feel how much to cut after they work out the tech issues with the merger of three programs. I have no doubt they seriously plan to implement some of these things they threw out there for testing purposes. Like instituting a minimum spending requirement for elites. Killing the airline transfer feature. And much more…
The other fact is that the Amex SPG cards become sock drawer cards in August, why would you put any spend on them if it gets just two Marriott points per dollar? If your mother in law never had the SPG cards you can still get them (with my links of course!) before they are taken away, at 25,000 SPG points each good for 75,000 Marriott Rewards points or 30,000 airline miles.
I am shocked they are keeping the airline transfer feature and they may be expanding it. I thought for sure that will be gone. Remember, we are still in the goodwill "lets not piss off the SPG members" phase. Give it some time and I expect in 2019 that this too will be gone.
Same with the airline packages benefit too so better grab those soon as they are sure to be devalued starting in 2019. As is everything else.
The off-peak and peak categories sure sounds like revenue based burning to me. Again, I am suspicious of Marriott so you know where I stand 🙂
Getting Platinum via credit card spend will require a ridiculous amount of money. When you can get Diamond with Hilton's Aspire card. Yeah, yeah, I know, you are not guaranteed them suites. But the bottom line is you were likely going to get them at Hilton anyway. I noticed some chatter that members will be leaving for Hilton. Please don't as I think about doing that myself (going all Hilton) as that will impact my upgrades lol.
I said something controversial a week ago. Is it time to go free agent on hotels? Aspire to stay in Airbnb and rent places? The old days of staying in luxury for free are gone. Signup bonuses may get you one free luxury night these days, that's it, boo! With travel rewards bank restrictions out there, does it make sense to waste premium card slots in hotel rewards credit cards? I am not so sure anymore. Of course what I am saying will not help my own conversions here because I am not out to fake my enthusiasm about these things so I can sell more plastic as most bloggers do. Maybe that's why my conversions are so low lol!
I need to burn some of my last SPG points (thanks to son!) and maybe I pick up a Marriott business card for the occasional stay I may have…
The end…
Now watch how bloggers whose livelihood depends on the future of these loyalty programs soften everything up and then pump the credit cards. Because…conversions!
If you do go for the cards, throw me a bone here please, thank you.
And that's all TBB wrote. I am NOT compromised!
And I leave you with this…She is desperate!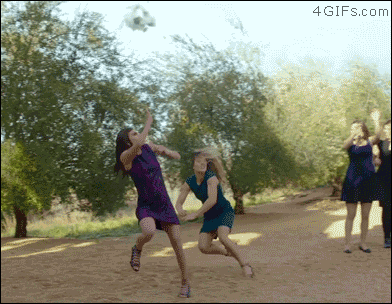 TBB
travelbloggerbuzz@gmail.com
Follow TBB on Twitter @FlyerTalkerinA2
You can subscribe to TBB below, winners only!
Opinions expressed here are author's alone, not those of any bank, credit card issuer, hotel, airline, or other entity. This content has not been reviewed, approved or otherwise endorsed by any of the entities included within the post.