We bring you more sad news of the new bank restrictions, we ride the amazing Sahara Railway, warn you about scam timeshares, laugh with Tinder dating, travel to Ethiopia and Mecca, register for the latest Hilton and Hyatt promos, more bag fees, Republicans love weed, we talk about them bloggers destroying our inherent right to travel for free while they get fat selling plastic and lots more for you for freeeeeeeeeeeeeeeee!
TBB Blog Mission: To Educate. Entertain. Inspire. In That Order!
You know our travel hacking "hobby" is resembling a long prisoner march with marchers (us) getting shot and thrown in ditches as we march along to…extinction. Every day we lose another deal a blogger blogged about while selling more travel rewards credit cards to unsuspecting readers , we get hit with another devaluation in a diminishing pool of award sweet spots, more mergers consolidating avenues to engage in a little more earning we enjoy, more fees and other restrictions and on and on. And then of course the banks exacting revenge on us…while we hope things will change. But they only get worse. And next one was Chase Adds 48 Month Restriction for Sapphire Bonuses & A Way to Get It Under the "Old" 24 Months Language. Dear Lord, have mercy!
When mainstream media writes articles like this you know they are on to us: Credit-card super users are searching for answers amid a string of shutdowns from Chase, as billions in costs on lavish rewards pile up (HT: ABC)
Casinos make their billions on the masses of tourists and novices who play their games without a clue. Card sharks use skill, and sometimes deception, to eat away at their profits. If Chase is the largest credit-card-rewards casino in the country, churners are their card sharks. For years, even as their numbers grew, churners largely managed to slip by without getting the boot. But has the house finally decided to come down on them? [Thanks a lot bloggers!]

Register for the latest Hilton Honors promotion for stays September 10 to January 3. Called Hilton Moments Made Bigger.
And this is Hyatt's Fall promotion: Make your travel add up to more. A lot more.
And more fees. We now have them at $30 per bag, thanks JetBlue (and Air Canada and Westjet). Sad! Oh, and JetBlue will "refresh" its TrueBlue program bothering us with some meaningless changes while sticking it to us with more fees, yawn.
Other than that above that sends a very clear to churners we have, please sit down, the new Reduced Mileage Awards from AA.
I LOVED this short film: This Sahara Railway Is One of the Most Extreme in the World.
TBB blog readers are well read. But I want to point you to a recent monumental discovery: Scientists Stunned by a Neanderthal Hybrid Discovered in a Siberian Cave.
A remarkable new discovery—also in the Denisova cave—paints an even more interesting picture, telling us that Denisovans also interbred with Neanderthals. The evidence is as direct as it can be: a bone fragment in the cave that, according to DNA analysis, belonged to the daughter of a Neanderthal mother and a Denisovan father.
Very interesting stuff: Legal Weed: How Republicans Learned to Love Marijuana.
No other government is doing the things China is doing in such a scale. Who needs democracy when you have data?
Hilarious twitter thread on dating, Tinder and stuff like that. If you do not lol I will give you yo money back!
Timeshares. Don't do it! Timeshares: The Variable Annuities of Real Estate Investing. You have been warned! Can you care to guess how much I despise these salesmen? As much as fake experts selling "free" travel by pushing EVERY damn credit card they can get paid on!
I need to go to this place in Ethiopia, it is calling me! Churches cut from single rock welcome Orthodox Good Friday celebrations. Anyone been? Safe to get there with miles? Any Hyatt hotels nearby? 🙂
More awesome photos here: The Hajj's massive scale, seen from the air.
It must be getting harder for credit card salesmen bloggers to sell more plastic as well. With Chase's new restriction on the Sapphire cards, the message is clear. No, we lost our butts on the Reserve and we must recoup the costs ASAP. No churning to other cards, if you want it you keep it and pay us the annual fee. And wait until we start hammering you with the new Banking product to make you give us more of your money to invest load it with high fees while pretending we are your advisor and supposedly have your best interest in mind…NOT! Ok, back to the salespersons bloggers…Look, if you made this your career writing and selling plastic perhaps you are not looking too far ahead to sustain it as a career. You have been warned!
I have combined my Marriott and SPG accounts. I think everything looks fine for the most part. I am not going to give you a play by play okay? I have about 240k MR points now and this baby is only going down…In other words, I don't care too much about this pool of points.
I am so sick of Amex Offers. Bloggers LOVE them so they can push what they are selling. Non stop. I wish they went away. The offers I mean. Or is it both? Lol. The only Amex offer I will publish here is this: Buy $0, get $20 Back! Since that will never happen, well, you know, you don't need arrows!
I swear I saw a bunch of posts in Boarding Area about the JetBlue points pooling feature that all came out at the same time! Maybe they have a smart ghost writer over there? 🙂
Emily at MMS is now selling baby stuff full mode too. Dan at DansDeals got some diaper competition! 🙂
Been a while, here is another fav song:
And I leave you with this…Really Colgate, really?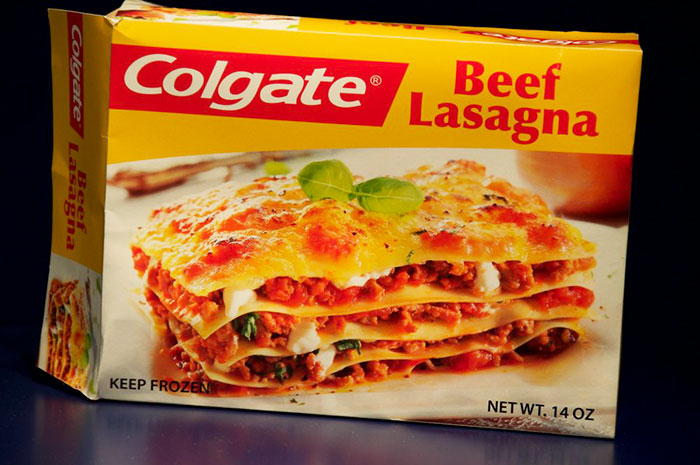 TBB
travelbloggerbuzz@gmail.com
Follow TBB on Twitter @FlyerTalkerinA2 and now on Instagram.
You can subscribe to TBB below, winners only!
Opinions expressed here are author's alone, not those of any bank, credit card issuer, hotel, airline, or other entity. This content has not been reviewed, approved or otherwise endorsed by any of the entities included within the post.