We bring you the new British Airways Business Class seat, introduce you to the best SLH hotels, read a Megan Star interview, meet a fertility doc madman, TPG loves Bonvoy, try to sell the super amazing CSP card to your mother in law who can not believe you travel for free and wants to do it too, learn what the Best Western CEO has to say about making the leap to luxury, a lovely story about a homeless 8 year old who excels at chess, learn about student loans, learn about the 30 years of the web, go to the first underwater restaurant in Europe, show you some crazy graphs about how people die and spend and we have some fun at the Blog Buzz section as always.
TBB Blog Mission: To Educate. Entertain. Inspire. In That Order!
You like my blog? Send a link to someone please!
Stop the presses: One of our own bloggers has had some tragic health turns and needs our help! We Need Your Help #FightForEzra. Here is the GoFundMe page. This is what really matters in life!
When there is not much going in the travel hacking hobby you get numerous posts about new business class seats like it's the Second Coming…or something. This is what happened when British Airways introduced its new business club seat. If you are that interested, here is all you need to know: Part Uno and Part Dos. Yeah, it looks nice but it will cost you an arm and two legs to fly it and this is supposed to be about flying for free, right? Riiiiight?
And then of course you got even more posts selling the amazing ChaseSapphirePreferred card that every blogger raves about non stop and how it now comes with a 60,000 points sign up bonus. Yes, it is available with my links. If you know what you are doing (and you are since you are reading my blog!) and somehow intend to get it, please consider getting it from my site, thank you. Because every time this happens I take my plane for a ride! What, do you have a plane TBB? Of course I don't, I am just so happy about it and would LOVE to be this pilot to please my audience 🙂 Must click!
This Laser Shooting, Fireworks Blasting Air Show Finale is Bonkers
Another development is that China Southern flights are now available to be booked with American Airlines AAdvantage miles.  A Business Class round trip award ticket from the US to Asia Region 2 will cost 70,000 AA miles. From Noth America there are flights from JFK, LAX, San Fransisco, Vancouver and Toronto. Out of Guangzhou, you can connect to pretty much anywhere in Asia, just fyi. No First Class awards yet, AA says they are "coming soon" #beafraid. Of course this hobby traveling for free is not exactly free…modest fuel surcharges do apply!
Yes I find the Hyatt & SLH hotels partnership very exciting indeed. But this is important now: When You Should NOT Book SLH Hotels Through Hyatt (Hint: You Could Save a Ton of Money).
Since we are on the topic of SLH Hotels, here are some nice ones! Best New SLH Hotels To Book With Hyatt Points (& Map).
Some interesting thoughts coming from Best Western's CEO. That recently went upscale after buying WorldHotels. We'll see if they can make that leap…
One of the travel blogs I like is Megan Starr. And here is a Q&A interview of her, nice to learn more about her. I guess I am not the only one who decided that Instagram was not for me…actually I have not shut down my blog's IG page yet…one day when I get around to it I guess.
Probably one of the nicest feel good stories you will come across lately. An 8 year old homeless boy discovers chess and becomes a champion. Good to see people stepping up to help this immigrant family!
Holy Mother of fertility docs, wow! The Fertility Doctor's Secret. Amazing story…this doc was using his own sperm and has about fifty kids out there. And there may be more…This DNA testing is something!
Oh some sweet memories! The World Wide Web turns 30: our favorite memories from A to Z.
The spending in world club football in the last 28 years. It is insane! Just click play and watch in horror!
If you have. Or your kids have. Or you know people who have. Or you are just interested on the subject of student loans, you need to read this: The Black Plague 2.0 (Student Loans).
It is finally open! Europe's First Underwater Restaurant Opens Its Doors, And It's Like Dining In Atlantis.
Lets turn to even darker themes next, from the black plague to: Deaths Per Billion Journeys (by mode of transport). Well, I was going to try skydiving once but I think I'll pass after seeing this!
These are fascinating, another awesome job over at
Visual Capitalist
.
How Americans Make and Spend Their Money
.
And now we are entering BLOG BUZZ, a section for advanced hobbyists and veteran miles and points blog readers.
I finally made an award reservation in 2019 woohoo! Burned 15k British Airways Avios for a round trip from Detroit to Dallas in April. For direct flights with great times. I could use my AA gift cards from the CNB card benefits but those would book either in Basic Economy, be more expensive with crazier times and/or require crazy connections. For several weeks there was NO economy class availability. Then the gates opened. You can never tell with AA availability…
Dang…The Amex Rewards Team now going international, sad! American Express blocks multiple sign-up bonuses, starting immediately. Across the pond smh.
You know shopping malls are hurting for business when…your local mall wants to help you manufacture spend smh again. I was going to say something but it appears blog reader ABC already did.
I have blogged here before how I thought that Ben/Lucky of One Mile at a Time should consider changing his frenetic travel and blogging lifestyle to be and look more healthy. Well, it appears he took my advice lol. I do not link directly to blogs in the Ignore list. But you can find the article I am talking about there. So, I think there is even more credit card pumping in the works lol.
Apparently there was another mostly pro Marriott Bonvoy article over at The Points Guy and the comments were just brutal. The article was written by former USA Today hotel beat writer Nancy Trejos. As I said…BRUTAL! I am not going to link to it and contribute to its SEO and advertising clout…like they need it.
At this pace, every blogger will be writing at TPG to make some money except…me!
No one expressed interest on my amazing sponsorship offer, sad!
I LOVED the movie "Us", the new one by Jordan Peele, the guy was definitely NOT a one time hit wonder! MUST see!
And I leave you with this…LOL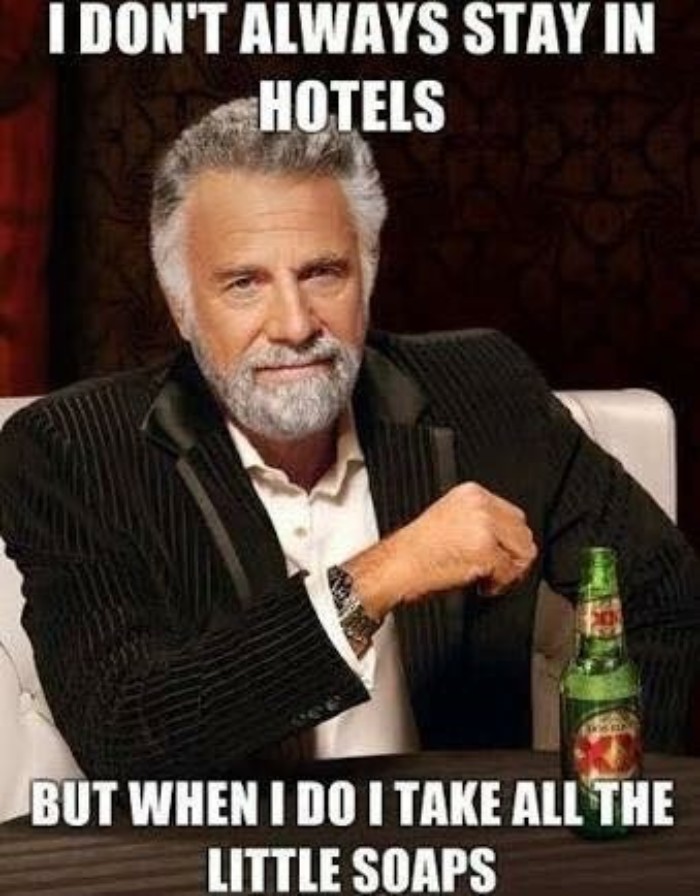 TBB
travelbloggerbuzz@gmail.com
Follow TBB on Twitter @FlyerTalkerinA2.
You can subscribe to TBB below, winners only!
Opinions expressed here are author's alone, not those of any bank, credit card issuer, hotel, airline, or other entity. This content has not been reviewed, approved or otherwise endorsed by any of the entities included within the post.