We help you register for the new Hilton promo, explain how World of Hyatt rocks, learn about the black box inventor, visit Lofoten Islands in Norway, how to travel better as an introvert, stupid things tourists do while traveling, learn about "unique" sexual practices around the world, the guy who broke the world record of crossing Antarctica solo, remember the Crazy Eddie fraud, check out an awesome time lapse video and a unique bridge, realize how urbanization is speeding up, show you how hard it is not to hate hideous clickbait and plastic pumping "content" and more!
TBB Blog Mission: To Educate. Entertain. Inspire. In That Order!
You like my blog? Send a link to someone please!
Looks like the new fourth quarter Hilton Honors registration page is up. Double points on every stay and if you are an Amex Hilton credit card holder you can get triple points if you pay for your stay with the card. For stays between September 9 to January 5, 2020. Update: Link may not be working, so to register please log in to your Hilton Honors account, click on "My Offers" under Account Overview from the left tab, click on "Eligible Offers" and then click on "Activate Now" under the Power Up promotion. While there, activate other offers you are eligible for too!
I agree with the reasons why World of Hyatt is the most exciting hotel program of the year. When son's Hyatt credit card next statement closes it will have about 56,000 World of Hyatt points on it that I can not wait to transfer to my own World of Hyatt account #winning 🙂
Things you learn in my blog…The black box inventor, thank you sir! This little-known inventor has probably saved your life.
Stupid jerks indeed! 26 People Who Witnessed Tourists Being Total Jerks And Just Had To Share.
I am not surprised at this…Travelling as an introvert just got easier.
Amazing story of breaking a world record in crossing Antarctica solo. And also for…packaging fitness feats like this into a story and…a career. Maybe I should get me an agent if I finish a full marathon at 52. Oh wait lol. Colin O'Brady Wants to Tell You a Story.
These will shock you! 🙂 10 sexual practices from around the globe that remind us the world is a big, beautiful place. In Brooklyn you can do what, seriously?
Remember Crazy Eddie in the 80s? For the youngsters out there…probably not. For the over 50 crowd you are probably shaking your head remembering the crazy TV commercials. This is a fascinating story of his brother who was the CFO and helped the fraud who then turned informer and helped convict his own CEO brother. Why the CFO of a Famously Corrupt Company from the 1980s is Working for the Government. I found this a fascinating interview. If you do too you can click on some of my links you know 🙂
Wow! Earth's Rotation Visualized in a Timelapse of the Milky Way Galaxy by Aryeh Nirenberg.
I saved this into my Evernote vault. Because one day I will visit this place! 30 Useful Things to Know Before You Visit the Lofoten Islands in Norway. I like the bold font disclosure up front about affiliate links…you should not mind helping such blogs keep going you know!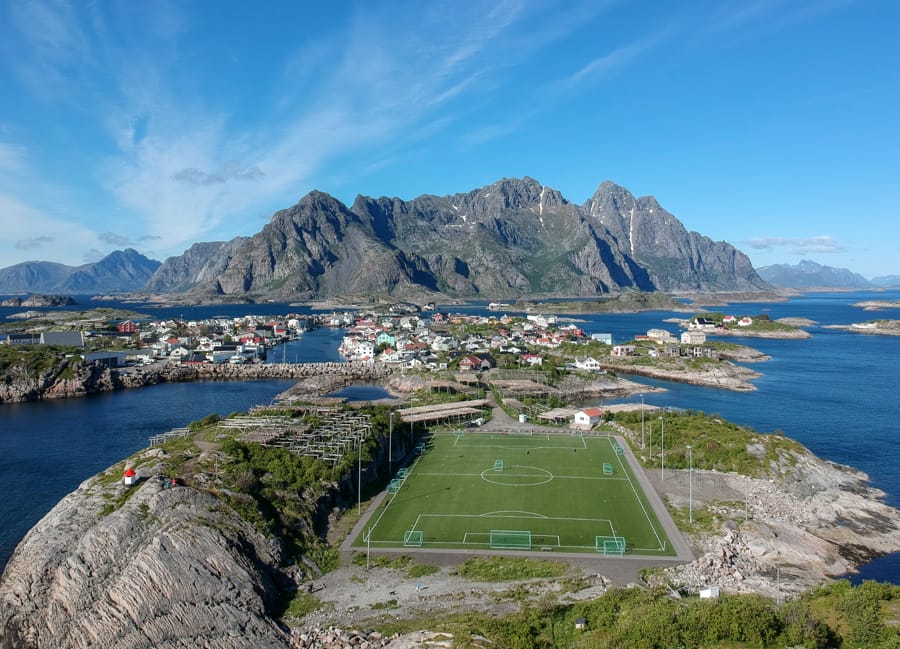 This is a rolling bridge that…curls. It is located in Paddington Basin, London.
Watch this, wow! Our son moved to New York City this past weekend, another one that contributed to this I guess…
Mapped: The Dramatic Global Rise of Urbanization (1950–2020)
.
We are now entering BLOG BUZZ, a section for advanced hobbyists and veterans of this fast imploding hobby and also a section where I go on and on about some stuff that happens in my life because it helps me feel better about myself.
Chase added Emirates Skywards as a transfer partner. Mega yawn!
My marathon training continues. I managed to run half marathon this past Saturday morning. In about two hours. And surprisingly feeling pretty good at the end…8 weeks left until my first full marathon in Detroit!
Son flew to New York City on Delta and the miles were credited into his Skymiles account very shortly after he landed. Impressive!
Who wins the "Worst clickbait post" award this past week? This guy:
Man Tries to Keep His Wife From Leaving Him By Claiming She's a Suicide Bomber  – View From The Wing
Which blogger is going to link to the "story" above hey? Why bloggers post stuff like this? Two reasons: Readers click. If they didn't, this "content" will stop! The other reason is that it gives a break from selling credit cards…
100,000 Point Bonus Offer Returns for Amex Platinum Through the 'CardMatch Tool' – View From The Wing [hey, I have the CardMatch Tool too…and you can be first to click it, sad lol!]
Four Best-Ever Rewards Card Offers I Don't Want to End – View From The Wing [I could go on and on and on and on but…I won't. You can rest assured that a credit card without a sales commission will almost never be "recommended" ok? He of course lists the Chase Sapphire Preferred at 60k points, a Southwest business card offer at 80k, the Chase Ink Business Preferred at 80k and the IHG Rewards card at 125k (seriously?). Notice a theme you guys? Chase pays well 🙂 Looks like my blog is not going to meet the conversion minimum this month with my links, saaaaad!]
The sports world is stunned with the retirement of Indianapolis Colts quarterback Andrew Luck. Reminds me of that day Detroit Lions running back Barry Sanders waited to announce his retirement at the eve of training camp which I thought was back stabbing awful. And then Luck said…hold my beer!
I have many Best of Web posts vying for inclusion in the next TBB Best of Web post this coming Wednesday. Always so hard picking the best of the best you guys 🙂
And I leave you with this. This is what I need to eat after running 13.1 miles 🙂
TBB
travelbloggerbuzz@gmail.com
Follow TBB on Twitter @FlyerTalkerinA2.
You can subscribe to TBB below, winners only!
Opinions expressed here are author's alone, not those of any bank, credit card issuer, hotel, airline, or other entity. This content has not been reviewed, approved or otherwise endorsed by any of the entities included within the post.