Another TBB post featuring the most eclectic links around the web such as the best places to see the Northern Lights, the new fear and greed, AA redefines loyalty, Marriott and Hyatt changes, US is about to open to the world, an amazing world event map, best scenic national park drives, another pro Health Savings Account post, more on the bitcoin bubble, we learn about the unvaccinated, how we are all showing compassion fatigue, the fastest man in two hands, you do not have to visit the library to ask a librarian, inventors who were killed by their inventions, animal photography and the best darn coverage out there of only the most important things you should know in the ever evolving miles and points world telling you the truth because, let's face it, this blog is not dependent on any ads or sponsors and hardly brings in any revenue so I can say what I want without repercussions from anyone. Have a great weekend!
TBB Blog Mission: To Educate. Entertain. Inspire. In That Order!
Support TBB by applying for CREDIT CARDS or visiting our

LINKS

or Donate

You like my blog? Send a link to someone please!
Some of the links are behind a paywall. You can try to read them using Archive.is.
TRAVEL
November 8 is the next phase of the pandemic acceptance phase in our lives: Full Details on the Reopening of the US to Tourists & New Requirements for Americans. Still need to test to get back to the US though…
This is great. Event Map. Emergency and Disaster Information Service. You can see what big event is happening anywhere in the world right now. For example, as of posting time, there appears to be a building collapse in Windsor, Canada just across the Detroit river. And chaos ensues after yet another coup in Sudan and you have three travel friends who are stuck there now…
I bookmarked this site: 8 Best Places to See the Northern Lights. I did not know Denmark was one of them.
Another page to bookmark for future reference: 10 Best Scenic National Park Drives. These look awesome!
PERSONAL FINANCE
For a while now reality appears to have been ejected from the financial markets. Isolated totally insane bubbly pockets are all around us. This post captures this environment well I think: The new Fear and Greed.
The type of fear that now drives most market activity (because it drives most market participants) is something different than the fear we've been accustomed to from reading about history. I would label this type of fear Insecurity. The fear of being left behind and looking like a fool. It's no surprise that Have Fun Staying Poor or #HFSP has become one of the most enduring memes of the moment we're in now. It's the anti-Keep Calm and Carry On. Whenever you see people doing inexplicable things with their capital in the markets these days (public or private), the explanation is not as far from your grasp as you might think. Insecurity is probably the answer.
The other driving force in the markets, traditionally, has been Greed. I think we're witnessing a variation on Greed that I would label Envy…Envy will make you take wild risks with a portfolio. Especially when all you see around you are so many people you have such little regard for profiting off of things you know they themselves barely understand. The more exposure we have to the way others are investing, the more we begin to look at their returns as though that's the appropriate benchmark. All sense of reason and perspective is left behind. If that asshole is doing it, I can do it better. We have an entire class of stocks today that are invested in under the premise that the other people involved in them are bad people who don't deserve to make money on either the long or the short side. It's a Massively Multiplayer Online Role Playing Game (MMORPG) like World of Warcraft. That's not investing anymore. It's something else. On the Reddit boards, you can see how much of the emphasis is on those people losing as opposed to our side winning. It makes no sense until you start thinking about it in video game terms.
A persistent theme in this "new" environment is constantly wondering if you are indeed the idiot for not falling for this super strong emotional pull we call Fear Of Missing Out (FOMO). Looking back I was constantly asking myself the same question in the other insane phases of our adult lives such as not succumbing to the unbelievably strong push to invest in dotcom stocks in the late 90s and almost (oh man, I remember this moment) saying yes to my wife in buying a house around 2003 leveraging way up (like so many people did those years) for a house we had no business even looking at. So, damn it, I am not a crypto bro and not buying it and I guess I will have fun staying poor LOL. At the same time, I always keep an open mind and of course I admit I was wrong…so far. This is a marathon, not a race. Anyway, one of these days maybe these guys will prove right: Why the 'Big Short' Guys Think Bitcoin is a Bubble'. Oh, I almost forgot to mention, I despise cults and this one is a hell of a cult!
If you are going to have a Health Savings Account beware of this: 91% of people with health savings accounts make this mistake. That is, not investing in it! I knew that most HSA owners do not invest the funds but I must admit that I was surprised only 9% do. You can have one only if you are covered by a High Deductible health insurance plan and of course they are offered as part of your employer benefits package. Self-employed people can also have one, again assuming the health insurance plan they have makes them eligible. You MUST be willing AND able to pay a lot more out of pocket costs and if you have health issues this is probably not for you. Anyway, you get triple tax benefits which is sweet! You get an immediate tax deduction for your contributions, no taxes while the funds stay inside the HSA and then no taxes due if you pay health expenses, try to beat that with any other account out there. We have had one for years, always contributed the maximum, invested all of it and always paid health expenses out of pocket and you won't believe what happened next. I see son's employer has added HSAs starting in 2022, hooray!
COVID-19
Very interesting article: The Unvaccinated May Not Be Who You Think. The sad thing is a chunk of them are the ones who prefer to die and take others with them instead of doing the responsible thing for the sake of all of us. Others are like Niki Minaj who want to do more research WTF! I understand some of the people laid out in the article but, I mean, come on, fear of needles, seriously?
We jump from the New York Times to the New Republic next: Red America's Compassion Fatigue. Must read imho. The reality on the ground in Mobile, Alabama…
We've heard repeatedly from the country's vaccine resisters. But what about the people who follow the rules? They're ignored and forgotten—and they are in pain.
On their insides, the critically ill Covid-19 patients are obliterated, lungs pulped into mush and other organs cascading into failure. On the outside, they are visibly terrified. They are what Rodriguez calls "air hungry." Each minute, they grasp at 40 to 60 shallow, crackling breaths—about three times as many as a healthy adult would draw in the same time span. Rodriguez ratchets up her efforts to save them. But with the Delta variant, she said, as treatment escalates, the patients typically decline. At some point, Rodriguez will lay her hands on their chest. She will lock into their eyes. She will press down meaningfully on their ribs, to shepherd their breath away from panic. "Slow," she says. "Deep." She prays with oxygen. "We're in this together." But the air runs out for the patients, who suck at it with desperate gasps. Rodriguez extends a blessing under her palms. With patience and faith—and someone to bear witness and ward off life's longest solitude—another breath may come. It is the purest testimonial I heard during my time in Mobile, but it is one Rodriguez has lived many times over. At the end of each one, Rodriguez stands alone and weary. "I wish people could see that," she told me, our eyes wet. "I think it would change their mind."
ODDZ & ENDZ
I just want to say thanks to these inventors as they gave it everything: 13 Inventors Killed By Their Own Inventions. Several of them are aviation related.
I had no idea you don't need to go to the library to Ask a Librarian.
After watching this guy you have no reason to bitch about anything ok? The Fastest Man on Two Hands.
These are amazing: Capturing Perfectly Timed Action Shots Of Animals In Nature.
MILES & POINTS
HOT CREDIT CARD OFFERS: 75k CHASE Ink Cash, 75k CHASE Ink Unlimited, 100k CHASE Ink Business Preferred, three personal 100k CHASE Southwest cards, 50k CHASE Sapphire Reserve, 80k CITI Premier, 20k CHASE Freedom Flex & CHASE Freedom Unlimited, 80k CHASE United Quest, 60k BANK OF AMERICA Alaska Business, 150K CHASE IHG Rewards Club Premier (look Under "Mastercard" for this one and not Chase!) and many more, including many AmericanExpress cards, including Delta, Marriott and Hilton cards! Please check out my Affiliate links. Terms apply to American Express benefits and offers. Visit americanexpress.com to learn more.

If you do not see a credit card with my affiliate links, perhaps I could refer you? Contact me!
This section is about my hobby addiction of collecting frequent flyer miles and hotel points since the early 1990's! Feel free to skip this section and parts of the next one if this is not for you.
Newbies: We just had an amazing run of huge travel rewards credit card offers recently thanks to the pandemic. Ok, maybe that did not sound right. But stay with me for a sec. We are talking 100,000 travel rewards credit card signup bonuses became the norm. Well, they are ending and the eventual devaluations have already started. Always remember that bloggers in this space will still sell travel rewards credit cards to you because that is how they make lots of money. They may fake their outrage now but, make no mistake, they are in the credit card sales business and they are already switching their tune to sell more product. It has been this way since banks started using them as sales representatives!
So, what happened? Well, Tuesday was a crazy day with major hits coming back to back to back: American Announces the End of the Frequent Flier Program With Elite Status That Can Be Earned Without Flying. Yeah, naming these programs "Frequent Flyer" is a joke. They have now become officially the Frequent Spender as they tow to their main customer, the BANKS that pay them billions of dollars every year. The trend is accelerating. I mean, if you are a leisure traveler and you are doing mileage runs to achieve elite status you need to have your head examined. If you are spending $200k on an AA card to make it to the top elite status you are either way too rich or have a business that allows you to charge millions on credit cards and if not, you need to have your head examined. Stop playing the elite games. Unless you are a road warrior traveling on tickets your company pays for that is. Plenty of credit cards out there that earn 2% cash back! I think going the AA route is the only way to salvage the pure airline miles earning cards and I am sure they will find some suckers. Don't be a sucker! And of course AA marketing people copy Delta with so much BS wow: American Airlines Reimagines Its AAdvantage Loyalty Program Giving Members More Ways to Earn Status.  If you are really interested on all the AA changes here is another LINK. I am a bit shocked AA is actually doing some innovation here actually and not following Delta. And I do expect this move to be copied by the other legacy airlines, time for them to make the pure airline bank credit cards relevant again as it has not made any sense to put any spend on them as they all had some built in benefits. No more benefits to add on the airline bank cards and you can make top elite status if you just use the hell out of them. This is a HUGE event that changes the status quo, BIG time, stay tuned.

Then of course we have the awful Marriott Bonvoy program. Which I have given up on, I mean, just when you thought it could not get any lower…it does! Marriott to drop award chart, add free night "top off", extend free nights / status. The award charts are going to be a relic of the past in hotel land if this trend continues. Which I think it will. Unless Covid variant Omega knocks us all out so if that happens who cares really! Kiss those aspirational properties goodbye for good. Marriott does not even have some points "bands" to use for awards, you just pay in points the equivalent of cash rates. Damn it, I never made it to Maldives LOL. But bloggers will still sell plastic to you by posting "You can stay in the St. Regis Maldives for only 1,245,00 Bonvoy points per night (low season), you just need 13 Bonvoy credit cards, affiliate link boom boom boom". Tell them to stick it. I tell you the truth. No advertising sponsors here ever (but if you want to be a sponsor please contact me!). And with this post I know Marriott will never be a sponsor, sad LOL!
And then, if it was not a bad news day already, Hyatt joined in the massacre: Check & Squeal: World of Hyatt Seasonal Award Pricing Is Now Live. These prices will get worse as time goes by, just watch. I guess all readers with kids looking to get away at a time when kids are off school or around holidays, well, get ready to pay more. Hotels need to absorb all those new hotel points out there from all of us who got these amazing credit card signup bonuses in the past year or so. Payback time, hope you enjoyed it while it lasted. Actually, you did not enjoy it that much as travel has been impacted by the pandemic so get ready to burn more points in the future.
And this is how it goes. Loyalty? Nope. You should be loyal to your own wallet every time! And do not trust bloggers who have made this a career as their incentives are just so compromised, always be careful out there! Here is more info on the changes from Hyatt. In the bigger picture, Hyatt was the leading hotel loyalty program and now its lead is larger even after this change. What I fear the most is that one day Chase kills the ability to transfer Chase Ultimate Rewards points to Hyatt.
Actually, this is a good question and answer for the newbies: Question: How Do I Know If I'm Eligible For A Chase Bonus?
BLOG BUZZ
We are now entering BLOG BUZZ, a section for advanced hobbyists and veterans of this fast imploding hobby and also a section where I go on and on about some stuff that happens in my life because it helps me feel better about myself.
Andy The Lazy Traveler links to me in my own paragraph, wow! And this is always a good recap: Best in Miles, Points, Credit Cards, Travel and More: Around the Web Oct 17 — Oct 23 2021.
Best analysis of the AA elite status changes I read so far: A Day Later: My Thoughts on the new AAdvantage.
I am a member of Milenomics and listen to the podcasts. Here is a free edition about, what else, the BIG news in the three program announcements this week: Loyalty Program Changes at Marriott, Hyatt, American Airlines and More.
This is too funny already! AADisadvantage. LOL, must click, enjoy! The more you scroll the more you laugh, brilliant! To reiterate, these changes are NOT about you, they are for AA and its two bank partners. Not that it was different before…now all the fake BS is finally out in the open for all to see. I have 3 AA cards in my family, maybe it is finally time to close them for good…if only Citi would stop offering me a statement credit to offset the annual fee. Having them is like having Gold elite status pretty much because you won't be getting any upgrades with just Gold, let's be honest here…
I am just going to drop this here, it is amazing what happens AFTER you leave a workplace that you become so honest about it smh…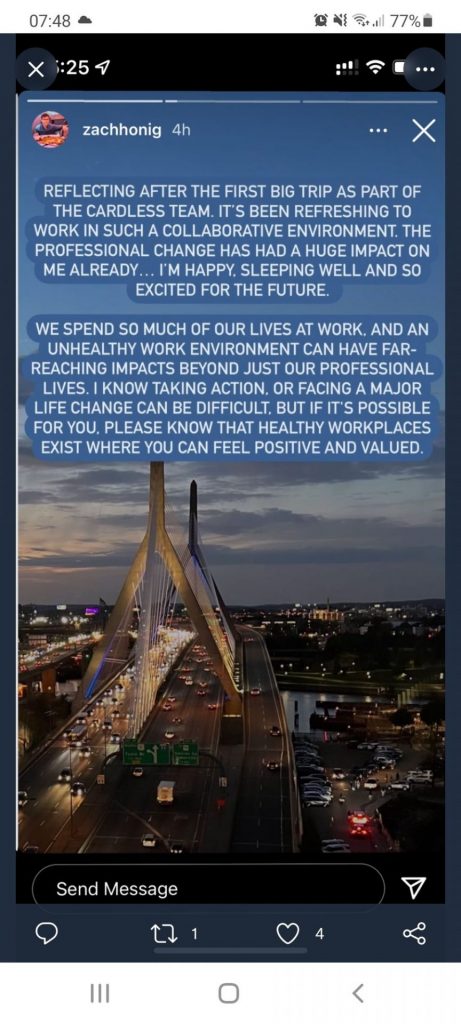 My training for the Athens Marathon continues to go well and I am starting to believe I can do this #developing.
I am trying to keep blogging but life is getting in the way. Actually, death. I lost my very first client this past weekend. Hell of a guy, 93 years old, full life, five loving kids. I am attending the funeral this Tuesday and it will be emotional. So, I am going to try to keep blogging but there is a lot of work ahead trying to coordinate with the five kids as I will be helping them through the time consuming process.
Special thanks to the three readers who got credit cards with my links this month and always special thanks to the two monthly Paypal donors. Rest of you, I guess, enjoy reading for free. This is why most blogs quit! And here is me two weeks away from a 9 year blog anniversary. You are welcome. Maybe I need to have my head examined…ok, no comments on that please.
TBB
travelbloggerbuzz@gmail.com
Follow TBB on Twitter @FlyerTalkerinA2.
You can subscribe to TBB below, winners only!
Opinions expressed here are author's alone, not those of any bank, credit card issuer, hotel, airline, or other entity. This content has not been reviewed, approved or otherwise endorsed by any of the entities included within the post.