We take you to phenomenal coastal hikes, visit Puerto Escondido, go inside Georgia's ancient cave cities, selling plastic, learn from elders, sign up for a Club Carlson promo, look at amazing Sony photos and more!
TBB Blog Mission: To Entertain. Educate. Inspire. In That Order!
Yesterday was probably the slowest day in the miles and points blog space in a long time. Of course, the quantity of blog posts did not go down but, oh my god, so much unimportant stuff out there wow! So,, this is really going to be short. Well, that is what I say almost every time and then you know what happens next!
When you lead with a marginal Club Carlson promo, you know something is WRONG! Country Inn 2 night stay earn 7,000 points until May 31, 2017.
And then following it up with the 2nd Quarter sign up links for the Quarterly categories of the Chase Freedom, Discover It, Citi Dividend and US Bank Cash+…wow, really? Is this what excitement is all about these days? Of course plastic salesmen bloggers are ALWAYS so excited to make posts reminding you to sign up for these repeatedly so they sell you their affiliate signup links…I guess it must be working #sigh.
If you ever travel to Puerto Escondido, read this guide by Legal Nomads.
6 phenomenal coastal hikes around the world. Yes I saved this in my Evernote travel vault.
Another wonderful post by my colleague Ben Carlson. I have no idea how this guy does it, continuing the quality posts. Some people just have a talent for this, impressive. Some Lessons For Living From Older Generations. Take a few minutes to read it. You are welcome. 5 things: Always be honest, say yes to opportunities, travel more, choose a mate with extreme care, say it now. Obviously, most salesmen bloggers fail on the first one!
Well, this is new here. I enjoy music. And obscure bands, I just enjoy discovering and exploring new sounds. I never listened to Top 40 songs. Anyways, I get obsessed by things. Lately, I am listening to a band named Fragnance. I LOVE the songs: Care for the proof, Through The wall, Collapse. I have a VERY wide taste in music: I listen to everything that sounds good to me 🙂
Here are more of the entries in the 2017 Sony World Photography Contest. Purely breathtaking!
Georgia's Ancient Cave Cities. And this is one of the reasons I still do this, learning about new places like this I did not know anything about. Anyone been here? Would love a trip report…because I doubt there is a Hyatt anywhere near!
BLOG BUZZ
This section is for advanced level hobbyists and veteran blog readers & personal rants & stuff.
I was really impressed by how fast the transfer from Citi Thank You Rewards to Singapore Airlines happened as the miles were in my Singapore Kris Flyer account the next day! Another 80,000 in route now from Mrs. TBB's Thank You points from her Citi Premier card. And yep, that baby is going to bite the dust shortly too!
I decided to hold off on canceling her personal Amex Platinum as she has about two months left when she said that she will take the time to do her Global Entry application online. Yeah, she likes freeeeee as much as I do.
In our recent attempt to apply for the Chase Sapphire Reserve card for the 100k bonus, it was disconcerting to find out she was at 7/24 when the Chase Bank owned site "Credit Journey" showed 5/24. Yeah, WTF! I don't have the time to get to the bottom of this. And nobody from Chase called me back as I requested…not that I have any hope of getting approved but I want to have the rep go over them apps and dates with me to…get to the bottom of this mystery 🙂
Someone asked for examples of expert bloggers blogging about their miles and points and travel expertise. Yeah, right. I have a few agricultural fields in Greece to sell you. Actually…I do lol. Since you were wondering what that may look like, here is a home page screen capture of One Mile Card At A Time.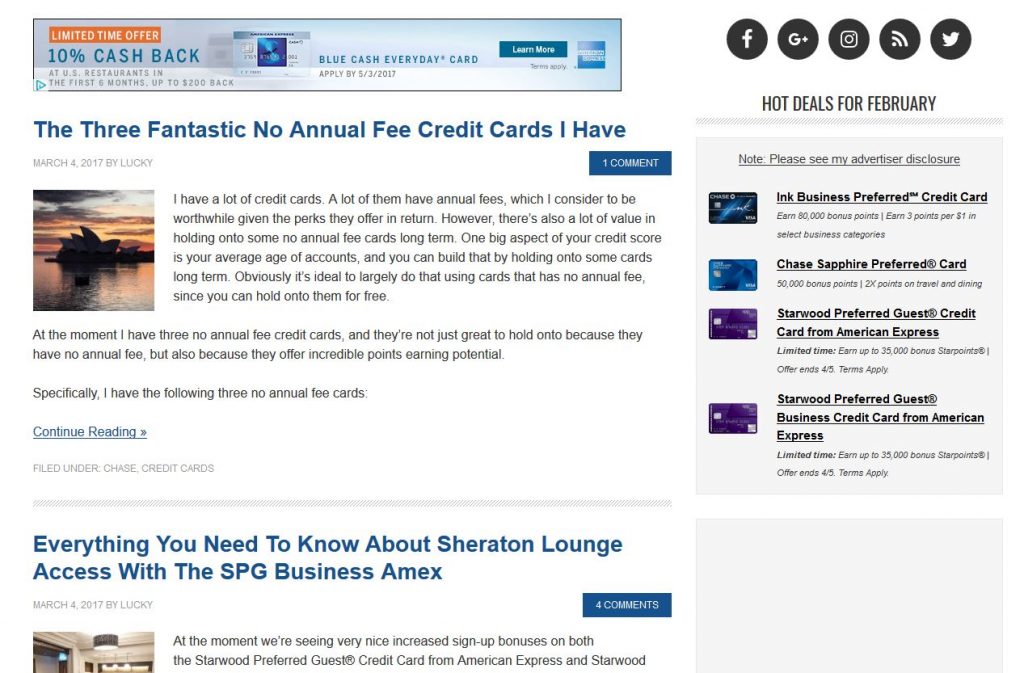 Oh, and THIS is selling plastic, what is all about! I have seen up to 14 previously…but 21 is just absurd! Amazingly how popular this card appears to be #hint $$$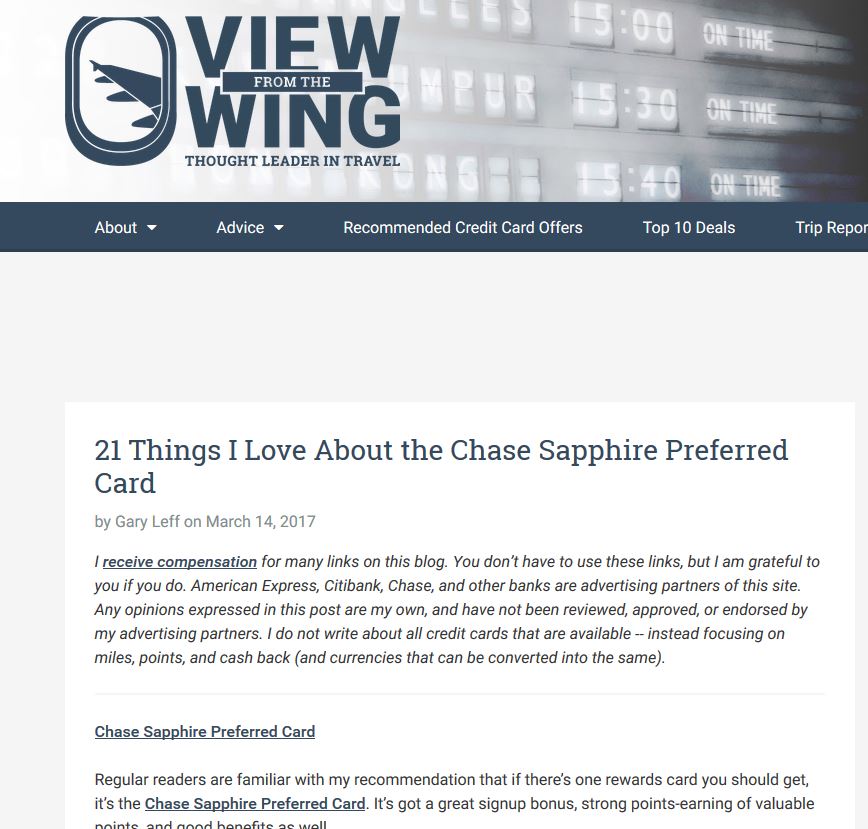 Is there any way to accept donations via paypal WITHOUT my real name showing? I do have a paypal account with an email NOT associated with my blog. When I use the paypal.me feature, it always shows my real name…and that is crying out loud "begging". Which this why I have not gone this route yet. But looking ahead I need to do something #thinkingahead.
And I leave you with this…Oliver2002, come on, smile!
Check out my updated blog lists: Blogs I Love, Blogs I Like, Blogs To Ignore
TBB
travelbloggerbuzz@gmail.com
Follow TBB on Twitter @FlyerTalkerinA2
You can subscribe to TBB below, winners only!
Opinions expressed here are author's alone, not those of any bank, credit card issuer, hotel, airline, or other entity. This content has not been reviewed, approved or otherwise endorsed by any of the entities included within the post.