Another TBB post featuring the most eclectic links around the web such as the most powerful passports, helping aging parents, Covid doom predictions, award charts all go poof soon, the best photography on the web, travel to Socotra and all around the world, China's economy, how not to get rich so young so you can enjoy the ride, visit a museum about hoaxes, marvel on the changes in how we eat, how to keep miles and points from expiration, good Hyatt changes and lots more!
TBB Blog Mission: To Educate. Entertain. Inspire. In That Order!
Support TBB by applying for CREDIT CARDS or visiting our

LINKS

or Donate

You like my blog? Send a link to someone please!
TRAVEL
Great Infographic: How Powerful is Your Passport in a Post-Pandemic World?
Best: Japan, Singapore, Germany, South Korea, Finland, Italy, Luxembourg, Spain, Austria, Denmark
Worst: Afghanistan, Iraq, Syria, Pakistan, Yemen
Biggest Gainers in a Decade: United Arab Emirates, Colombia, Ukraine, China, Peru
I really want to visit Socotra one day, awesome photography here: A Magical Series Captures the Gnarled Branches of Socotra's Dragon Blood Trees.
Some great photography here too: Two Guys From Germany Decided To Explore This Awesome World, Here Is The Best Of What They've Seen So Far.
PERSONAL FINANCE
Unless your parents are no longer around, you should be thinking about this: Helping Mom and Dad. Use this as reference on what you should be doing!
I think this was a great post: Don't Win the Game Too Early. You know, I have been thinking about that a lot lately and this makes sense!
As far as I am concerned, having $10 million at 31 is the financial equivalent of a cheat code. Yes, the benefits are obvious, but there are all sorts of hidden costs that could arise. It's hard to imagine how anything bad could happen from having more wealth, but money has a way of changing people in unforeseen ways…However, even if you can manage to retain your identity after a big win, those around you may not be able to…It has a way of showing you that the journey is far more important than the destination, that the process is far more important than the outcome…So if you feel like you've been going too hard for too long, take your foot off the gas pedal a little bit. Work a little less. Spend a little more. But, whatever you do, don't win the game too early.
This is pretty cool to watch: China's Economy: 40 Years of Soaring Exports.
COVID-19
If you are not vaccinated yet, what are you waiting for? I mean, seriously! Virtually all hospitalized Covid patients have one thing in common: They're unvaccinated.
It is amazing to look back to those days when the pandemic was starting. We will probably never forget what we felt. And so many economic predictions were coming from "experts" non stop. And, you know what happened next: Covid doom predictions that never happened. Suicides actually fell. Savings and net worth actually went up. State budgets did not collapse either. New businesses went up too. Well, you can thank the government money that is actually still coming for contributing to this…
That bold decisive action on the part of the U.S. government, which set aside our usual stinginess and skepticism of welfare spending, was instrumental in staving off economic devastation for millions of vulnerable people. American ingenuity and determination was very important, of course, but we couldn't have come through the pandemic nearly this strong without a helping hand from our government.
Okay, I need to do better too. Maybe We're Asking Vaccine Skeptics the Wrong Question.
The approved vaccines aren't completely risk-free, but they're pretty close to it. The worst known side effect, a blood-clotting syndrome, occurred in 28 of the 8.7 million people who got the Johnson & Johnson vaccine. That's about three cases per million. Some people have died after getting the vaccines, but fewer than you'd expect based on the normal death rates for people in those age brackets. In other words, vaccinated people, like unvaccinated people, die of other causes, such as heart attacks or strokes—but they don't die from getting the vaccine. Instead, the death rate among vaccinated people is lower, because they're protected from a deadly virus.
Compare that record to COVID-19. Even if you attributed every reported death of a vaccinated person to the vaccines, the fatality rate would be 0.0017 percent. The estimated U.S. fatality rate from COVID-19, calculated by dividing the number of deaths by the number of known infections, is 1.8 percent. That's 1,000 times higher than the calculated risk from the vaccines. The real U.S. fatality rate from COVID-19 is probably much lower than 1.8 percent, because many mild infections go unreported. But the fatality rate from the vaccines is also much lower than 0.0017 percent, because among the 300 million doses administered so far in the United States, only three deaths have been persuasively connected to a vaccine.
ODDZ & ENDZ
This is interesting and cool: The Museum of Hoaxes. Which hoax is your favorite?
Fascinating data here! Seeing How Much We Ate Over the Years. No wonder chicken wings and chicken sandwiches are hot! Also, why all the fascination with chicken sandwiches out there huh?
I can guarantee you one thing, I did not propose this way. And I bet you did not either! Best Flash Mob Proposal.
MILES & POINTS
HOT CREDIT CARD OFFERS: 100k CHASE Sapphire Preferred, 100k CHASE United Quest, 100k CAPITAL ONE Venture Rewards, 75k CHASE Ink Cash, 75k CHASE Ink Unlimited, 100k CHASE Ink Business Preferred, 60k CHASE Sapphire Reserve, 60k CITI Premier, 20k CHASE Freedom Flex & CHASE Freedom Unlimited, 125k CHASE IHG Rewards Club Premier (& a free night) and many more, including many American Express cards! Please check out my Affiliate links. Terms apply to American Express benefits and offers. Visit americanexpress.com to learn more.

If you do not see a credit card with my affiliate links, perhaps I could refer you? Contact me!
This section is about my hobby addiction of collecting frequent flyer miles and hotel points since the early 1990's! Feel free to skip this section and parts of the next one if this is not for you.
Newbies: The 100k Chase Sapphire Preferred card is now available with my links. This is a NO brainer! Get it, do the required minimum $4k spend, get the signup bonus, cash out for 1,250! For the annual fee of only $95, COME ON. Just ALWAYS make sure you NEVER carry a balance ok?
I wish all the airlines and hotels never expired their miles/points. Until then, you can use this as reference: How to keep points and miles alive.
Well, I guess this is a positive: Hyatt To Delay Peak/Off Peak Pricing Again (Points Expiration Also Paused).
In case you may have missed it, it is raining increased signup bonuses with travel rewards credit cards. You may have missed the Chase Marriott Bonvoy Boundless card now offering 3 free nights. After just $3k minimum spend in the first three months. The free nights are good for hotels with award rates up to 50k Marriott Bonvoy points per night. The extra kind of unique kicker is you can earn 10x points per dollar on up to $2,500 in combined purchases at gas stations, restaurants, and grocery stores within 6 months from account opening too. The annual fee is $95. It earns 6x on Marriotts and 2x everywhere else. Gives Silver elite status and has no foreign transaction fees. If you see a blogger screaming this is the highest ever offer you can call him/her a liar since this offer was 5 free nights back in late 2020 at the height of lockdowns. Hope this is not a trend that the bonuses have finally started to trend down as we are coming out of the pandemic. And yes, the card is available with my links, thank you for your support.
BLOG BUZZ
We are now entering BLOG BUZZ, a section for advanced hobbyists and veterans of this fast imploding hobby and also a section where I go on and on about some stuff that happens in my life because it helps me feel better about myself.
Great LINK to check on all your prior AmexCard apps!
This post I think captures where the hobby stands these days: Alaska Airlines Will Soon Be the Only US Loyalty Program You Can Trust. And pretty soon Alaska Airlines will join the others, it was only delayed due to Covid. Some self proclaimed travel thought leaders credit card salesmen have been screaming how the loss of aspirational awards are hurting the programs, do not fall for such BS. The programs are doing just fine, it just hurts the bloggers' pockets because they can no longer sell as much plastic as they did before! You know, it will be not be so easy to keep selling plastic when you do posts like "Fly like me in a flat bed to Paris for only 560,000 miles!". Or something like that…
A few words on my Confidante Hotel stay in Miami last week: Actually, I need to get back to watch another Game 7 in the NBA Playoffs! That Nets – Bucks Game 7 was a pure classic, wow! But I will be posting tidbits about my stay over the coming days. In a nutshell, we really enjoyed it. Or maybe I just enjoyed getting back to traveling more? You know, that feeling when you wonder if you forgot to pack something, the rush to pack very late, leaving and wondering if you closed the garage door, the scenes at the airport wondering where did all the people come from…and where they are going on a 6 am flight, the lines at TSA cursing why your TSA-Pre line is twice longer than the other one, the attitude of some gate agents and flight attendants, the empty middle seats (LOL, there were none!), cursing how your lowly Priority Pass lounge card sucks and kind of wishing you still had a Centurion lounge entry card, and oh the people watching, the searching for the Uber/Lyft pickup area at the airport, the same old routine I do to inquire about potential bumps, replenishing soap/shampoo/conditioner/bodylotion/coffees/teas from the hotels and on and on….I SURE MISSED ALL THIS! So good to be finally back out there, YEAH! Ok, just one pic in front of the hotel with my girls: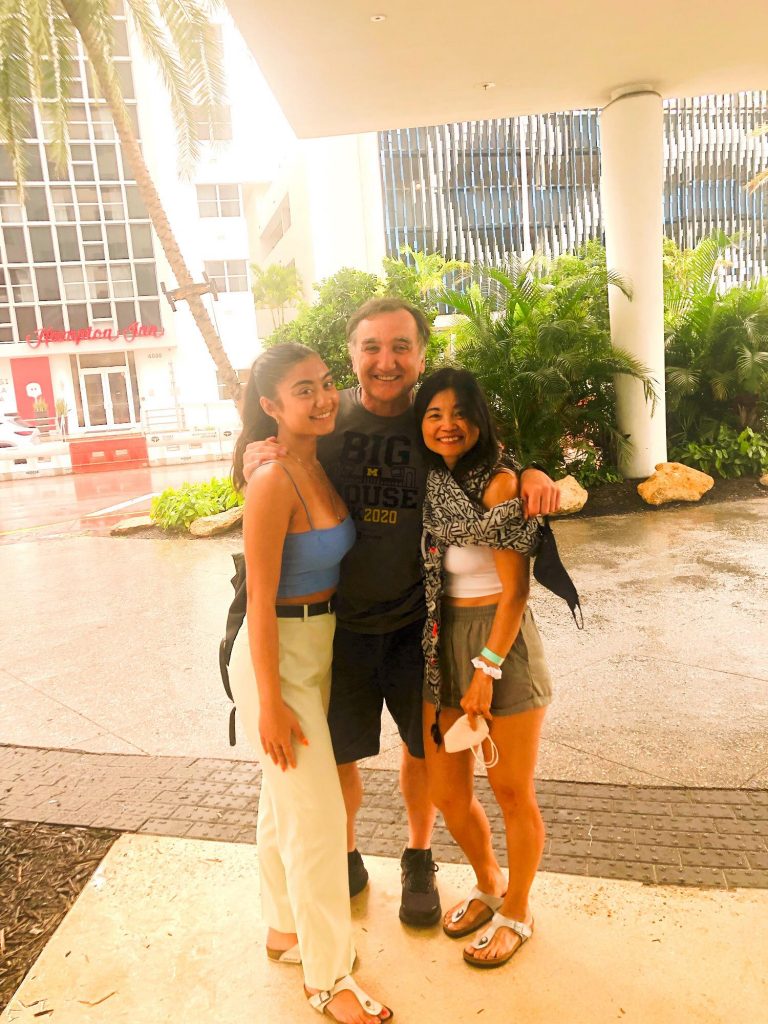 TBB on!
TBB
travelbloggerbuzz@gmail.com
Follow TBB on Twitter @FlyerTalkerinA2.
You can subscribe to TBB below, winners only!
Opinions expressed here are author's alone, not those of any bank, credit card issuer, hotel, airline, or other entity. This content has not been reviewed, approved or otherwise endorsed by any of the entities included within the post.