Another TBB post featuring the most eclectic links around the web such as how the regional bank crisis continues, Kremlin explosions, world changing ideas, how to fly Qatar QSuites free, we elaborate on banks in the US, the lack of retirement savings, amazing account of a shipwreck in the Pacific, Uber's lost and found index, biking in Australia, most beautiful hikes, lots of soccer stuff and a lot more…
TBB Blog Mission: To Educate. Entertain. Inspire. In That Order!
I use and recommend Proton VPN <—– REFERRAL LINK
You like my blog? Send a link to someone please!
No ads, no clickbait. No sponsored posts.

This blog publishes every Friday and Tuesday…for now.
Trying to make my posts shorter.
This blog plays around with the SECTIONS always…

BANKING
This section is back you guys…
There are some weird things going on in our banking system lately. I thought it was going to blow over after the surgical strikes by FDIC and CEO Jamie Dimon over at JP Morgan Chase swallowing First Republic Bank in the past weekend. But it appears the regional banks continue to be under pressure. It does not make sense and here is Matt Levine of Bloomberg: Nobody Trusts The Banks Now.
At least read towards the bottom of the post where he tries to explain why this MAY be happening and it is, well, interesting: Such as the internet and how much faster information is spreading these days and, this is very important, how much faster with a few clicks of your mouse or on your phone you can take your cash out of a bank and send it almost instantly to another bank that pays you a lot more interest. Maybe it is also happening because of the end of relationships with, you know, your friendly banker? And maybe the mark to market regime has finally arrived in banking too? Of course, no doubt the ten rapid increases of interest rates by the Fed was the catalyst. Which would not have happened if the mother of all pandemics did not enter our lives…which is a theme explaining everything as it changed, well, everything.
Anyway, we knew something would break…if someone tells you they knew all along the regional banks will start falling they are almost certainly lying. At the same time, if you have less than $250,000 of cash in the bank you should not be worried. If you do have more, well, when was the last time a depositor actually lost money? Or is there some type of sustained short selling conspiracy going on? #developing
Well, maybe there is! Regional bank 'crisis' shifting from deposit runs driving equity declines to speculators engineering equity declines to increase the risk of deposit runs. This new phase divorced from fundamentals risks creating a metastasizing crisis rewarding speculative attacks. Thread.
This may be already obsolete by the time you read this: Visualizing the Assets and Liabilities of U.S. Banks.
Actually, I always thought we had too many banks in the US! Chart of the Week – We've Got Shrinkage (In Banks).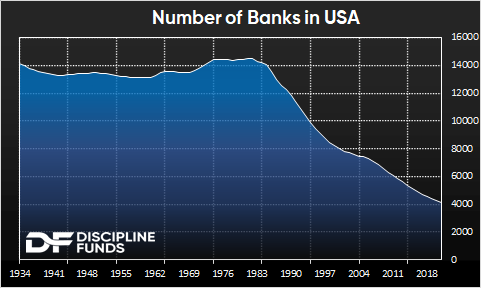 I liked this analogy of what is going on:
A useful analogy in understanding the risks of all of this is the piping of your home. Banks are the plumbing in our financial system. They control and direct the flow of funds in the system. The Fed influences the pressure in the water main and when they sent rates to 5% quickly they broke the water main to many people's homes (the small pipes couldn't handle the pressure change). So now the regional plumbers are scrambling to seal the leaks. And some of them are realizing that the leaks are too much for them to contain. The process of fixing all these leaks causes disruptions across the flow of water in the house. This is being seen in the economy through the tightening of lending standards which is reducing credit issuance. How much does the flow of water slow here? We don't know quite yet because it's really only just beginning to be seen in the real economy.
Never forget, over the short term, everything is possible. Stick with your plan and stop looking at the markets and go play outside! And also:
In the long-run these problems always sort themselves out. Some banks fail, the water main gets fixed and life goes on. But in the meantime these leaks can cause big disruptions and we're all in the process of discovering how much damage was caused to the pipes AND whether those leaks will cause damage in other parts of the house like commercial real estate, residential, consumer credit, etc.  Like all of investing, it's a temporal conundrum. If you're patient and have a long time horizon then none of this really matters. But if you're sensitive to volatility and need liquidity then this is consistent with the sort of environment where you need to be more cognizant of the potential short-term risks because they're elevated.
I did intend to make my posts shorter and looking at everything above, you know, I could stop here and move on…
PERSONAL FINANCE
These are grim statistics indeed. You can see where you stand and I hope you are nowhere near some of the averages! Half of American households have no retirement savings.
And this tweet by Morgan Housel is timeless:
Reminder that no matter how the economy is performing there will always be a loud group of people saying:
– Big recession around the corner
– Hyperinflation imminent
– The dollar is doomed
– The Fed broke everything
– Stocks are overvalued
Been like that for 100+ years.
TRAVEL
Ever wonder what Uber passengers leave behind? The 2023 Lost & Found Index. The list with the 50 most unique items is hilarious! It includes: a bidet, pet turtles, a lightsaber, ankle monitor and a remote-controlled vibrator…woohoo.
The Ten Most Beautiful Hikes in the World. Some of these that require more than one day/night…wouldn't it be great if there was a Hyatt to spend every night in? 🙂
Love the photos! The Sunburnt Desert: A Solo Bikepacking Journey Across Australia.
BUZZING
A section where I go on and on about some stuff that happens in my life and anything else that just does not fit in another section above.
A Greek player had an amazing buzzer beater in Turkey going up 2 to 1 in the 5 game playoff series to make it into the Final Four of the EuroLeague. And here are the announcers in many languages, it is wonderful.
Napoli won the Italian soccer championship, first time since the glorious Maradona days. And the city just exploded!
On this day back in 2007 my hometown AEL FC Larisa won the Greek Cup. I remember watching the game in Chicago in a small restaurant in Greektown surrounded by fans of the opposing team from Athens. Except of one waiter who had just arrived in the US. And he was from my neighborhood who was a friend of my dear cousin who passed away way too young. Kind of surreal how small the world is. Anyway, I play this video every once in a while which pleases me in an amazing way, full of pride, look at our fans!
Maybe I should add a SOCCER section?
Four leaders of the Proud Boys were convicted of sedition yesterday. Bet their moms are not that proud of them #LockThemUp.
I have been recovering and doing mostly walking ever since my last marathon. Getting back into running next week, can't wait! Next goal is to crush my PR in Chicago in October. Also, my wife just signed up for her second marathon in Detroit a week after we get back from Chicago. Yeah, 26.2 miles is addictive…
Love Massive Attack and this fan video: Girl I Love You
I intend to go back to posting once a week, every Friday. Unless things change…which is most likely not going to happen. I am just not cut out for this blogging thing, commercially speaking, sad!
This blog started with a focus on miles and points and travel. It has evolved since then. Everything below deals with the hobby of collecting frequent flyer miles and points. If you are not interested, you can stop here, thank you.
MILES & POINTS NEWS/PROMOS/MY ACTION
Once a month or so I check out this website to see if any spending promotions pop up in all our Chase credit cards.
I remember travel rewards credit cards giving the signup bonus after the first purchase! You hardly see that anymore. Now the minimum spend required just keeps going higher. And this is just beyond ridiculous, seriously Capital One? Capital One Venture X Business Card Now Has $500,000 Minimum Spend Requirement.
Before AA kills this, hurry? How to find Qatar QSuites award space.
American Airlines sent me an email wanting me to pay them cold hard cash or burn a bunch of my miles to buy elite status, LOL!
I need to sit down and do some serious burning of my miles/points stash, this is ridiculous!
MILES & POINTS
HOT CREDIT CARD OFFERS: 75k CAPITAL ONE Venture X, 75k CAPITAL ONE Venture Rewards,  75k CHASE Ink Business Cash, 75k CHASE Ink Business Unlimited, 100k CHASE Ink Business Preferred, 60k CHASE Sapphire Preferred, 40k CAPITAL ONE VentureOne Rewards, 45k BARCLAY'S Wyndham Rewards Earner Plus, $1,000 Cash Back CHASE Ink Business Premier, 60k CHASE United Quest, 140K CHASE IHG Rewards Premier, 60k US BANK Business Altitude and many more, including many AmericanExpress cards such as Delta Airlines, Marriott Bonvoy and Hilton Honors cards!  Please check out my Affiliate links. Terms apply to American Express benefits and offers. Visit americanexpress.com to learn more. If you do not see a credit card with my affiliate links, perhaps I could refer you?

This section is about my hobby addiction of collecting frequent flyer miles and hotel points since the early 1990's! SKIP if you are not into it!
As of today, I have burned 501,000 miles/points year to date in 2023 and have 4,411,131 miles/points in the bank. Some do drugs, I do miles lol!
Thanks to US banks, very lucrative travel rewards credit card offers come and go all the time. This section will act as a reference point on the best CURRENT offers. I will designate new material preceded by NEW.
BEGINNERS
The Beginner's Guide to Getting Started with Credit Cards, Points & Miles
BASICS: This travel hacking hobby is mostly about getting the fat Signup Bonus of travel rewards credit cards while of course NEVER EVER carrying a balance. Banks have a marketing budget and are willing to give us many THOUSANDS of miles/points to travel mostly for free hoping to hook us to charge 20%+ interest rates on our balances. The poor souls who fall for their marketing paying these ludicrous interest rates end up subsidizing us responsible consumers who enjoy taking advantage of, cough, such bank marketing budgets! Some of us have been doing this for thirty years creating amazing travel memories…Feel free to ask me questions or post them in the comments.
BASICS: Prefer credit cards from the proprietary points programs of banks, such as Chase Ultimate Rewards, American Express Membership Rewards, Citi ThankYou Network, Capital One Rewards Miles because they are a lot more flexible and are not devalued as frequently. Over pure airline and hotel travel rewards credit cards. Pure cash back credit cards may work for you best and they are getting more valuable as airline and hotel loyalty programs keep getting devalued. Sometimes, a pure no annual fee 2% cash back card works best for simplicity!
In my household, we prefer swimming in the Chase Ultimate Rewards points ecosystem. We all four have the Chase Sapphire Preferred card. My kids got it six months after they turned 18 (when they both got the Discover for Students card) and they have been building up their credit score ever since, it is their go to card. The annual fee is $95. The main earning structure is 3 points on dining and 2x on travel (and others you are not likely to use but bloggers LOVE to tell you to entice you to get the card with their affiliate links). Most importantly, you must have a premium Chase card (Chase Sapphire Reserve, Chase Sapphire Preferred or Chase Ink Business Preferred) in order to be able to transfer out to partners such as Hyatt and United where you can get more value out of your Chase Ultimate Rewards points. The card is also very valuable when you rent cars as it provides primary insurance benefit, meaning, in case of an accident you don't have to involve your own car insurance company. There is a 10% anniversary bonus on all annual spending. So, Chase gives you basically $1,000 towards travel…for $95! Or just take $800 in cold hard cash, hello? So I guess I can say I recommend it. To me, this card and the Capital One Venture X card are keepers. And now the Chase Sapphire Preferred card comes with 80,000 Ultimate Rewards points as Signup Bonus after you spend $4,000 in the first three months hooray! You can read the posts below but if you prefer to support my blog please apply with my own Credit Card Links HERE, thank you!
 Chase Sapphire Preferred Complete Guide
 Why the Chase Sapphire Preferred® Remains the Best Starter Rewards Credit Card
The Capital One Venture X card offers a 75,000 point Signup Bonus after a minimum spend of $4k in the first three months. If you like simplicity and looking for one (premium) card, I highly recommend this card (and yes, I have it myself!). It has an annual fee of $395 but it comes with a VERY easy $300 statement credit for travel booked on its excellent travel portal, essentially turning it into a $95 annual fee card. But wait…there is more! On each card anniversary you earn 10,000 points essentially making it FREE! Every dollar of spend earns 2 points and flights booked on the travel portal earn 5 points per dollar. You get access to Capital One and Plaza Premium airport lounges and a Priority Pass Select lounge membership and, this is important, you can add FOUR authorized users FOR FREE who can also have their own Priority Pass Select airline lounge membership. You can transfer your Capital One points to up to 18 Transfer Partners. No foreign transaction fees. Free Hertz President's Circle rental car top elite status. Cell phone protection and PRIMARY rental car coverage. Awesome seats at baseball stadiums for just 5k points each. And lots more. Available with my Credit Card Links, thank you for your support!
Get 75K Miles, Lounge Access & More with the Capital One Venture X Card
Sticking with Capital One Bank…it is offering 75,000 points for its Capital One Venture Rewards Credit Card. Annual fee is $95, minimum spend required to earn the Signup Bonus is $4,000 over the first three months and the card basically earns 2 points for every dollar. And you can transfer the points out to airline and hotel partners just like the Capital One Venture X card above.
Capital One has a no annual fee card, the weirdly named Capital One VentureOne card that offers a 40,000 point Signup Bonus after just $1,000 minimum spend in the first three months. It earns 1.25 points per dollar and has no foreign transaction fees. If you want more Capital One points and/or you just hate annual fees. It appears the Capital One Bank credit card offers have the best offer with my Credit Card Links.
Remember, you are NOT allowed to ever carry a credit card balance if you ever get a credit card here!
Let me leave you with this…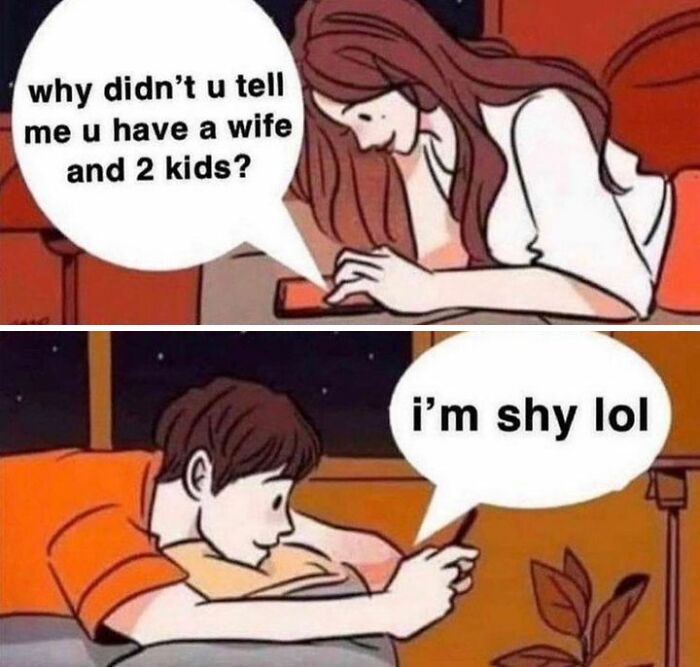 Some of the links are behind a paywall. You can try to read them using Archive.is.
Thank you for reading my blog. If you enjoy it please pass it on to a family member or friend. Or Buy Me a Coffee, thank you!
TBB
travelbloggerbuzz@gmail.com
You can join 556 email subscribers to receive each blog post by entering your email address below and then clicking on Subscribe:
Opinions expressed here are author's alone, not those of any bank, credit card issuer, hotel, airline, or other entity. This content has not been reviewed, approved or otherwise endorsed by any of the entities included within the post.