Another TBB post featuring the most eclectic links around the web such as we explore retirement cost, more FTX guilty pleas,  President Carter vs Reagan, horrific train accident in Greece near my hometown, compare your income with others in your city, Ozempic is hot, we go over the February month in Ponzi schemes, the most notorious American fraudsters, how Ukraine's military shed its Soviet past, most beautiful bridges and all the links to the US national parks, LaGuardia airport amazing rebirth and a lot more, enjoy the weekend!
TBB Blog Mission: To Educate. Entertain. Inspire. In That Order!
Support TBB by applying for CREDIT CARDS or visiting our

LINKS

or Donate

You like my blog? Send a link to someone please!
This blog publishes every Friday and Tuesdays.
Welcome to all new blog readers from George, your diligent curator of the BEST web content I find and share with you. No ads, no clickbait.
PERSONAL FINANCE
This post Got Change? deals with retirement. I never liked the term "retirement" by the way. Retirement is different for everyone. It is amazing what you can accomplish with good habits over a few decades or so. Then, you may overdo it and have some regrets. But still, it's worth it. I always said having enough money set aside improves the quality of your life simply because you don't worry about money!
Yes, in my over-saving, I missed out on spending that might have brought me added happiness. But it's hard to know how much additional happiness that spending would have delivered, if any. Meanwhile, I know where I stand today—and I find the money I've accumulated brings me ample happiness. It's not because I'm spending somewhat more these days, though I am, and it's not because I regularly sit back and admire my account balances. Rather, the money I've amassed brings me happiness because it allows me the luxury of rarely thinking about my own money. I have no worries about how much I spend because I'm confident I have enough…I'm not sure additional spending would bring me much additional pleasure—but knowing my portfolio continues to grow leaves me with a warm, fuzzy feeling of financial contentment.
Very interesting link: The Cost for an American to Comfortably Retire in Every State and Country. Forget retiring in Singapore! You know, Pakistan is the cheapest country to retire but…nope! In the US, Hawaii is the most expensive while Mississippi is the cheapest. I need to check out Thailand as the place to escape the Michigan winters…
Have you ever wondered how your income compares with others? Income by City Calculator and Income Stats by City. I would like to think that my readers are above average and are here to get educated first.

BUSINESS/ECONOMY
Inflation is resilient for a little while longer it appears. This is an interesting graph…I think it won't be long before we are offered a free big screen TV with our next meal or gas fill up lol.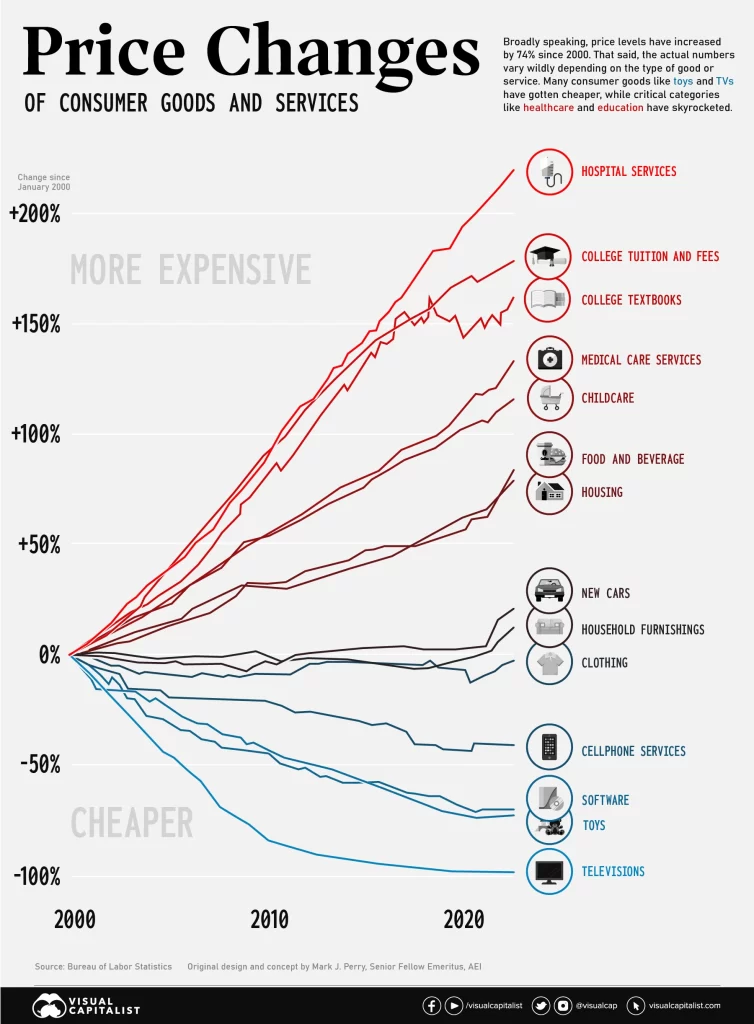 I recently heard of Ozempic, the hot drug that has become all the rage to lose weight these days! The Booming Market for Backdoor Ozempic.It's not just celebrities. Women around the country are going to great lengths to procure 'liquid gold' in our bottomless appetite to be thin. Hmmm, I don't know, but someway somehow I see class action lawsuits years down the road for health complications!
Ozempic and Wegovy, which come in the form of preloaded injection pens, both require a prescription. They're also not cheap. One Ozempic pen, which lasts about a month, costs around $1,000 before insurance. Wegovy is even more expensive, with prices starting at $1,300, and it isn't covered by most insurance plans.
CRYPTO/FTX/ELONMUSK/TWITTER
While moron SBF can't shut up, his buddies all pled guilty and about to hand him many years of lockup I think. FTX's Singh pleads guilty as pressure mounts on Bankman-Fried. These look like kids smh…
Singh, 27, pleaded guilty to one count of wire fraud, three counts of conspiracy to commit fraud, one count of conspiracy to commit money laundering and one count of conspiracy to defraud the United States by violating campaign finance laws…Caroline Ellison, who was Alameda's chief executive, and Gary Wang, who was FTX's chief technology officer, pleaded guilty in December to seven and four criminal charges, respectively.
You remember when Elon Musk started firing thousands of Twitter employees and the ones left started sucking up to him? Among them was Esther Crawford who immediately turned into a hardcore employee like her new boss wanted. Well, she was fired last week too!
SCAMS
Here is the February 2023 Ponzi Scheme Roundup. Of course you always find the usual crypto scams and scammers selling crazy high returns! But you always find some gems, such as giant tires and cow manure LOL:
…alleged Ponzi scheme involving the financing of giant tires used on mining and earth-moving vehicles.
he ran a Ponzi scheme involving cow manure…built anaerobic digesters on dairies in California that used microorganisms to break down biodegradable material, and turned it into methane…then sell the gas on the open market.
The guys above making the list sure have a long way to go to reach these guys: Thirteen Notorious American Fraudsters.
UKRAINE RUSSIA WAR
Putin thought he was fighting the old Ukraine Army…he totally miscalculated: How Ukraine Modernized its Post-Soviet Military.
Photos from one year of war in Ukraine and beyond.
ODDZ & ENDZ
Remember Amanda Knox? This is a great thread on Twitter from her. Stop looking at the past and just deal with what you got and go…forward!
Yeah really! Why Smart People Believe Stupid Things. And…stay curious and humble my friends.
Curiosity is essential to directing your intellect toward objective truth, but it's not all you need. You must also have humility. This is because the source of our strongest biases is our ego; we often base our self-worth on being intelligent and being right, and this makes us not want to admit when we get things wrong, or to change our mind. And so, in order to protect our chosen identity, we stay wrong…Humility and curiosity, then, are what we most need to find truth. By seeking one we also seek the other: being curious makes us humble, because it shows us how little we know, and in turn, being humble makes us curious, because it helps us acknowledge that we need to learn more.
Very interesting and not what you get in the media: Much of what you've heard about Carter and Reagan is wrong.  The main points of the article are:
1) Carter was the one who beat inflation.
2) Carter was the Great Deregulator, not Reagan.
3) Reagan didn't increase defense spending by much.
4) The fall of the USSR is more complicated.
The winner of the Picture of the Year contest:
A section where I go on and on about some stuff that happens in my life and anything else that just does not fit in another section above.
There was a horrific train accident near my hometown in Greece. As of now, there are 56 dead and many injured, primarily young college students. Many missing and thought to be dead as the first two train cars were burned. The dead are starting to get identified now and it's been incredibly sad 🙁  My fellow people of Larissa rushed to donate blood.
There is something wrong with my left foot and I am going to be seen by the same physical therapist who put me back together last year. I think it all started with the recent Transatlantic trips and me cranking up ten up miles in two days after my return to the US. So frustrating, it is becoming extremely difficult to stay healthy, I have not had a clean six month training streak…and this happens again at the training peak of my next marathon in late April!
Everything below deals with the hobby of collecting frequent flyer miles and points. If you are not interested, you can stop here, thank you.
Brutal: Hyatt Hammers All-Inclusives, Other Top Hotels with Upcoming Award Rate Hikes
And here is some commentary from me who is not in the business of shoving credit cards down your throat and making money from ads due to clicks. This is likely the last year of being Hyatt Globalist Elite, it was a good run. Just not worth it anymore imho. I think I am going to slowly burn all my hotel points and then just switch to paying for unique properties (hello Airbnb?) and focus on airline miles going forward. Now watch how bloggers will switch to "hey, the Hyatt changes are not that bad, it could have been worse" and then showing off how they managed to squeeze "amazing" value from them blah blah blah.
Why so many of the new credit card offers are for business cards? Not sure…
For the record, this blog sold five credit cards in February, please laugh.
Some marginal promotions from Southwest HERE.
Bloggers will rave about this and then…start pumping their readers how you can travel for "free": Lufthansa Unveils New Allegris Double First Class & Business Class "Suite Plus" Products.
My daughter needs to be out of her Paris apartment her last two nights there and turned to her dad to get her a hotel secured. Hyatt did not have standard rooms I was told so we went with the Hilton Curio property Maison Astor Paris at 80,000 Hilton Honors points per night.
My return trip back to the US after taking my mom back to Greece worked out just fine. Great night at the Hyatt Regency in Thessaloniki again and a nice suite upgrade at the Hilton inside Frankfurt airport. I actually saved 7,000 Hilton Honors points rebooking it the second time. As a reminder, I had to rebook my return trip after our original flight to Germany got diverted back to Detroit and we were rebooked to fly out two days later.
I filed a claim with Lufthansa claiming the consumer friendly EU261 law and Lufthansa replied back denying they owe me anything at all. The email reply was just awful, they were making things up wow! I did some research on these companies assisting passengers to file these claims (with a big cut of course). I went with FlightRight and the process has started, now I wait…
MILES & POINTS
HOT CREDIT CARD OFFERS: 90k CHASE Ink Cash, 90k CHASE Ink Unlimited, 75k Capital One Venture X, 100k CHASE Ink Business Preferred, 70k Bank of America Alaska Airlines Visa, 60k CHASE Sapphire Preferred, 60k CHASE World of Hyatt Visa, 20k CHASE Freedom Flex, 175k IHG Rewards Premier and many more, including many AmericanExpress cards, including Delta, Marriott and Hilton cards! Please check out my Affiliate links. Terms apply to American Express benefits and offers. Visit americanexpress.com to learn more. If you do not see a credit card with my affiliate links, perhaps I could refer you?

This section is about my hobby addiction of collecting frequent flyer miles and hotel points since the early 1990's! SKIP if you are not into it!
As of today, I have burned 310,000 miles/points year to date in 2023 and have 4,353,569 miles/points in the bank. Some do drugs, I do miles lol!
Thanks to US banks, very lucrative travel rewards credit card offers come and go all the time. This section will act as a reference point on the best CURRENT offers. I will designate new material preceded by NEW.
BEGINNERS
The Beginner's Guide to Getting Started with Credit Cards, Points & Miles
BASICS: This travel hacking hobby is mostly about getting the fat Signup Bonus of travel rewards credit cards while of course NEVER EVER carrying a balance. Banks have a marketing budget and are willing to give us many THOUSANDS of miles/points to travel mostly for free hoping to hook us to charge 20%+ interest rates on our balances. The poor souls who fall for their marketing paying these ludicrous interest rates end up subsidizing us responsible consumers who enjoy taking advantage of, cough, such bank marketing budgets! Some of us have been doing this for thirty years creating amazing travel memories…Feel free to ask me questions or post them in the comments.
BASICS: Prefer credit cards from the proprietary points programs of banks, such as Chase Ultimate Rewards, American Express Membership Rewards, Citi ThankYou Network, Capital One Rewards Miles because they are a lot more flexible and are not devalued as frequently. Over pure airline and hotel travel rewards credit cards. Pure cash back credit cards may work for you best and they are getting more valuable as airline and hotel loyalty programs keep getting devalued. Sometimes, a pure no annual fee 2% cash back card works best for simplicity!
The Capital One Venture X card offers a 75,000 point Signup Bonus after a minimum spend of $4k in the first three months. If you like simplicity and looking for one (premium) card, I highly recommend this card (and yes, I have it myself!). It has an annual fee of $395 but it comes with a VERY easy $300 statement credit for travel booked on its excellent travel portal, essentially turning it into a $95 annual fee card. But wait…there is more! On each card anniversary you earn 10,000 points essentially making it FREE! Every dollar of spend earns 2 points and flights booked on the travel portal earn 5 points per dollar. You get access to Capital One and Plaza Premium airport lounges and a Priority Pass Select lounge membership and, this is important, you can add FOUR authorized users FOR FREE who can also have their own Priority Pass Select airline lounge membership. You can transfer your Capital One points to up to 18 Transfer Partners. No foreign transaction fees. Free Hertz President's Circle rental car top elite status. Cell phone protection and PRIMARY rental car coverage. Awesome seats at baseball stadiums for just 5k points each. And lots more. Available with my Credit Card Links, thank you for your support!
7 Sweet Spots to Use 75K Capital One Venture Miles
7 Underrated Benefits of the Capital One Venture X Card
Chase IHG Rewards Premier Card 175,000 Points Signup Bonus. After only $3,000 in spend in the first three months. Not free, you gotta pay the annual fee of $99. Free night up to 40,000 points per night starting with the second year of holding the card. Automatic Platinum status (which is not a big deal) while you hold the card. Card earns 26x per dollar spent on IHG properties, 5x on travel/dining/gas and 3x everywhere else. Fourth reward night free on stays of 4 or more nights. Under Category/Hotels HERE, thank you.
NEW: 70k Points Bonus for the Alaska Airlines Business Card that comes along with a Famous Companion Fare ticket. Yes it is available with my links and it supports this blog. But these two ways can earn the blog nothing but you get more and you should be aware of this because…it is the right thing to do: 1) If you login to your Alaska Airlines account and start the process to book a new flight you may be offered the same number of bonus miles AND a $100 statement credit and 2) This link alaskaair72k.com will give you 72,000 miles!
Six new higher offers for the consumer and business Delta Gold, Platinum and Reserve cards. I do not recommend Delta Skymiles, especially with so many better and more flexible points choices out there. Unless you know what you are doing and you can swing more of them because they work for you. Or you can jump on the Delta Flash Sales right away…Available HERE.
Some of the links are behind a paywall. You can try to read them using Archive.is.
TBB
travelbloggerbuzz@gmail.com
You can subscribe to receive every post below:
Opinions expressed here are author's alone, not those of any bank, credit card issuer, hotel, airline, or other entity. This content has not been reviewed, approved or otherwise endorsed by any of the entities included within the post.