Another TBB post featuring the most eclectic links around the web such as Silicon Valley Bank lessons, money rules podcast, human lab rats, best spring drives, new PR time at the Rock CF Half Marathon, what happens if the Feds keep rescuing markets, don't chase the past, A to Z of Economics, self proclaimed YouTube personal finance "experts" get sued bigly, best lists of all time, amazing photography, we travel to the Greek island Leonard Cohen loved to hang out, we mourn the end of the no annual fee 90k Chase Ink cards and more!
TBB Blog Mission: To Educate. Entertain. Inspire. In That Order!
Support TBB by applying for CREDIT CARDS or visiting our

LINKS

or Donate

You like my blog? Send a link to someone please!
This blog publishes every Friday and Tuesday…for now.
Welcome to all new blog readers from George, your diligent curator of the BEST web content I find and share with you. No ads, no clickbait.
SILICON VALLEY BANK/BANK RUNS/FDIC
Are we calm yet? Oh wait, maybe saying "calm down" is definitely not something a bank CEO should ever say! The Ugly Lessons of Silicon Valley Bank's Collapse. Probably the most pathetic out of this ordeal was how the avowed libertarians were all screaming to be saved from the government smh!
Great one by Jazon Zweig: What Gets Lost When You Rescue Markets. Throwing a lifeline to the financial system in times of crisis can have unintended consequences. Among them: Making the world feel safer can lull people into complacency and excessive risk-taking. Interesting tidbits, especially the history of "bailouts" we have experienced in the past. I really loved and agree with Charlie Munger here:

"I'd prefer to live in a world where nobody did anything undisciplined or stupid and so forth, but we don't live in that kind of a world. And therefore the decisions have to be made for the way the world is, not the way we'd like it to be…The way the world is, the government had no alternative but to back all deposits. Or we would have had the biggest goddamn bunch of bank runs you ever saw." 
PERSONAL FINANCE
Must read imho, especially for younger investors! Don't Chase the Past. So many examples out there, the dot-com bubble, the housing bubble, "peak oil", gold mania, growth stock bubble (when ARK became ARGH…lol, just came up with that!). Anyway, good advice on what to do:
–First, by learning the countless lessons of history, a few of which I've chronicled here. Chasing outlier returns has cost investors dearly, adding risk to their portfolios at the worst possible time.
–Second, by staying grounded and sticking to a plan. For most, that means maintaining broad diversification (across asset classes, geographies, styles, and strategies), rebalancing at times to reduce risk, and not letting your emotions (fear and greed) get the better of you.
–Third, by using factors other than past performance (which is not predictive, as we have seen) to make investment decisions. The key question: what value does this holding add to my overall portfolio, and how will it increase the odds of achieving my goals?
The next time you're tempted to go all-in on the latest investment fad, run through this checklist. And remember, the past is gone. Don't chase it.
Morgan Housel's podcast about The Rules of the Money Game.
BUSINESS/ECONOMY
This is a great reference to bookmark! The A to Z of Economics.
I am just throwing this link in this section as a joke. Because, hey, if you are out of money…you can give up your body for science and make some money? I had no idea there are people who do this for a living, wow! The Humans Who Live as Lab Rats. Anyway, you will learn stuff that will shock you! 🙂
CRYPTO/FTX/ELONMUSK/TWITTER
While bitcoin's price amazingly nears $28,000…banking with crypto companies continues to be…not welcome. The Feds probably took down Signature bank because for some weird reason its management decided to pivot to crypto. And this crypto uniqueness continues to be anathema to banking entities and it keeps hitting companies out there. Ok, part of the blog mission is to entertain my readers. And sometimes I bring you content I find to make you laugh. Because it made me laugh! And this one sure did lol: SpankPay Adult Industry Crypto Payment Service Shuts Down.
SCAMS
I was running empty for this section so I am conveniently throwing this article here: Finance YouTubers who promoted FTX have now been handed a $1billion lawsuit. I hope these bought assholes get hurt!
In an interview with the Washington Post, Moskowitz said: "You have very rich people we all love telling us that they checked this out, and it was okay. Why shouldn't they be held responsible? "It seemed like a lot of investors were getting hurt and no one was really looking out for them." Regarding the more recent case, Moskowitz told BuzzFeed: "Influencers are paid, just like all other promoters, and thus must be held accountable. They are paid so much because they play an important role today with social media, in making financial decisions."
UKRAINE RUSSIA WAR
First, let me just say I was very surprised that Chinese President Xi managed to get the Iranians and Saudis to make up! While he meets with war criminal Putin…he intends to talk with Ukraine next. Not expecting the war to end anytime soon but I am open to be surprised again!
Anyway, Putin is in a hole and now playing the long game. Which will be decided on…whose war machine will outlast the other side. And this is a good sign: Seventeen EU countries, Norway agree to jointly buy ammunition for Ukraine.
Meanwhile, the Ukrainians continue to inflict pain, even bombing trains carrying missiles in Crimea, here is a good thread on this.
TRAVEL
Spring is near! Best Spring Drives in America.
Wonderful little gem about Leonard Cohen's Hydra. The Greek island. I regret I never got to see Leonard Cohen live in concert and I am very sad about that. Special article about a special place for him…
BUZZING
A section where I go on and on about some stuff that happens in my life and anything else that just does not fit in another section above.
My daughter is studying in Paris right now and the…trash continues to pile up outside her apartment due to all the strikes happening in the country protesting having to work two more years to earn a pension until age 64. Only in France…
I ran the Rock CF Half Marathon this past Sunday. And I lowered my PR time by 2.5 minutes! I ran this race as preparation for my full marathon next month on April 23 at Toledo, Ohio where I have a long held goal to run a full marathon under 4 hours….Until that happens I still see myself as a newbie slow middle aged runner. But…I continue to get faster trying to outran my problems, age is just a number they say…lol. Some notes about the race: It was COLD…oh my, it was just freezing, the wind was super chilly and it never let up! Beautiful course running around the island of Gross Isle south of Detroit by the Detroit River looking at Windsor, Canada in the other side. Fast course, just a few small hills, great place to hit a PR, just dress appropriately for the cold!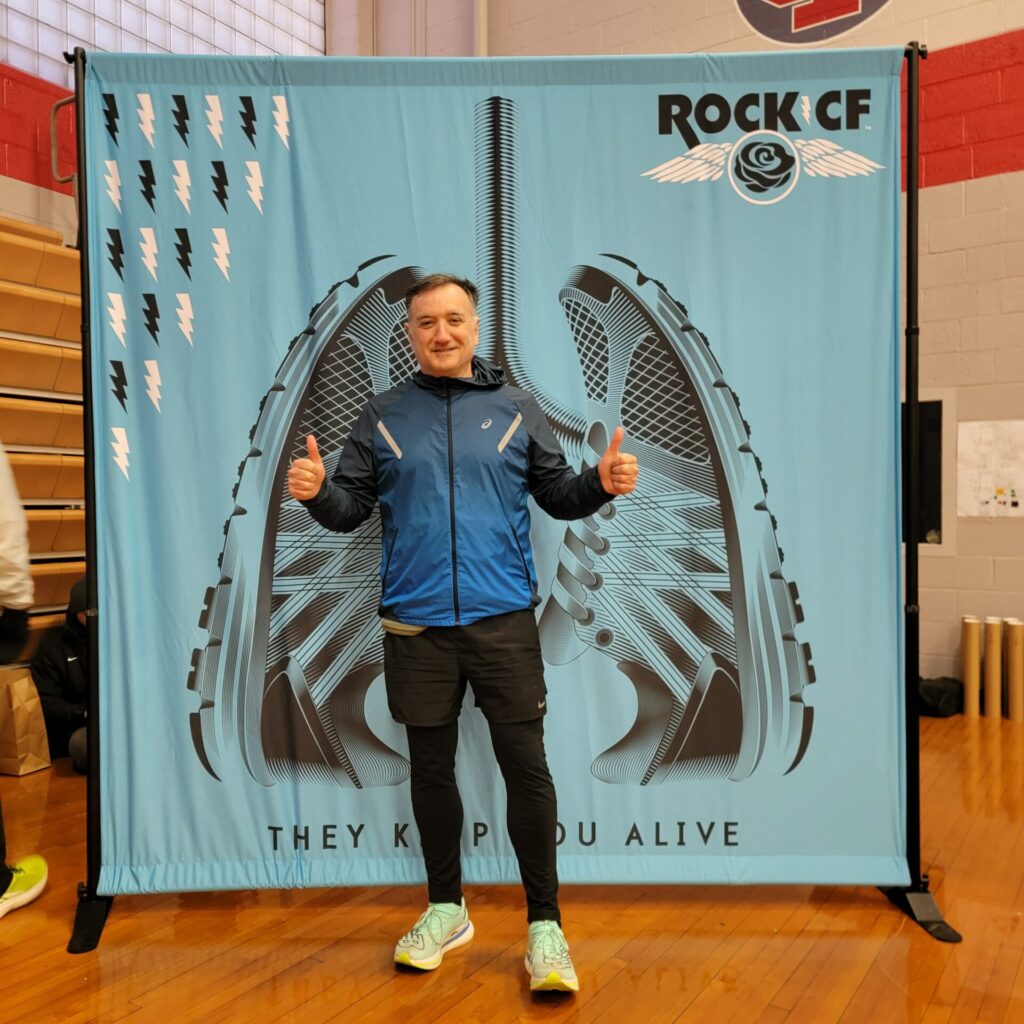 Everything below deals with the hobby of collecting frequent flyer miles and points. If you are not interested, you can stop here, thank you.
MILES & POINTS NEWS/PROMOS/MY ACTION
This is only the fifth month in more than ten years of blogging that this blog had more than 10 credit card conversions in a month, so thank you. Every single one was a 90k Chase Ink card, enjoy the points you guys, glad to see it, you are smart and know a real deal when you see it. With this amazing 90k offer ending…I don't want to think about that because I like to stay positive 🙂
Have you stayed at the Hyatt Regency Phuket Resort? Looking for feedback…How are suite upgrades? Is November a good time to visit? How is the location? How many nights to stay to get a good feel of the place? Thank you. Thinking to burn a whole bunch of World of Hyatt points here…
I closed my World of Hyatt Business card, did not even make it a whole year. Easy excuse: "Just have too many cards and am going to keep my World of Hyatt personal Visa card"…That was an easy 60,000…or was it 75,000 at one time? I forgot, too many points floating out there to take you guys…
We need to get Citi to get back in the game juicing up credit card offers…they have been laying low way too long while Chase is just going all out expanding!
Delta makes these press releases where they make it sound like they did something amazing for your benefit while all along doing the exact opposite. This reminded me of this headline "The Points Guy UK is going global!"…while they basically killed the site across the pond, amazing!
MILES & POINTS
HOT CREDIT CARD OFFERS: 75k Capital One Venture X, 75k Capital One Venture Rewards, 100k CHASE Ink Business Preferred, 70k Bank of America Alaska Airlines Visa, 60k CHASE Sapphire Preferred, 60k Citi Premier, 45k Wyndham Rewards Earner Plus, 175k IHG Rewards Premier and many more, including many AmericanExpress cards, including Delta, Marriott and Hilton cards!  Please check out my Affiliate links. Terms apply to American Express benefits and offers. Visit americanexpress.com to learn more. If you do not see a credit card with my affiliate links, perhaps I could refer you?

This section is about my hobby addiction of collecting frequent flyer miles and hotel points since the early 1990's! SKIP if you are not into it!
As of today, I have burned 310,000 miles/points year to date in 2023 and have 4,296,636 miles/points in the bank. Some do drugs, I do miles lol!
Thanks to US banks, very lucrative travel rewards credit card offers come and go all the time. This section will act as a reference point on the best CURRENT offers. I will designate new material preceded by NEW.
BEGINNERS
The Beginner's Guide to Getting Started with Credit Cards, Points & Miles
BASICS: This travel hacking hobby is mostly about getting the fat Signup Bonus of travel rewards credit cards while of course NEVER EVER carrying a balance. Banks have a marketing budget and are willing to give us many THOUSANDS of miles/points to travel mostly for free hoping to hook us to charge 20%+ interest rates on our balances. The poor souls who fall for their marketing paying these ludicrous interest rates end up subsidizing us responsible consumers who enjoy taking advantage of, cough, such bank marketing budgets! Some of us have been doing this for thirty years creating amazing travel memories…Feel free to ask me questions or post them in the comments.
BASICS: Prefer credit cards from the proprietary points programs of banks, such as Chase Ultimate Rewards, American Express Membership Rewards, Citi ThankYou Network, Capital One Rewards Miles because they are a lot more flexible and are not devalued as frequently. Over pure airline and hotel travel rewards credit cards. Pure cash back credit cards may work for you best and they are getting more valuable as airline and hotel loyalty programs keep getting devalued. Sometimes, a pure no annual fee 2% cash back card works best for simplicity!
The Capital One Venture X card offers a 75,000 point Signup Bonus after a minimum spend of $4k in the first three months. If you like simplicity and looking for one (premium) card, I highly recommend this card (and yes, I have it myself!). It has an annual fee of $395 but it comes with a VERY easy $300 statement credit for travel booked on its excellent travel portal, essentially turning it into a $95 annual fee card. But wait…there is more! On each card anniversary you earn 10,000 points essentially making it FREE! Every dollar of spend earns 2 points and flights booked on the travel portal earn 5 points per dollar. You get access to Capital One and Plaza Premium airport lounges and a Priority Pass Select lounge membership and, this is important, you can add FOUR authorized users FOR FREE who can also have their own Priority Pass Select airline lounge membership. You can transfer your Capital One points to up to 18 Transfer Partners. No foreign transaction fees. Free Hertz President's Circle rental car top elite status. Cell phone protection and PRIMARY rental car coverage. Awesome seats at baseball stadiums for just 5k points each. And lots more. Available with my Credit Card Links, thank you for your support!
 The Best Ways to Use Capital One Venture Miles
7 Underrated Benefits of the Capital One Venture X Card
NEW: Sticking with Capital One Bank…it is offering 75,000 points for its Capital One Venture Rewards Credit Card. Annual fee is $95, minimum spend required to earn the Signup Bonus is $4,000 over the first three months and the card basically earns 2 points for every dollar. And you can transfer the points out to airline and hotel partners just like the Capital One Venture X card above.
Chase IHG Rewards Premier Card 175,000 Points Signup Bonus. After only $3,000 in spend in the first three months. Not free, you gotta pay the annual fee of $99. Free night up to 40,000 points per night starting with the second year of holding the card. Automatic Platinum status (which is not a big deal) while you hold the card. Card earns 26x per dollar spent on IHG properties, 5x on travel/dining/gas and 3x everywhere else. Fourth reward night free on stays of 4 or more nights. Under Category/Hotels HERE, thank you.
Some of the links are behind a paywall. You can try to read them using Archive.is.
TBB
travelbloggerbuzz@gmail.com
You can join 557 email subscribers to receive each blog post by entering your email address below and then clicking on Subscribe:
Opinions expressed here are author's alone, not those of any bank, credit card issuer, hotel, airline, or other entity. This content has not been reviewed, approved or otherwise endorsed by any of the entities included within the post.