Another short blog post while traveling. I bring you a resource page about taxes and IRAs, inflated tax brackets, some investing beliefs I agree with, we catch up with all the latest shenanigans in the crypto and NFT world, why the West must defeat Russia, a great explainer of the Israel-Gaza war, two very disturbing stories about psychos, a round the world train trip you can take me to if you can afford it, a graph about North Korean defectors over the last 25 years and just a few links and notes from the quirky miles and points space.
TBB Blog Mission: To Educate. Entertain. Inspire. In That Order!
I use and recommend Proton VPN <—– REFERRAL LINK
You like my blog? Send a link to someone please!
No ads, no clickbait. No sponsored posts.

Hello from the lounge at the wonderful Sukhumvit Hyatt Regency in Bangkok, Thailand! This is another short blog post published during my vacation in Singapore and Thailand, we will get back to the longer posts you have become familiar with after my return back to USA.
So, let's get into it with about ten wonderful links for your education, entertainment and sometimes inspiration…
Morningstar has a lot of resources for investors. Among them, there is the Tax Guide and IRA Resources that will answer a lot of your questions about taxes and IRA accounts. Staying on the personal finance front, you know, everyone hates inflation but it is not all bad. Sometimes inflation is indeed beneficial to your bottom line. Wider tax brackets in 2024 will lower what taxpayers owe Uncle Sam.
We are not done yet on the personal finance front. Here is another great article: 24 Things I Believe About Investing. I would not have shared it with you if I did not also believe these lol. And I also had a really hard time to pick my favorite five:
I believe simple beats complex
I believe every investor in risk assets should be comfortable seeing their money incinerated on occasion
I believe a good strategy you can stick with is vastly superior to a great one you can't stick with
I believe a long time horizon is the ultimate equalizer in the markets.
I believe optimists are better investors than pessimists.
Molly White is back after covering the Sam Bankman-Fried trial and here is a post catching up with all that has happened recently in the scammy crypto world: Laser Eyes.
I followed here the SBF trial and it was kind of exhilarating. And all along we were faced with his Stanford professor parents watching their baby "boy" (WTF, Sam is 31 years old!) go down in flames. Can you imagine being in their shoes? I just can't…Anyway, this Wall Street Journal piece was very interesting: Smoked Fish, Shaggy Hair and Tears: 8 Unforgettable Moments From Sam Bankman-Fried's Trial. And is this the time when the jurors come out and get famous, you know, like Kato Kaelin of the OJ Simpson trial?
I can not believe there are humans out there who still dabble on stupid ape pictures. But this happens with all bubbles I guess. Anyway, meet some of them and shake your head too: The People Who Lost Serious Cash on NFTs.
Anne Applebaum's latest is a must read: The West Must Defeat Russia. Amen!
Amazingly put together must read piece: Israel-Gaza war explained.
This New Yorker article was one of the most difficult reads I came across lately: The Kingpin Who Kidnapped Migrants for Ransom.
Ok, the story about the kingpin above was difficult. But this one was the most disturbing, wtf is wrong with some people! The Lurker. It didn't matter if she knew you — if you were a professor and Asian American, you were a potential target. Hopefully we never run into a psycho like this wow.
If you have a lot of money to blow, this is quite an itinerary (and price tag!): A brand-new round-the-world luxury train route is launching next year. From the Canadian Rockies to the Malaysian jungle, the 80-day itinerary zig-zags across the planet.
A ticket for the full three-month itinerary starts at £90,099 (€103,495, $113,599) [Gulp!]
Amazing 8K Video of the Annular Solar Eclipse.
Taking a break to post here one of our pics from a Thailand beach. Since this blog (just had its 11th anniversary yesterday!) is likely not going to be discovered and seems destined to be on a perpetual struggle to cover its costs, management's hope is to be discovered by a Hollywood agent to give us spots as extras in a Netflix special so we can make it big.. Ok, I am laughing now and I hope you are too.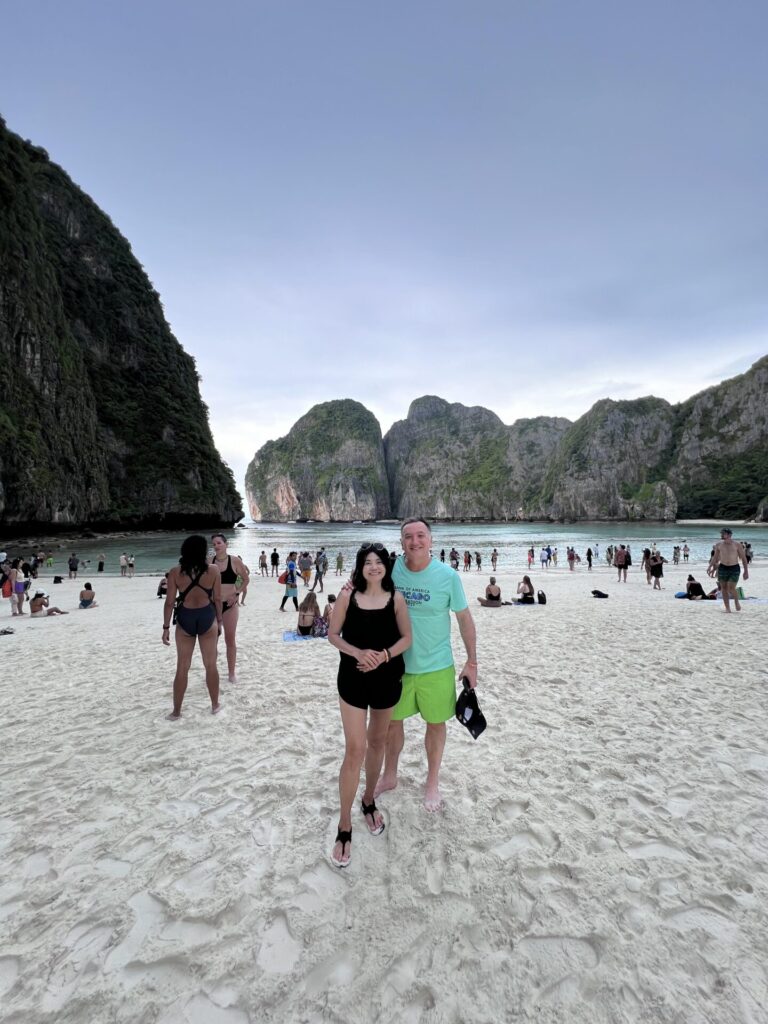 I used to post about North Korea a lot in the earlier days of the blog. Not much after the pandemic as the country became even more shut off from the world, which is a hell of an achievement. I did watch recently a documentary with stories of how a family escaped helped along the way by a South Korean priest who has devoted his life to this cause. What a hellish trip.
Charted: The Number of North Korean Defectors (1998 – 2023)
Just a few notes about the miles and points space, the reason this blog was created and, you know, has evolved a bit in the last 11 years.
Devaluations keep coming: Southwest Devaluing Reward Points In 2024, Points Worth 4% Less.
I am going to add this link to my blog's Miles & Points Resources permanent page: Best uses of Avios for Award Tickets (British Airways, Iberia, Qatar, and Aer Lingus).
A few scrambled notes from our trip:
Our daughter is on her way back to the US. She is flying Thai Airways from Bangkok to Frankfurt and then on Lufthansa to Detroit. For just 44,000 (pre-devaluation) United miles.
I found Business Class flights on the same route for me but I have to stay one more night. I emailed my Hyatt Globalist concierge to take care of this and awaiting confirmation. It cost me an additional 66k United miles (on top of the original economy award trip for 44k). Still looking to do this for my wife but she is flying out of Kuala Lumpur so award availability starting there is even more scarce. I think the days of transferring Chase points to United are over and I need to get more familiar with Air Canada's Aeroplan program going forward.
Correction: The five nights at the Phuket Hyatt Regency cost 63,000 World of Hyatt points and the five nights at the Bangkok HR cost 40,000 World of Hyatt points.