We bring you the TBB Best of Web links: A story about the Theranos fraud, a guide to eating right, a deep look into how aliens may be real, look at Iraq War photos and warn you about climate migration.
TBB Blog Mission: To Entertain. Educate. Inspire. In That Order!
As always, click on the headline to be taken to the original source. Sometimes I insert my incendiary comments on article excerpts between [brackets].
If you enjoy my blog, please pass it on to someone you care about so they can enjoy it too. If you don't enjoy it and still read or troll the comments, you have issues, please seek help.

Thanks to all readers who have been supporting the site with your credit card, Amazon shopping and donation clicks, greatly appreciated.
The credit card links may be back. Hopefully soon as I am leaving so much money on the table lol. I will have an update when I find out more, thank you. Maybe by the end of the week?
Isn't it amazing how many big shots got suckered into playing along being on the Board of this company? Isn't it amazing how many believed the lies? Thank god for fake news media for uncovering this! Can someone explain to me why this person pays a small fine and keeps her job staying out of jail? You should be furious!
I am doing another effort to control my eating as I let myself go when I went back to Greece and my mother would not stop cooking my favorite dishes and then it was the darn spinach pies and the gyros sandwiches…So, I have instituted some changes and I am on a clean eating spree. I have cut out many processed foods and just bad things. And taking it day by day, today it is Day 12 🙂
This article is excellent and will hopefully clear some confusion you may have about all the contradictory things you keep hearing in the media about diet stuff. Maybe you should keep it as a reference, I saved it in Evernote and check on it from time to time.
I went for my annual physical and just could not believe what happened next….after I stepped on the scale!
This is NOT a stupid conspiracy Fox News type article! It is a very serious comprehensive look in the UFO phenomenon. X Files was my favorite show, coincidence? And is it a coincidence we keep hearing a lot more about UFOs or other "unexplained" phenomena lately? We even have politicians in Washington DC looking into it…out in the open!
In December, the Pentagon confirmed the existence of the Advanced Aerospace Threat Identification Program. Created in 2007 by senators Ted Stevens (who reported being chased by a mysterious object), Daniel Inouye, and then–Majority Leader Harry Reid, and funded with $22 million of "black money" from the Department of Defense's budget, the program investigated and evaluated reports of UFO sightings, many of which came from American service members.
There is a fascinating discussion about some important people who believe in this stuff near the end of the article. Y tu John Podesta?
John Podesta
When WikiLeaks published the Hillary Clinton emails, a weird number of Podesta's mentioned aliens and involved contact with believers like Tom DeLonge and astronaut Edgar Mitchell. As Bill Clinton's deputy chief of staff, he was known as an X-Files fanatic who'd "call the Air Force and ask them what's going on in Area 51." In 2014, he spent 13 months advising President Obama — and what was his "biggest failure"? According to him, failing to get government files declassified on the 1965 Kecksburg, Pennsylvania, UFO incident. Then during Bush's term, he began publicly crusading for NASA to release UFO documents to journalist Leslie Kean, the person ultimately behind the Times' Pentagon exposé.
Fascinating discussion of several incidents and then theories where the aliens are, are they hiding, sleeping or are they already here? If you had a Chase Sapphire Preferred card paired with an Amex Platinum card you can find out the answer right now, hurry. Oh wait, I lost my links recently lol.
And then we get this: "Trump might actually increase belief in UFOs."
And never forget: The truth is out there!
Do not forget that the same dudes who got us into this disastrous war…are in charge again. Can you imagine if we had invested all the gazillions spent elsewhere? I don't know, maybe fix our infrastructure? Fix our health care woes? Shaking my head with our nation's priorities. But the war industrial complex did very well, looking at you Cheney etc, sad!
These are some great photos. Because you can not forget how we lost Iraq to…Iran!!! But some may be too strong for you, you have been warned!
Weapons of mass BS! Her emails! Sometimes I swear we deserve who we elect…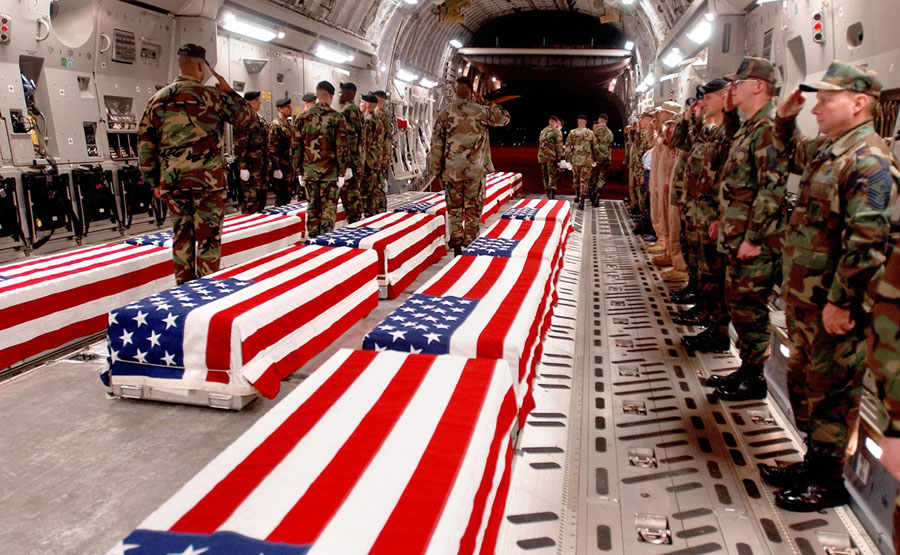 Extreme weather due to climate change displaced more than a million people from their homes last year. It could soon reshape the nation
This is a deep look into this subject. No wonder The Points Guy is selling his mansion in Miami, sad!
To shore up confidence in the future, at-risk cities like Miami and Phoenix tout everything from LED streetlights to carbon–offset programs. But for some climate-savvy residents of these cities, what's coming is all too clear. "I've loved living in Miami Beach," the poet Chase Twichell wrote recently. "We had a beautiful apartment overlooking the bay, with endless crazy human activity to watch, and astonishing sunsets. But the ecology of the area is so damaged that I can no longer see the beauty. I see impending chaos and suffering. Time to go."
And I leave you with this…Trump's tweets, a little silent when markets, please sit down, go…down!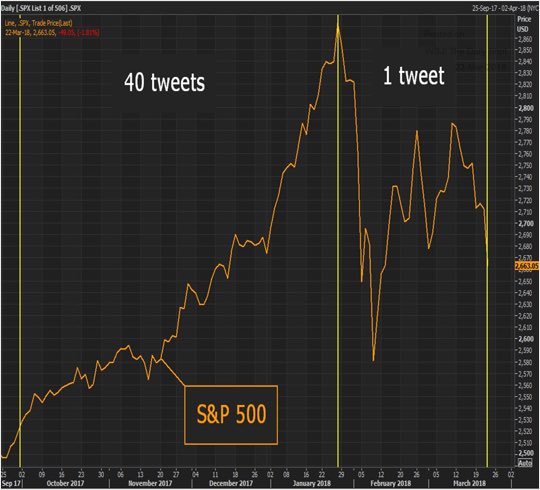 TBB
travelbloggerbuzz@gmail.com
Follow TBB on Twitter @FlyerTalkerinA2
You can subscribe to TBB below, winners only!
Opinions expressed here are author's alone, not those of any bank, credit card issuer, hotel, airline, or other entity. This content has not been reviewed, approved or otherwise endorsed by any of the entities included within the post.