Another TBB post featuring the most eclectic links around the web such as tech investing, more Crypto losses, best zoos, who pays for rewards?, how to peek at your 401(k) statement without freaking out, the state of the US residential market, best states for beer, some amazing bridges, wondering if Ukraine can win the war, catching up with all the new Covid variants, we ARE living better than our parents, watch out for these new text scams, amazing photography and a lot more! Have a wonderful weekend, thank you for reading my blog.
TBB Blog Mission: To Educate. Entertain. Inspire. In That Order!
Support TBB by applying for CREDIT CARDS or visiting our

LINKS

or Donate

You like my blog? Send a link to someone please!
Welcome Recomendo and Legal Nomads readers, this is George, your diligent curator of the best content I discover and share with you.
This blog will publish every Friday in the month of July 2022.
Best of Web articles are truly exceptional and MUST reads, imho.
I use and recommend Proton VPN <——REFERRAL LINK
PERSONAL FINANCE
This is timely: How to Peek at Your 401(k) Without Freaking Out. Checking balances too frequently when markets decline can lead to some bad decisions—and more losses over time. Many of us have a long term investing plan and…checking your account balances is one of the most dangerous and non-productive uses of your time imho. Archived Link.

Taking a quick glance when stocks are down can cause investors to take steps that undermine their long-term financial security, increasing the temptation to sell stocks at fire-sale prices.

The more people look at their 401(k)s, the lower their long-term returns are likely to be, according to two landmark studies from behavioral economists Shlomo Benartzi and Richard Thaler. [The research on this is very clear]

This is a fantastic podcast, highly recommended about The State of the US Residential Real Estate Market.
Best of Web: My favorite visualization of short-term stock market performance. This chart below is fantastic and it shows that investing in stocks requires a high risk tolerance! Also, these are evident observations:
You can get smoked in the short term
The market usually gains more than it loses
The market can quickly recover huge losses
Average rarely happens
The investment world does have a certain number of sayings and aphorisms. And the author in the article titled Say What? goes over the following four:
1. Never try to catch a falling knife  [We don't know, it is the regret we will feel if we buy and the investment keeps falling that hurts the most lol. But…if you have a long term investing horizon, and of course you should, maybe just bite the bullet and…reread the first article not to check your balances!]
2. Trees don't grow to the sky

3. The wisdom of crowds
4. Fortune favors the bold [Author took well deserved shots against Matt Damon and Peter Thiel who recently dismissed Buffett as "a sociopathic grandpa from Omaha." and recommended to the attendees of a bitcoin conference to buy bitcoin only to see its price go down about 55% since then, SAD!]

If you have been approached to invest in a hedge fund, just be careful ok? Secretive hedge fund Tiger Global changed the rules on tech investing. Then it all went bad. I found myself screaming reading this long article about Charles Payne "Chase" Coleman III who had an amazing record over the years and then crashed to pieces. The article ends with this paragraph which I think is a great ending:
Looking back, Rasmussen, the former Bain Capital analyst and current hedge-fund manager, believes that it's easy to see how Tiger Global got into its current predicament. "They've just been winning, and winning, and winning," he says. "I think one thing that happens to people who win, win, win, win, is they get overconfident, and they can't imagine a scenario where they're not winning." [Never let that happen to you, always stay humble when you are dealing with the markets, always!]

CRYPTO
I wrote about her a few times in the past who stole several billions in the OneCoin ponzi scheme: Missing Cryptoqueen: FBI adds Ruja Ignatova to top ten most wanted. Last seen in Greece, I bet she is still there looking much different now…She can say "Look mom, I made FBI's Top Ten list!". It still amazes me how this crypto world attracts so many scammers, wow!
What I find the most disturbing about the crypto universe is…that so many regular people lost so much, everything in some cases. Next up: Celsius Customers Are Losing Hope for Their Locked-Up Crypto. Three weeks since the crypto lender said it was halting withdrawals, users want answers. Archived Link.

Alla Driksne says she has six figures worth of bitcoin and ethereum—her life savings—tied up in a Celsius account. On June 12, a Sunday, the company said it had paused customer withdrawals, saying it needed "to stabilize liquidity and operations." Ms. Driksne couldn't sleep for two days. "Since it is such a huge company and there are so many people that trusted them, somewhere in the back of my head, I'm hoping maybe there's a small, small chance of not losing everything," said Ms. Driksne, who is 34 and creates online cooking courses. [Six figures? Life savings all tied up in one account? WTF are some people thinking…]

John Buzolits, a 35-year-old commercial real-estate broker in Philadelphia, opened a Celsius account in March for his bitcoin. Using bitcoin as collateral, Mr. Buzolits took out a loan of $62,500 in a stablecoin called USD Coin. In the wee hours of Sunday morning, June 12, Mr. Buzolits grew concerned and repaid his loan. He then proceeded to withdraw his six bitcoin, worth more than $170,000 at the time. The transaction got ensnared in a security check. He hasn't gotten his bitcoin back…"I think I'm a pretty levelheaded person, but it's definitely causing anxiety because the six bitcoin is a healthy portion of my retirement," he said. "Now I have to start over and rebuild from zero." [Pretty levelheaded persons do NOT take out loans on shit coins! Most expensive lessons are the best lessons sadly…]
Ok, one more. This final one just goes to show you that some people are just born for this smh…
Jake Greenbaum, a 32-year-old crypto influencer in Miami, is betting on a rebound. Mr. Greenbaum has solana tokens in his Celsius account that were worth more than $107,000 when the company announced the freeze. Mr. Greenbaum, who calls himself the Crypto King on social media, assumes he isn't getting his money back and chalks it up as the cost of doing business. He recently started selling his watches. He plans to use the money to buy more crypto. [Having said that, if he can weather the winter and this stuff comes back as it has done several times, maybe Crypto King will start selling his Crypto "expertise" on Youtube lol]

Meanwhile, over at Web3 is going just great, we have a never ending series of collapsing coins and shit like that:
Voyager Digital files for bankruptcy [Good luck getting your money back, you will need it]
Report reveals that crypto investment firm Uprise lost 99% of customer funds trying to short Luna during its collapse [Next!]
Genesis lost hundreds of millions due to exposure to Three Arrows Capital and Babel Finance [Cascading implosions in process…]
This photo (found here) captures the NFT idiocy perfectly…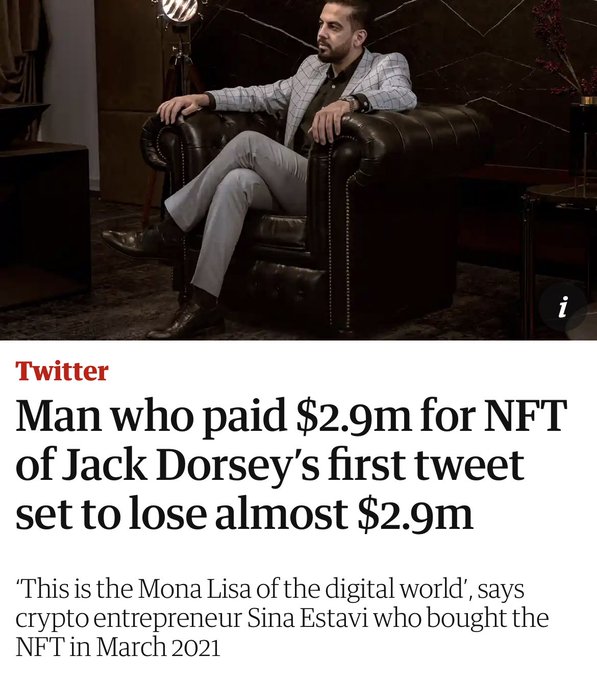 Then again, you know, short term anything can happen and…maybe this is the bottom? I know of a few people who are still holding for…years!
TRAVEL
Travel continues to be challenging. If you thought things were bad in the US, you have no idea how much tougher travel conditions are over in Europe. Oh, Scandinavian SAS Airlines filed for bankruptcy protection as they need to somehow get rid of about $700 million in annual costs…On the other hand, the value of euro against the dollar continues to fall which makes more Americans travel to Europe!
This is amazing: Beautiful 4K Drone Footage Taken Around the World.
My kids loved going to the zoo. 14 Best Zoos in the US.
I like quirky stuff so this one certainly qualifies: 8 Wondrous Bridges to Nowhere. The one in Euclid, Ohio looks so creepy!
If you are into beer: The Best States For Beer Lovers, Ranked. Nevada is #1, Michigan at #10.
UKRAINE RUSSIA WAR
One of the best articles on the war I read recently: Can Ukraine Win?
The challenge for Ukraine is to develop an offensive with some momentum to the point where there is no readily available way for it to be reversed by the Russians. This is a challenge because the Ukrainians will need to advance by means that do not solely involve direct assaults on Russians positions. Over the next few weeks we should start to get some sense of whether Ukraine can start to take the initiative and impose its own priorities on Russia rather than the other way round, and how well the Russians are able to respond to the steady improvement of Ukrainian capabilities. Should Ukrainian forces be able to create any momentum, however, then the situation could move in their favour very quickly. Can the Ukrainians win? Yes. Will the Ukrainians win? Not yet clear, but the possibility should not be dismissed.
This photo (found here).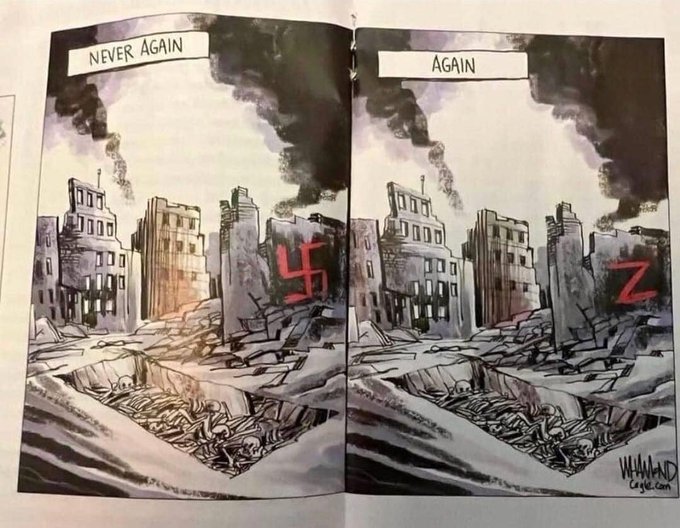 COVID-19
I follow the Covid cases in Europe, Greece, Brazil and US. In Europe cases have tripled. In Greece cases went from about 2,000 to more than 16,000. We seem to be holding strong just over 100,000 cases daily here in the US. BUT, these numbers do not include test results at home that are not reported! So, this pandemic is still going strong. At the same time, hospitalizations appear to be holding steady (with only a tiny increase lately) and daily deaths in the US have plateaued…which sadly it means almost 400 people die daily here.
Looks like BA.5 is destined to be the dominant virus. And this Twitter thread lays out all you need to know…
…BA.5 is a different beast, with a new superpower: enough alteration in the spike protein that immunity from either prior vax or prior Omicron infection (incl. recent infection) doesn't offer much protection.
Updated COVID State of Affairs: July 7. Another variant ahead, BA.2.75…Are we going backwards now or what, who names these things? Maybe I hold out for BA.69. The Bottom Line:
BA.5 is impacting countries across the globe. It's story in the U.S. is yet to be determined. It's important to note, though, that we already have a very high, steady level of transmission. In addition, SARS-CoV-2 continues to mutate so quickly that we start talking about the next variant (BA.2.75) before the current wave peaked.
My exercise sessions for runners at a nearby gym are now postponed until the instructor recovers from Covid…for a second time! I am still the only one in there who consistently wears a mask…coincidence?
ODDZ & ENDZ
Best of Web: 24 charts that show we're (mostly) living better than our parents. Must read. In its entirety.
Best of Web: What a wonderful article about an Indian microbiologist who did not quit believing in a drug that has saved and is saving so many transplant patients! Man of Culture. Read it all and prepare to get emotional, like the ending:
Uma knows what her husband would have said had he been alive. Many years ago, when rapamycin had not yet been formally approved, a doctor had sought it on compassionate grounds for a six-year-old's kidney transplant. The surgery had been a success. "I don't care if the company makes even a cent out of it," Sehgal had said to Uma. "My work is done. A child has survived."
You probably have received some weird texts recently too? If yes, this is a must read then: What's the deal with all those weird wrong-number texts? If you have an older loved one please warn them about this, always be vigilant about scams!
These texts are usually the lead-in to romance scams that usually end with fake crypto deposits, written so as to imply wealth and success on the part of the scammer, who is often an abused and captive worker operating multiple phones and attempting to con several people from a compound operated by shady gambling rings somewhere in Southeast Asia.
 Amazing photography at The Big Picture 2022 Photography Awards.
MILES & POINTS
HOT CREDIT CARD OFFERS: 80k CITI Premier, 60k CHASE Sapphire Preferred, 75k Capital One Venture X, 75k CHASE Ink Cash, 75k CHASE Ink Unlimited, 100k CHASE Ink Business Preferred, 60k CHASE World of Hyatt Visa, 60k CHASE Sapphire Reserve, 20k CHASE Freedom Flex, up to 30k CHASE Freedom Unlimited, 70k CHASE United Explorer, 140k IHG Rewards Premier AND 1 Free Night, 5 FREE Nights with Chase Bonvoy Boundless, 20k CITI Custom Cash, and many more, including many AmericanExpress cards, including Delta, Marriott and Hilton cards! Please check out my Affiliate links. Terms apply to American Express benefits and offers. Visit americanexpress.com to learn more. If you do not see a credit card with my affiliate links, perhaps I could refer you?

This section is about my hobby addiction of collecting frequent flyer miles and hotel points since the early 1990's!
As of today, I have burned 639,147 miles/points year to date and have 4,807,261 miles/points in the bank. Some do drugs, I do miles lol!
BEGINNERS
BASICS: This travel hacking hobby is mostly about getting the fat Signup Bonus of travel rewards credit cards while of course NEVER EVER carrying a balance. Banks have a marketing budget and are willing to give us many THOUSANDS of miles/points to travel mostly for free hoping to hook us to charge 20%+ interest rates on our balances. The poor souls who fall for their marketing paying these ludicrous interest rates for years end up subsidizing us responsible consumers who enjoy taking advantage of, cough, such bank marketing budgets! Some of us have been doing this for thirty years creating amazing travel memories…But how do you start? This is a good post and podcast: How to Start Travel Hacking. In addition, you can also start by reading the Basic Reading material in the Reddit/Churning site.
If you are looking for airfare deals traveling abroad, this is a good guide: 8 Hacks for Finding Cheap International Flights in 2022.
There was a very interesting research study recently titled: "Who Pays For Your Rewards?". It is lengthy, 51 pages long. But here is the abstract below and I added bold font for emphasis:
We study credit card rewards as an ideal laboratory to quantify the cross-subsidy from naive to sophisticated consumers in retail financial markets. Using granular data on the near universe of credit card accounts in the United States, we find that sophisticated consumers profit from reward credit cards at the expense of naive consumers who lose money both in absolute terms and relative to classic cards. We estimate an aggregate annual cross-subsidy of $15.5 billion. Notably, our results are not driven by income—while sophisticated high-income consumers benefit the most, naive high-income consumers pay the most. Banks lure consumers into the use of reward cards by offering lower interest rates than on comparable classic cards and bank profits are highest for borrowers in the middle of the credit score distribution. We show that credit card rewards transfer wealth from less to more educated, from poorer to richer, from rural to urban, and from high to low minority areas, thereby widening existing spatial disparities.
Dear readers: This insane bank environment above only happens in the US. $15.5 Billion, wow! In every other country the regulators have taken action to protect consumers. Not here, it has been going on for decades, the power of the banking lobby greasing politicians' pockets is very powerful indeed. I am all in favor of reform but, like with the issue of gun control, I have almost given up. So, continue to be a sophisticated educated consumer and take advantage of banks' marketing budgets!
IGNORE posts from bloggers encouraging you to buy miles/points. For 99% of situations out there this does not make sense for you other than making the bloggers richer by using their affiliate links. The whole point of this game is to get the miles/points FOR FREE!
The Chase Sapphire Reserve card was one of the best travel rewards premium cards. And then Chase decided to whack it repeatedly and only recently started making baby steps to stop its decline. But make no mistake, the card is no longer worth it. And to prove it Chase offered, well, nothing! Chase Offers Reserve Cardholders Marriott Bonvoy Gold Elite Status. Actually, I find this insulting…a worthless elite status from one of the worst hotel programs and only, please sit down, for three months LOL.
TOP TRAVEL REWARDS SIGNUP BONUS CARDS
Citibank again increased the Signup Bonus for the Citi Premier card from 60,000 to 80,000 Thank You points. Annual fee is $95 and the minimum spend to score the Signup Bonus is $4k in the first three months. The Citi Premier card has a solid earning structure as it earns 3 points per dollar on gas/groceries/dining/travel and one point on everything else. Of course, you can transfer your points to mostly foreign airlines and JetBlue. Or you can take $705 and run. You can cash out at one cent per point. Therefore, 80,000 points means $800 less $95 annual fee——-> BOOM, here is $705 in your pocket, you need this $$$ to pay for gas! Read the newbies paragraph above and think…taking advantage of bank marketing budgets! To reiterate, do NOT become a victim of bank marketing budgets by paying interest TO the banks ok? To read more: The Citi Premier Card Has a Big Offer – 80,000 Points, Worth at Least $800. Yep, available HERE, thank you!
The Capital One Venture X card offers a 75,000 point Signup Bonus after a minimum spend of $4k in the first three months. If you like simplicity and are looking for one (premium) card, I highly recommend this card (and yes, I have it myself!). It has an annual fee of $395 but it comes with a VERY easy $300 statement credit for travel booked on its excellent travel portal, essentially turning it into a $95 annual fee card. Wait…at each card anniversary you earn 10,000 points essentially making it FREE! Every dollar of spend earns 2 points and flights booked on the travel portal earn 5 points per dollar. You get access to Capital One and Plaza Premium airport lounges and a Priority Pass Select lounge membership and, this is important, you can add FOUR authorized users FOR FREE who can also open their own Priority Pass Select airline lounge membership. No foreign transaction fees. Free Hertz President's Circle rental car elite status. Cell phone protection and primary rental car coverage. Awesome seats at baseball stadiums for just 5k points. And lots more. Available with my Credit Card Links, thank you for your support!
5 Amazing Ways To Maximize The 75K Capital One Venture Card Welcome Offer.
NEW: Capital One Adds New Perk: 6 Month Cultivist Membership – Never heard of Cultivist before. But it can be an AMAZING opportunity to save a lot of money if you enjoy museums as you can get in free and bring along THREE guests! Many museums in the list with 10 only in New York City alone! The catch? You get a free membership for only 6 months so make sure you cancel before they start charging you $40 per month, ok?
In general, I do not recommend hotel travel rewards credit cards. Unless it is for a card from a hotel chain you use A LOT (like Hyatt for most of us). But right now there is a superior offer for a hotel card from a program that I generally almost never recommend. It is this one: Chase Marriott Bonvoy Boundless FIVE Free Night Certificates (Up To 50,000 Points Each) Bonus. You can enjoy almost a week at a very nice property anywhere in Marriott's vast footprint for the $95 annual fee, do the math! Available HERE under Card Category/Hotel, thank you for supporting this blog!
The Chase IHG Premier Card Signup Bonus is now 140,000 IHG points AND a free night (that costs up to 40,000 points) after you spend $3k in the first three months. The annual fee is $99. The card can earn up to 26x per dollar for spending in IHG hotels, 5x per dollar on travel, gas stations and restaurants and 3x everywhere else. You do receive a free night (up to 40,000 points) at each card anniversary which softens the blow from the annual fee somewhat along with a $50 deposit into your United Airlines Travel Bank account. You also get automatic Platinum elite status which is not that big of a deal. Word on the street is that Chase will approve you much easier for this card than any other of its cards. I am trying to phase out all IHG points from my life so I am not going for it. Hotel cards are just not as lucrative as they used to be. But if you plan to spend some time at a Holiday Inn brand hotel this card could get you several free nights so consider it. Of course it does not compare to the Marriott Bonvoy Boundless card above that comes with FIVE free nights! Available HERE under Card Category/Hotel, thank you!
Remember, you are NOT allowed to ever carry a credit card balance if you ever get a credit card here!
NEWS/PROMOS/MY ACTION
The $99 annual fee on son's Citi AAdvantage Business Select MasterCard posted so we did the standard routine to call Citi and pretend that we don't think the annual fee may be worth it anymore and if the rep could kindly check to see if there is a retention offer in the account to make us keep the card? And, here we go again, Citi offered a $99 statement credit after spending $1,000 on the card in the next three months. Accepted. As blogged previously, me and my wife finally closed the same Citi cards as we both applied for the Barclay AAviator card recently that offered 80,000 AA miles Signup Bonus. Why didn't son do the same? Well, it is a long story behind it…Let's just say his miles/points "manager" screwed up and Barclay could not approve him and before going down that path…I made an executive decision to lay off Barclay for him and stick with Citi. Next up is to get the 80k Barclay AAviator card for daughter when she settles down and feels ready to possibly call Barclay to get them to reconsider her application…Moral of the story: ALWAYS call when the annual fee posts or a few months before it actually posts and kindly ask if there are any retention offers on your account as you are thinking to close the card because you are not using it much, you are not taking advantage of the benefits or whatever.
Wait, wife's 80k AA miles from Barclays did not post with the miles from the spend in the first monthly statement. Calling Barclays is one of those experiences your worst enemy wished on you…And sending them a secure message and seeing the canned responses by a robot are just sad!
Register for the latest Radisson Rewards Americas promotion HERE to earn 2X points on stays of two or more nights at any of our 600+ hotels across the United States, Canada, Latin America, and the Caribbean, now through August 31, 2022.
ADVANCED TRAVEL HACKERS
For players doing manufactured spending (MS) at Kroger, this post is helpful: Kroger 3PGC Buying Limits.
Question: What is the latest workaround to get your AAdvantage frequent flyer number entered on award reservations made using British Airways Avios flying partner AA? My prior workarounds do not appear to be working any more…If this window has closed I am not going to transfer any Chase Ultimate Rewards points to British Airways to take advantage of the 30% bonus (valid until July 31, 2022).
BUZZING
A section where I go on and on about some stuff that happens in my life and anything else that just does not fit in another section above.
At this point, after my daughter's car accident which resulted in her totaling her car, we are resigned to have just two cars for the time being in our household. Our daughter has been driving a car for four years since her junior year in high school and she can use a break. Anyway, we are loyal to Ford in my household as my wife works there and I really loved the Ford Heritage Vault site to check out some amazing Ford cars…
I keep up with the press in Greece and Larisa, my hometown. And then I saw this video of a piano hanging with balloons over an area I used to go with my family in Greece. I actually have a picture of my family when I was in elementary school and then years later with my kids at the exact same spot over that bridge in the video. Oh, you will LOVE the video as much as I did: Flying Piano Tempi.
Running is interrupted until my two toes of my right foot are healed. By far, the stupidest injury ever! I spilled super hot just brewed coffee on them and then I ran after I taped them. Well, to make the long story short, that was idiotic of me and I have been letting them heal for several days now to get them back to normal. I am not proud of such accomplishment to say the least, please hold the tomatoes!
Shocked to learn that former Prime Minister of Japan Shinzo Abe was killed by a gunman. Of all places for this to happen in Japan wow! For gun nuts coming out saying "gun violence can happen anywhere or people kill people and not guns" and other nonsense please be aware that Japan has 10 murder deaths per YEAR while here in the US we have about 57 murder deaths per DAY, so please shut the phuck up, thank you.
Last Saturday, a funeral. Tomorrow a wedding…the circle of life.
If you have seen green skies before, do not click THIS. Wow, looks like the apocalypse!
This is a labor of love, enjoy another blog post and stay healthy my friends. Health is your most important asset!
Let me leave you with this…
Thank you for reading my blog. If you enjoy it please pass it on to a family member or friend, thank you!
Some of the links are behind a paywall. You can try to read them using Archive.is. Or use 12ft Ladder. Or the Firefox browser.
TBB
travelbloggerbuzz@gmail.com
Follow TBB on Twitter @FlyerTalkerinA2.
You can subscribe to TBB below, winners only!
Opinions expressed here are author's alone, not those of any bank, credit card issuer, hotel, airline, or other entity. This content has not been reviewed, approved or otherwise endorsed by any of the entities included within the post.