We get the latest mainstream media of The Hobby, laugh hysterically reading The Bustle, shake our heads with Award Wallet warning us they are going on a plastic sell sell sell mode, learn how to book AA flights With Citi Thank You Points, get the details of the Citigold Bonus, travel to Marseille, and talk about them humans.
TBB Blog Mission: To Entertain. Educate. Inspire. In That Order!
You can support TBB by shopping with our AMAZON AFFILIATE LINK or click on the Amazon Banner on the right side, thank YOU!
And the mainstream media publicity barrage of One Mile at a Time continues. In addition to the now infamous Rolling Stone article, appearing in the front page of Yahoo and in Daily Mail, we now see him doing a TV interview with a channel in Australia. Well, like I said yesterday, this quirky hobby thrives under the radar. Every single mention in the mainstream press does NOT help our hobby go on. And calling the airline execs idiots, WTF!!! No wonder the hobby, excuse me, meant to say The Hobby lol, is under attack in the past few years and having many of us pondering its future. Some excellent comments here in this Flyertalk thread, especially the must read #577 by AAExPlat. Then my old friend ingy, the founder of Frugal Travel Guy, who showed up in Post #604.  Hey, I will be blogging for three years soon, you were a little off in your prediction dude! And finally, another great comment by Astrophsx #622.
All right, STOP EVERYTHING. Read this article about The Bustle at Shandypockets, a SUPER hilarious parody on the Rolling Stone article. I have not laughed so much non stop for a very long time. I added this blog to Feedly, wow! #blownaway
Then I got an email from Award Wallet telling me that they are going to go full blown sell sell sell credit card mode. WTF!!! Then I see how much the CSP card paid me from the dinky creditcarddotbomb banner I have and it all makes sense. Actually, I need to get Mrs. TBB apply for one again and somehow someway hope that 5 card limit does not get involved #dreaming. My fear is Award Wallet folks get into plastic selling so much that they neglect the actual product, they get hacked and we all get screwed! Having said that, is there anything out there that can do what Award Wallet does?
Travel With Grant has an excellent reference post on how to book American Airlines with Citi Thank You Points.
Doctor of Credit has a Step-by-Step Guide to Citigold Checking Bonus. This can be lucrative but must be careful going about it and this post has what you need.
A comedy video at Shandypockets again about Passengers We Love.
Some awesome aerial photos of Marseille, France.
A very interesting graph showing the countries with the biggest GDP falls since 1950:
A fascinating article at Fortune: "Humans are underrated".
And I leave you with this: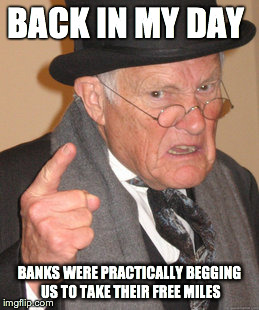 Blogging is lonely & insanely time consuming. Help bloggers you appreciate & make a positive difference in your life by spreading the word about their blogs, emailing and commenting and using their few $$ links. If not, the Titans win.
Check out my updated blog lists: Blogs I Love, Blogs I Like, Blogs To Ignore
TBB
travelbloggerbuzz@gmail.com
Join over 3,731 TBB followers on Twitter @ FlyerTalkerinA2 and add TBB on Google+