We bring you a chronicle of the January 6 insurrectionists, credit card advice for newbies, Airbnb gems, tax refunds, amazing photography with animals interrupting the photographers, the sad ending of that dead hiker nobody knew, some fun travel links with caves and McDonald's properties, catching up with the vaccines and all the new Covid-19 strains, some educational personal finance links as always, get top elite status with Marriott if you are into them I guess and so much more you will be clicking my links enthusiastically trying to contain yourselves, especially with the orgasmic thoughts of Trump getting the hell out of the White House after four very long years!
TBB Blog Mission: To Educate. Entertain. Inspire. In That Order!
Support TBB by applying for CREDIT CARDS or visiting our

LINKS

or Donate

You like my blog? Send a link to someone please!
Shop & support the blog with the TBB Amazon link!
BLOG HOUSEKEEPING:

This goes out to subscribers via email the day it is posted at 8 am. After that I may add something new in the body of the post and I indicate it like this: Update.
If you are not into the frequent flyer miles/points game please feel free to skip the MILES & POINTS and most of the BLOG BUZZ section.
Stay positive, test negative!
TOP PICKS
Top picks are not excerpted at all. I recommend you find time to read every word!
Just click it!
Warning: This is long. From a reporter who was there for the whole thing. The Capitol was breached by Trump supporters who had been declaring, at rally after rally, that they would go to violent lengths to keep the President in power. A chronicle of an attack foretold. Prepare to be shocked. I know, it is pretty shocking that we are still shocked so late into Trump's term!
Remember that story I featured here about that hiker who died alone in a tent and nobody knew who he was. It became an obsession for several people and we finally found out the answer. And you would not believe how depressing the story is. Obviously, the guy had mental issues. Many tried to help. But sometimes you can not reach the person, just so sad.
The Unsettling Truth About the 'Mostly Harmless' Hiker
You need a mental break, so I have this Twitter thread for you, enjoy the amazing photography!
Animals interrupting wildlife photographers
MILES & POINTS
HOT CREDIT CARD OFFERS: 75k Chase Ink Cash, 75k Chase Ink Unlimited, 100k Chase Ink Business Preferred, 60k Chase Sapphire Preferred, 80k for all three personal Southwest cards, 60k Citi Premier, 65k AA CitiBusiness Platinum Select, 50k AA Citi Platinum Select, 20k Chase Freedom Flex & Chase Freedom Unlimited, 75k AMEX Platinum, 85k AMEX Business Platinum, 50k Chase World of Hyatt, 150k AMEX Hilton Aspire, 130k AMEX Hilton Business & Hilton Surpass, $250 AMEX Blue Cash Preferred, $300 AMEX Blue Cash Everyday, 140k Chase IHG Rewards Club Premier, and many more! Please use my Affiliate links.

If you do not see a credit card with my affiliate links, perhaps I could refer you? Contact me please, thank you!
My REFERRAL links for the 100k Chase Ink Business Preferred, 75k Chase Ink Cash and 75k Chase Ink Business Unlimited.

Newbies: My daughter is 18 and at her birthday she applied for a Discover card for students to build up her credit. It earns 2% on the first year and of course it has 5% quarterly categories. I noticed how she used it in the first few months and then the usage stopped. I asked her why. She said she prefers using a debit card because she can see the money get deducted from her bank account instead of waiting for the monthly credit card statement to come and then pay. "I noticed myself spending more". BINGO. This is TRUE! This is why I despise so many blogs out there that just PUMP their readers EVERY day to get more plastic. For many of them, it will eventually lead to missed payments, egregious interest and fees paid and some to ruin. So, in order to play this game, you MUST be very responsible, very organized and do your best not to spend more than you can afford and, for heaven's sake, ALWAYS pay the credit card balance at the end of the month! So, it is best to get a credit card and see how you handle it. If you are finding yourself using it in such a way that at the end of the month you get surprised how much you spent…I suggest you take it easy and really ponder if this hobby is for you. It is probably not!
The miles and points world slows way down over the weekends. And I don't post about Amex offers, stupid clickbait crap, airline sales and weather events…
I will make Hyatt Globalist elite status by the end of the month. I am not going anywhere anytime soon by the way…Hotels are making it easier to achieve top elite status in 2021. I am not a fan of Marriott hotels but if you are into them they make it easy as well: Marriott mattress running: Valuable elite status for nearly 2 years.
TRAVEL
You know, when the British do this, it is gravely serious! Britain Tightens Its Borders to Keep Out New Strains of Covid-19.
Ok, I have another fun link for you: Airbnb's most wish-listed properties in all 50 states.
I am on a roll! Take another one, bang! 6 Incredible Caves You Can Actually Stay in on Your Next Trip.
I am not going to be stopped, this one for my fellow Michiganders and everyone thinking to visit us: These top Michigan Airbnb properties are on everybody's wish lists.
Not a fan of this place but this link was fun! Here Are 35 Of The Most Interesting Mcdonald's Restaurants Shared By "Nonstandard Mcdonald's" Twitter Account. Wow, #25 was in my Ann Arbor!
COVID-19
Well, the vaccination rollout is a giant cluster you know what! Did you expect anything else from these clowns in the federal government? We are fighting a war here with over 400,000 dead and if there was ONE thing the federal government could lead…it was this! The lesson from the botched COVID vaccine rollout: Sometimes you need 'Big Government'.
Fantastic article! The Coronavirus Is Evolving Before Our Eyes. Ok, I am scared after reading this. I never forgot what Dr. Fauci said a long time ago: "It all depends on the virus". With so many still going out there and all these strains and…god help us!
I think I better stop my excursions for grocery shopping: Still going to the grocery store? With new virus variants spreading, it's probably time to stop.
PERSONAL FINANCE
This is really a great article: Why We Go Wrong.
As expected, the IRS had delayed the start of the 2020 tax filing season: Tax refunds won't come as quickly this year. Here's why.
This will impact our hobby as we finally will have the investors and consumers come back to where they belong, the front! Biden to pick Gary Gensler to lead SEC, Rohit Chopra to helm CFPB: reports. And finally our CFPB complaints will have a sympathetic ear for a change, yes!
Very interesting: The U.S. Share of the Global Economy Over Time.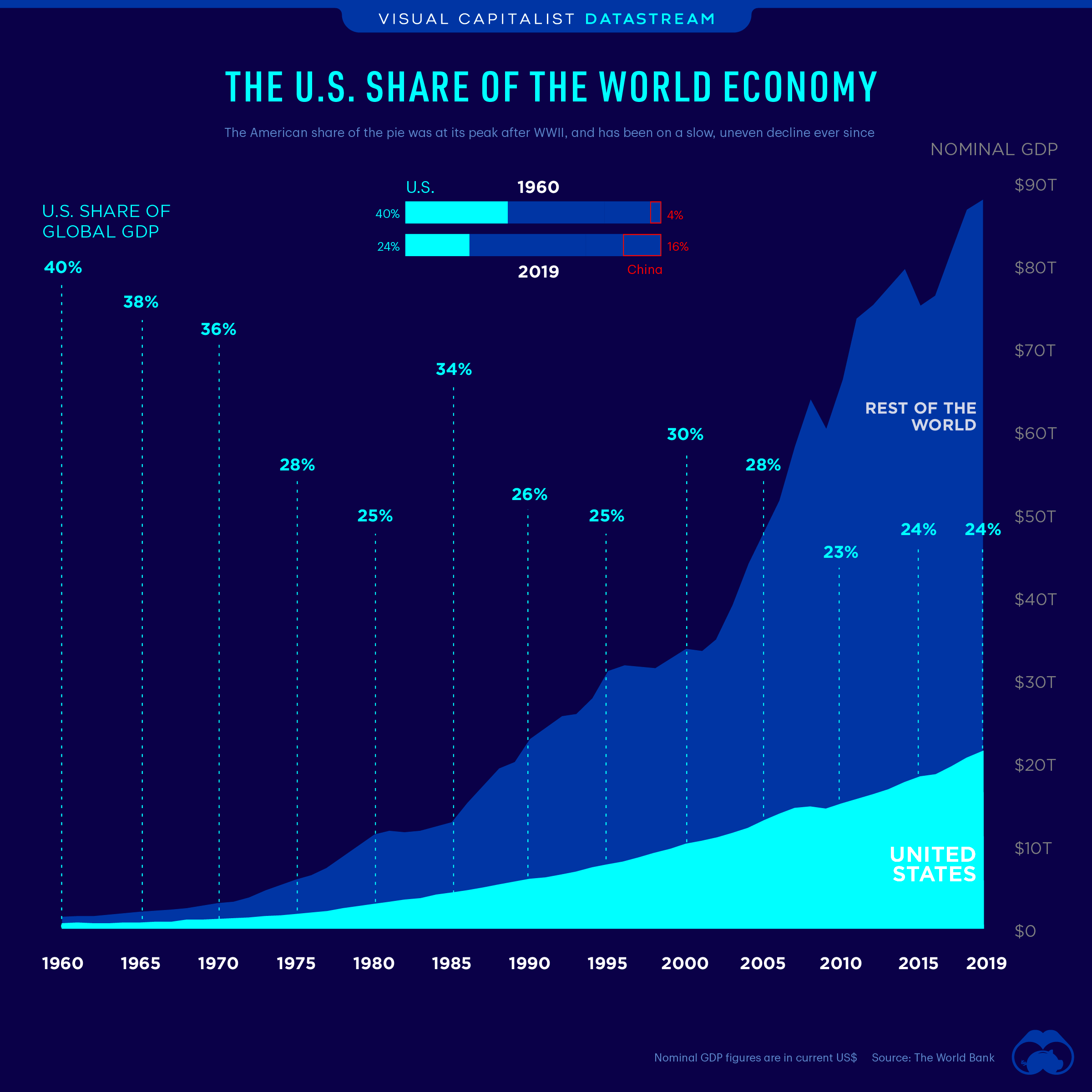 CURRENT EVENTS/POLITICS
We will not miss so many in this administration. But this Pompeo dude is in a league of his own: Worst Secretary of State Ever.  He is looking to get back to Kansas to run for something else and he gets this from the Kansas City Star: Mike Pompeo's reign of error comes to an end with an 'assault on the First Amendment'.
America will be better when he leaves office. Kansas will be much better if he decides to stay away from his adopted home state forever.
I am sticking this one here because it IS happening with the work from home mega trend currently underway. They Can't Leave the Bay Area Fast Enough. Many of my son's coworkers left New York City too, some of them are currently working and surfing in Oahu island in Hawaii with no plans to return to mainland anytime soon!
From Michael McFaul on Twitter: To all those Trump supporters now calling for unity, the single most important act towards unity is for you to state unequivocally that Biden won a free and fair election. Until you say that, all of your other words are empty.
ODDZ & ENDZ
Wow, stunning piece: The Secret Society of Lightning Survivors.
This belongs in the TRAVEL section but I am trying to limit each section to no more than five items, so since I am the boss around here I made an executive decision to slide it in this section which also brings it to five items #brilliant! Oh wait, what is it, I almost forgot!  Must click: ThruHikes. A curated list of long distance hikes around the world. I think I may add this one to the list of TRAVEL sites I like and recommend, agree?
This may explain but does not excuse: Why People Believe in Conspiracy Theories.
Wow, must read: The 10 Most Astonishing Archaeological Discoveries of 2020, From an Ancient Cat Carving to the Amazon Rock Paintings.
Time for some photos! 25 Pics From The 'Wildlife Photographer Of The Year' Contest That The Public Loved Most.
BLOG BUZZ
We are now entering BLOG BUZZ, a section for advanced hobbyists and veterans of this fast imploding hobby and also a section where I go on and on about some stuff that happens in my life because it helps me feel better about myself.
This morning I am getting a standing desk in the other side of my home office. View is my back yard. It is time as I am sitting way too long and it is not helping my bulging disk issue. Listen to the doctors!
Seth Godin writes something every day. I look at it from time to time. But this one really hit a nerve with me as it applies to what my blog is all about really! Understanding "popular". And this is why some blogs in our "hobby" have turned into multi-million dollar credit card sales operations headed by diva influencers along with servants of hideous clickbait tabloid crap that, you know, attracts the clicks, SAD!
The most direct way to become popular is to serve the audience that made the last thing popular. By that definition, popular almost always means 'not better.' It simply means that you found a large group and gave them what they wanted.
I do my thing around here. It is what it is…If I ever post "shocking" videos and sensational stories about moronic incidents please call me out on it, I abhor such practices. I guess if I posted clickbait crap like this guy I could have other blogs link to me but I don't!

When I was a kid I was never into Top40 and gravitated to very alternative obscure bands and underdog teams and…fighting the system. Maybe TBB is my way to conduct a revolution LOL. Whatever…Just a few more days of the Trump mental era to end you guys and I am SO excited!
And I leave you with this…
Follow TBB on Twitter @FlyerTalkerinA2.
You can subscribe to TBB below, winners only!
Opinions expressed here are author's alone, not those of any bank, credit card issuer, hotel, airline, or other entity. This content has not been reviewed, approved or otherwise endorsed by any of the entities included within the post.