We bring you another Monday Buzzy edition with details about The Points Guy empire, help you fight tax identity theft, the first US cannabis cafe opens, the sad tale of The Plastic Merchant bankruptcy, I keep racking up Hyatt points, what happens if you fly close to the US President, one of those must read articles about the forces shaping the world, how the Saudis killed Jamal Khashoggi, some amazing world records, gotta love dogs, money with an expiration date like the milk in your refrigerator and other stuff I bring to you for free for almost seven years wow!
TBB Blog Mission: To Educate. Entertain. Inspire. In That Order!
Support TBB by applying for CREDIT CARDS and visiting our

LINKS

!
You like my blog? Send a link to someone please!
MILES & POINTS
Interesting article. Oh how I would love to see the financials to confirm stated profitability! How The Points Guy built a 100-person media company off affiliate fees. Pound them newbies 24/7 365! Our little obscure "hobby" is not in Kansas anymore…Care to guess why we are not a rounding error anymore and keep getting hit from all directions? See you at the next devaluation!
Speaking of good travel rewards credit card deals out there, how about the Citi Business AAdvantage Platinum card offering 70k AA miles? Available with my links. But TBB you do the same thing like TPG? Exsqueeze me? I am fairly certain that NONE of my readers carries a balance on their cards. Unlike TPG readers. Told by a friend recently a stat that 60% of credit card holders carry a balance in the US. And this is why we still get bonuses like this! But they are being restricted left and right with the influx of so many newbies…So sad! Update: Doctor of Credit now shows a higher offer for 75k AA miles…and this is why I will not ever get an offer to sell to The Points Guy sad lol! This will never get through their editors to be published, a higher offer offering more miles to their readers, blasphemy! How do you expect for all 100 staff to get paid huh? Update2: Sharp reader pointed out that the 70k offer has a $4k minimum spend and the 75k offer has a $5k minimum spend.
Serenity now, I got a little distracted. Again. Lets turn positive like all other bloggers who are so so nice, being positive and all, work that SEO hard baby, linking to others hoping for a back link, pumping those dozens affiliate links all over each blog post, blah blah blah..
Another 61k Hyatt points in the bank. I should probably use them one of these days…
TRAVEL
Did you ever wonder what happens when you happen to fly near the President of the United States? Intercepted By An F-16. "Aircraft at three-thousand five hundred feet…say intentions."
Who needs Amsterdam? America's first cannabis cafe opens in California. In pictures lol. If my site hits 20 credit card conversions in a month I will sponsor a reader meetup here. Will pour my blog profits back to sponsor it #givingback. Bwahahaha!
Genius move to sleep better in your hotel room, thank you!
ODDZ & ENDZ
Drop everything. Right now. I no longer do Best of Web posts but if I did this would have been the leading one for sure. Like I said, drop everything and place this at the top of your reading list. Do not skip it. I repeat. Do not skip it.
Three Big Things: The Most Important Forces Shaping the World
By the way they are: Demographics, Inequality, Access to Information. And ponder about this table and think of the numerous credit card pumping, clickbaiting, shocking videos and all the drivel your eyes are exposed to every day before you come here to get educated, entertained and inspired sometimes okay?
Another deep article here that was going to be a strong Best of Web candidate: The story of Jamal Khashoggi's murder and how the world looked the other way. Phuck MBS and Kushner, can TPG say that? Nope!
Here is something to laugh with! This video of a preacher checking his phone while speaking in tongues is my favorite video on the internet right now.
Wow, this will shock you. For real. And make you shake your head for a while, crazy! 19 Of The Most Bizarre World Records You Never Knew Existed. Like…most consecutive pinky pull ups: 36!! Fastest time to eat a bowl of pasta: 26.69 seconds! And then there is this, lol: Largest table tennis/ping pong bat: 11 feet, 7.8 inches tall and 6 feet, 7.8 inches wide.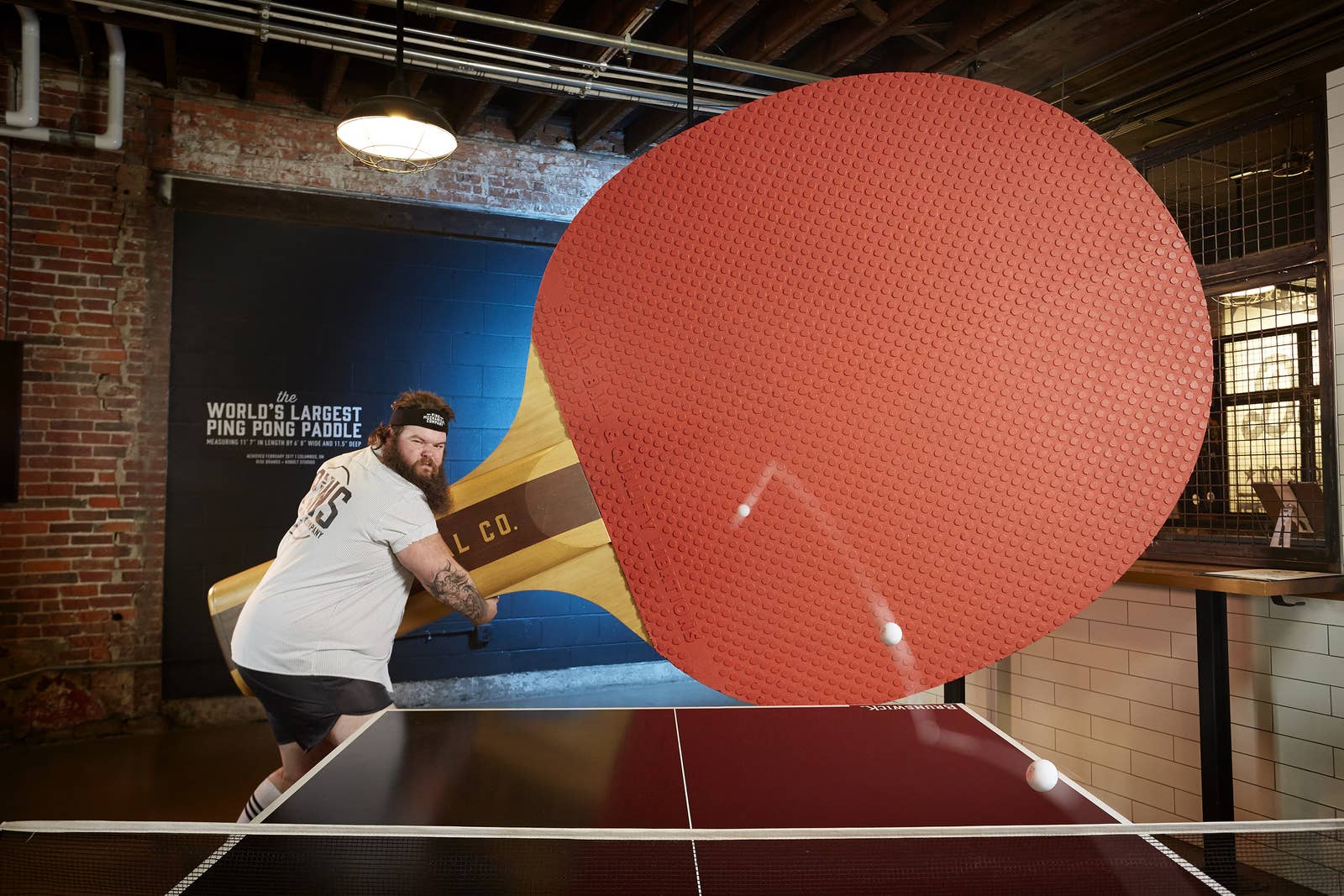 Love this! Gang of Dogs Turn Up at Hospital to Wait for Homeless Owner Who's Being Treated Inside.
PERSONAL FINANCE
Tax identity theft is when phucking scammers file a US tax return before you do. So, when you file you get the dreaded error message "Someone has already filed using this Social Security Number". And then you are in a world of hurt trying to fix the mess. Best way to fight this is to file your tax return early to ensure you do it before the phucking scammers do! As this issue has been hammering US taxpayers and the IRS for several years hitting a peak some years ago…the IRS has been fighting back. One way is to issue a PIN to taxpayers who were already victims who must send in the code when they file. IRS sends them a PIN each year. The IRS has been very slowly expanding the PIN program to other states and started making it voluntary last year to 10 states, which included Michigan. I took advantage of it and it worked great. This year it expands to another 10 states. I would encourage you to look into it and take advantage of it. The screens are very thorough, I must warn you. Hey, they REALLY need to make sure it is you and not a phucking scammer! Here is an article about this subject: Taxpayers in 19 states and D.C. now can get special IRS PIN to fight tax identity theft.
Interesting read about Silvio Gesell who wanted to create money with an expiration date. He is coming back to vogue with negative interest rates becoming a reality lately. The 'Strange, Unduly Neglected Prophet'.  Well, you can say he was an interesting character for sure!
He had a bunch of eccentric views, criticizing monogamous relationships and advocating free love. He lived in a vegetarian commune near Berlin for a time. He was a bohemian utopian who advocated for peace between nations. He was critical of big business and finance, but he believed in individual freedom and market competition. And he was a committed anti-racist. As fascism rose in Germany, Gesell would call the scapegoating of Jews for the nation's problems "a colossal injustice."
BLOG BUZZ
We are now entering BLOG BUZZ, a section for advanced hobbyists and veterans of this fast imploding hobby and also a section where I go on and on about some stuff that happens in my life because it helps me feel better about myself.
The bankruptcy filing of The Plastic Merchant is quite something, wow! Can you believe holding the bag for 90k omg! I saw others holding the bag for $32k and 22k. I felt really bad about the couple running TPM as I saw many medical expenses in the list of debts. Not sure if that started the whole debacle that led to thousands and thousands of credit card debt. Or did they just blow the money? Just a sad story indeed and should be a warning to everyone! This is all games and fun until you get screwed for the duration, smh. In addition, I see three bloggers and a blog reader in the list of people holding the bag, all for less than $1k though.
Only 12 miles as the long run this past weekend. Two week countdown for my first full marathon. I am very excited, can you tell?
And I leave you with this…Don't dress up your dog this Halloween like this ok? Or maybe…do!
TBB
travelbloggerbuzz@gmail.com
Follow TBB on Twitter @FlyerTalkerinA2.
You can subscribe to TBB below, winners only!
Opinions expressed here are author's alone, not those of any bank, credit card issuer, hotel, airline, or other entity. This content has not been reviewed, approved or otherwise endorsed by any of the entities included within the post.