There are not that many articles you read online that make such a strong impact on you. Until I read this today and decided to share it with you. I am still blown away by it…
TBB Blog Mission: To Entertain. Educate. Inspire. In That Order!
You can support TBB by applying for CREDIT CARDS, please consider doing your shopping with our AMAZON AFFILIATE LINK and clicking/forwarding any of our REFERRAL LINKS. Or click on the Amazon Banner on the right side, thank YOU!
The article is here: "The White Man in That Photo"
For the youngsters here, a history lesson. Back in the 1968 Olympics this happened: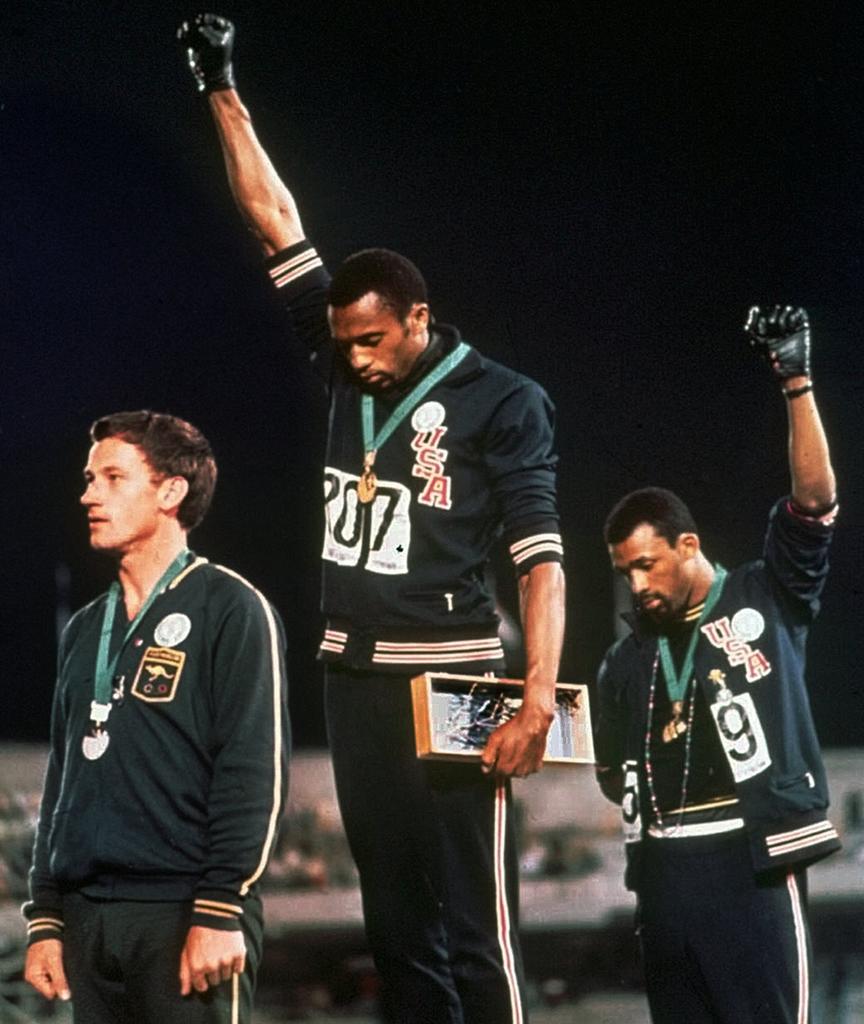 It was a historic moment in sports and the fight for human rights. The two Americans were immediately suspended from the US Olympic team and expelled from the Olympic village. They received more punishment, even death threats after they returned home. But over time they were proved right and became champions of human rights.
But whatever happened to the white guy among them? Well, this is the story of that white guy and is truly extraordinary (and new to me!). He was Peter Norman and faced even more severe punishment when he returned to Australia! He and his family were treated as outcasts and had trouble finding a job because of what he did. He refused to condemn his co-athletes in exchange for a pardon and a chance for a normal life. He still holds the Australian record in the 200 meters! He died suddenly in 2006 and here he is being carried by his co-athletes in that podium to his final resting place:
Finally, in 2012, the Australian Parliament formally apologized to Peter Norman and rewrote him into history with this statement:
This House "recognises the extraordinary athletic achievements of the late Peter Norman, who won the silver medal in the 200 meters sprint running event at the 1968 Mexico City Olympics, in a time of 20.06 seconds, which still stands as the Australian record".
"Acknowledges the bravery of Peter Norman in donning an Olympic Project for Human Rights badge on the podium, in solidarity with African-American athletes Tommie Smith and John Carlos, who gave the 'black power' salute".
"Apologises to Peter Norman for the wrong done by Australia in failing to send him to the 1972 Munich Olympics, despite repeatedly qualifying; and belatedly recognises the powerful role that Peter Norman played in furthering racial equality".
Here is what Peter Norman said himself:
"I couldn't see why a black man couldn't drink the same water from a water fountain, take the same bus or go to the same school as a white man.
There was a social injustice that I couldn't do anything for from where I was, but I certainly hated it.
It has been said that sharing my silver medal with that incident on the victory dais detracted from my performance.
On the contrary.
I have to confess, I was rather proud to be part of it".
Well, I don't know about you…but some things in life are much more important than stuff we usually deal with in this blog. Remembering and honoring these men and standing up for what you believe is bigger than us. So, don't be an asshole, we are all humans!
Enjoy the rest of your day.
Respect!
TBB
travelbloggerbuzz@gmail.com
Join over 3,897 TBB followers on Twitter @ FlyerTalkerinA2 and add TBB on Google+