TBB Blog Mission: To Entertain. Educate. Inspire. In That Order!
You can support TBB by applying for CREDIT CARDS, please consider doing your shopping with our Amazon affiliate link and clicking/forwarding any of our Referral Links. Or click on the Amazon Banner on the right, thank YOU!
I felt guilty all day for doing the monthly pump post so I decided to reproduce here the worksheet showing how I burned over 1 million miles/points in 2014. This is the the first time I kept track of my burning activity! My travel has slowed down as business/blogging activities have increased and that is okay, I pick my spots these days. I promise to do better, I am almost done booking a family trip to Greece in…June. (gasp!)
I think earning 1 million miles and points a year is so easy even a caveman can do it…Burning is a whole different matter when you have two kids, real jobs with vacations, etc.
This may help someone understand the mindset of a person inflicted with this disease 🙂  If I had direct affiliate credit card links this could have been a sea of blue if I was a Titan 🙂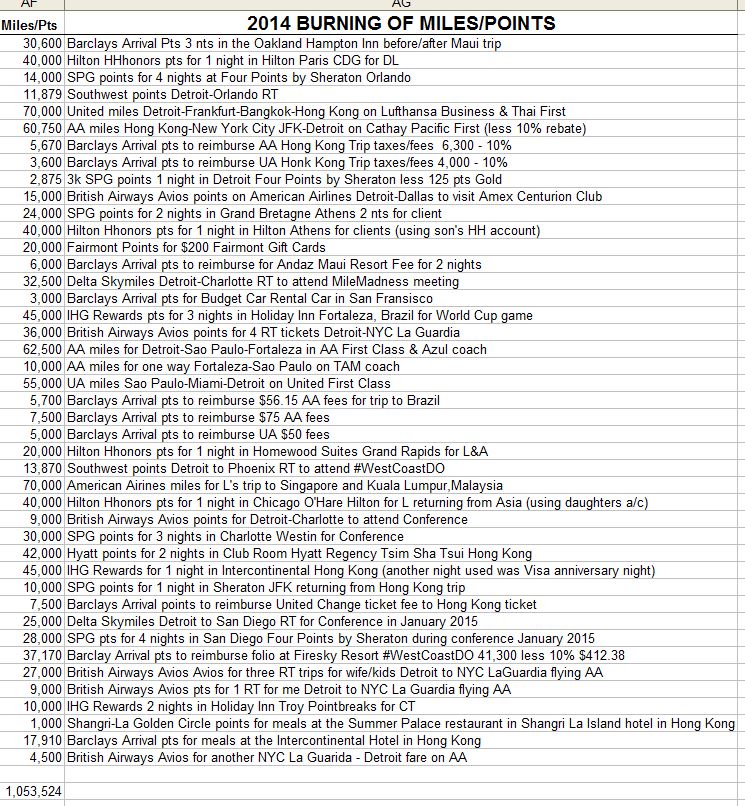 Wishing you burn lots in 2015!
Check out my updated blog lists: Blogs I Love, Blogs I Like, Blogs To Ignore
Thank you for reading and supporting my blog! Please pass my blog link to your friends and family if you think they will enjoy it too.
TBB
travelbloggerbuzz@gmail.com
Join over 3,341 TBB followers on Twitter @ FlyerTalkerinA2 and add TBB on Google+