I go on addressing many issues about this blog and just whatever voices in my head tell me to type. Whatever, hope you enjoy.
TBB Blog Mission: To Entertain. Educate. Inspire. In That Order!
Happy July 4th, enjoy your holiday!
It's been a while since I did a "voices in my head" type post. I reserve those when I do a brain dump. Just sit down and type whatever is in my head…It just makes me feel better about myself. So, here we go:
Bankrate is the company that owns The Points Guy and Million Mile Secrets. It is also the company that handles creditcards.com which many of us bloggers in this space use. In other words, this company just dominates the marketing of travel rewards credit cards! It was bought out yesterday by "digital marketing company" Red Ventures for $1.4 billion. I have no idea what this will mean for the blog space I am covering here for you. I never heard of Red Ventures. Of course, there will be changes. We just need to let this play out. If you have any info please let me know, thank you!
There will be no more Saturday blog posts here. This is one promise I will do my best to keep. Maybe at some point I will start to take the weekends off. We will see.
An update on our upcoming vacation to the San Francisco area. First four nights were to be in the city and I had three out of four hotel nights taken care of. I was debating whether to stay at four different hotels as I gave up on a specific Hyatt property I was targeting (sold out). Clearly, Mrs. TBB was not thrilled about having to move every single day. So, we will stay in three different hotels then as I moved my Platinum free night from the Berkeley Claremont to the San Francisco Fairmont where we will now stay for two (free) nights. I changed the Claremont reservation to a paid one at a rate for $249. We will use gift cards for it. This gets us to another FREE vacation. Three round trip award flights on Delta and 13 free hotel nights using a combination of free night cert, hotel points and gift cards. High Five!
After repeated requests in the past several years, I added it!
As Amazon revenue has dried up and credit cards revenue is so uneven and now appears to be set for changes, I decided it was about time! Support good blogging before we give up! And thanks to the reader for encouraging me to upgrade my personal Paypal account to a business one. Hey, almost five year into this thing!
I have not figured out how to do the page thanking you after you do the donation…so let me thank you in advance!
This comes up periodically. I have 283 blogs/websites in my Feedly account! Creeping towards 300 again, smh. Yes I got a problem.
How do I extend Copa miles, I have four accounts 🙂
BestOffersPatrol is not going anywhere. I have received feedback that it is great to get an update on what BEST OFFER cards are available here. You will see more comments, not in the body of the post. Unless the Paypal Donate button goes bananas.
Three readers had offered to do a guest blog post. I have not heard back. I am still interested! Yeah, doing them trip reports is incredibly time consuming!
I am very open to more guest posts. Trip reports to interesting places we don't see many trip reports from are very welcome. I like practical info, make them educational  for my readers.
I give guest post writers a $75 Amazon card going forward. Nobody likes to work for free 🙂 And I promise I won't use your content to litter it with credit card applications like these blogs do!
This blog is my baby.
The travel hacking space is so changed (devalued) from the early 2000's that it is just unrecognizable. Amazingly, bloggers keep coming in thinking they have something unique to share. Which is so so wrong. If you are going to bust your butt to succeed in this crowded field about a hobby with such awful prospects, maybe, you are a fool. In other words, do something else more valuable for your time, learn some marketable skills or something. You are welcome.
In July my daughter will be practicing driving in the streets of Ann Arbor. This is a warning.
In my household, there is a Chase Ink Bold and Ink Plus credit card. Anyone knows what will happen to them? Eventually product changed to the Ink Business Preferred? If that's the case, I better look to apply for that one for the 80k bonus soon. Yeah, after almost a two year break, I think I am back into the Chase play field. Going forward, I think I am going to be all non-Chase apps while Mrs. TBB slowly gets back into being almost exclusive with Chase (and limited apps not impacting 5/24 of course). That will not help me get below 3 million points/miles which was my goal after I started my plastic diet. But, there is a chance my mother will visit and spend the winter in Michigan so I may splurge for us traveling on flat beds and all.
Goal is to get out to Portland this year for a TBB reader meetup. No idea when. It appears I may be going to Greece sometime in September. It depends. Very unclear phase in my life right now. Maybe it is a 50 year old thing?
If you have any info about the blogs/bloggers I am covering please let me know. It does not have to be shocking 😉
There is nobody more shocked than me that I am still at this blogging thingie almost five years later. I have learned and am learning a lot and enjoying the ride. Excuse the whining, I know I sometimes over do it. But it helps me cope with that deflating feeling…you know, every day from June 12-27 when this blog made just 57 cents. The mother of all streaks I guess!
I am doing a fasting type diet all this week. About time to stay away from tempting food, it will be good for me. Enjoy the grilling you guys!
I wonder if there will be interest for a TBB reader meetup while we are in Sunnyvale about a month from now…
The Ann Arbor Art Fair DO is coming. You don't need to pay money to hang out with us. I would like to do the party at my home again the night before the DO but it appears I may have to say no to many as it was very popular last year. I am no TPG, I don't live in a mansion! So I am up in the air on this one…
TBB is a family operation. Son has done some guest trip reports. And now my daughter said yes to do the research for you: See how many of the Million Mile Secrets Friday interview blogs are still alive. And yes I am paying her!
Any personal finance topics that you would like me to write about that are not covered elsewhere or under reported? I don't want to write about stuff that has been written to death. I have hit a giant brick wall on my personal finance writing. And this blog is the biggest block to it…It's like crack I can't quit or something. Full Disclosure: I have never done crack.
Yesterday I received 7 hits coming from ESPN.com. WTF was that all about? #odd
Anything on your mind go ahead.
Thank you for visiting and reading what I have to say in my little corner in da internet. Still pretty cool to communicate with more than a few at a time!
Me and my daughter backstage in the Garden Theater in Detroit before her dance performance. I am drinking beer. Yes it was free lol. Wearing all black makes me look not as fat. And yes, I am inhaling!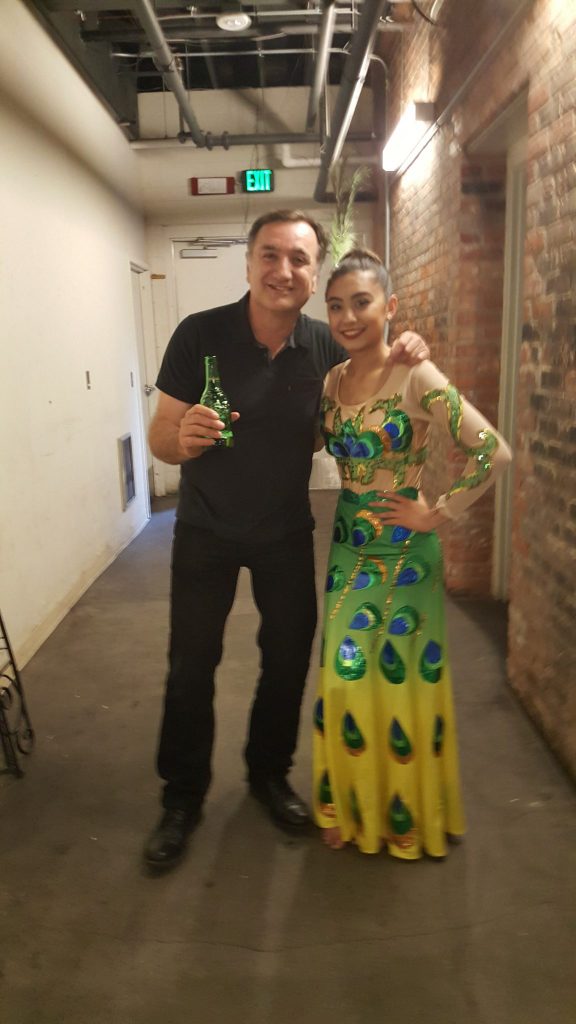 Meet my new research assistant who rocked the house in Detroit in her solo dance.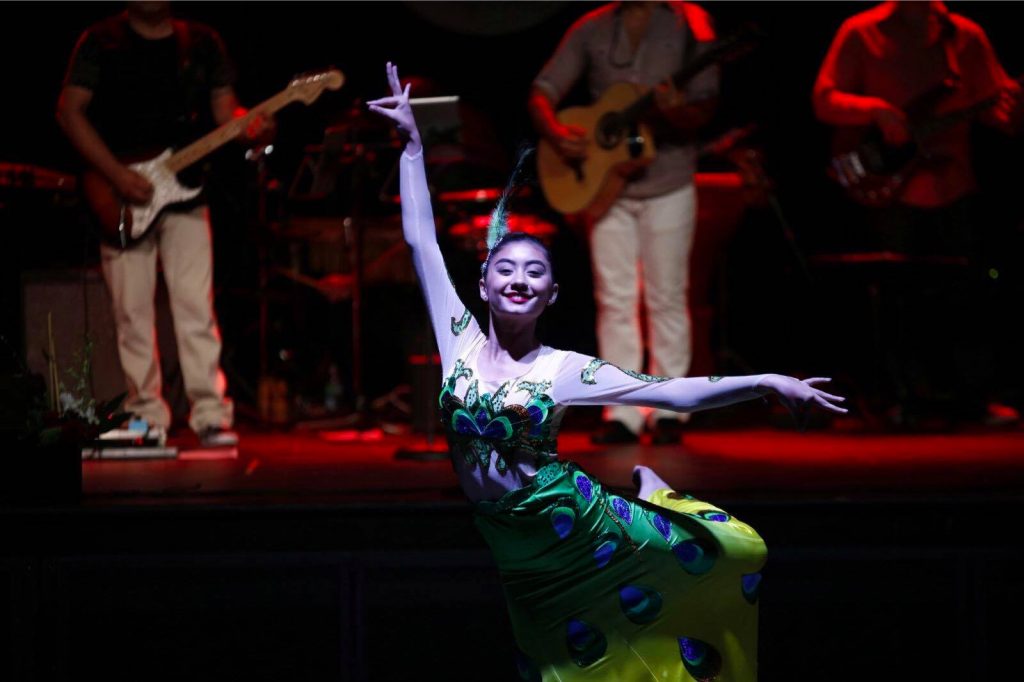 And I leave you with this…
Check out my updated blog lists: Blogs I Love, Blogs I Like, Blogs To Ignore
TBB
travelbloggerbuzz@gmail.com
Follow TBB on Twitter @FlyerTalkerinA2
You can subscribe to TBB below, winners only!
Opinions expressed here are author's alone, not those of any bank, credit card issuer, hotel, airline, or other entity. This content has not been reviewed, approved or otherwise endorsed by any of the entities included within the post.