You can support TBB by clicking/forwarding any of our referral links and starting your online shopping at our NEW Amazon affiliate link . Or click on the Amazon Banner on the right ———>
Blogosphere action on Monday was very slow. Tuesday was on fire!
The blogosphere went into a frenzy about a new 100k credit card offer from Citibank. 100k AA miles for parting with $450 annual fee (maybe if you are not fast). This offer recently has gone from 60k to 75k to 100k! Are Citibank and Amex trying to make a go for dissatisfied Amex Plat cardholders? Of course! What makes it even sweeter and irresistible is the $200 statement credit which appears to be for any purchases! The minimum spend is $10k for three months. Oh, you get an AA Admirals Club lounge membership too! In these "Manufactured Spend" plentiful ways to earn miles "spending" $10k is really not a big deal. If I did not have over 1 million AA miles and clearly having a difficult time to burn (more on this further down) I would go for it. Plus, I need to pack for my trip to Orlando tomorrow morning!  This post by Miles Abound (who had hinted about a 100k offer coming soon) contains a very helpful Q&A for this offer.( HT to The Points Guy (shocking!) and I am guessing it was a deliberate move by Citibank to be "discovered" there for increased traffic).
And later in the day we had another excellent offer by AMEX for its ( Business Card) Simply Cash card that awards you $250 statement credit after you "spend" $3k in the first three months. And the card offers an excellent cash back earning structure. How about all this for a no annual fee card!
5%

Cash back at U.S. office supply stores and on wireless telephone services purchased directly from U.S. service providers

3%

Cash back on the category of your choice from a list of select categoriesCategories available include: airfare purchased from airlines, hotel rooms purchased from hotels, car rentals purchased from select car rental companies, U.S. gas stations, U.S. restaurants, U.S. purchases for advertising in select media, and U.S. purchases for shipping

1%

Cash back on other purchases
You see dear readers. The ways to earn miles and points and cold cash is growing exponentially in the past few years. Therefore, the continuing and deep devaluations. This just can not be sustainable and I think (hope I am wrong) that AA and US Air will say "screw it" and start from scratch and present to us a "new and improved" (read: burning is revenue based) instead of stepping towards it (like Delta and United are doing). So this leads me to this post by Travel Summary who wrote "Why and How I Travel in First and Business Class". Best excuse I have seen. I was inspired to burn my United miles but I am too busy with this blog and everything else going on and I can not find time to do it. I can't even come back from from freaking Maui on the recent award I booked with my gazillion AA miles! Ok, I need to settle myself down. Clearly, I need to make it a priority to burn and focus my earning activities to earn cash back to buy the tickets I want without all the roadblocks (and fees and crap in general) we have to go through to burn! Stop screwing around going out of my way to just earn more miles. My motto from now on is: Burn, baby, burn! We shall see 🙂
Please, if you have credit card debt you should be reading my blog only for my pictures and silliness as this credit card advice does NOT apply to you! Please bust your behind and pay off this debt ASAP.
Saverocity got some really cheap car rental rates using the, gasp, Kayak iPhone app. The rate differentials are tremendous…was this a tech glitz or something? Please comment on the site and here if you have anything to add. I like blog posts that contribute to readers getting smarter and offering something, well, new instead of the same old repetitive pathetic excuses of blog posts that are disguises for selling credit cards. Southwest Companion pass, Amex Platinum and Chase Ink cards anyone? 🙂
Great Case Study: Book a family trip to Whistler with miles and points by Miles Abound. Very educational value adding stuff. For non stop marketing crap please refer to the most awesome list on the internet, TBB's "Blogs I Ignore" list!
Ok, this is advanced stuff by Miles, Points and Mai Tais on "Manufactured Spending: The 411 on Amex Gift Cards". The comments in this post are great.
I enjoy the posts at PFDigest. They are concise with a focus on financial stuff and a good sense of humor. Most importantly, I learn something new. For example, in this post I learned that this Comenity bank issues 31 million cards. Say what? I was not even aware of this bank! Staying humbled every day!
Delta announced they will upgrade the Skyclub lounges. Instead of crappy hummus now you will get some crappy olives too (while supplies last).
Devaluation in Virgin Atlantic Flying Club loyalty program: "from 6 February 2014 the exchange miles to points rate is changing. Flying Club members will be able to exchange miles at the following rate: 2 Flying Club miles for 3 Hilton HHonors points." Former exchange ratio was 1:2. Boo!
Well, this was pretty big news. Southwest is going international:
Beginning July 1, 2014, Southwest Airlines will operate daily, nonstop flights between:
Atlanta

and

Aruba

, and

Montego Bay

Baltimore/Washington and

Aruba

,

Nassau

, and (twice daily)

Montego Bay

Orlando

and (Saturday only)

Aruba

, and

Montego Bay
I won 500 SPG Starwood points in this Spin game. What can I say?
I am off to Orlando for a conference until Sunday. I am flying Air Tran (for the first and last time actually). Not sure I can keep up the same posting schedule but I will try. Son got his drivers license today, a very sobering event. I can't believe it actually, time flies!
My Maui trip on AA miles is in disarray! It all started because partner Alaska Airlines canceled a flight. They rebooked me on earlier flights TWICE without informing me. I have spent hours on the phone with AA agents who can not accommodate on own AA (huh, no seats) flights so they keep requesting space from partner Alaska on other flights and Alaska keeps denying such requests. I am seriously thinking about canceling the whole damn trip. THIS is why I absolutely despise the process of burning miles, I just don't have the patience for this crap! The flights are in early April, Spring Break time…I had everything expertly lined up perfect! Maybe it was not meant to be! Latest request I am waiting on leaves just one hour connection in Honolulu to get on an Alaska Airlines flight after arriving from an interisland Island Air flight. Connection should be enough time I hope…but if Island Air is delayed we can be totally screwed! The sad thing is I got the Island Air flights from Maui to Honolulu (with United miles) because I could not find seats on AA awards out of Maui. The absurdity of it all…Several trips to CBS and I could the buy the damn tickets out right! Thank you for listening to my rant, it does make me feel better!
I found this chart in this article. Ancillary Fees up the wazoo!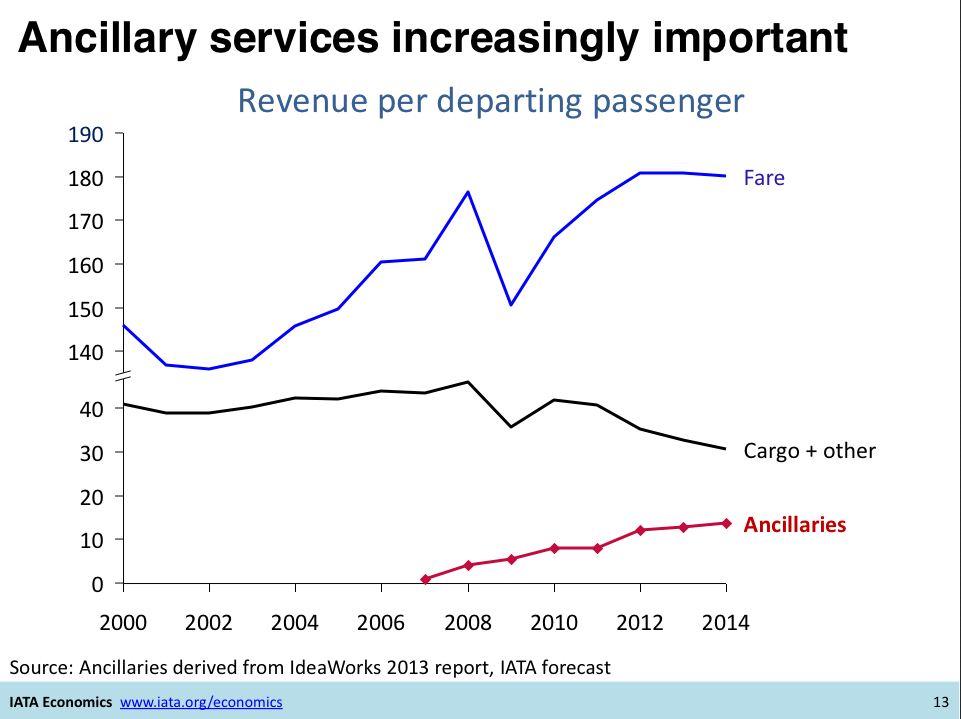 For the Love of Money. Great article at the New York Times. Clearly I am not addicted to money, just miles/points lol.
National Flags Made From Each Country's Traditional Foods. Found at ThisMarvelous.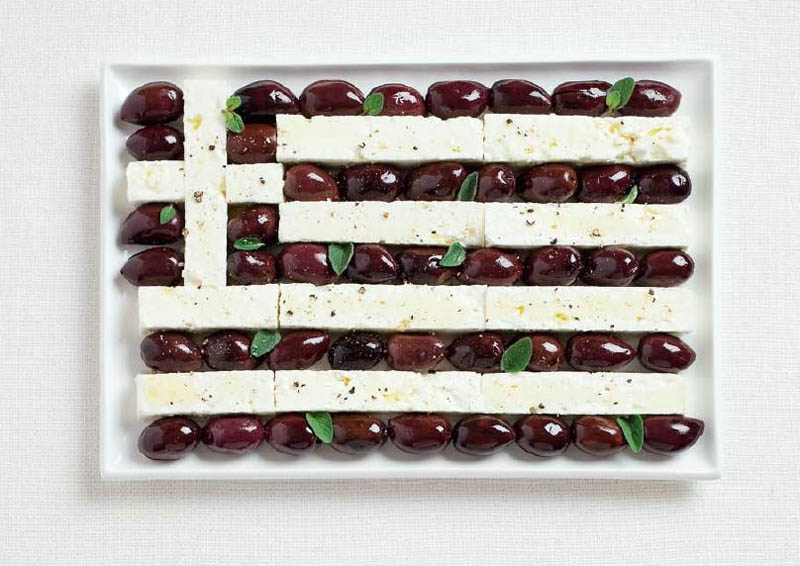 Funny pictures of "miserable men" at Instagram going shopping with their ladies. Clearly this has gone too far…that is where I cross the line!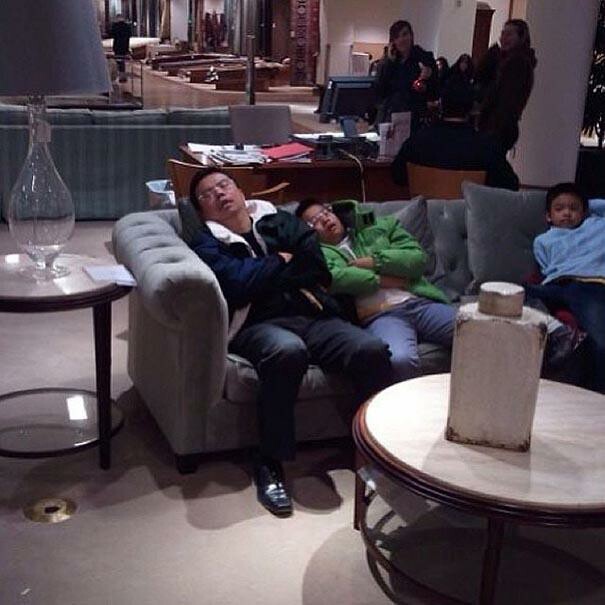 And I leave you with this. Entertainment at its finest…I guess: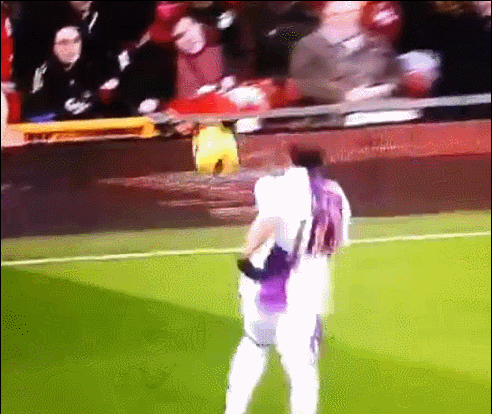 Check out my updated blog lists: Blogs I Love, Blogs I Like, Blogs I Ignore
Thank you for reading and supporting my blog!
Please pass my blog link to your friends and family if you think they will enjoy it too.