Another TBB post featuring the most eclectic links around the web such as the worst deal in history, Binance ticking time bomb, Zoe Crypto pastor, the first plane bomber, world tipping guide, 100 must know stats about Long Term Care, IRS Dirty Dozen Scams, the West needs a new Ukraine strategy according to these authors, amazing street photography, the strangest kidnapping ever, how to travel to Cuba from the US, the National Park Service social media team rocks, Bud Light boycott and Substack Notes, latest injury in my long marathon journey and more!
TBB Blog Mission: To Educate. Entertain. Inspire. In That Order!
You like my blog? Send a link to someone please!
No ads, no clickbait.
This blog publishes every Friday and Tuesday…for now.
PERSONAL FINANCE
Some grim statistics in this article: 100 Must-Know Statistics About Long-Term Care: 2023 Edition.
70.0%: Percentage of people turning age 65 who will develop a severe long-term-care need in their lifetimes.
48.0%: Percentage of people turning age 65 who will need some type of paid long-term-care services in their lifetimes.
49.1%: Percentage of nursing home residents who have a diagnosis of Alzheimer's disease or another form of dementia.
Sorry to start out in a depressing note! This gets even more depressed when the article refers to cost stats. Have a plan everyone!
Since my blog started solely focused on this crazy hobby of travel hacking with frequent flyer miles and points…the species of us still at this (me over thirty years!) just love deals, it is in our DNA. And have you ever wondered what was the worst deal EVER? Did Judas Iscariot Make the Worst Deal in History? The Alaska trade? The Manhattan one? The Bitcoin pizza dude? Fun post! Obviously, you can go far in life avoiding disastrous moves like this. Also, you know, like you are convinced you can sell right before a stock market crash or buying back at the absolute bottom smh.
CRYPTO/ELONMUSK/TWITTER
There are many things about all this bitcoin stuff I never understood. As is its latest rise back to over $30,000. Anyway, nothing new…But one thing that I find still shocking that this Binance company has not gone down in flames yet, how is this possible? How Binance really operates: The world's largest crypto exchange boasts vast profits, hefty influencer payouts, and a ticking time bomb on its balance sheet.
But look under the hood, and things get murky fast. CZ has recently said the company is "still profitable" and has "fairly large cash reserves." But he offers no hard numbers. Binance is a private company and isn't obligated to disclose how much money it makes or how. What's more, Binance's giant global exchange, Binance.com, isn't licensed in the nations that require the toughest public financial disclosures. (In the U.S. Binance has avoided reporting requirements by running a small, relatively limited exchange called Binance.US that's regulated under "money transmitter" licenses in 46 states.)
The regulators are circling finally…But I want to focus on something else. Did you know that a huge part of its growth is due to kickbacks paid to influencers for every newbie they sign up? Which is exactly how much "business" is done online…companies just buying all these blogger businessmen online…ok, don't get me started. Back to Binance.
For Binance, the black box within the black box is its referral program, which incentivizes existing traders to attract new customers. Other marketplace businesses offer such programs, but Binance's grants unusually generous benefits, making it analogous to a multilevel marketing (MLM) platform such as Amway or Herbalife. The recruiters' reward: huge kickbacks based on the commissions those newcomers generate…
On its website, Binance provides reams of detail on how the arrangements work. The first plan is the Standard Referral Mode, available to all investors. The size of the reward depends on the amount of BNB that the "inviter" holds in a Binance custody account. If the host's wallet has fewer than 500 BNB, he or she collects a 20% kickback on the spot trading commissions generated by anyone they bring to Binance. ("Kickback" is the language Binance often uses on its site.) If a Standard member holds 500 BNB—worth about $170,000, at mid-March prices—that share rises to 40% for spot trades, and 30% for futures.
The bigger plan is the one officially tagged the Affiliate Program, which enlists prominent names in social media. Binance's website provides a list of who's eligible. It includes influencers with over 5,000 followers; financial and opinion leaders with communities of 500-plus members on groups such as Facebook, Reddit, or QQ; analyst-gurus getting over 5,000 daily visits; and crypto funds. The hosts pocket 41% kickbacks on recruits' spot trades if they start with fewer than 500 referrals; at over 500, their take hits a stunning 50%. 
Binance provides strong incentives for those hosts to keep building their clubs. To keep the 41% kickbacks, an inviter must attract at least 10 new customers every 90 days that together generate at least the equivalent of 50 Bitcoin, or around $1 million, in new trades.

When confidence will go…watch out for the bottom…Then again I have been wrong 🙂
SCAMS
This shocked me. I have seen lots of shit out there so I am shocked I still get shocked, see what I just did? The rise and fall of Argentina's celebrity crypto pastor. I had never heard of this until now, the scale and the brazeness was out of this world, wow! Also, I should point out some things that some of your loved ones (definitely not my educated readers!) should look out for so they do not fall for this crap, shall we?
Generación Zoe promised investors massive returns thanks to market-predicting "robots" and a cryptocurrency backed by gold. It sounded too good to be true.
Generación Zoe claimed to make money through trading, and promised a 7.5% monthly return on investment for three years for those who put money into its "trust."[Never ever invest after promises of a return ok?]
Two months after joining, she put more money in, persuaded by Zoe's latest product: "robots" that could allegedly predict market fluctuations and double your initial investment in just three months. [Oh yeah, give me robots WTF!]
Zoe also spread beyond Argentina to other countries in Latin America and further afield, including Mexico, Paraguay, Colombia, Spain, and the U.S. [This operation had branches! Oh, US too? Wondering if any reader was aware of them…]
Investigators estimate that people invested at least $120 million in Zoe during its last six months of operations from Argentina alone. [Hey, someone had to pay for those expensive robots, sad lol]
Gloria went to Zoe's Villa María branch with her husband. She put $2,000 into the trust and $2,000 into a "robot." After one month, she seemed to have made a $1,710 profit on her investment. But instead of withdrawing the funds, she was convinced to reinvest in a newly launched "Christmas robot," and then in a "January Christmas robot," which promised even bigger returns. She invested an additional $12,000 — it was all of the family's money. [Probably the most frustrating part of the whole piece, dead giveaway that this nothing but a ponzi!]
IRS releases annually its Dirty Dozen list, the 12 tax scams going hot out there! You have been warned: Dirty Dozen: IRS scam list includes spear-phishing warning to tax pros.
UKRAINE RUSSIA WAR/GEOPOLITICS
Already starting, what Putin wants. The West is looking "ahead" smh.  The West Needs a New Strategy in Ukraine. Come on, a cease fire at this stage is handing Putin a win and that should be unacceptable!
For over a year, the West has allowed Ukraine to define success and set the war aims of the West. This policy, regardless of whether it made sense at the outset of the war, has now run its course. It is unwise, because Ukraine's goals are coming into conflict with other Western interests. And it is unsustainable, because the war's costs are mounting, and Western publics and their governments are growing weary of providing ongoing support. As a global power, the United States must acknowledge that a maximal definition of the interests at stake in the war has produced a policy that increasingly conflicts with other U.S. priorities.
Don't do stupid things that can ruin your life. Like this 21 year old National Guardsman, wtf is wrong with some people out there? Leaked Pentagon documents: Air National Guardsman arrested; Jack Teixeira expected in court Friday. If you are anti-government…why would you work for the government? Oh wait…
ODDZ & ENDZ
This guy was executed. First plane bomber…back in 1955. Sole purpose was to kill his mother, talk about a very complicated relationship. Shocking story indeed: America's First Plane Bomber, and His Intended Victim.
Maybe Jack's loss of his father and subsequent abandonment by his mother – no matter how valid her reasons at the time – hardened him, dulled his capacity for empathy and planted in him a dark seed, one that would grow into a dark and vicious need for revenge. Or maybe he was one of those rare children cursed with antisociality, who are born with a desire to cause suffering. 
This is a very strange story. You read it and you wonder what the hell is wrong with some people, how did they ever think they can get away with something like this! An Alabama Kidnapping That's Stranger Than Fiction. Rousted from his house by an audacious pair of criminals and their kids, a wealthy Birmingham businessman gets taken for the most terrifying—and bewildering—ride of his life. After you read this…you will find that it ends with the perfect quote:
"You've heard of blue-collar crime and white-collar crime. Well, this was no-collar crime."
Amazing shots from this Urban Street Photography Group.
TRAVEL
Tipping is an eternal struggle, maybe this will help. Mapped: How Much Should You Tip In Each Country?
Remember recently traveling to Cuba was all the rage? Well, we still can: Yes, Americans Can Travel to Cuba in 2023. Here's How.
National Park Service social media teams are indeed hilarious. 8 hilarious but true wildlife tips from the National Park Service.
BUZZING
A section where I go on and on about some stuff that happens in my life and anything else that just does not fit in another section above.
This is my second day not running. Feeling some pain under my left knee. I felt it for the first time last week but I powered through and it appeared it went away. Felt it again on Tuesday in my short three mile easy run. Well, pain got way higher when I started what was supposed to be a 6 mile easy run on Wednesday. Pain is persisting as I am typing this Thursday afternoon…Will take another day off Friday to rest it. It seems every time I have thoughts "I am feeling so strong right now, ready to crush my next marathon goal"…something happens and it is becoming extremely frustrating. Maybe the Toledo Marathon is cursed, every time I ran it…I have never been 100% healthy.
We have had very warm weather in Ann Arbor, Michigan. Which is unreasonably early to be Spring already. We all know we have one or two snow storms coming at us…
I am not a beer drinker. I can care less about Bud Light or any other beer brand. But this latest "anti-woke" boycott of it is really something. Of course, grifters will grift as grifters do…and here comes this guy coming out with an Ultra Right beer brand he is going to sell for $35 for a six-pack to suckers. "Anti-woke" Bud Light knockoff is $35 for a six-pack.
I subscribe to several Substack newsletters. And this company recently came out with a new feature, Notes. That is attracting mega interest as it appears to resemble…Twitter. I am trying to learn more about it and it appears it is open only to people with Substack newsletter accounts? Maybe one day this blog moves to a Substack newsletter so I can use Notes as Twitter is continuing its descent to oblivion under the "leadership" of Elon Musk. Maybe keep it all Personal Finance over at Substack? But I just don't have the mental bandwidth to add yet another platform…and I just keep doing what I am doing here…for years. Thoughts? Anyway, it has only been a week and we will see what happens: Will Substack Notes Save Our Posting Souls?
This blog started with a focus on miles and points and travel. It has evolved since then. Everything below deals with the hobby of collecting frequent flyer miles and points. If you are not interested, you can stop here, thank you.
MILES & POINTS NEWS/PROMOS/MY ACTION
The whole hobby right now is in a state of…boredom. No screaming travel card rewards deals. Every blogger trying to stay relevant jumping on anything that could be perceived as newsworthy, don't fall for their crap. Meanwhile, the corporate entities that have taken over this "hobby" and turned it into a mega sales of plastic for the banks operation keep hiring people to produce content sales material because…the Americans' hunger for credit to finance their spending and personal finance ignorance is legendary.
Banks are squeezing the rules how often we can get travel rewards cards, here comes Citi 24/48-Month Churning Rule Explained in Detail. Remember back in the day when we could get one every 30 days (for the signup bonus of course!).
Interesting "innovation" I guess. BA launches 'Avios-only' flights – where EVERY seat is available for redemption. Every airline is becoming like Delta announcing bigly things that in essence are immaterial to us unless you can fly on that specific date between those two specific airports, zzzzzz.
I guess we are going to visit Seattle to go celebrate our daughter's 21st birthday in August. I told my wife to look for tickets and research hotel options. Any tips welcome, like, Hyatt properties? I think we will combine this trip with a Half Marathon at that time, developing.
MILES & POINTS
HOT CREDIT CARD OFFERS: 75k Capital One Venture X, 75k Capital One Venture Rewards,  75k Chase Ink Business Cash, 75k Chase Ink Business Unlimited, 100k CHASE Ink Business Preferred, 60k CHASE Sapphire Preferred, 40k Capital One VentureOne Rewards, 45k Wyndham Rewards Earner Plus, $1,000 Cash Back CHASE Ink Business Premier and many more, including many AmericanExpress cards such as Delta Airlines, Marriott Bonvoy and Hilton Honors cards!  Please check out my Affiliate links. Terms apply to American Express benefits and offers. Visit americanexpress.com to learn more. If you do not see a credit card with my affiliate links, perhaps I could refer you?

This section is about my hobby addiction of collecting frequent flyer miles and hotel points since the early 1990's! SKIP if you are not into it!
As of today, I have burned 501,000 miles/points year to date in 2023 and have 4,348,889 miles/points in the bank. Some do drugs, I do miles lol!
Thanks to US banks, very lucrative travel rewards credit card offers come and go all the time. This section will act as a reference point on the best CURRENT offers. I will designate new material preceded by NEW.
BEGINNERS
The Beginner's Guide to Getting Started with Credit Cards, Points & Miles
BASICS: This travel hacking hobby is mostly about getting the fat Signup Bonus of travel rewards credit cards while of course NEVER EVER carrying a balance. Banks have a marketing budget and are willing to give us many THOUSANDS of miles/points to travel mostly for free hoping to hook us to charge 20%+ interest rates on our balances. The poor souls who fall for their marketing paying these ludicrous interest rates end up subsidizing us responsible consumers who enjoy taking advantage of, cough, such bank marketing budgets! Some of us have been doing this for thirty years creating amazing travel memories…Feel free to ask me questions or post them in the comments.
BASICS: Prefer credit cards from the proprietary points programs of banks, such as Chase Ultimate Rewards, American Express Membership Rewards, Citi ThankYou Network, Capital One Rewards Miles because they are a lot more flexible and are not devalued as frequently. Over pure airline and hotel travel rewards credit cards. Pure cash back credit cards may work for you best and they are getting more valuable as airline and hotel loyalty programs keep getting devalued. Sometimes, a pure no annual fee 2% cash back card works best for simplicity!
The Capital One Venture X card offers a 75,000 point Signup Bonus after a minimum spend of $4k in the first three months. If you like simplicity and looking for one (premium) card, I highly recommend this card (and yes, I have it myself!). It has an annual fee of $395 but it comes with a VERY easy $300 statement credit for travel booked on its excellent travel portal, essentially turning it into a $95 annual fee card. But wait…there is more! On each card anniversary you earn 10,000 points essentially making it FREE! Every dollar of spend earns 2 points and flights booked on the travel portal earn 5 points per dollar. You get access to Capital One and Plaza Premium airport lounges and a Priority Pass Select lounge membership and, this is important, you can add FOUR authorized users FOR FREE who can also have their own Priority Pass Select airline lounge membership. You can transfer your Capital One points to up to 18 Transfer Partners. No foreign transaction fees. Free Hertz President's Circle rental car top elite status. Cell phone protection and PRIMARY rental car coverage. Awesome seats at baseball stadiums for just 5k points each. And lots more. Available with my Credit Card Links, thank you for your support!
Get 75K Miles, Lounge Access & More with the Capital One Venture X Card
The Best Ways to Use Capital One Venture Miles
7 Underrated Benefits of the Capital One Venture X Card
Sticking with Capital One Bank…it is offering 75,000 points for its Capital One Venture Rewards Credit Card. Annual fee is $95, minimum spend required to earn the Signup Bonus is $4,000 over the first three months and the card basically earns 2 points for every dollar. And you can transfer the points out to airline and hotel partners just like the Capital One Venture X card above.
Remember, you are NOT allowed to ever carry a credit card balance if you ever get a credit card here!
Let me leave you with this…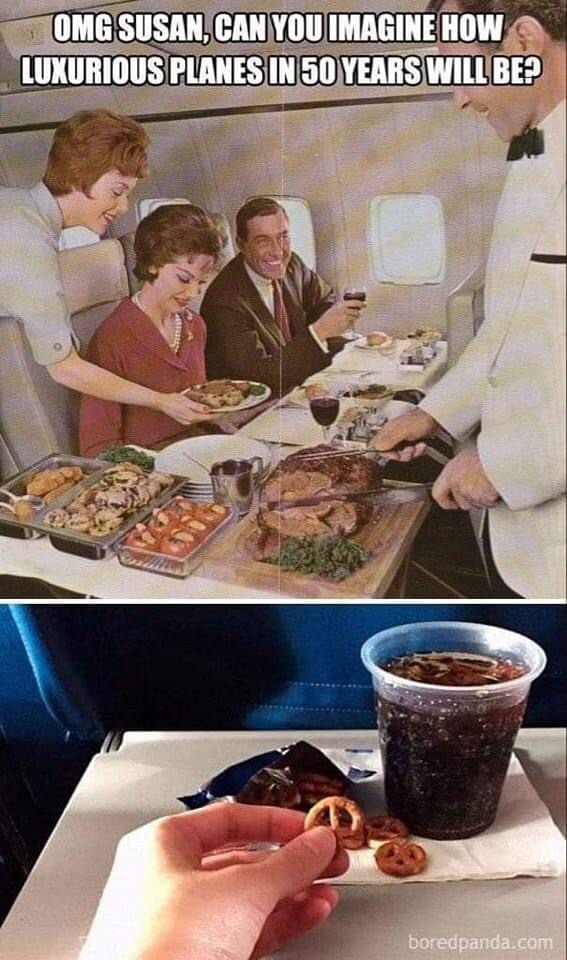 Some of the links are behind a paywall. You can try to read them using Archive.is.
Thank you for reading my blog. If you enjoy it please pass it on to a family member or friend. Or Buy Me a Coffee, thank you!
TBB
travelbloggerbuzz@gmail.com
You can join 557 email subscribers to receive each blog post by entering your email address below and then clicking on Subscribe:
Opinions expressed here are author's alone, not those of any bank, credit card issuer, hotel, airline, or other entity. This content has not been reviewed, approved or otherwise endorsed by any of the entities included within the post.