We learn about the madness of Global Services airline elite status, marvel at pics on the road to North Korea, visit Buzludzha Bulgaria, cry with the TPG reddit AMA session and more!
TBB Blog Mission: To Entertain. Educate. Inspire. In That Order!
This site is

ad free

! You can support it by applying for CREDIT CARDS, consider doing your shopping with our AMAZON AFFILIATE LINK and clicking/forwarding any of our REFERRAL LINKS.
Congrats to MaryE who won the $300 bank account bonus coupon! Please respond to my email or go ahead and email me. Proof of the win. Hey, you can still win the drone if you subscribe!  Update: MaryE is out of the country and can't use it so I will draw another winner tomorrow.
The Madness of Airline Elite Status. I wish I had "Global Services Maintenance Anxiety Disorder". Lol, what a fun read about this darn diabolical marketing genius of Global Services. (HT: Donald H.)
The Concise Guide to Booking Etihad First and Business Class Awards with American Airlines AAdvantage Miles. It involves calling Australia but not ticketing it with them.
The 10 oldest cities in the world. RIP Aleppo #sad
9 Fastest Piloted Planes in the World.
Amazing collection of skyline photography here, WOW!
Pssst…Wanna Invest in a Conspiracy? Your personal finance fix of the day. Take a few moments out of your busy life to read this. It is pure gold. Especially this last paragraph: "The truth is that no one's in charge, and no one has a damn clue how markets or stocks are going to move. All explanations are post-hoc rationalizations based on intuition and dumb modelling. The only solution is to ignore it all, treat it as noise and focus on the few things you can control. Buy quality as cheaply as you can, diversify heavily and be patient. Everything else is a giant con.."
This is probably one of the best links on North Korea (HT: Doctor of Credit). Road to North Korea by Michael Huniewicz.
Obsessed with Buzludzha, the remains of Bulgaria's Communist Past. This place always fascinated me, not sure I can make it there before it is not accessible any longer. I had no idea about it when I was in Plovdiv about six years ago in a a weekend trip from Greece with my brother and a friend. Yeah, stick that Hyatt Diamond suite upgrade where you want it, it makes me…yawn!
Yosemite's "firefall". Wow.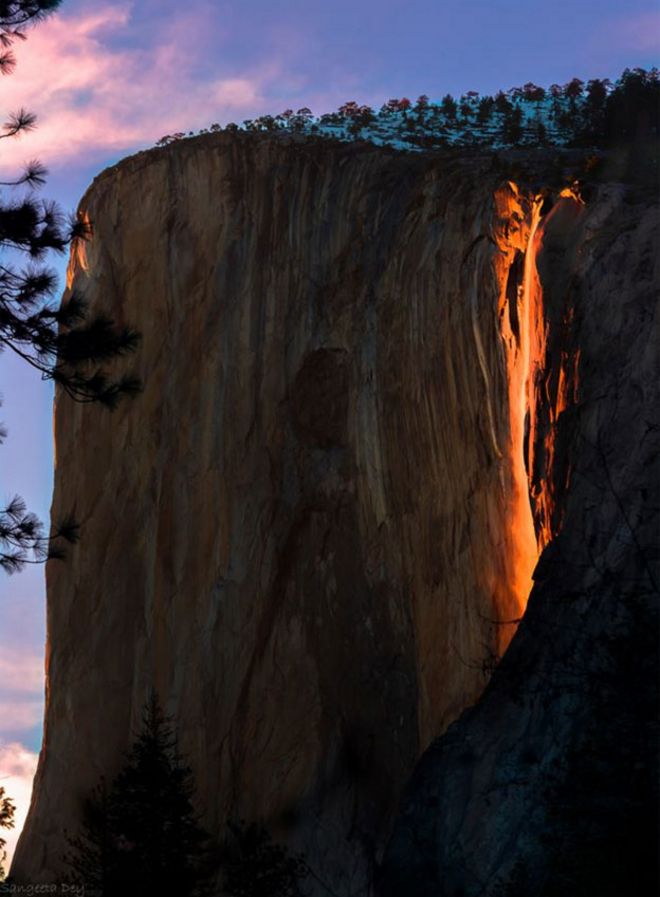 MILESBUZZ
Well, the marketing machine of The Points Guy, after doing a TEDTalk, starting TPGTV (really??), decided to do a Ask Me Anything reddit session. I am going to let a few bloggers' posts about the clustercluck that it was. I could expand but I already spent way too much time on this post so please allow me to sneak out from the back. My goal was to expand/rant on this stuff more with emails to subscribers but with tax season in full force my time is limited so thanks for understanding!
Personal Finance Digest: TPG's "Ask Me Anything" on Reddit was kind of a trainwreck.  See my comment and that very sorry comment by one of TPG's HUGE fan…so sad!
Matt at Saverocity: Thoughts on TPG's AMA on @reddit
Here is the whole AMA thread, if you are masochistic enough to waste time on it. Lets be more direct with the questions guys!
Delta is so bad but love selling Delta credit cards because…
In the meantime, trying to sneak under the radar, pumping cards with the hideous 40k bonus because it pays them. So when some haters bitch at me for pumping while continuing to link to these mega pumpers praising them….WTF is wrong with YOU…just STFU! There, I feel better. I was a little out of control today….dealing with them Obamacare related tax forms is a major headache wow!
I could go on…but I need to rest my bones..Finished the soccer season champions and undefeated, 7-0-1 yeah baby! Another hardware trophy by my team, please don't laugh, "Gasping For Air" is our team name.
No wait. I will sign your CSP card anywhere you want if you get it with my links I pump so horribly in every single post, according to a few morons (life would not be so full…without having to deal with morons!). We can do selfies then too! Not sure I get the logic behind this, you have a company full of Millenials and you are bringing in the biggest pusher of credit cards to…what, educate? I wonder how many times CSP came out of his mouth, Jesus! It's like bringing in a life insurance salesman to educate about…what is the latest product du jour (which will send him/her to a free cruise to Bahamas for smashing certain sales volume goals!). I bet they both vote for Bernie Sanders so they can get CSP cards FREE! Oh wait…
And I leave you with this…
Please help bloggers you appreciate & make a positive difference in your life by spreading the word about their blogs, emailing and commenting and using their few $ links, thank you!
TBB
travelbloggerbuzz@gmail.com
Follow TBB on Twitter @FlyerTalkerinA2
You can subscribe to TBB below, winners only!