TBB Mission: To Entertain, Educate and Inspire. Aim to at least do one well!
If you like what you see here, please let others know by passing them a link to my blog, thank you!
TRAVEL
Cologne Cathedral during World War II. Stunning.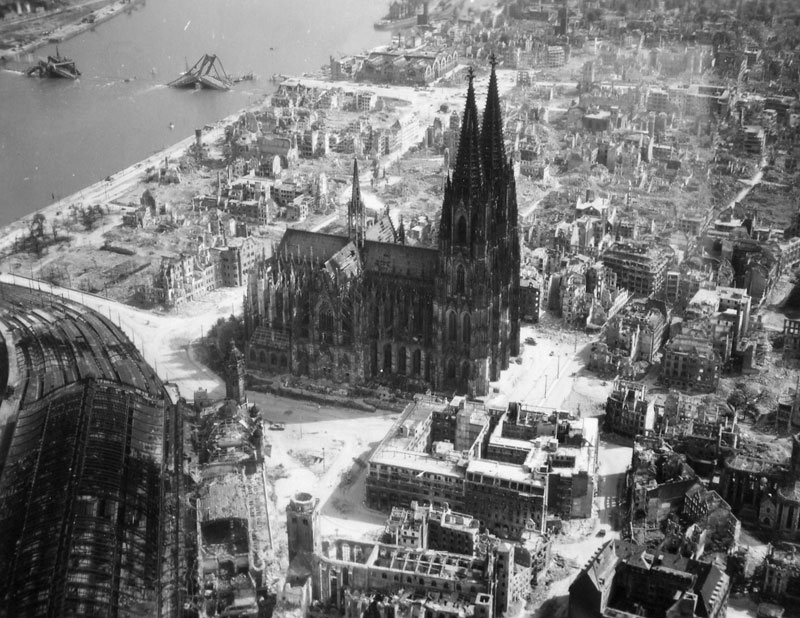 If you wanted to learn everything about bringing wines on cruises, Saverocity has all the info you need…all of it!
Hidden islands you have never heard of. By USA Today. Has anyone not heard of the Azores?
MILES/POINTS
Well, it was quiet an exciting  morning! I made a separate post about the AA Fuel Surcharge Debacle!  Hope you like it and laugh. If not, maybe you have issues or just do not have a sense of humor. Tell me I suck in the comments, you know you want to (you know who you are!). Update: Wow. This post is about to become my most viewed post! I think I captured the drama well. At least I like to think so. I am proud of it. I think TBB may morph into something like that. Deranged posts showing the madness of this hobby or whatever.
Mile Nerd shows how to get Hyatt Diamond Status for at least 60 days.
Another hotel program matching status. Voila Hotel Rewards. Get the details here by Frequent Flyer Bonuses
ON MY MIND
I am going to pare down my Feedly even more and really be even more eclectic from now on so I can keep doing this.
One day this site will look into monetizing, I need to recover from the trauma of my first failed attempt with AdNonSense. Or it will fold like a cheap suit because of a divine intervention (health issue, family intervention, real job demands, or a combination, etc.)
Tip: Do not leave your car in your garage for five months without at least starting it a few times! My old beat up Toyota Camry that just does not want to die would not start as I was having fun with my free Mercedes Benz. I gotta tell you my Camry almost never gets a second look. Miss the Benz…Still spending the $200 cash I got for driving it for…science!
My girls are back from Paris. Sanity has returned in the household to balance out my insanity. I should have taped my daughter's response to my questions: Tell me your top 3 things you liked about the trip, how were the flights, the Radisson Blue Metropolitan, the Intercontinental Le Grand, the Hilton Charles de Gaulle Airport, the food?, etc. For the record, they excelled in window shopping, you do not get shopping deals in Paris!
ODDZ & ENDZ
Switzerland's new "drive-in" brothels. Lol
Surreal self-portraits by Chhristian Hopkins as a coping mechanism for depression. Omg, these are fantastically depressing! The one shown below portrays how I feel when I attempt to burn my Skypesos lol.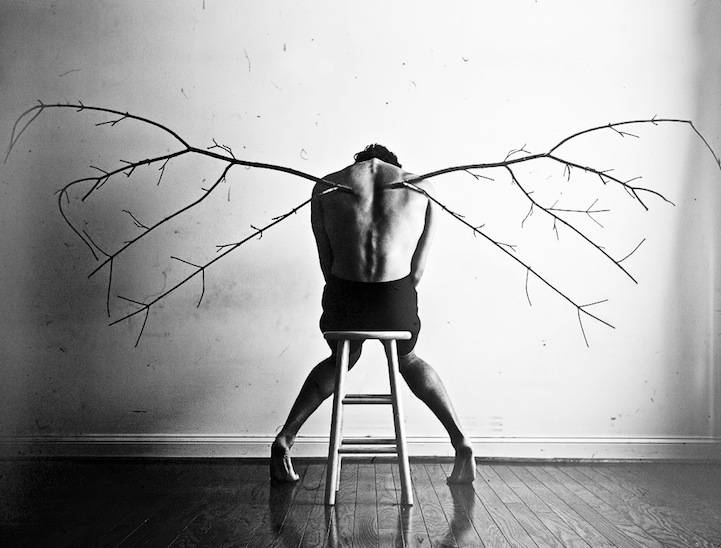 BLOG BUZZ
They all do it. This is how bloggers get paid. We have to live with posts like this. Latest "Best Credit Card Sign-up Offers" post by Mommy Points. Two excerpts I like to comment on:
"I try not to post a list of the best credit card offers too frequently, since you can get them here any time you want, but given some recent changes I think it is time for a refresher post"  – Oh, come on. The list has not changed much at all. Why not just tell us the change and then link back to the previous "best card" post since it is a cut and paste job anyway! Just tell us you are only doing this and promoting the links because you need to…eat. We are not that dumb like some other blogs' readers 😉
"While many do as I do and share the best offers regardless of whether or not they are affiliate links, some do not." – Yes you do a good job of this, thank you. And your content lately has been pretty good, looks like you have found a nice groove. But why not name the ones who do not to protect your readers? Why only TBB receives lawsuit threats to protect his readers? I say do the right thing and call them out! I could not live with myself if I ever promoted an inferior, say, US Airways card! This is why I do not see myself going to these conferences/seminars anymore…I may drink the blogger cool aid and, it is a well known fact, I am more mild towards bloggers I get to know personally 🙂
Just so you do not say I do not piss off every blogger and have favorites, let me take a shot at Frequent Miler who wrote "Mileage Running from Home II". Well, you know what I think of Delta so I am not going to address that part. But the post had references like this everywhere "With the above approach, instead of spending $110K every year, you can spend $110K every other year to achieve the same level of status"  If someone stumbled on this post for the first time can you imagine the shock to read $110k every year!? Greg, you are telling people to spend over $100k per year for crying out loud. Yes, your readership is advanced. But still…think about it. That is A LOT OF MONEY to SPEND period! For what? Delta Elite status? Well, it does not matter for what! We go and spend all this energy manufacturing spending and all so we can get some extra miles and ride up front in domestic trips and have the ability to change award tickets while spending way too many miles and time booking them on the magnificent Delta award site? Are we adding anything to society by spending $110k (assuming most of it is manufactured spending) on a credit card? If you are a high roller and make mega bucks or have a company with legitimate expenses, great! But do we entice people here to "go for Diamond" by taking unnecessary and unhealthy money management action steps? At least it is better than blowing money in Vegas or in poker tournaments…Off my soap box.
Million Mile Secrets on Part 7 on the SPG program – Hang in there everyone, should be over soon.
You remember the last MMS interviewees? "We Travel Cheap"? Well they are having a webinar for just $15. And you get so much for it, including "Step by step how to find and apply for the best credit cards". Aha, yep! And he has visited 20 countries, must be an expert. This makes me want to pull my eyebrows out one by one.
#4 card on the epic Frugal Travel Guy (the blog) list: The SPG Business card. I am dying to learn of the top three. I bet 100% of my income from this blog that the word Ink will be included. Schwing!
The dollar precision of the "challenges" in the Frugal Travel Guy (the blog) are amazing, right down to the penny! Do these take more than five minutes, ten minutes tops (five minutes is to test the cc links work)?
Breaking News: Unroad Warrior, of Boarding Area, ten days after a blog post, comes back to life and posts "Ending Soon: 30,000 Starwood points offer". Yep, this is about to start now.  And here I am busting my butt daily (sometimes twice) for the love of it and the lawsuit threats. Something does not compute. If the  blogs only stopped coming along with everything else maybe I can look up this affiiliate thing to stick up to a separate tab to help my family and friends travel for free. And to finally get some devoted readers to stop busting my chops 🙂  #onedayoneday
Delta Points: Exhales. See you tomorrow? 🙂