We bring you more on awards dynamic pricing, fly the new Delta A350 suites, shocking electric car sales, the TPG business model hiring everyone, stats on passenger fatalities, amazing photography from Japan, more Amex news, great visual on Great Lakes, warn you about the latest scams and lots more!
You like my blog? Send a link to someone please!
In case you missed another great post on awards, here it is again: How to Use Virgin Atlantic Miles to Book Awesome Awards.
Apparently, based on the never ending credit card pumping that never ends, there are four Southwest cards that now offer 60,000 points and some Delta Amex cards that now offer 70,000 to 80,000 Skymiles. Using TBB's links are appreciated. Lets move on now…
Bloggers always said about the devaluation wave with the domestic airlines going to dynamic pricing awards that, hey, you can get awesome awards with foreign airlines. And then: Lufthansa Will Be First European Airline to Adopt Dynamic Pricing for Award Seats this happened. And it is likely to spread. So, when your favorite blogger makes a blog post with the headline "Fly for free like me in a flat bed drinking champagne" just know that they burned 875,000 miles and yes, you can do it for free like them ONLY if you apply for 16 credit cards that they will gladly sell you for the fat sales commissions! SCREW THEM!
Well, I guess it is good that Amex added Qantas as a transfer partner. I guess…
Some more Amex changes: More Membership Rewards Program Changes (AMEX Gold 4x Restaurants Worldwide & Loyalty Accounts of Authorized Users).
All I ever know about kosher meals I learned at DansDeals trip reports lol: Trip Notes: Flying Delta's New A350 Suites To Spend 48 Hours Exploring Amsterdam's Museums, Kosher Restaurants, And More.
Mile Nerd with his once a month post and he does not disappoint with his awesome advice how to win a car at game shows! Any day now I will get down to a once a week post…to be followed by a once a month post. Or something like that…
Visualization: 2012–2019 US Electric Car Sales (This Is A Must See) —->YES!
I found this fascinating: How Britain tried to 'erase' India's third gender. Which blog posts stuff like this huh? Sometimes I look at old posts and it is amazing how I can bounce from topic to topic! Any blogger that can bounce like this? TPG bouncing from CSP to CSR does NOT count lol
Be careful out there: Latest tax scams use SSNs, fake tax agency as hooks. Watch the elderly!
These photos are amazing! Photographer Jun Yamamoto Captures The Magic Of Japan Streets At Night.
Passenger fatalities per billion passenger miles.
For some stupid reason I can not put my finger on…I thought Crete was bigger than this.
Visualizing the World's 100 Biggest Islands
.
We are now entering BLOG BUZZ, a section for advanced hobbyists and veterans of this fast imploding hobby and also a section where I go on and on about some stuff that happens in my life because it helps me feel better about myself.
Then again we still get moves like this, how much money does this company blow or what WOW: "The Points Guy Adds Edward Russell, Zach Wichter to Growing Aviation Team". Maybe I should do a contest who they hire next or which blogger they buy out. Maybe a poll or something. I know it won't  be me…because…conversions…or the complete lack of them lately, so sad!
Update: Before the imaginary intern in my blog could do yet another task (lol)…we get this: "The Points Guy Adds Victoria Walker, Carissa Rawson to Points and Miles Team". At least they hired a non-white person this time. And the other had experience writing about points and miles at Points With a Crew…wow! Oh how I would love to see the financials of the TPG operation! Apparently the man himself now hangs out with Martha Stewart…smh.
I really want to go. Join the Star Alliance MEGADO trip. But with my continued presence in Greece and work piling up…I just can't swing it. Besides, I think I may be returning to Greece to bring mother to the US for a few months.
In the stupidest moves that Amex has done lately, changing the name of the Ascend card back to Surpass is way up there, WTF!
Read bloggers who, based on their track record, deserve to be heard (or read in this case!). If you discovered the world of miles and points reading TPG or MMS recently, trust me, perhaps, you should not be blogging okay? Same with business advice. And don't get me started about personal finance advice. Or bloggers who blog about FIRE who work on their online business 24/7 blogging how they retired lol.
A reader emailed me how I again need to add Travel Is Free to the list of the Blogs I Like. Exsqueeze me? It's my list and I can do what I want. Unless Chase wants to sponsor that page lol. In addition, Drew links to the Titans even more than Doctor of Credit 🙂 I need to update the page and delete more…this hobby is dying…or, to be more exact, it is being TPGified!
I miss everything back at the US so much. People say "oh you are on vacation in Greece" but this is no vacation! I am busting my butt every day to finish so many things and things in Greece are always so freaking slow…it is a way of life here, I am not used to it. At all 🙂
And I leave you with this…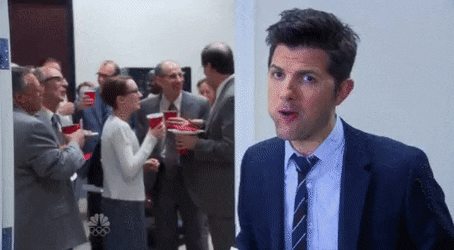 TBB
travelbloggerbuzz@gmail.com
Follow TBB on Twitter @FlyerTalkerinA2.
You can subscribe to TBB below, winners only!
Opinions expressed here are author's alone, not those of any bank, credit card issuer, hotel, airline, or other entity. This content has not been reviewed, approved or otherwise endorsed by any of the entities included within the post.