We bring you the news of Chase Sapphire Reserve huge hit, get you the 45k Wyndham offer, visit Blue Lagoon, hold our nose at El Prat trash, learn how to pay annual fees and still benefit in a big way, talk about the invisible card, look at some other awesome pictures & more!
TBB Blog Mission: To Entertain. Educate. Inspire. In That Order!
I am going to try to limit myself to featuring about ten links for you in each Buzz post. The miles/points content comes first of course, followed by travel, and then followed by an eclectic selection of what interests me. One personal finance link and the funny pic/gif at the end of course. Including an awesome pic or two. If I have extra left over…I will carry over to the next day's Buzz post. And so on…And since I wake up at 5 am for you, I add some must read miles/points related to the Buzz post just before publishing it. Because, mailing or phoning it in is just not my style…
Well, I could have been first when I saw this news but you know this gig does not pay enough, so I make it one post and I make it count! As we all suspected, the Chase Sapphire Reserve is costing Chase Bank a little bit…like $300 million! Which means there is no way that the 100k bonus will stick around when I am eligible to get it. I have slowed way down my earning…but somehow still find me with a 3.4 million miles/points stash! And no time to burn lately…My streak of burning over 1 million points per year is in danger as I am off about 200k as of today, boo!
Educational post to drill into newbies' minds that there is free and then the concept of extracting value after paying over $2,000 in annual bank fees too.
45,000 point Wyndham offer returns for 3 free all-inclusive nights. Post has a list of these hotels. No, my credit card links do not offer this credit card #sosad.
I need to update the Blogs I Like list one of these days. Some of them will be deleted, nothing personal. One that will not be is Doctor of Credit, which amazingly keeps it up! Here are two posts from that blog that were very helpful as usual:
Changes To The Way Credit Card Payments Are Reported to Credit Bureaus – Color me skeptical about this…the banks will find a way to target the idiots who pay the minimum payment and interest for years…
New way to bypass Chase 5/24 Online-Need More Data Points – You should read the post he links to at The Travel Sisters. I was 0 for 3. Well, actually, I had one Offer for Me: A lower interest offer, WTF!!!!
Barclaycard is working on "The invisible credit card of the future". Interesting article, not sure if this will succeed. Because we like to show of our cards you know. (HT: Reader A.)
You can now search and book Japan Airlines awards online with your Alaska Airlines miles. Very good move for us by Alaska. Until the next "enhancement" anyway.
25 Strange Customs and Traditions Around the World. Very interesting list. Sardine burial in Tenerife, seriously?
Read if you are planning to visit the Blue Lagoon in Iceland.
Personal Finance fix of the day: "Diversification Is No Fun". Great read! Must take time to increase international allocations. Because.Cycles.And Trump.Lol Loved this quote by Bill Bernstein in the article:
"First and foremost, don't even think about trying to extrapolate macroeconomic, demographic, and political events into an investment strategy. Say to yourself every day, "I cannot predict the future, therefore I diversify."
50 of the Best Images of the Year by National Geographic. I had such a hard time picking one to post here…It took me so long to decide that if I used that time to post me some affiliate links I would be a pumping bitch like so many others….please laugh.
Barcelona El Prat airport workers went on a 5 day strike and this trash happened…
Yomadic group picture eating dinner in Tehran, October 18, 2016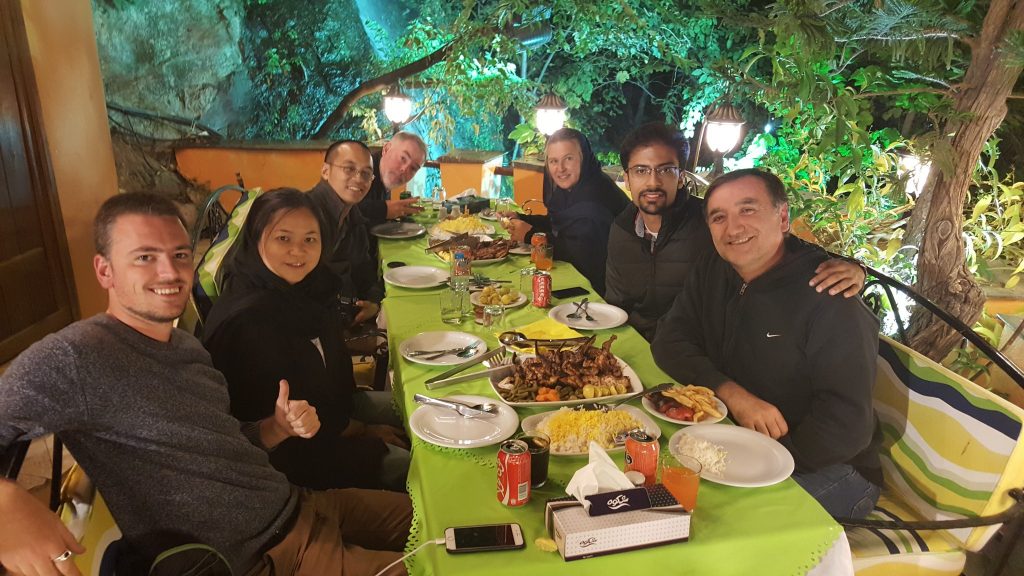 Breaking: Thanks to Brenton for getting the Amex SPG Business credit card with my links. You were FIRST in December!
Do you know why this hobby is going to hell? Do you want to see the fundamental difference between the hobbyists and bloggers whose job is to make money in this space by helping the masses get into this quirky game who may not be ready for the (non-disclosed risks/dangers) which leads to massive devaluations/deal shutdowns blah blah? When bloggers idolize these bank salesmen…And why was I not invited hey?
And I leave you with this…

Check out my updated blog lists: Blogs I Love, Blogs I Like, Blogs To Ignore
TBB
travelbloggerbuzz@gmail.com
Follow TBB on Twitter @FlyerTalkerinA2
You can subscribe to TBB below, winners only!
Opinions expressed here are author's alone, not those of any bank, credit card issuer, hotel, airline, or other entity. This content has not been reviewed, approved or otherwise endorsed by any of the entities included within the post.