We bring you all the Citi Prestige and World of Hyatt changes, visit the new Hilton Motto brand, why booking Europe to US premium awards is better, some bloggers continue screwing readers and no other blogger calls them out, we talk about how the bank rewards race does not have a bright future, visit Cluj Romania, welcome the new enormous bridge linking Hong Kong to Macau, we talk about the Finnish, look at the video of a nuclear explosion, meet a crazy Chinese dude who has eaten at over 7,000 Chinese restaurants, warn you that free is not free and lots more always free. Enjoy my blog baby while it lasts…if you think I am doing this for the money you need to have your head examined!
TBB Blog Mission: To Educate. Entertain. Inspire. In That Order!
Do you want to take a little mental break? How about watching this live streaming of a train going across Norway. You are very welcome.
I never understood the love bloggers felt for the Citi Prestige card. Maybe it is because none has been sold with my site so I don't know how much is the sales commission, sad lol. Anyway, we now have HUGE New Rumored Citi Prestige Credit Card Changes confirmed. Still no word how much is the sign bonus for it though.
All the changes you have been hearing about Hyatt are now also confirmed. If you have a scoop like this you can pass it on to me so I can be FIRST too 🙂 In essence, Points and Cash rates are now a non factor. Not that I ever used them before lol. Full Details on New Changes with World of Hyatt Awards.
Interchange fees will go down. One day in the US, we can't resist this trend much longer. That means less bennies to us travel rewards credit card junkies! Are Other People's Credit-Card Rewards Costing You Money? I expect zero HTs for this one while plenty of bloggers will HT to these blogs, pathetic!
But any change that reduces interchange fee revenue is likely to lead to less generous deals for cardholders. Interchange fees are one of the three main revenue sources banks use to pay out rewards — annual fees and interest charges are the other two — so less interchange revenue will have to mean either fewer rewards or higher fees imposed directly on cardholders.
A marginal Hyatt House promotion: Earn 2,000 Bonus Points when you stay 4 or more consecutive qualifying nights at Hyatt House hotels. For stays from November 1 through December 31, 2018. Zzzzzz….
Not sure about Hilton's Motto brand. Whazzzup with this micro-hotel movement? How can the big time travel rewards credit card pumpers push their product when "Hey, look at me in my tiny room" just does not sell very well, come on!!!!
Loyalty Traveler has a post from Cluj, Romania. I love the pics and videos from a Design Festival taking place there now.
Very interesting article: How the Finnish Survive Without Small Talk. This is a country we don't get many trip reports from…
Small talk outside social situations between close friends is virtually non-existent. Interactions with baristas? Limited to the name of the coffee you want to order. Sitting, walking or standing in a way that requires acknowledging a stranger's presence? Never. (A meme featuring people standing outside a bus shelter rather than under it is an often-posted joke in Finland to illustrate this point.) If you're a foreigner, congratulations – you're probably the loudest person on their often (voluntarily) silent public transport. With two million saunas in the country, which are enjoyed fully nude (generally gender-segregated, although that rule tends to be thrown out in the company of friends), the Finnish seem to have no problem with getting up close and personal. But when clothes are on, the bets are off.
Amazing! No, I am not talking about the Chase Sapphire Preferred card you guys! I am talking about this: The man who has eaten at more than 7,300 Chinese restaurants, but can't use chopsticks and doesn't care for food. That is a LOT of Chinese food eating, wow!
This will shock you! No, I am not clickbaiting with some stupid onboard a plane incident or something else moronic. Have you seen what a nuclear explosion does? After seeing this video you will! 6.8 Magnitude Earthquake Simulated by Underground Nuclear Explosion!
You know that there is no free travel. We here can make it close to free but it is never free! So, beware in the financial world of free stuff too okay? Cheap is Great, But Beware of Free. I must say I agree 🙂
Amazing photos of the world's longest sea-crossing bridge that will connect Macau and Hong Kong. 34 miles long, wow! While we are awaiting Trump's infrastructure bill…LOL.
We are talking about a special talent to do something like this! A Neoclassical Girl Towers Over Memphis in a Seven-Story Wheatpaste by Julien de Casabianca
Hypnotic to say the least! Aerial photos reveal the hypnotic geometry of farming.
Looks like mileage runs are obsolete more than ever! Except for a blogger who uses them to sell credit cards of course lol. Barclays Bank killed the way to earn AA elite status with spending on the Barclay AA cards, sad! Free agent here since 2012. Do I miss my Northwest Platinum perks? Yes so please don't remind me the good old days…
Good post: Reasons to Book Premium Awards FROM Europe to the US. Talking about the good old days…
My first time redeeming miles for first class on Lufthansa was about 5 years ago and it cost me 67,500 United miles to fly from the US to Europe and just under $30 in taxes. Now, you cannot even redeem that many United miles for Lufthansa business class. If you want to fly that same thing in First Class, it will now set you back 110,000 miles for a one way ticket!
Got a second Pay Pal donation within the past week, get out! Thanks readers and also thanks to the reader for sending me a $25 Uber code and your kind words. If I did not have those…this blog would have died a long time ago!
At the end of the day, it makes no sense for me to keep this going and fighting a lonely battle serving as a PSA to help readers avoid getting screwed again and again by these blogs! Of course, instead of bloggers warning readers about such hideous practices…most bloggers will bend over backwards to link back to these blogs so they can be nice AND, this is important, get a back link that will shoot up their own blog site traffic. And that's the way it rolls, sad! If this shit does not make you angry…wtf is wrong with you???
October is shaping up to be the second month in a row that I do not hit the 10 card conversions per month minimum. Just for the record. Not whining. Just about to be evolving any.day.now.
Have you all wondered why the big blogs keep pumping plastic? Because…it works. Ok, look at the size of this blog post again, I gotta stop now!
And I leave you with this…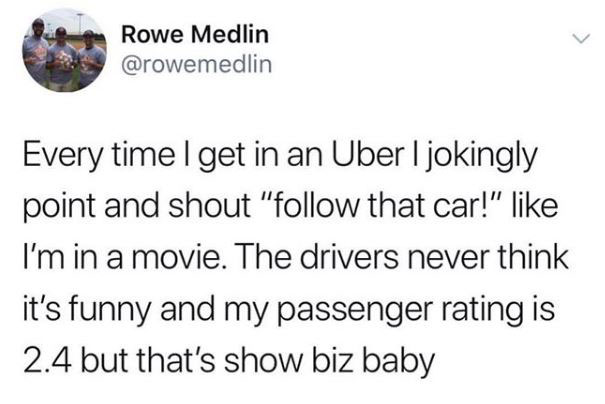 TBB
travelbloggerbuzz@gmail.com
Follow TBB on Twitter @FlyerTalkerinA2.
You can subscribe to TBB below, winners only!
Opinions expressed here are author's alone, not those of any bank, credit card issuer, hotel, airline, or other entity. This content has not been reviewed, approved or otherwise endorsed by any of the entities included within the post.