We bring you the latest on Covid vaccines, new 75k Chase Ink card offers, first cruise Covid fail, weird museums, Walmart MS death, great 70k United card offer, crazy Amex Platinum offers, travel to Singapore, Nauru, Turkmenistan, Austrian Alps, ISS Station, visit weird museums, go on virtual train rides, catch up with the latest Covid-19 developments, the best photography around, make fun of Four Seasons Total Landscaping and much much more! Thanks for reading my blog.
TBB Blog Mission: To Educate. Entertain. Inspire. In That Order!
Support TBB by applying for CREDIT CARDS or visiting our

LINKS

or Donate

You like my blog? Send a link to someone please!
Shop & support the blog with the TBB Amazon link!
This goes out to subscribers via email the day it is posted at 8 am. After that I may add something new in the body of the post and I indicate it like this: Update.
If you are not into the frequent flyer miles/points game please feel free to skip the MILES & POINTS and most of the BLOG BUZZ section.
Stay positive, test negative!
This blog has been here for EIGHT YEARS, happy birthday to me, Je Suis TBB!
TOP PICKS
Top picks are not excerpted at all. I recommend you find time to read every word!
We all got excited by the Pfizer news about a vaccine coming "soon". The markets reacted in a frenzied way which shows how we are all so desperate for any good news to get us through this awful pandemic that has hit the whole world so hard…Great news at this point…which is a long way from promised land.
Pfizer's Covid Vaccine: 11 Things You Need to Know
This next link comes from Al Jazeera and it deserves to be here as a Top Pick. It contains a collection of must see maps. MUST click. If you do not agree that this is a Top Pick I will refund you hehe.
Everything you need to know about the US – in maps
MILES & POINTS
HOT CREDIT CARD OFFERS: 75k Chase Ink Cash, 75k Chase Ink Unlimited, 70k Chase United Explorer, 100k Chase Ink Business Preferred, Citi Premier 60k, 65k AA CitiBusiness Platinum Select, 50k AA Citi Platinum Select, 50k Chase Ink Business Unlimited & Ink Business Cash, 20k Chase Freedom Flex & Chase Freedom Unlimited, 60k AMEX Gold, 50k Chase World of Hyatt, 130k AMEX Hilton Business & Hilton Surpass, $300 AMEX Blue Cash Preferred, $200 AMEX Blue Cash Everyday, 140k IHG Rewards Club Premier, 100k IHG Rewards Club Traveler, 100k AMEX Marriott Business, 125k AMEX Marriott Bonvoy Brilliant, 100k Capital One Venture Rewards. Please use my Affiliate links.

If you do not see a credit card with my affiliate links, perhaps I could refer you? Contact me please, thank you!
The increased travel rewards credit card offers keep coming you guys! And Chase is out there hitting on all fronts. I am starting to fear a devaluation of its proprietary Ultimate Rewards points now…I should not say things like that as it sure hurts conversions!
Chase now offers 75,000 Ultimate Rewards points for its business cards: Chase Ink Cash and Chase Ink Unlimited. Both are no annual fee business cards. Both have a $7,500 minimum spend in the first three months. Both cards are subject to the infamous 5/24 restriction. Please have a legitimate business and help this blog if you decide they are good for you, thank you. You do NOT want me to start doing sleazy "69 reasons I love XXX card" to trick you to click so I get paid ok? Ask us questions in the comments, I do my best to take a fiduciary approach in everything I do in my life, including this blog!
The Ink Unlimited card earns a flat 1.5x on every dollar charged while the Ink Cash earns this way:
5% on the first $25,000 in combined spend at office supply stores, internet cable and phone services
2% on the first $25,000 in combined spend at gas stations & restaurants
1% cash back on all other purchases
Chase is not done yet! It now offers the United Explorer card with a 70,000 miles signup bonus. The $95 annual fee is waived in the first year. 60,000 miles after just $3k minimum spend in the first three months. You then get another three months to do another $3k spend ($6k in six months) to earn the next 10,000 miles. You earn 1 mile per dollar and 2 miles per dollar on United purchases, restaurants and hotels. You also get free bags (for up to 2 people), 2 lounge passes, priority boarding, and some other minor benefits. A very important benefit is improved award seat availability. Bank cards currency is more flexible but still 70k is not too shabby, especially if you fly United regularly. No pressure but I sure appreciate if you use my links so this blog can finally reward me, please sit down, with minimum wage, sad facepalm!
Good bonus if you have plenty of these points: Chase Ultimate Rewards: 30% Transfer Bonus To British Airways Avios (1:1.3). I have over 1 million of them and I would look into this due to the juicy bonus but here is the deal: No plans to fly anywhere in the near future and I do have plenty of Avios points too!
Excellent guide: Air Canada Aeroplan: The all-new program is now live. Here's what you need to know. Maybe this becomes the airline program to transfer Amex Membership Rewards to in the future #developing.
United is making it easier to reach Elite status. I haven't paid for a United ticket in years lol.
TRAVEL
We all can't wait to travel again without fear! I predict airlines will take all the covid related measures back in a flash lol. How about checking some of these views out? See the World's Most Famous Landmarks From the Comfort of Your Room at These Perfectly Located Hotels. Which one is your favorite? 🙂
This was fun to look back to: What Airplane Food Looked Like Through the Decades. Those were the days hey?
It just goes to show you how far we have to go, sigh: Passenger Aboard First Cruise Ship to Return to Sailing in Caribbean Tests Positive for COVID-19. There is a writer working for The Points Guy on the cruise, apparently he was restricted to his cabin before the breakout because he was showing way too much enthusiasm for all Chase travel rewards credit cards lol.
We now take a break to lean about Nauru, land of disenchantment. It is a pretty sad story…
In 1975, the tiny island of Nauru had the highest GDP per capita in the world. Today it is in the bottom five. Prosperity hit this island of 7,000 so fast that they went from being simple folks living a simple life to buying luxury cars for the four miles of coral gravel roads, yachts and five — count em', five Boeing 737s and an Airbus A320…The airplanes are long gone. No one even bothers anymore to take them up on their offer to open an international bank (for a $20,000 fee) as the brand is a little tarnished, like the rusty hulks of Cadillacs (and even a Daimler limousine or two) which jumble the roadsides, which by the way, are nearly impassable. And there is zero tourism…The people once held the record as the most obese on earth (71.1%) but that has dropped a lot due to extreme poverty. The country is now a ward of Australia and with 90% unemployment the future looks bleaker than a pile of bird shit which is, of course, gone too. 
You come to my blog to discover content you will not find anywhere else in one place. I would like to think so because it does certainly make me feel better. So when I came across this I knew it belonged here: Weird, wacky and utterly wonderful: the world's greatest unsung museums.
Most of you are responsible and you are not out there possibly contributing to the virus spread. So now we travel virtually…hey, it is better than nothing! 13 Virtual Train Rides From Around the World That You Can Experience Right Now.
We will keep going…to check out web cameras of animals in zoos around the world, yes! Cloud Zoo. And enjoy!
Meanwhile…in Turkmenistan where the President unveiled a giant statue of his favorite dog. Did we protest that he should step down after not accepting the latest vote results or was that Belarus? 🙂
This video about Singapore will blow you away: Lion City Rising.
Finland wants you to work from there. Really! Apply Now for a Free 90-Day Helsinki Relocation Package!
Check out this GoPro video, wow! Scenic Flight over the Austrian Alps.
Sometimes I feel like escaping to the ISS, not ISIS, come on! Gimme some space: inside the International Space Station – in pictures.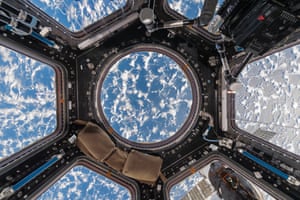 COVID-19
First, we are in the middle of sheer horror: US records more than 1m new Covid cases in past 10 days as infections surge. God help us all, stay safe out there!
You will be seeing more and more mRNA mentioned. To learn more about it, this IS the one article to read: The story of mRNA: How a once-dismissed idea became a leading technology in the Covid vaccine race. What struck me about the two leading companies with this technology is how different they are. I am familiar with Pfizer which had a large presence here in Ann Arbor until they left back in 2007 I believe. I got a fantastic deal in my present house from a couple who worked at Pfizer and had to move to a different work location to keep their job. I would trust these guys before the Moderna flashy guys…I guess we will find out soon if I am right. What I found most fascinating about the story though is how it all started and how one scientist kept at it despite all the failures!
Pfizer, a 171-year-old Fortune 500 powerhouse, has made a billion-dollar bet on that dream. So has a brash, young rival just 23 miles away in Cambridge, Mass. Moderna, a 10-year-old biotech company with billions in market valuation but no approved products, is racing forward with a vaccine of its own. Its new sprawling drug-making facility nearby is hiring workers at a fast clip in the hopes of making history — and a lot of money. In many ways, the companies and their leaders couldn't be more different. Pfizer, working with a little-known German biotech called BioNTech, has taken pains for much of the year to manage expectations. Moderna has made nearly as much news for its stream of upbeat press releases, executives' stock sales, and spectacular rounds of funding as for its science.
Wait, there is more on the German company Pfizer is working with and The Husband-and-Wife Team Behind the Leading Vaccine to Solve Covid-19. Hey look, Turkish immigrants in Germany wow! And Pfizer's CEO is a Greek Jew. We need to celebrate immigrants and not ban them, WTF!
If you wanted to learn more about this program: Inside Operation Warp Speed's $18 Billion Sprint for a Vaccine.It's expensive, secretive, and—if the president stays out of the way—our best hope of getting out of this pandemic. Note that this was written before the Pfizer vaccine news. I almost included it as Top Pick.
Wow, the new President is going to take this seriously, imagine that! Biden's Plans for Halting the Unchecked Spread of Covid-19 in the US.
I have suggested you all follow Andy Slavitt on Twitter. He does these daily Covid thread updates which I believe are must read. Here is the on from November 10. Key tweet was this:
The point of all this is what I said at the start: this is likely the worst period. We will see dramatic improvements next year through the course of the year. Likely still wearing masks. But if that's the case, this is a relatively short period of sacrifice. [Maybe we start booking trips for late 2021, God willing]

Greece back in lockdown, the Covid numbers there are now alarming. Like everywhere else it appears. This phucking virus is so intense…even New Zealand got a new Covid case, complete mystery how the virus managed to get back in (or maybe it never left?). Then you add the first cruise clusterphuck and it makes me feel about…hunkering down to survive the winter. But daughter is coming home from college…she does get tested as part of leaving campus but still…
We are reaching highs here in Michigan as well. And the State is pushing its Michigan Covid Alert App. I am going to download it over the weekend.
PERSONAL FINANCE
Great blog post: Future Shock. It tries to answer this: Why do we make spending decisions that we later regret?
Moral licensing. If we do something good—exercise, give to charity, work late, purchase an eco-friendly product—we often give ourselves permission to do something that's not so good, such as rewarding ourselves with junk food or a new pair of shoes. In fact, research has found that simply thinking about doing something good, even if we don't follow through, can prompt not-so-good behavior. [I am super guilty of this too!]
Willpower budget. As with moral licensing, this is another explanation for why we slip from the straight and narrow. The notion: If we've been disciplined all day—eating carefully, focused on work, going to the gym at lunchtime—we might reach the end of the day with our willpower budget depleted, leading us to have that extra glass of wine or an extra-large slice of pie. [Yeah, this too, I am starting to think the article is about me lol]

Signaling. We're constantly projecting an image of ourselves to others with the possessions we buy and the activities we engage in. A BMW sends one signal. A Prius says something quite different. The danger: We end up spending money in ways that send the desired signal, but aren't things we truly care about. [I mostly got over this, phew!]

End-of-history illusion…We look back and recognize all the upheaval in our life and how much we've changed, and yet we assume all the learning and growing is now over—and there will be far less change in future. And we are, of course, kidding ourselves: What we want from life will continue to evolve. One implication: The consumption decisions we make today—the homes we buy, the furniture we purchase, the art we hang on the walls—may prompt a rueful shake of the head a few years down the road. If it's a modest purchase, this probably doesn't matter, because the flared jeans and combat boots will likely wear out before our tastes change. But if it's a purchase that'll potentially be with us for years to come and that's difficult to undo, we should probably think hard about our future self and how he or she will view today's decision. We're talking here about things like second homes, backyard swimming pools, boats, timeshares—and, of course, body piercings and tattoos. [We thought about buying a cottage to escape. Or a better house. And decided….nope.]
This has been a life saver for some people and it is time to enroll again…before the Supreme Court messes with it! Now's the Time to Sign Up for Health Insurance. Here's How.
Well, since Suzy Orman keeps bitching about how much you spend at Starbucks lattes, I thought this one will make sense here: The Economics of Coffee in One Chart.
CURRENT EVENTS/POLITICS
So sad to lose Alex Trebek in the past week. What a legend, so widely respected by everyone, what a life! 11 Memorable Facts About Alex Trebek.
I have conservative friends. And several conservative clients. We can work together and respect each other. But hold your shit about supporting Donald Trump, I am sorry. He and all his enablers are dangerous for our democracy and our physical safety. There are no excuses. We must hold them accountable. Oh, wait, here we go, there is an app website for that! The Trump Accountability Project.
Of course we are going to talk about the US elections! I must admit I was beyond depressed on Tuesday election night, I did not sleep! I almost sneaked into Canada. Ok, not really. But you know what I am saying. And then the mail in ballots started rolling in and I begun to feel better. But I did not rest until they called Pennsylvania! Can we just make pollsters go away? I knew that it was going to be closer than everyone anticipated. But I was also shocked so many voters went for Trump. After these past four years, unbelievable! But I am proud so many came out to exercise their right to cast their vote, it is a beautiful thing actually. At the end it was not that close. Biden won Michigan by 150,000 votes which Trump won by just 11,000 in 2016.  Anyways, here is some coverage that stood out to me:
How Joe Biden, the ultimate insider, defeated Donald Trump, the ultimate outsider.
Of course a big part of my blog is about entertaining so let's have some fun! 50 Of The Best Reactions People Had To Trump Losing The Election. I used to take my kids to Chuck E. Cheese. I was a legend there as I had found ways to hack the crap out of them paper prize tickets #goodtimes.
And oh my favorite, the Four Seasons Total Landscaping mega screw up…you just can't make this shit up wow, this reaction is priceless!
Wait, I am not done with this yet, this is hilarious too! An Interview With the Owner of the Sex Shop Next to Four Seasons Landscaping. Dude has been operating the shop for 40 years!
What are the odds, you know? Donald Trump starts out playing around with Stormy Daniels, and next thing you know, one of his final hurrahs is going to be down the street from an adult bookstore that's been there for 40 years. You can't write this stuff. Basically, I was pretty much in awe of the funniness of the whole situation.
People got to really love us to be down there. So that's why, like I said, 40 years in business. There's a reason why we got some staying power. No pun intended. [ROFL]

What are your bestselling items?
Oh goodness. We have things from Dick Rambone to a lubricant called FuckWater, to basic normal vibes, six-to-eight-inch vibes, multispeed, multifunctions. The Fleshlight, the Main Squeeze. And basically, we sell all types of harnesses. A lot of just normal-type vibrating things. Male enhancement pills, and female stimulation pills. And we even sell hand sanitizer and stuff because the times have changed at the moment. So we're following CDC guidelines. [I had to pick myself up the floor after this woohoo!]

The reaction by Van Jones…I felt that, did you? This is NOT funny, just a very raw emotional spontaneous moment.
You cried with the Van Jones video above…so it is time to LAUGH. Probably one of the best Trump beatings on video, must watch! This was the best liner: "It is something quite beautiful watching Trump's presidency becoming euthanized by cold hard numbers and irrefutable facts. Not so much going out with a bang but an untrustworthy liquid fart."
ODDZ & ENDZ
Very cool, keep clicking: The Size of Space.
You thought that link above was cool? This is even cooler! Submarine Cable Map.
I am on a roll you guys, you would love this, you can even mix them up! Listen to the most relaxing sounds in the world.
Wait! Another gem for you: Bomb Sight. Explore the London Blitz during 7th October 1940 to 6th June 1941. Zoom out to see the city of London in the map and you will totally freak out!

Some awesome photography is next: 2020 IPA int'l photography awards. You may not be able to stop clicking…
The Best Pictures Of 2020 Siena International Photo Awards.
There is more! 2020 UK Landscape Photographer Of The Year.
BLOG BUZZ
We are now entering BLOG BUZZ, a section for advanced hobbyists and veterans of this fast imploding hobby and also a section where I go on and on about some stuff that happens in my life because it helps me feel better about myself.
And MS is getting harder: New Velocity Limits At Walmart Affecting Serve, Money Orders, Bill Pay etc. Wait, we thought it was $400 limit and now say whaaaat? (Update: $50 Swipe Limit?) Many Walmarts Limiting MetaBank Cards To $400 Per Swipe. Enter some sad violin music #theend.
Good to know if you got these bonuses recently for only 50,000 points: Chase Matching Signup Bonuses For The New $750/75,000 INK Business Signup Offers.
I had not heard of this Resy site before but it is offering two awesome Amex credit card offers: Amex Gold/Plat Resy Offers: 60K/75K + $250/$300 at Restaurants + 10X on gas/groceries for Plat. I saw this at Frequent Miler and of course complete silence from most other "expert" sites since they are not getting the sales commissions, sad! I love this comment about the gas stations and supermarkets spend lol: "No chance this community abuses that, no sir." Update: Affiliate links have come out now without the Platinum $300 restaurant credit so you can safely assume which blogger is looking out for your interest. Update2: DannyDealGuru managed to find a 100k points bonus offer which likely will make up for the lack of $300 restaurant credit…Shit, this is so confusing…And here is the first one who just could not wait to trick his readers smh. More followed trying to take advantage of their readers…and yet, so many other bloggers will keep linking to these guys…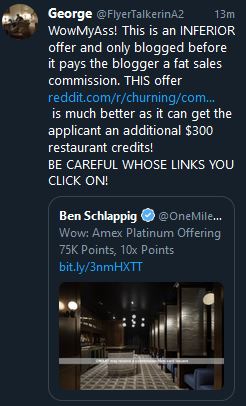 Of course you can pretty much tell who is screwing their readers pretty easily with such despicable practices only caring about their own pockets, SAD! Here is View From The Wing and RenesPoints which proudly stands on the top of my Blogs To Ignore list always. There are others, you know who you are and shame on you!
I am just ONE person here, I can't keep this straight! My point remains: Try to go out of your way to help bloggers who treat you right before they quit and go do something else with their time! Sometimes I feel like quitting and just never looking back, I am drowning with this greedy shit, I am just one guy here, enough! 🙂 Wait, Frequent Miler Greg got the Amex Platinum…he never had it before, seriously?
Good changes again by American Airlines…what is wrong with these guys lately? 🙂
Award redeposit fees will be eliminated
Award change fees will be eliminated
Phone ticketing fees will be eliminated
Miles expiration extended through June 30, 2021
It looks like TPG in UK is pretty much done. Former One Mile at a Time writer has been reassigned to USwitch.com. Same place where the General Manager went. Well, I warned them but I guess Red Ventures still had money to burn. The banks over there do not pay as well as US banks selling travel rewards credit cards.
I am done pointing the fact that these two blogs most likely have a ghost writer writing for them and not all posts that appear almost at the same time are under some type of embargo. Unless peanuts are embargo material too LOL.
I guess I am no travel thought leader to be invited as an expert in loyalty conferences and podcasts…I am done pretty much pointing this out, plenty of good non clickbait content to focus on.

Thanks to the readers who got themselves 80k points with my Chase Sapphire Preferred referral link. I reached the limit of five referrals already who just goes to show you how much more lucrative DIRECT links are! And the reason why my own plastic indirect referral links just…lay there, just two conversions this month to date. Huge thanks to the few readers who donate via Paypal. And the ones who use my Amazon link, I got paid $137 last month…yuge! And on it goes…maybe all this ends at the end of the year. Or maybe on January 20th when Trump leaves #developing.
I am thinking to move the Miles/Points section further down right above the Blog Buzz section.
My running has pretty much stopped, I am walking instead and doing physical therapy. Maybe my running career is over as the recovery progress has been excruciatingly slow.
And I leave you with this…
Follow TBB on Twitter @FlyerTalkerinA2.
You can subscribe to TBB below, winners only!
Opinions expressed here are author's alone, not those of any bank, credit card issuer, hotel, airline, or other entity. This content has not been reviewed, approved or otherwise endorsed by any of the entities included within the post.