We bring you an article about the credit card kingmaker, how to score United Business Class awards, go on some scenic train rides, go visit Burundi, look at some awesome drone photography, another Google cemetery, an amazing article about a techie dude fighting hacker thieves, go through the winners and losers of this year's tax season and get dirty in the Blog Buzz section and I would like to apologize in advance for trying to kill independent blogs LOL.
TBB Blog Mission: To Educate. Entertain. Inspire. In That Order!
You like my blog? Send a link to someone please!
In case you missed my awesome Sunday Best of Web post: Shen Yun World, Rick Steves Unplugged, Theranos Inside Saga, Misconceptions, NASA Rare Photos, Float Documentary.
Well, everyone is talking about this article at the Wall Street Journal about The Points Guy Brian Kelly: The Credit-Card Kingmaker. There are some astonishing $$ numbers revealed and there is also apparent astonishment in the writer's knowledge about this field.  I'll have some comments in the Blog Buzz section below. This may be behind a paywall, sorry.
If you have United miles. Not going to remind you of all the credit card you can get that can get you more of them like all the other bloggers pushing their affiliate links…4 Reasons to Use United Miles for Business Class Awards to Europe.
These are wonderful: The Most Stunningly Beautiful Train Rides in America.
When there is a Euro 2020 Qualifying soccer game in progress and an EasyJet plane takes off in the background, only in…Gibraltar lol!
Fascinating article about the guy who helps people infected with ransomware viruses: Hated and Hunted.
I may have posted this one before. Or something similar. The Google Cemetery.
Look and listen to this Ferrari, wow. LOL!
For the personal finance fans of the blog, a really good article with excellent graph work on The Surprising Winners and Losers of This Year's Tax Season.
This may be a repeat as well but it is worth it! The 25 Winners Of The 2018 Drone Photo Contest.
And now we are entering BLOG BUZZ, a section for advanced hobbyists and veteran miles and points blog readers.
This will be of interest to you I am sure: Here Are Some Unexpected Unicorns in the New 25% Amex Transfer Bonus to Flying Blue.
Be careful out there with your Hilton Honors accounts, wow! My Hilton account was hacked…twice.
There is a small increase in Business class awards using Singapore Airlines KrisFlyer miles. Including flights to Hawaii from North America. And that's the way this hobby goes…
There was an interesting exchange between me and Gilbert over God Save The Points. It all started when I made a joke how his writer Spencer should get on with it and sell the ChaseSapphirePreferred card harder like everyone else is doing (that short exchange not shown). Well it escalated a little…This is the first time I have bean accused of "trying to kill independent blogs". WOW!!!! A bit later he said that he would rather sell his house than sell out to TPG….And I am like "oh yeah, so you can buy a much bigger house!". Woohoo!!! This space is crazy…
Okay, some comments on the WSJ piece on TPG:
That has created a symbiotic relationship between Mr. Kelly and the banks. [Probably the understatement of the year?]
TPG helped spawn a broader ecosystem of customers who swap tips online about how to game the system, wringing rewards out of cards before abandoning them, and some banks are discussing how to cut back on rewards to trim costs. [WTF to infinity!!!!! Goes to show you how not well informed the writer is about this space. As most people reading it are. And these outfits THRIVE on the cluelessness! Don't be surprised if she ends up getting a job there too lol]
Banks spent an estimated $4.5 million in banner, display and video advertisements on TPG in the fourth quarter of 2018, double from a year prior and more than triple from two years prior. [Let that sink in…the app conversions are on top! Nobody has spent a single dollar here. I had ONE inquiry for a sponsorship and the interested party wanted to link to FTG so i refunded the fee pronto!]
Mr. Kelly sold TPG in 2012 for an undisclosed amount. It is now owned by Red Ventures and has about 60 full-time employees. [Up to 60 now…Just wait when banks stop spending the dinero, it won't be pretty.]
One of TPG's biggest bank clients is JPMorgan. [Shocking! #notreally My biggest client is my son actually with his available room for credit card apps lol]
Mr. Kelly's Instagram account highlights a lifestyle of high-price travel that rewards cards can pay for, boasting photos of him in a hammock in Bora Bora and views of Cape Town from a luxury hotel. [It's all about SELLING baby, photos of a run down Days Inn with views of the local Jimmy Johns dumpster in Topeka, KS just…won't sell many credit cards lol!]
The price tag for the black-tie affair was about $1.5 million, according to a person familiar with the matter. TPG paid about $250,000, the person said. [Phuck meeeeee! I don't think TBB is even a rounding error in that whole empire #sadfacepalm!]
Worst headline this week that other bloggers love to link to send their own readers there:
Teen Removed From Her Seat on Overbooked Flight While Mom Sat in Back of the Plane Unaware – View From The Wing #clickbaitcrap! #noshame #SAAAAAAD
You all have a great week. Start running, 32 miles last week for me and I am up to 19 this week already. And that helps me sleep like a non-crying baby!
6 conversions this month, just 8 last month. Three months in a row under 10 and it is time to move on and go say hi to Mile Nerd, miss that guy! Until then…you enjoy yourselves okay?
And I leave you with this…When you wait to take that shot of junior doing his first dive and…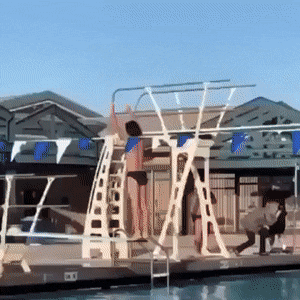 TBB
travelbloggerbuzz@gmail.com
Follow TBB on Twitter @FlyerTalkerinA2.
You can subscribe to TBB below, winners only!
Opinions expressed here are author's alone, not those of any bank, credit card issuer, hotel, airline, or other entity. This content has not been reviewed, approved or otherwise endorsed by any of the entities included within the post.