We take a ride through some FlyerTalk forums, try to make sense of the Barclaycard transition to American Airlines branded credit cards, learn how to burn Hyatt points, enjoy Hilton free WiFi, travel to Lofoten and Bolivia and totally freak out  Chinese WalMarts.
TBB Blog Mission: To Entertain. Educate. Inspire. In That Order!
You can support TBB by shopping with our AMAZON AFFILIATE LINK or click on the Amazon Banner on the right side, thank YOU!
201 Course: Advanced Posts on Miles and Points  –  Travel Is Free     So, you are a newbie who wants to take your game to the next level? Bookmark this post and get educated. Go!
My Favorite Flyertalk Sub-Forums  –  FrugalHack.me     Great places to learn, good resource for newbies too.
Barclaycard American Airlines Credit Cards: Blue, Red, Silver and Aviator. Details On Each Card  –  Doctor of Credit     The transition to the AA cards at Barclays Bank is underway….Boy, they sure have made it complicated! Story on the blogs was broken by Chasing the Points with "Learn About The New Barclay American Airlines Aviator Cards Blue and Aviator".
After Costco dumping Amex, they have signed on with Citi and Visa…Developing. As posted on Monday, Amex is having some issues…
Complete Guide to Hyatt Rewards Chapter 2: Best Use of Hyatt Points  –  Travel Is Free     You can read a Titan pumping you non stop or you can read Drew. Who thinks Titans are really nice. No doubt but they pump readers to oblivion=fact. Ignore the crazy 5% lol.
All Of The American Airlines Credit Cards Compared  –  Doctor of Credit     This blog is on fire lately, I am impressed.
Hilton Free WiFi Expands To All & Diamond Members Get Premium Access  –  Loyalty Lobby     Wife should be free! Oops, meant to say Wifi. Trying to get that ultra feminist lady who lost it at the TBB comments about a year ago calling me "nice" names.
The 75k American Express Business Rewards Gold Offer is Still Alive!  –  PointsCentric     Very YMMV situation. It may work for you. Ask a Titan why don't they tell you how to get more points? Hint: it's ALL about da money with them!
Challenges in the Card Game  –  Mile Nerd    Speaking of challenges, Mrs. TBB got denied for a USAir card. The surly Barclays Bank rep said it was automatic because the link for the US Elite members was used. Ok, can you get us to the regular one, no problem. Score 820 and change, never been denied, blah blah blah, you know the drill. "Must wait 31 days to reapply". Anyways, she then even looked and told me how many cards she had…and I could see her phase blasting out "huh you churner, don't even try it". So I hung up.  Boy, things have changed…
Lofoten. One Flew over Norway      What a GORGEOUS video. You get a drone, you get Vimeo, and add Norway and you get a masterpiece! Check out my trip report!
This incredibly futuristic plane could be the future of airliners     Wow, this looks so, well, futuristic!
These Brilliantly Colored Bolivian Buildings Look Like Alien Spaceships  –  io9     Wow, these look psychedelic to me, so unique! (HT: Personal Finance Digest).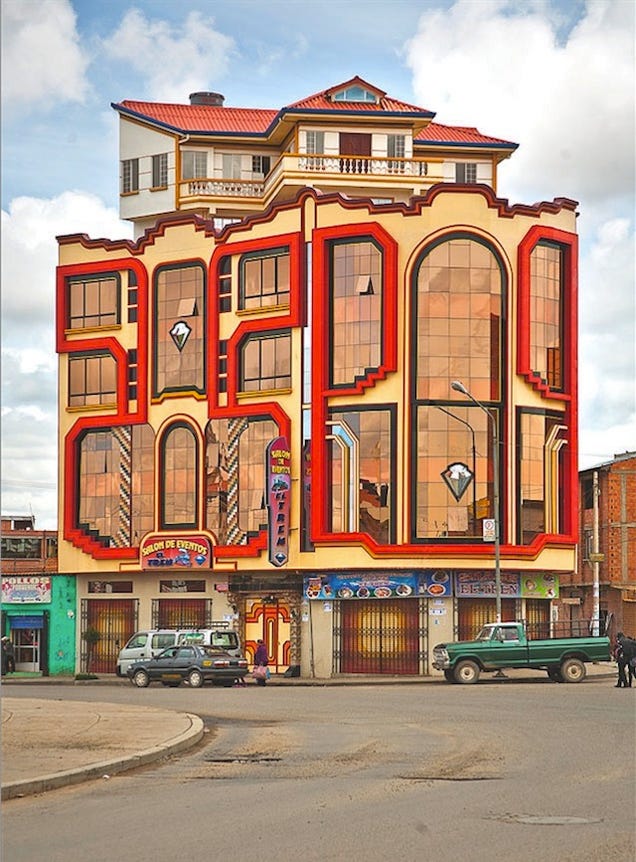 These Classic Cars Decaying On The Streets Of Detroit Will Bring A Tear To Your Eye     Hey, we know cars around here 🙂
The State of Your New York Block  –  New York Times     Residents talking about their block. This is kind of cool.
Ten Wall Street Pick-up Lines to Avoid  –  Malice For All     Lol.
The things sold at Chinese Walmarts make our American stores look tame     No comment! Ok, just one. WTF!!!
Crap, this post was longer than I intended!
Thank you for reading and supporting my blog by clicking my $$ links! Thanks to Best Offers Patrol (BOP) for again keeping track of the amazing TBB credit card offerings in the TBB comments, please check it out! Please use your clicks responsibly, reward bloggers you value most, show them that you care and want them to continue. We all could be doing other things with our time you know…Gracias!